I don't know if it's true, but here's how the story was told to me: Eric Pehota and his oldest son, Logan, were in Revelstoke backcountry, snowmobiling, skiing and getting shots for their upcoming film, The Pehota Project.
Based out of Pemberton and less familiar with the Revy area, the Pehotas had enlisted a local friend to show them the goods. Stopped for a moment on the edge of a snowy logging road, their friend outlined the options for getting to good filming terrain.
Words: Feet Banks
"We're not far," he said, "it's the other side of this mountain. We can go over the top, but it's quicker to stay on the road and go around, about 20 more minutes."
"Going around is not the Pehota way," Eric interjected. "We'll go over the top. It's more fun and it will keep us sharp."
Eric Pehota is also a throwback to those classic outdoorsman adventurers from a bygone era. As a pioneer of Canadian ski mountaineering in the 1980s and '90s, he notched dozens of first descents here in the Coast Mountains (some say as many as 40, Eric doesn't keep track.)
He's driven every highway in British Columbia, skied every mountain range and explored almost every river. He hunts, fishes and makes the best elk jerky you'll ever eat. He built his home entirely out of wood he milled himself and when something breaks down you can bet your ass he fixes it himself.
He drinks beer, shoots guns, keeps chickens, chops wood and if the world ever does end, you want to hope it happens when you're up visiting at the Pehota property because Eric probably wouldn't even notice. If Chuck Norris could ski, he'd drop in after Eric Pehota.
Eric's wife, Parveen, is badass too. Twenty-five years of bartending at legendary Whistler watering hole Citta' means Parv's seen it all and takes no shit. She's equal parts athlete agent, business manager, and comic relief but also 100 per cent mom. Parv's the secret weapon that holds it all together.
Logan Pehota is 21 and Dalton just turned 20. They're fourth generation BC kids with both skiing and the wilderness in their DNA. Their great grandparents and grandparents were loggers in Squamish as far back as the 1930s and their dad grew up on the slopes of Azu Ski Village (later known as Powder King) in Northern BC.
And there's something to be said for good genetics–Logan was on track to possibly win the World Freeski Tour last winter until the last event was cancelled due to weather. His younger brother, Dalton, ski raced up to the FIS level until he got bored with competition and decided to ski just for fun. Both of them can pitch a tent in a windstorm, get a campfire going, frame a cabin or rebuild a carburetor faster than you or I. If there is such a thing as a "Pehota Way," it seems to be working.
Eric chuckles at the whole "we don't go around" Revelstoke story, but he neither denies nor confirms it. "That sounds like him though," says Logan. "He's a pretty skilled sledder and he definitely has his own ways of doing things, and he'll stick to them. Plus, it is more fun, no one wants to go around."
"There's a Pehota Way all right," Dalton adds. "His way or the highway."
I caught up with Eric, Parveen and the boys at their home in Pemberton to hopefully get some insight into the Pehota Way.
"I only sit down to eat, there's no sitting on a couch or something. I lay down to sleep, I sit down to eat, otherwise I'll be outside working, skiing, snowmobiling, racing rally cars, flying airplanes, driving boats… I want to do it all. Maybe helicopters are next. Variety is the spice of life."
The Secret of Life
Eric: "It's an old cliché of mine: I love people, but I like 'em best when they're not around. I just like having my space and I can't imagine not being able to get outside. I only sit down to eat, there's no sitting on a couch or something. I lay down to sleep, I sit down to eat, otherwise I'll be outside working, skiing, snowmobiling, racing rally cars, flying airplanes, driving boats… I want to do it all. Maybe helicopters are next. Variety is the spice of life."
Backcountry Safety
Eric: "I think the key is becoming comfortable in your environment. Get out there five or six days a week and you'll become one with it, you'll know the snowpack and what is happening. I am by no means an expert, there are people with a lot more training than me. But for me, safety comes from that intimacy of knowing where you are and what has been happening there. The first thing I do when I go to a new area is find someone who knows the area and spends a lot of time out there, then we sit down and chat."
Breaking Trail
Eric: "The ultimate goal for me is to always go places people have never been before. Logan and I were lucky last year to get out pretty deep—it took us five days, but we got into a valley no one has ever been in. I like that feeling, adventure mode. It's like breaking trail at the start of a season or being the first guy to ski a chute. Once the trail is in, I like going somewhere else. It's like skiing, who likes tracks? It's always more fun with no tracks."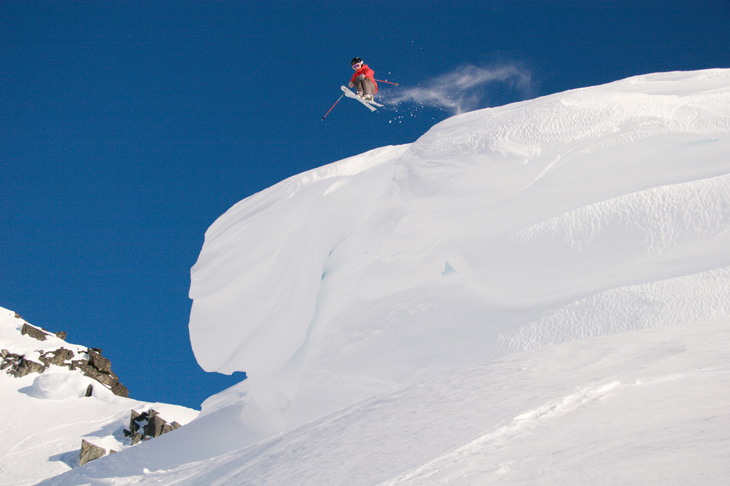 Patience
Eric: "I think I am alive thanks to a bit of luck, but also knowing when to say no. If you are out there all the time you can wait for the conditions to be right and go when it's perfect, you don't have to fit it into your weekend off. I think more people are outside their comfort zones nowadays and doing stuff when the time is best for them, but that might not be the best time to do it."
Employment
Eric: "For me, I work to play. I don't think I ever had a job that lasted longer than four to five months. I logged, I tree-planted. When I was younger in Whistler, there was no summer work so you left town and did what you could, banging nails or whatever. It's okay to do jobs you don't like, it builds character—no one likes being in a construction site in the rain, but a job is a job. If I was learning something new, I got interested, but once I'd learned it, I'd move on. Work for the summer, ski the winter. I was a bartender at Dusty's one winter and I told them I don't work day shifts. Then in the spring they gave me a day shift so I handed in my pass and jacket and quit."
Photography
Eric: "Photography was a good way to document the family and the lifestyle. I always had a camera, but digital technology made it easy. I spent a lot of time in front of the lens so it was nice to be on the other side watching someone else… 'No it's fine, hit it!'… I know the feeling up there."
Logan: "He would bring us out for sunset alpenglow photoshoots on Disease Ridge, make us hike and practice our poseur turns. Dalton and I definitely didn't always enjoy hiking up there when the mountain was closing and waiting for him, you can imagine what a ten-year-old kid thinks of that…"
Dalton: "We always thought it was pretty annoying. But Dad liked taking photos and Logan got his first shot in a magazine from one of those times."
Parenthood
Parveen: "A lot of people's lives really change when they have kids, but ours were enriched because the kids would just come with us. We'd take them out of school for six weeks sometimes and travel to Mexico, Australia, all over BC. I travelled more after we had kids than I did before. You want to share that with them, let them learn from seeing the world and meeting real people."
Eric: "Parenthood is the ultimate responsibility in life, nothing else really matters. Your job is to care for them, feed them, put a roof over their heads and make sure they have the skills to get through life. I think our kids are a product of their environment, they didn't really have a choice; it was, 'we're going here and doing this and you are coming. You do what I say until you are an adult and then you can do what you want. As long as I agree with it and you don't piss me off.' We had our battles, but I think now they realize things weren't so bad. They grew up skiing, rafting, camping and swimming in the river. I remember one jet boat trip, we went from Squamish out to Salt Spring Island then up the Fraser, Harrison and Lillooet rivers right back to Pemberton. Logan and Dalton were both in the boat in car seats and Dalton spat his soother right out of the boat at one point—youngest kids to run Class III whitewater probably."
Parveen: "People asked me all the time if I worried about Eric and the kids, but I trust him and I trust his judgement. The kids are safer with him on the river or the mountain than they are in a car out on the highway."
Eric: "They are already out-skiing and out-hunting me. There's no way I can keep up to Logan, and Dalton has a touch in the wilderness. And that is natural progression, I've given 'em everything I got and they are taking it to their own levels. That's why I slowed down my skiing a bit, I don't have anyone to shake and wake up in the morning. When you lose your posse, your time is done…
The Pehota Project film is shot and in the can with editing hopefully starting this winter. Watch for it in 2017.