From the pages of Mountain Life Blue Mountains, Spring 2019.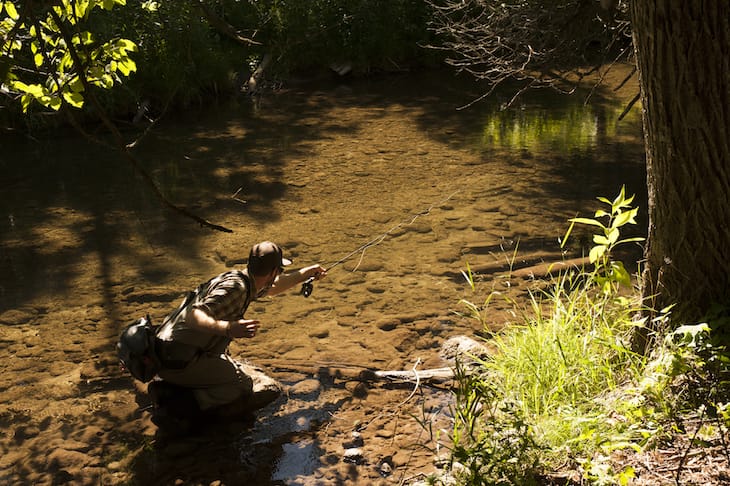 words:: Nelson Phillips
Take a backroad drive just about anywhere in Grey and Bruce counties and you're going to encounter the same environment eventually: idyllic and pristine wilderness with a river slicing through the meat of a thick forest. For years, I figured those waterways were essentially hero rivers—good for a postcard memory, or maybe a social media post, but never a site for world-class fly-fishing. I was wrong.  
"You can get all wild with that dramatic A River Runs Through It style if you want to," says Nial Beattie, better known around the water by his alias, Trip Fontain. We're hanging out mid-morning under the bridge in Clarksburg. It's early spring, nippy out, and there's a crew of us trying to learn how to throw a fly into the raging Beaver River. We're a few hours into an overnighter meant to showcase the aquatic splendor of the Bighead and Beaver Rivers. We're looking for steelhead and brown trout—a weird concept to me personally. I'm happy with whatever bites. The kicker? None of us have touched a fly rod before.
The river is high and running fast. Trip doesn't always play host to knuckleheads like us. He's in the business of guiding legions of avid anglers up and down these stretches of backyard watersheds locals often take for granted: the Bighead through Meaford; the Beaver through Thornbury, Heathcote, and Kimberley; and the Saugeen through Southampton, Paisley, Walkerton, Hanover, and Durham. His company has played host to members of the Hollywood elite, major league athletes, international financial tycoons, and fisherman from the world over: Russia, New Zealand, South Africa, Sweden, Switzerland—you name it. They all want to fish here.  
"People from all over the world think of this place the same way we think about New Zealand or Patagonia. Our rivers are world-renowned hot-spots that anglers dream about," says Trip. "It's unbelievable the number of people who know about this area internationally, specifically for the species of fish that are condensed in this given location. We take it for granted, we see them as just rivers… But fish are here, and they're large. And it just keeps getting better." 
In recent years, Saugeen Shores has seen a plethora of anglers attempt the fabled Saugeen Grand Slam, amassing catches of four different species in one day: muskie, steelhead, bass, and brown trout. That's sheer lunacy, testifies Trip, who says the possibility of something like that happening anywhere else in Ontario is epically rare. 
The assumption is that southern Ontario is the most heavily populated region in Canada, so everything that benefits from an undisturbed environment must be in decline—but it's not. Fish numbers and size keep shooting up, at least in Trip's experience as a guide for both Grindstone Outfitters and Calmwaters Guiding.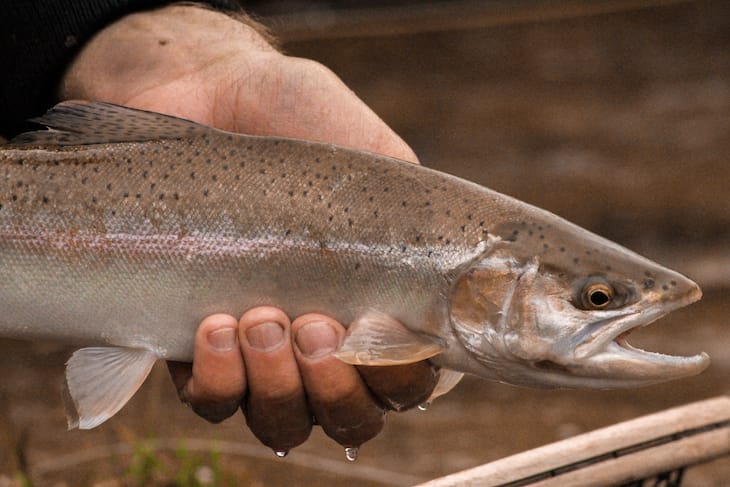 "Each river has something different about it. The Bighead River, for example, hasn't been stocked in years. It's what we call a naturally returning fish population, with a density quite thorough for a system relying on its own reproduction. A lot of other rivers in Ontario have had help to re-establish the numbers, and the success rate there is quite good, too." 
The Bighead stretches from Bognor in the heartland of Grey County and empties into the Nottawasaga Bay via downtown Meaford. It's a unique stream because of its relatively small size, its thick surrounding forests and its solitary nature. Aside from diehard locals and the visiting anglers who know about its treasures, the banks are empty, and the cold-water fishery that has developed is proof of its under-appreciated reputation. The further you're willing to hike, the better the fishing is.
Trip talks about the guiding experience he offers his clients: "A lot of these people at the end of the day aren't paying me to catch fish; they're paying me to go on an adventure. The fish are the cherry on top of the sundae." 
We fish the lower section of the Bighead mid-afternoon in Beautiful Joe Park. Trip shows his true talent as a freshwater fish savant. He hooks into a monster female steelhead when I'm parking the car, and a smaller male about an hour later. Later that afternoon, we hike a solid 3.5 km into an upper section of the Trout Hollow Trail that traverses the ruins of an old hydro dam. The sun comes out, and Trip ties into a gorgeous female hiding in the shallows. She's visibly healthy, plump, and glistening in silver and amber scales. This is the type of fish you see in the movies, but I'm 15 minutes from home, tromping through the bush with some friends and a beer in my hand. 
We hike out and head southwest a few clicks and set up camp beside a tributary of the Bighead on a friend's back 40. We can't fish here in early spring, but the trout are present. There are a few bulls hanging out under fallen logs in a section of bush that looks more like Narnia than Grey County. We light a fire and crush a few beers under the stars with the babbling water keeping us company. 
We end the night discussing sustainability and environmental protection. Key to Trip's guide philosophy is a dedication to protecting the environment, but not in the regulated ways you may think. He's an advocate for respect first and foremost, and his hands-off approach is both refreshing and motivating.  
"We aren't so much keeping [the watershed] healthy. It's its own strength and force that is—guys at large are still abusing it. But it's still only at its dawn of existence as a fishery. All this has really exploded within the last 30 years, so it's still in its infancy. We don't have stewardship [initiatives] funded by government—a lot of the time it's fishermen like myself and my friends who are bringing down our own garbage bags and collecting garbage along the way. When I bring people out, I don't want them to see a Coke bottle at their feet, but if they do, I want them to see people cleaning up and taking care of their resource." 
At the crack of dawn, there's knocking at my tent flap. "Go time, bud."  
Half an hour later we're 5km away and I'm yelling "fish on" for the first time with a fly-rod, all before the sun comes up. Beyond stoked and a smidgen hungover, I let the line remain taut and play with the fish at the other end. I reel it in to reveal a finger-sized brown trout staring back at me, but I couldn't care less how big the thing is. I'm hooked. Pun intended.  -ML