The elegant nine-piece High Alpine Kit highlights Patagonia's authentic design process, uncompromising attention to detail, and minimalist design principles.
Patagonia's High Alpine Kit is a tightly integrated layering system—from baselayer to belay parka— designed with acute attention to detail and minimalist design principles for moving efficiently through the Earth's least forgiving environments. Patagonia asked its alpine climbing ambassadors to imagine, build and test pieces of clothing they could use individually or as components of a system for climbing in high alpine zones. Each piece in the kit is patterned to work seamlessly with the next, creating flawless integration while being simultaneously effective as individual pieces.
"The High Alpine Kit was conceived, built, tested and refined by a group of select Alpine climbing ambassadors, advanced innovation and alpine climbing designers," stated Innovation Designer, Casey Shaw. "We worked in our advanced R and D center, 'The Forge.' The Forge keeps our hands dirty. By building things ourselves, we're able to innovate on the things that exist—and invent the things that don't."
"Our team of designers and alpine ambassadors field tested the High Alpine Kit in just about every region with notoriously horrendous weather from Mont Blanc to Ben Nevis to Cordillera Huayhuash," stated Eric Rice, lead alpine designer. "Illuminating every subtlety in materials, construction and design, and integrating this feedback to refine each style with an ethos of functionality, minimalism and efficiency." "It took many rounds of testing and design changes, but the result is an efficient, elegant system – and there's nothing more important at altitude than simplicity."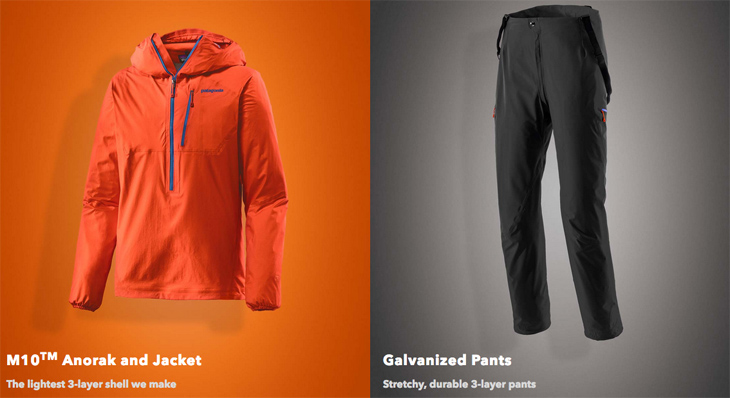 The High Alpine Kit is a highlight reel of insulation and outerwear that functions together seamlessly. The nine-piece kit includes the men's and women's Merino Air Hoody and Bottoms and Nano Air Light Hoody and Pants, the men's M10 Anorak and women's M10 Jacket, the men's and women's Galvanized Pants, the Grade VII Down Parka, the Hybrid Sleeping Bag and the Ascensionist pack.
For more information check out http://www.patagonia.com/high-alpine-kit/