Words & photos :: Colin Field
Sponsored by :: Parts Canada
Can we hold off posting this for a week? I'm between bikes and wanna ride this thing for longer! It's sick!
If you're about to fork out the kind of money you need to for a new high end mountain bike you have to wonder, "why wouldn't you fork out a little bit more for an e-bike?" Yes, we're aware that some people consider an e-bike cheating. But you know what? There was a time when hip-hop was considered a fad. Record execs thought it would go away. Boy were they wrong huh?

Now I don't like making predictions; years ago I thought SUP wasn't gonna last. It's still going. And when I hopped on one for the first time, I thought, "hot dang this is pretty fun." And there are now three SUPs in my gear closet.

So is the e-bike a fad? Honestly, I don't think so. I won't be surprised if in 20-25 years, we'll all be riding e-bikes. All the haters out there are just people that haven't tried one yet. Or they're weight weenies that are busy weighing stickers before applying them. If they would open their mind and try an e-bike they'd be converted. Because they're a hell of a good time.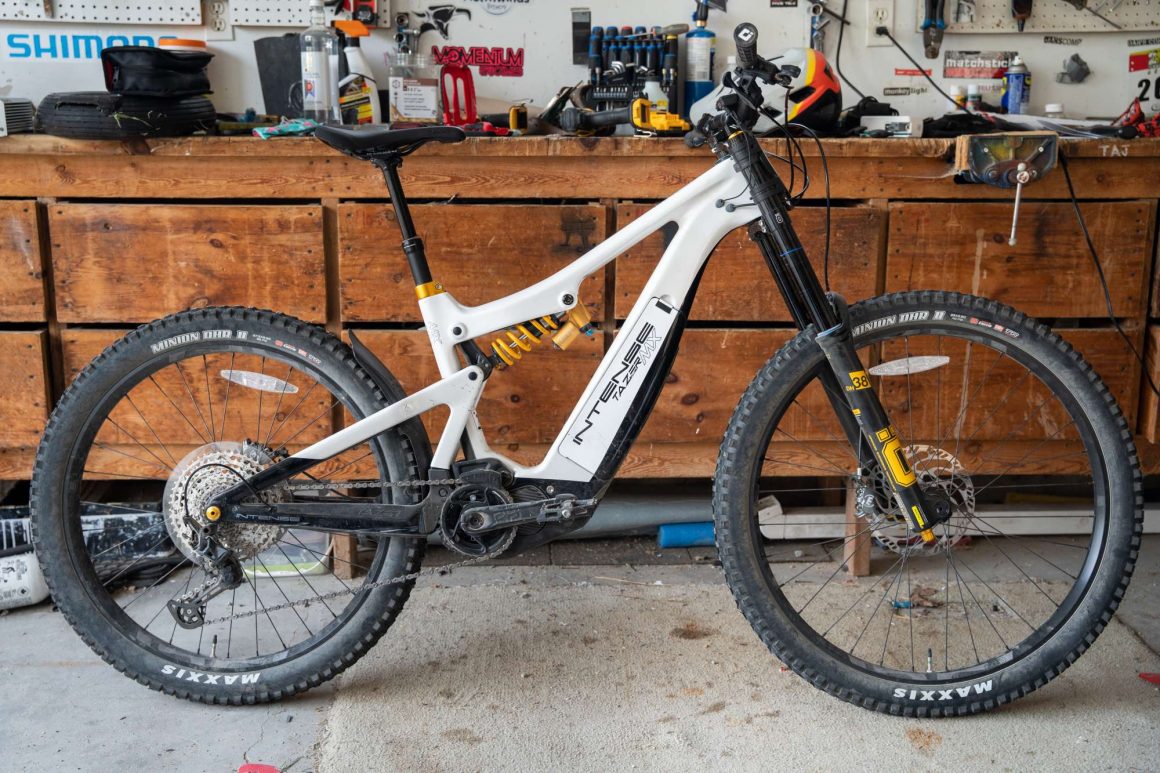 For my first ride on the Tazer MX Pro I took it to Horseshoe Bike Park for a day of downhilling with my son and his buddies. This pedal assist e-bike is burly and probably a bit too much bike for the relatively smooth, sandy trails of Horseshoe, but it is what we have.

The 170mm of front travel and 155mm of rear travel is cushioned by the Öhlins shocks out of Sweden. This is high end stuff. This company usually makes suspension for motorcycles and cars and if you look at the UCI World Cup DH bikes, lots of guys are rocking this suspension. It ate up the brake bumps at Horseshoe and absolutely killed it on the jumps.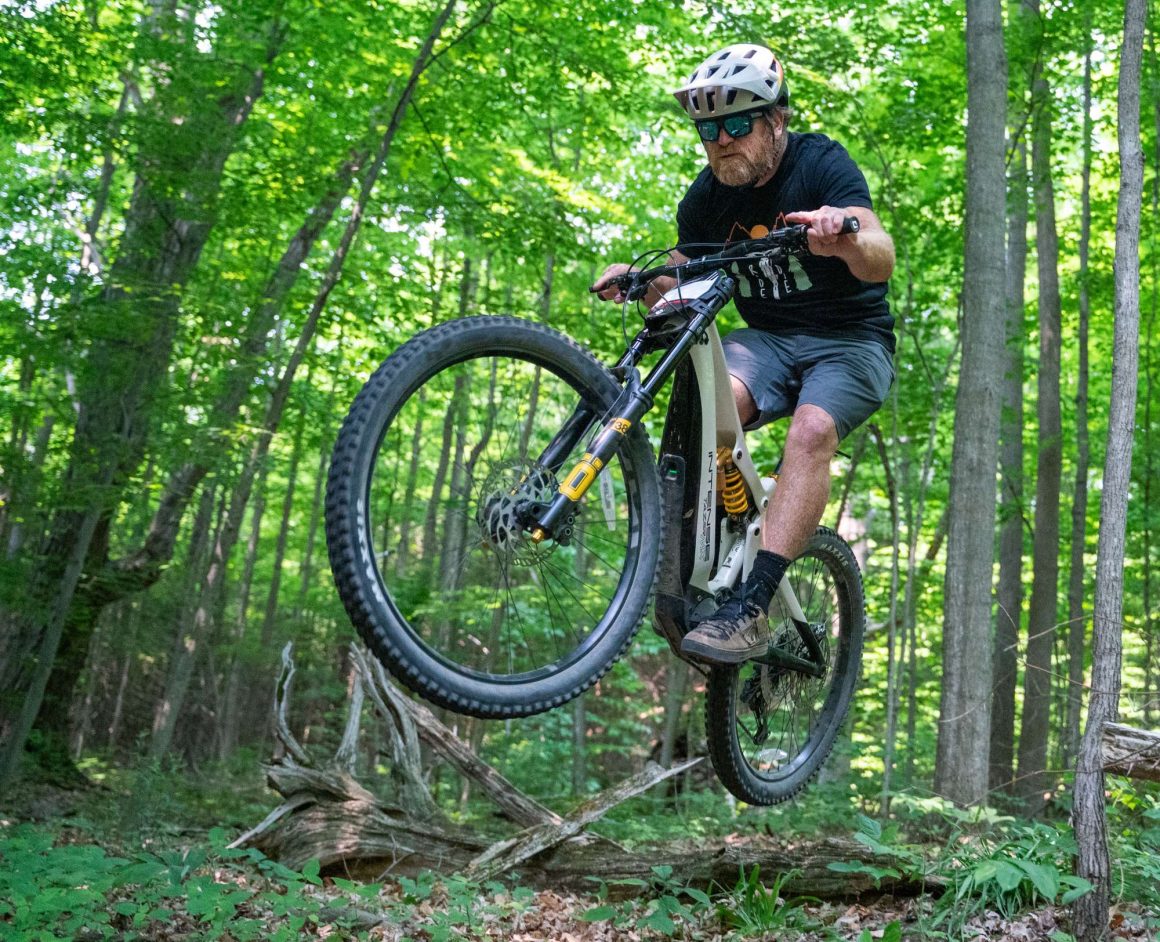 It was a weekend at Horseshoe and the lineup to get on the chair wasn't too long, but I raced the kids up; they took the lift, I rode the up track. I won the race every time. Riding up was effortless and I barely broke a sweat.

Yes, this thing is heavy; it's 52 pounds 12 ounces. Putting that in perspective, the Intense M29, basically the non-motorized version of this bike, weighs 38 pounds 9 ounces. So the e-bike is heavy. How it jumped was my main concern.

Horseshoe has some decent sized jumps and this thing was clearing all of them easily. Using the momentum of the downhill trails easily gets it off the ground, plus you can pre-load the generous amount of suspension to get a lot of pop. It was surprisingly fun to jump and I had little to no adjustment time getting used to it. Most of the weight is down around the bottom bracket which makes for some stable air time. I also found lightly tapping the rear brake mid-air would level the bike out nicely. If you try bunnyhopping over a blue box it's a different story, but I loved jumping this thing. It whipped nicely and with all that travel, I didn't have any issues, even when overshooting–or casing–some of the jumps.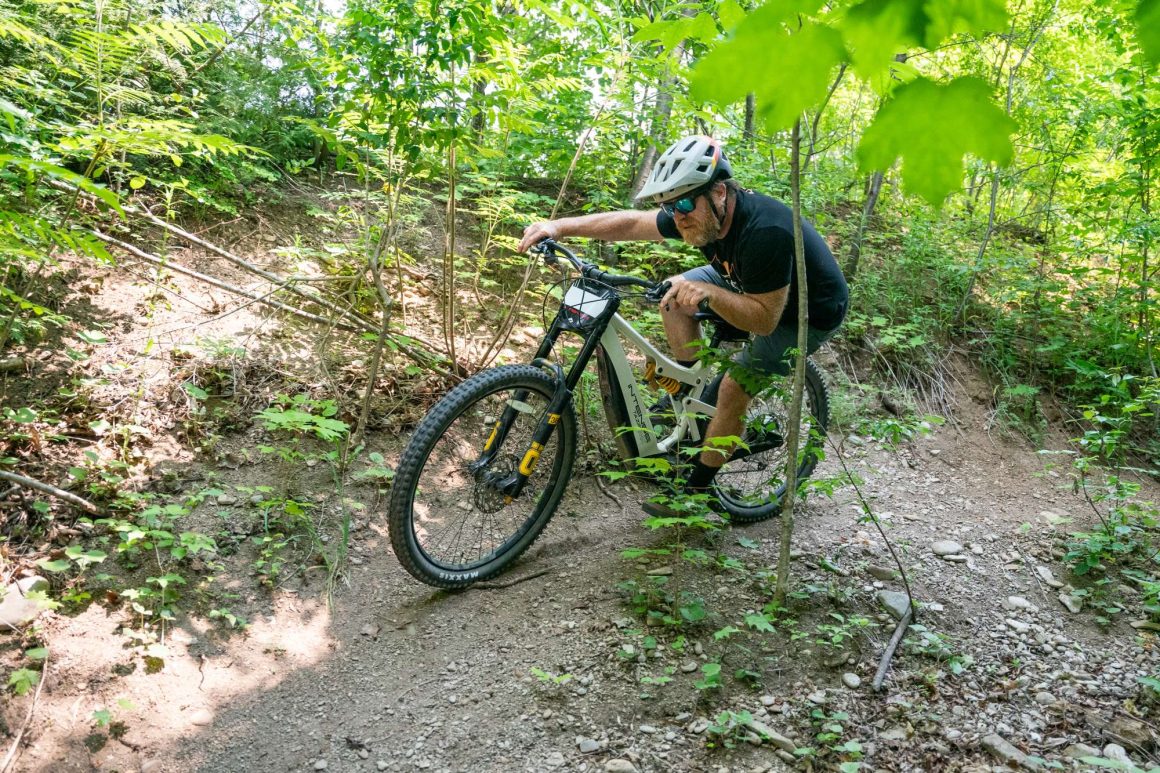 Component-wise, everything worked as it should. I loved the Magura MT7 Pro brakes with 4 pistons. The levers look awesome and provide plenty of one-finger leverage. They slowed me down no problem, even when a little kid was stopped halfway down the steep sandy section of the Freedom Flyer trail. I think I would've smoked that kid on a lesser braking system. Maxxis Minion tires hooked up wherever I needed them to, but that's no surprise; those tires are tested and true, and it's rare I ride anything else.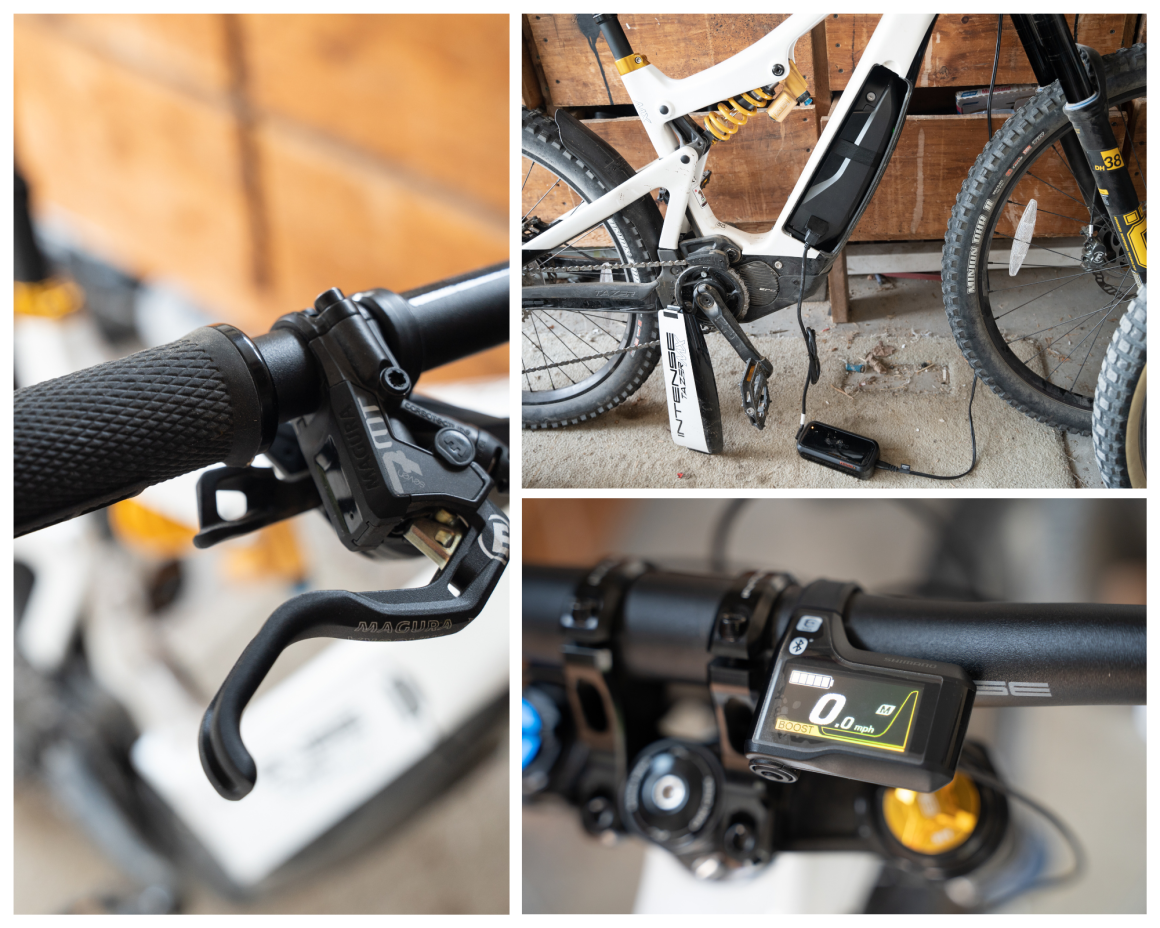 It was my first time on the mullet set up (29" in the front, 27.5" in the rear) and I'm sold. Business in the front, party in the back is the perfect metaphor for this wheel set up. The front end didn't feel huge, the whole thing was really playful and just ate up whatever I charged into.

Obviously the Wellgo pedals are a bit disappointing, but they held up fine, I didn't slip on them and who expects a bike to come with pedals these days anyway?
As far as the motor goes it's a Shimano EP800 Steps Motor. Personally I don't know anything about e-bike motors yet, but I have faith Shimano is putting good products out there. And I have nothing to complain about here. I rode this thing on Boost mode at all times. There is an Eco and a Trail mode which I assume are a bit slower and easier on the battery but what's the point of going slow on an e-bike? I found when the motor engages it feels a bit strange; I kept wondering if my bottom bracket was loose. It wasn't, there's just a slight clunk as the motor engages. I got used to it pretty quick.
The battery has 504 watt hours making it a pretty hefty size. I rode every single trail at my local spot (something I never do on a non-e-bike), clocking just under 20 kilometers and was down 40 per cent on the battery. It seems it'll last longer than I will, I suppose some serious uphills might change that.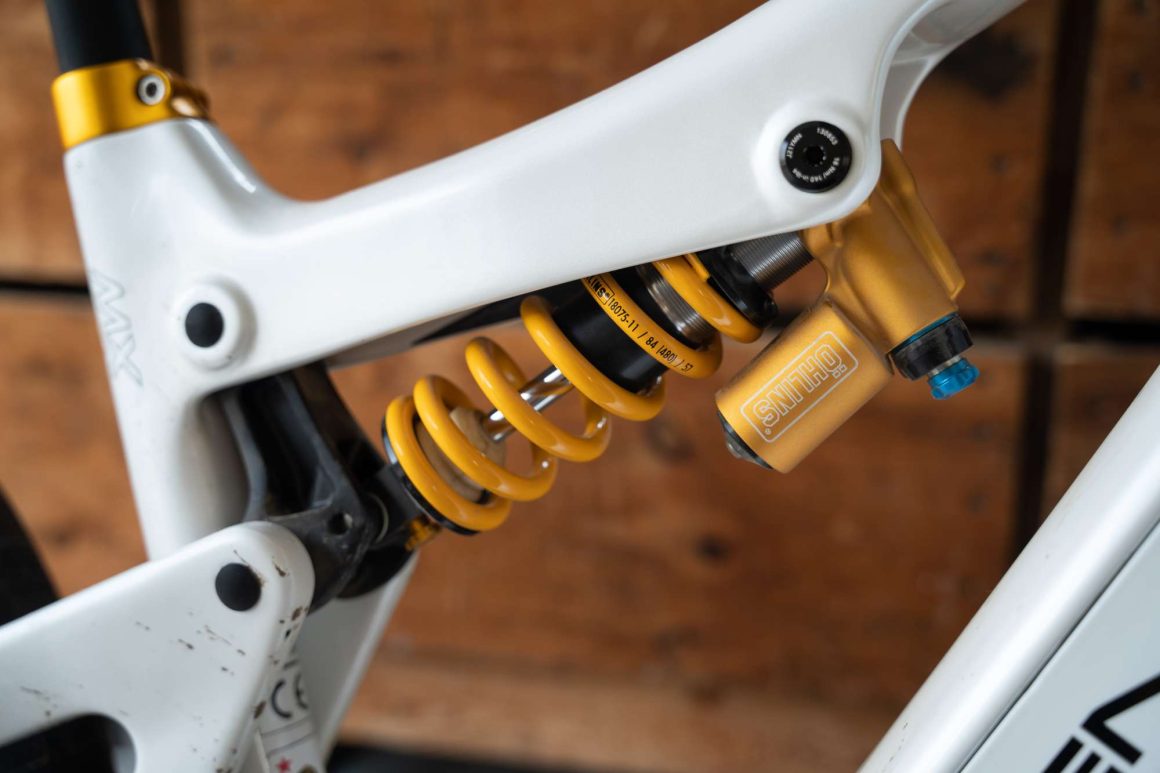 "Overall, I love this bike. I'm currently in the market for a new mountain bike and I'm finding it hard to find reasons why it won't be an e-bike."
One of my main concerns would be the hero-factor this bike provides; I felt like I could charge full speed into anything. The set up never let me down, it held traction, bounced over rocks and leaned into corners. But eventually I'll make a mistake and hit the ground going faster than I would on a regular bike. It would be user-error though. So I can't really blame the bike for that.

There's also the issue of price. This bike is listed at $9,949.99 retail. That's a bunch of money. It comes with a beautiful toolkit that includes everything you'll need to maintain the bike including shock pump and torque wrench, but not even that can compensate for the hefty price tag. But that's what the bikes cost. A new non-motorized carbon mountain bike will cost you anywhere from $6000-$10,000 these days so getting the motorized version may be worth the extra cake. If you add in the fun factor of this machine it absolutely is justifiable.

Yes, when I ride past people on trails I can hear them moaning and groaning behind my back about how I'm cheating. And you know what? I don't care. Remember those record execs that thought rap was a fad? Where are they now?
Think you want one of these? Hit up Parts Canada to find your closest local dealer. If you don't think you want one of these, you're wrong; dead wrong.
TAZER MX PRO CARBON BUILD SPECIFICATIONS:
DRIVE UNIT SPECIFICATIONS
MOTOR: Shimano EP800 Steps Motor
BATTERY: BT-E8010, for Steps, 504Wh Battery lock w/2 keys
DISPLAY: Shimano SC-EM800

BIKE SPECIFICATIONS
FRAME: Tazer Optimized Carbon 29" Front and 27.5″+ Rear Triangle, Enduro link Pivot System, Downtube Flak Guard Armor, Internal Derailleur, Brake, Dropper Post, and Display Unit Routing, ISCG 05 Mount, 150mm travel
FORK: Öhlins DH38 Race fork, Double Crown, 170mm travel, air spring system
REAR SHOCK: Öhlins TTX22M Coil, 155mm travel (Spring 480lbs SM/MD, 548lbs LG/XL)
HEADSET: Cane Creek 40 Series, ZS49-ZS50/30
SHIFTER: Shimano SLX, 12-speed
REAR DERAILLEUR: Shimano SLX, 12-speed
CRANKSET: ethirteen espec 34t chainring, 165mm length
PEDALS: Wellgo B223N
CHAIN: Shimano Deore 12-speed
CASSETTE: Shimano Deore 12-speed, 10-51t
BRAKES: Magura MT7 Pro with 203mm Storm HC rotors front/rear
FRONT WHEELSET: ethirteen espec 30mm Inner width x 29″
REAR WHEELSET: ethirteen espec 35mm Inner width x 27.5″
FRONT TIRE: Maxxis Minion DHR II Maxx Terra 3C EXO+ 29″x2.60″
REAR TIRE: Maxxis Minion DHR II Maxx Terra 3C EXO+ 27.5″x2.80″
HANDLEBAR: INTENSE Recon 35mm OD x 800mm wide, 30mm rise
STEM: INTENSE Direct Mount 35mm OD x 50mm Length
GRIPS: ODI Elite Flow
SEATPOST: INTENSE Recon Dropper (SM/MD 125mm, LG/XL 150mm)
SADDLE: SDG Bel-Air V3
WEIGHT: 52lbs 11oz (Size SM/MD, Tubeless, with Pedals)