The pursuit of big fish, wild rivers and deep perspective. Words :: Riley Leboe.
Tents, sleeping bags, outerwear, safety equipment, ropes, satellite messenger, cookstove, fuel, food rations, booze rations, shotgun…gear is everywhere, spread across the grass of a small property in the Bella Coola Valley while we frantically pack by headlamp with our 4:00 a.m. launch time rapidly approaching.
The "alpine start" reminds me of spending time with Kye Petersen in Haines, Alaska. On this trip however, instead of deep snow or steep spines, we're chasing steelhead.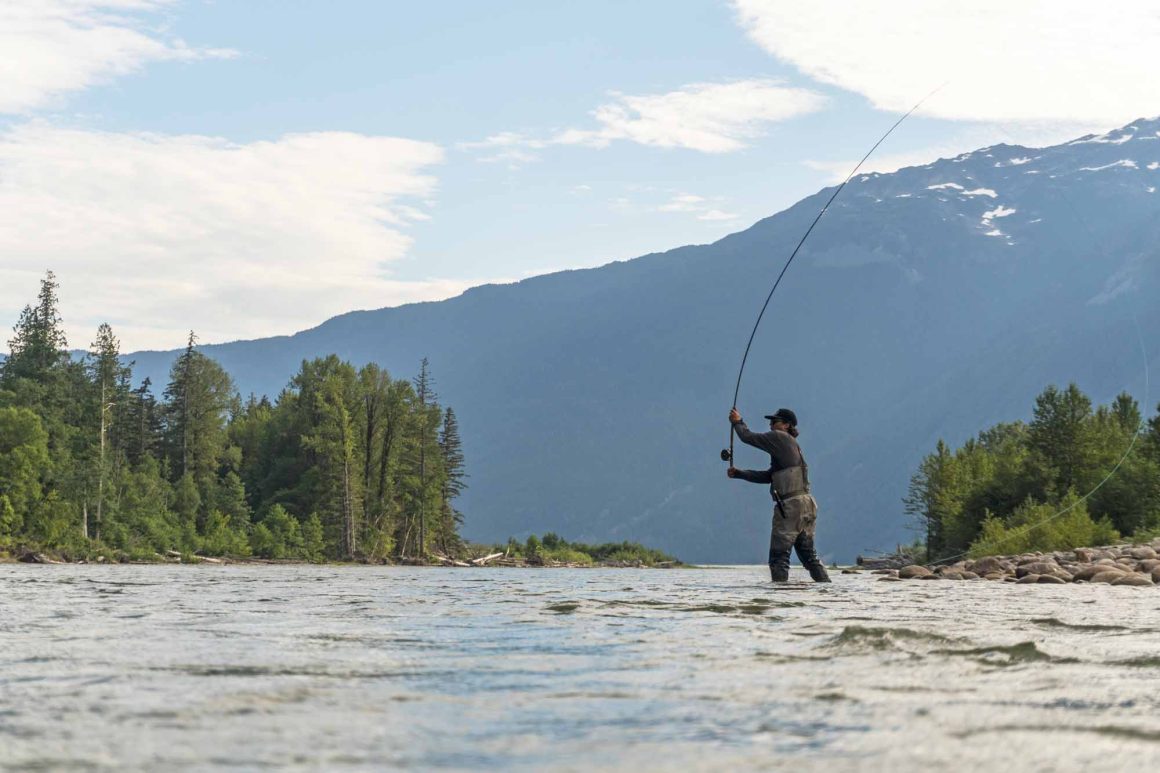 Known as "the fish of a thousand casts," the elusive steelhead is considered the pinnacle of freshwater fish; they grow large and fight hard. So hard, that experienced fly fishers have a saying: "The tug is the drug," and by all accounts, the aerobatics of a steelhead on your line creates one of the ultimate highs fishing can provide. We cram the final pieces of equipment into our waterproof bags just as the clock hits four. We head for the marina in a truck stuffed with gear and anticipation.
It was Kye's idea: a self-supported DIY trip to Dean River, a corner of British Columbia few people know about, and even fewer have visited. I was excited to visit one of fly fishing's most hallowed waterways, but also wary about trekking into a remote place on our own. I couldn't say no, even knowing that steelheading is often a suffer-fest, and even with perfect conditions, there would be few fishy rewards. It's a small cohort that find joy in such missions, but for those who do, a bond is forged. With fellow river junkie Jarred Martin joining as our third, we had our band.
By the time the rays of the rising sun first hit the deck of Night Moves, the turquoise-painted fishing troller we chartered in Bella Coola, we are well into the nine-hour journey to Dean River. Warm and dry on deck, Jarred and I stare down at Kye riding his Sea-Doo along our port side. His determination to make the journey as DYI as possible is a testament to his ski-mountaineering ethos and cowboy personality.
Our captain, Victor, has sailed these fjords for decades, weathering storms that placed ships in their graves. As a child, I grew up hearing tales of my father being blown off these waters making this same passage. He too went through a period of steelhead obsession, nearly sinking his small boat at the crux of the journey, a notorious point called Mesachie Nose (meaning wicked in the Chinook language). Here, four channels (South Bentinck, North Bentinck, Labouchere, and Burke) meet and the tides and waves churn like a ship-eating washing machine. Beyond that hazard, granite walls pierce the ocean, leaving no safe harbour until nearly reaching Kimsquit Bay, 60 kilometres away. Even though we enjoy sunny skies and calm waters for our crossing, on the remote Central Coast seas, weather and luck can change in an instant. The trip feels heavy.
---
You might also like:
---
Approaching Kimsquit Bay and the mouth of the Dean, we're greeted by a sprawling estuary lush with life. Bears, wolves and deer often roam this shoreline, but so far we are alone save for the numerous eagles circling overhead. Pictographs mark a number of the rocks here, carved by the Nuxalk people who have fished this watershed since time immemorial. Nestled in a valley of 2,000-metre granite walls, the river tumbles down a steep grade, breeding some of the strongest wild steelhead on the planet.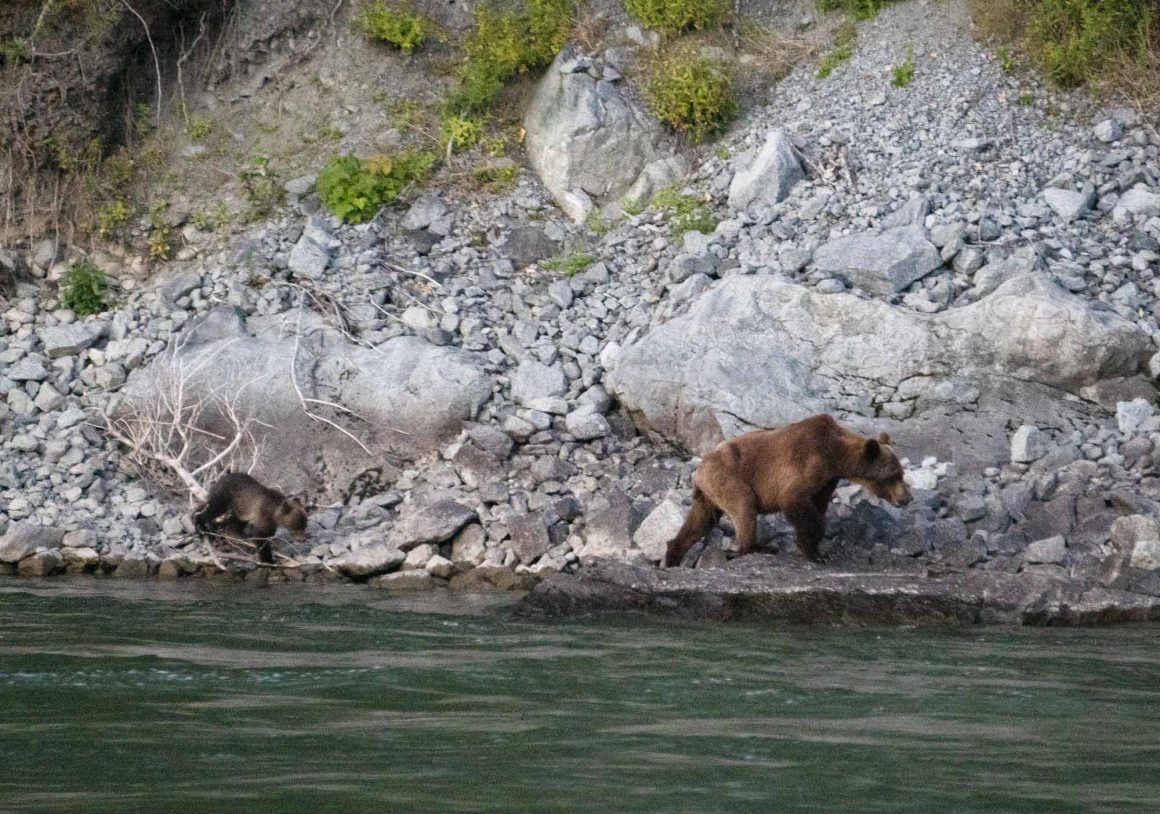 Steelhead are an anadromous rainbow trout, meaning like salmon, they're born in the river, spend their lives in the ocean, then return to their natal stream to spawn. Unlike salmon, whose populations are often measured in the millions, a steelhead fishery can usually be numbered in the hundreds. The odds are never in the angler's favour, and yet here we are. After travelling several days, thousands of kilometres, and navigating notorious waters to reach the Dean, I'm beginning to realize steelheading may be more of a sickness than a passion.
Picking our camp location, we run gear back and forth from Night Moves with my small inflatable jet boat we towed in to better navigate the river. Pitching tents on the grizzly-infested banks of the lower river, we watch Victor sail off over the horizon. The main chapter of our expedition begins with the unmistakable feeling of scale and insignificance that descends like a shadow from the surrounding peaks.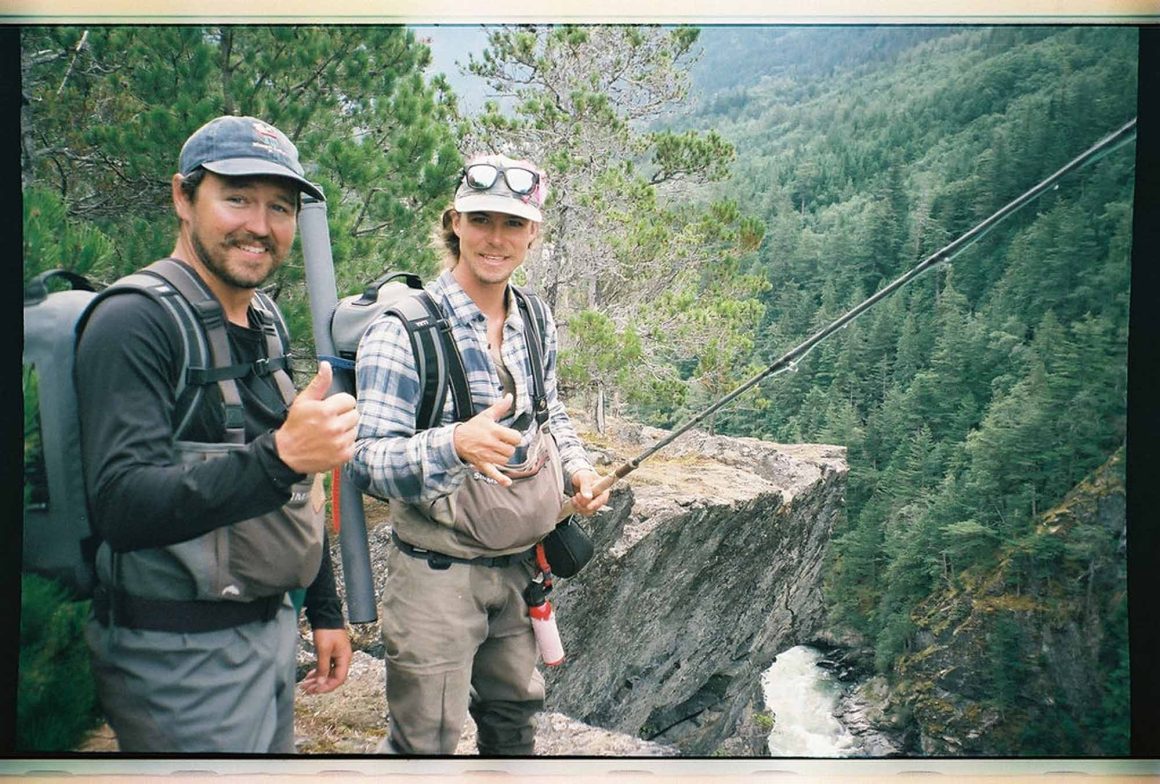 Wading into the water in front of camp and making my first cast, concerns of remoteness and 'what ifs', slowly drift downstream with each swing of my fly. The water is perfect, rumbling along at the ideal walking speed pace and I can't help but feel like a fish could hit at any moment.
Upstream, Jarred's reel starts screaming. Grabbing the net, I'm ready as he fights the fish, gaining ground then relinquishing line with each long run. Keeping steady pressure, lifting the fish's head, it slides into the net. Adrenaline coursing, we look down to find a pink salmon staring back into our laughs of amazement—the smallest of the Pacific salmon, fighting harder than many steelhead we'd encountered on other adventures.
Fishing until dark, we land several "trophy" pinks (establishing a running joke for the trip) and even feel a few "steelie" bites. As night sinks in, we put the rods away and crack beers around the fire while watching a grizzly sow and cub walk the far bank, a quiet reminder that out here, we are not at the top of the food chain. That night, sleeplessly tossing in my tent, my thoughts drift back to my wife and my own 'cub,' due in only weeks.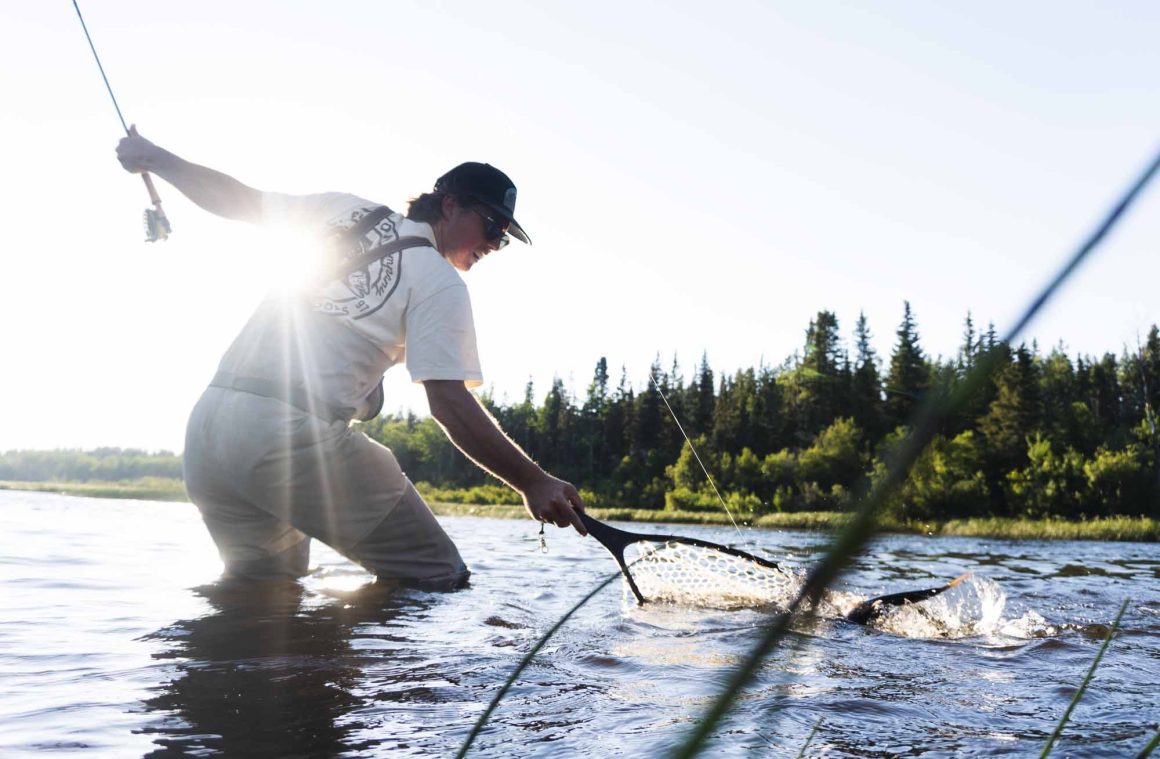 The next two days bring fine weather but tough fishing. Bumping into more grizzlies than steelhead, we're eventually forced off the beach and into our boat by a fearless young griz who ventures so close his foul, fishy stench imprints in our minds.
I started fly fishing as an escape, an alternative to my adrenaline-fueled pursuits as a professional skier. The meditative casting calmed my busy mind, and fishing seemed a low-risk way to continue to spend time outdoors. But being on a remote river with a 1,000-pound apex predator standing in the exact spot I had cast from earlier in the day, I feel caught off guard, like I should have put more thought into managing the exposure on this trip, similar to how I would a big mountain line.
Head-bugs bounce around my skull, pulling me in different directions. I'm grateful to be on a trip of a lifetime with good friends, but filled with anxiety about unrealized fears—bears, jet boating through dangerous rapids, engine failures, weather, rough seas, injury, drowning, something unexpected happening at home. Churning negative thoughts began ruining my experience on a bucket list river. Was I being selfish? Irresponsible? Putting my needs for adventure ahead of my duties as a partner and soon-to-be father? Frustrated that the allure of this trip wouldn't let me stay home, my perspective began to unravel.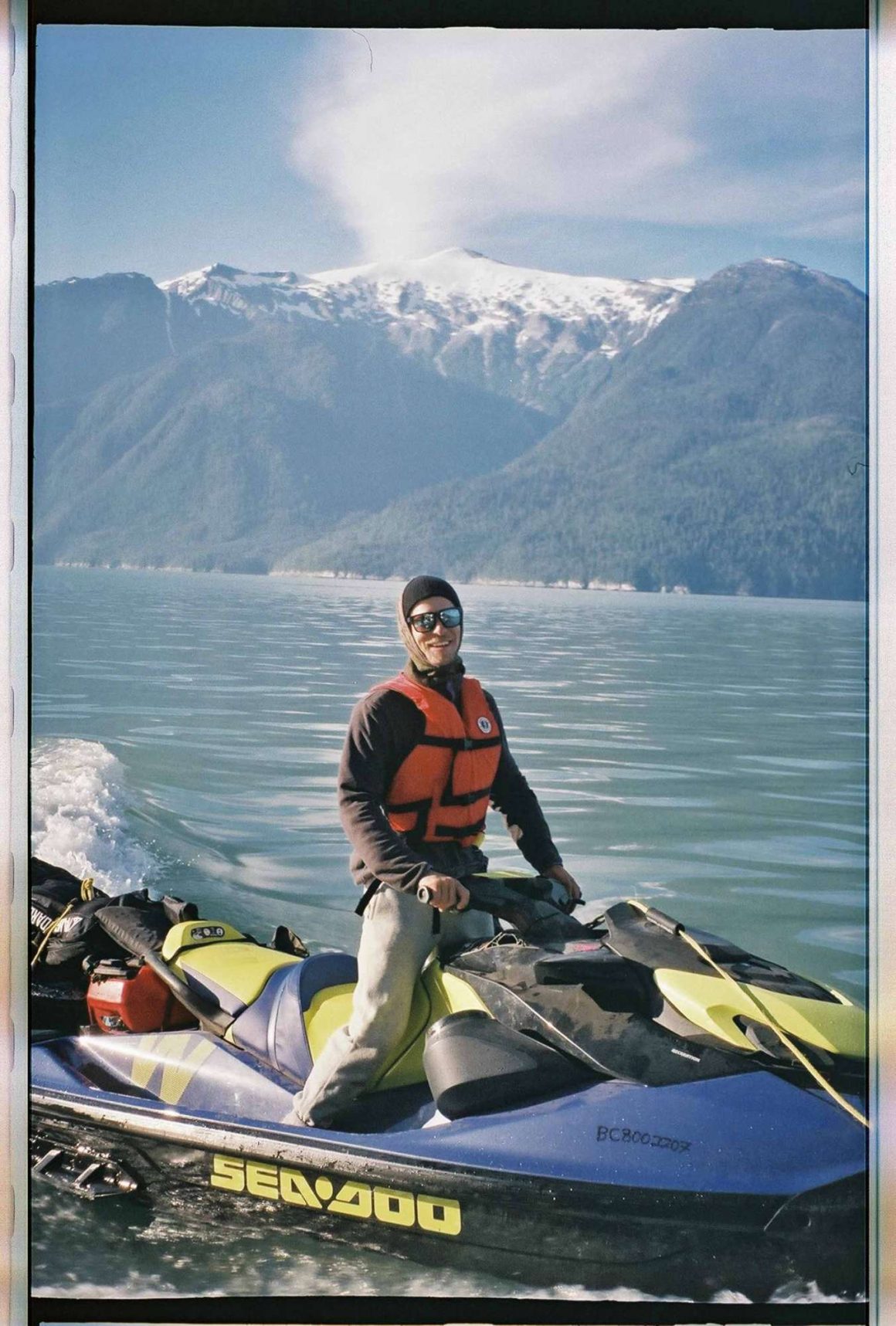 Back on the water, it felt naïve to think we could quickly make sense of this new stream and hook one of the most challenging fish in the country. Wrong fly, bad casts, poor technique…more doubts set in and team morale wavered—maybe landing a steelhead was not in the cards.
In an act of surrendering our last day to the fish gods, we hike upriver to a new area, leaving familiar water behind (not usually a recipe for finding fish). The weather has changed overnight with a chill in the air and drizzling rain. "Finally," Kye says, "steelhead weather."
Being on a remote river with a 1,000-pound apex predator standing in the exact spot I had cast from earlier in the day, I feel caught off guard, like I should have put more thought into managing the exposure on this trip, similar to how I would a big mountain line.

---
After only 20 minutes of casting at our new location, Jarred hooks a massive steelhead. The fish cartwheels down the river before straightening Jarred's hook and swimming away, giving us a glimpse at the power of the Dean River steelhead. Again, another big fish, another jump, running him out of line, leaving us in disbelief and realizing we're in a different league now.
I cast through behind and my line comes tight. Landing a small but beautiful female steelhead, it's rewarding to have a steelhead to hand and a collective sigh of relief for the group.
Jarred, believing his luck has run out, swings through once more. A battle ensues. After a hard fight, Kye grabs Jarred's fish by the tail. We did it. Jarred looks down at an encounter of a lifetime. After a brief moment with our prize, we release him to continue his spawning journey and mark our encounters to submit to the fisheries biologists for conservation efforts.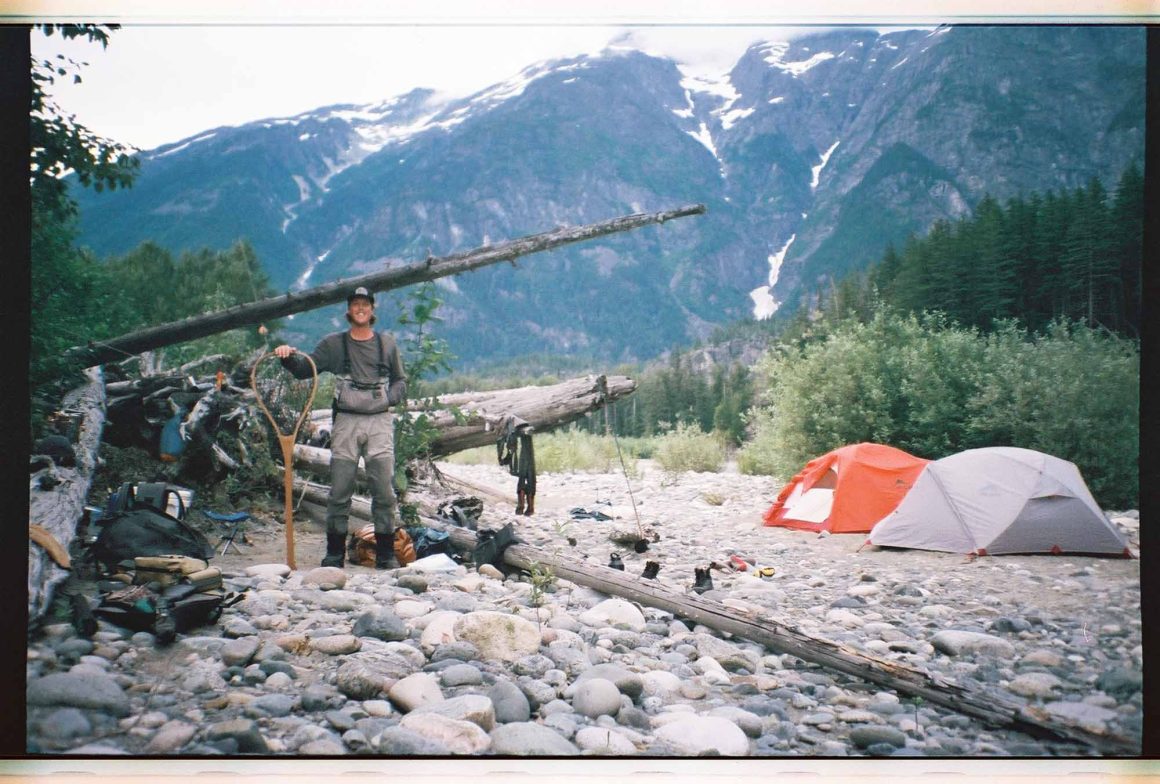 Seeing the joy in Jarred's eyes, I feel the value of the day, the unknown of it all. Our steelheading sickness brought us here. We left our expectations at camp, taking the day as it unfolded—no plan, pure freestyle, real adventure—and were graciously rewarded.
Back at camp, Jarred and I cook dinner while Kye fishes alone, determined to hook one in the final minutes of the day. Upstream of camp, a yell echoes off the valley walls and we know it's one of two things, a grizzly attack or Kye bringing a fish to hand. Luckily, it's the latter.
Cracked hands, blistered feet, sore shoulders, and shit-eating grins, we enjoy the last of our tequila. Some of the greatest conversations happen while passing a flask around a fire and this night there was wisdom emanating from the embers.
Alone in the wild with some of my closest friends, I explain the battle I'm waging with my anxiety on this trip, and how it has negatively affected my vibe. My friends offer pure support, and, after bottling it up all week, I wish I had opened up about my troubles sooner. Jarred talks about how fishing helped him through the tragic loss of his father and that this trip meant the world to him. Kye sums up my thoughts best with a lyric from one of his favourite Waylon Jennings tunes: "I've always been crazy, but it's kept me from going insane." Here we are, three crazy steelheading addicts sitting around a fire on the wildest trip of our lives.
I'm reconciling the bold adventurer I once was with the more responsible person I'm becoming. I'm not whole without them both, and at times I'm more one than the other, feeding my adventurous drive or being content with my risk aversion. But, like fishing, it's an unending process—you learn a new river, understand more about fish, wildlife, your place in nature, and sometimes you learn something about yourself.
I'm reconciling the bold adventurer I once was with the more responsible person I'm becoming. I'm not whole without them both, and at times I'm more one than the other, feeding my adventurous drive or being content with my risk aversion.
---
Back aboard Night Moves, boating past an approaching storm as a pod of dolphins escort us back to civilization, our strike mission to the Dean starts to feel like we've just robbed the bank.
Later in the day, high on the Chilcotin Plateau near the headwaters of Dean River, Kye, Jarred and I are tricking some rainbow trout in a small stream. My anxiety and adrenaline subsided, I enjoy the stress-free evening and think to myself: "This is the why I love fishing."
Releasing a small trout, I look off in the distance as the sun sets behind the Coast Mountains. I'm safe, happy, and on my way home, but the silhouetted peaks beckon me back to the wilds where steelhead lie, and I know at any moment I may relapse.
---
Related content from ML: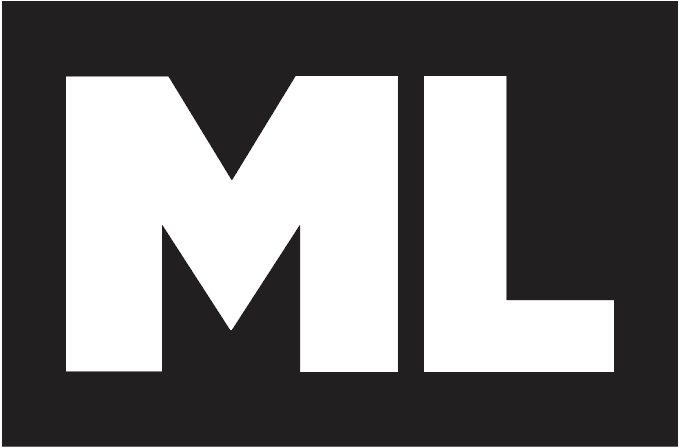 Check the ML Podcast!