Because your first tent better be a good one.
Words & photos :: Feet Banks.
In Canada, the Victoria Day holiday is almost universally better known as "May Long Weekend" (or May Two-Four) because it's historically been the official start of camping season. (And let the record show: I'd be a lot more interested in whatever inane nonsense the British Monarchy is up to if they actually camped on their "crown" land. Show me a photo of recently crowned King Charles reeling in a giant trout back in the 1970s, or pitching a tent in a windstorm or even simply wearing a backpack anywhere, and maybe I'd respect their holiday names a bit more.)
But that's beside the point. What matters is: they're teaching camping and outdoor skills in my kids' school and that means he needs a new tent. My old four-season expedition tent from 1995 is a bit too bulky, and the "sprooooingggg-sets-itself-up-in-mid-air" novelty tent I got last summer for truck camping doesn't have the weatherproofing capabilities I want for my kid.
Enter the MEC Volt 2-Person Tent. At $400 it's a step up from those cheapo options most new campers make the mistake of buying at Canadian Tire, but that's because the durability and packability factors are way higher, as is its ability to keep you dry when the skies unleash. (Pro tip: always get the tent footprint, especially if you live in a coastal rainforest.)
Pitched (haha) as a three-season tent for two people, the Volt 2 is a backpacking tenter's dream come true (unless you're 6'4").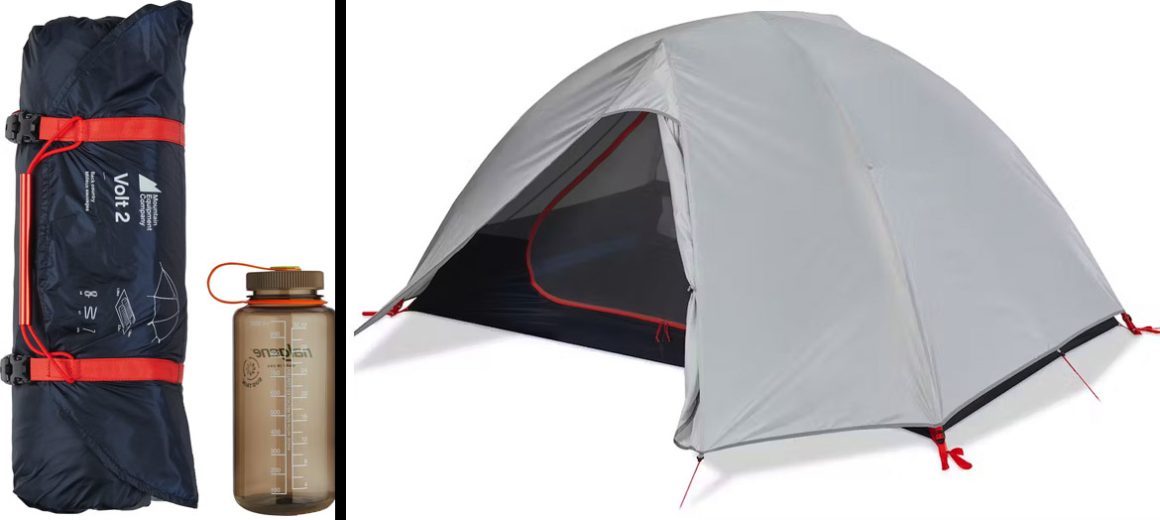 What my son and I love about the Volt 2:
Easy Set-up: two conjoined poles with a single cross piece and quick clips mean this tent goes up in literally under two minutes.
Zippered Doors on Each Side: For people who need to pee in the night (aka: old men like me.)
Full-Mesh Ceiling: For sleeping under the stars on clear nights.
To-the-Ground Fly with Dual Vestibules: For keeping you and gear dry on not-clear nights.
Lightweight: Just 2.14 kg (even with the footprint that's under 5 pounds).
Interior Guideline Loops: for drying gear, hanging headlamps, etc.
BEST OF ALL—roll-bag storage: The first thing to wear out on almost every tent I've ever owned has been the bag the tent is stored in, because years of cramming the tent in it are hard on sewn seams. MEC solves this issue for the Volt-2 with an ingenious rolling bag system that flattens out with individual pouches for the tent/fly, the polls, the pegs and the (handily reflective) guidelines. Then it all rolls up tight and stays compressed thanks to beefy, lockable clips. It almost feels like a garment bag for your tent. Genius MEC! (Maybe this is not a new idea in tent packing; it's been a minute since I bought a backpacking tent). I bet the aluminum handle on the storage roll would even be handy if you ever needed to repair a snapped tent pole in the field.
What we weren't as stoked on:
There are only two interior pockets on this tent; I'd have preferred two more down at the other end to keep books or stuffsacks in.
Light, easily packable, and the option of starry nights under a clear mesh ceiling make the MEC Volt-2 person tent a solid option for two people on a backpacking trip (or one dad who wants extra space—I'll be "borrowing" this one).
BONUS REVIEW: MEC Vectair Insulated Double Sleeping Pad
The greatest advancements in camping technology since my days as a kid has been in the field of sleeping pads. Legit, I come from the "giant rolled foamy" era but also lived through the "it's gonna leak every time" early days of the inflatable pads.
Oh, how times have changed. As an adult who sees no shame in car camping, I appreciate a double-wide sleeping pad (just as I like two square sleeping bags that can zip together. Even if you're alone it's still a way better sleep). So the MEC Vectair Double pad caught my eye, mainly because of its size—a double wide, comfy pad that compacts to about the size of the tent? Yes please. We had to try it out.
What I love about the Vectair:
Comfy: The most important part. With overlapped baffles for full-area awesomeness, the Vectair double is thick enough to keep me off the ground and the internal synthetic insulation keeps everything warm.
Not Gigantic: Seriously, at 1.9 kg (4.2 lb) this pad compresses to legitimately 1/10 the bulk of my last double-wide pad. It's not ultra-lightweight but it's for two people which means if you are carrying this someone else better be lugging the tent.
Independent Sides: Each person can inflate their own side! Or use just one side as a single.
Dual Valve: for efficient inflation but rapid deflation. One valve on each side too!
Didn't Pop: For real, I've had pads spring a leak on the very first night. The Vectair claims to be made of "abrasion-resistant 75-denier polyester" and so far so good. The pad also comes with a repair kit in case tragedy strikes.

(And for the record, a "denier" is a unit of measurement to determine fibre thickness of individual treads. The higher the denier, the sturdier the fibre. For reference, a human hair (off a head, I presume) is around 20 denier, but the official tabulations are done using a silk and weight. To weigh a single gram, a one-denier thick strand of silk would need to be 9000 metres long (because it is so thin). The floor on my Volt-2 tent is 40 denier nylon, while the body fabric on my MEC Zephyr 65L backpack is 210d nylon with 420d nylon in the high wear areas. To make things more confusing, the Vectair pad is polyester, which is a finer thread than nylon so it weaves into a higher thread count to strengthen a product that needs to hold air, like the Vectair Pad. Actual spider webs, of course, are the strongest of all—five times stronger than steel—but all the spiders at MEC are still just doing their own thing so spiderweb pads are still a few years away.)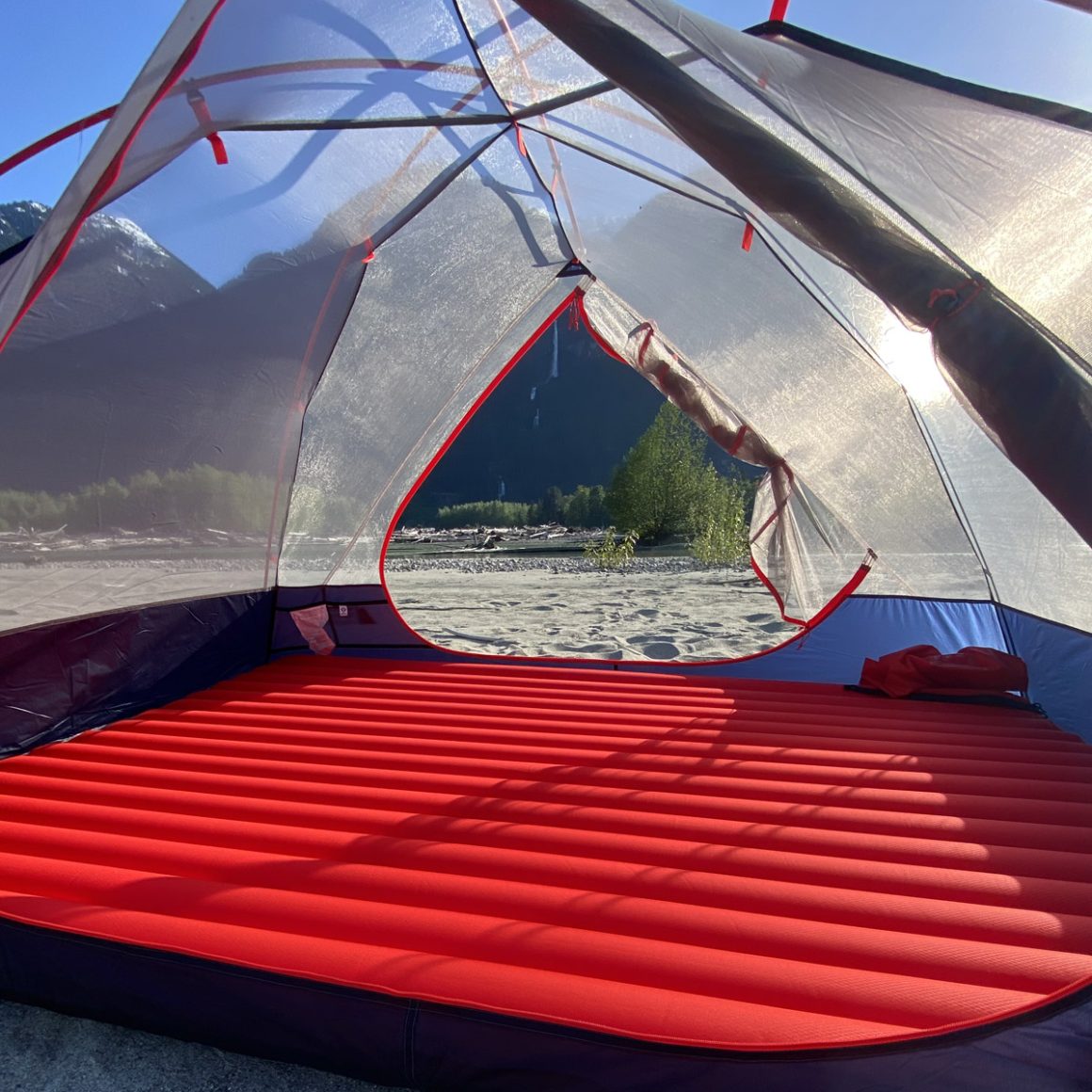 Now, Inflatability is often the Achille's heel of any sleeping pad (whatever happened to those built-in foot pumps? They were bulkier but they worked awesome). Vectair does sell a pump accessory but I didn't know that, so I blew this sucker up the old-fashioned way—by blowing.
For sure, inflating with your mouth does put moisture inside the pad, which is apparently not awesome for its longevity. However, since the Vectair double is separated into two pads, I was able to blow one side and the child inflated the other. No one passed out.
MEC has another solution for the Vectair—the stuffsack is also a pump. There's a nipple on the bottom that attaches to the valve and, if inclined, one can open the sack wide, then roll-pump air into the pad. It works, but to me it feels like it will take a while. I'd rather Invest in a pump or kick it old-school and blow. (The waterproof stuffsack can also be used to carry water to your firepit to properly extinguish those coals before you go to bed.)
And that's it! No complaints at all. Pro tip: when rolling up the Vectair pad, fold the long edges into the centre and roll from the non-valve end—fast and easy!
The other good news is since my son already got himself the Serratus Pace 40L ultralight backpack, he was able to carry half this gear (and two novels) in on his own. The other good news is, if he learns to take care of his stuff, that MEC pack and his new tent (and my new sleeping pad) are well-designed and properly constructed to last him for decades of adventures to come. (I still have my original MEC Rad pants from 1994—let him top that!)
Happy May-Long, everyone. Make sure your fires are 1000 per cent totally out before you walk away, and leave the campsite better than you found it.
---
Related content from ML: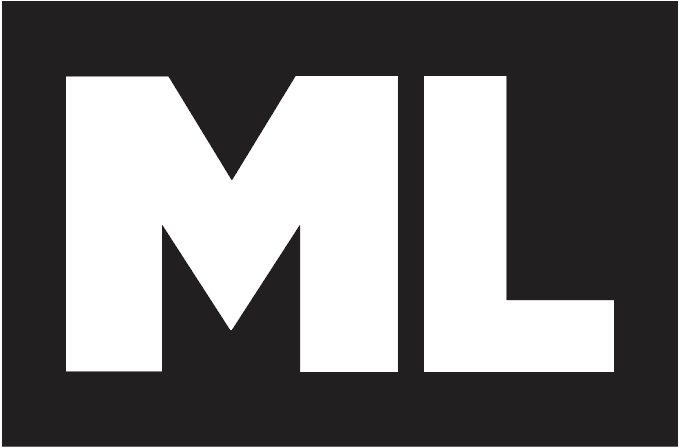 Check the ML Podcast!