Snippets from a slow-season adventure
Words :: Feet Banks.

Hood River, Oregon—Tuesday
Checking into the Hood River Hotel, I get my ass handed to me almost immediately.
"Oh, yes. Mr. Banks," the clerk says. "You're an influencer or something?"
The scratching record-needle sound ripping through my pride is only outmatched by Paige, my old college friend, bursting into laughter. Flushed red with embarrassment (shame?), I manage to explain to Elle—the desk clerk— that that no-no-no, I'm not that. I run a magazine and have been invited down by the hotel to do some fishing, hiking, and get a feel for a place I've heard a lot about. Elle doesn't really care how I career-identify. Instead, she kindly pours us wine and explains how to operate the elevator, which—like the rest of the Hood River Hotel—has been painstakingly restored to its historic, early 1900s glory.
As the metal cage snaps shut and the lift lurches into action I have time to remember that Visit Hood River and Visit Central Oregon (both lovely operations filled with beautiful and compassionate people) are helping facilitate this four-day road trip through central and northern Oregon. My job is to have fun, and share the good word. Is that influencing? Travel journalism? What's happening here? Slow season in a mountain town is a great time to have an identity crisis…
US Customs, Vancouver Airport— Three Days Earlier
"What's the purpose of your visit?"
I don't say it's because I live in a mountain town and it's "slow season," the soul-mending key few weeks between the sun-addled flurry of summer visitors and the pounding fury of winter storms and destination skiers. How can I explain, briefly, to this stranger tasked with guarding the border of her nation that I'm leaving the slow season of my homeland to go check out slow season in two spots I've never visited but heard plenty about. Or that I believe slow season is the best time to visit if you want to taste the real grit of a place, of the people and passion and character that makes a mountain town work. Instead, I give her the short version:
"Going down to do some fishing."
"What kind of fish are you after?
"Trout."
"Don't they have trout in Canada?"
Maybe I should have went with the long version…
"Yes, for sure. But it's nice to go fish new places. Plus, I'm meeting up with an old friend from college."
Boom goes the entry stamp and I'm waved through. "Visiting a friend," it appears, is a more acceptably correct reason to enter the country. Does anyone ever breeze through customs? I've already been pulled from the security line for a secondary inspection, and body scanned. Maybe dressing up like a cowboy was the wrong move…
Bend, Oregon — 3 hours later
Cruising down highway 97, watching the towering conifers of Mount Hood National Forest give way to the high plains desert of central Oregon, the cowboy outfit begins to feel right at home. Sagebrush tumbleweeds push against the fences of irrigated fields of towns with names like Crooked River, Tumalo, Redmond, and Madras. Horses and cattle graze the frontier grasses while, deep river gulches cut through the landscape as volcanic hoodoo ridges push against the dark sky. Once known as "The Oregon Territory" this landscape is as wild west as it gets.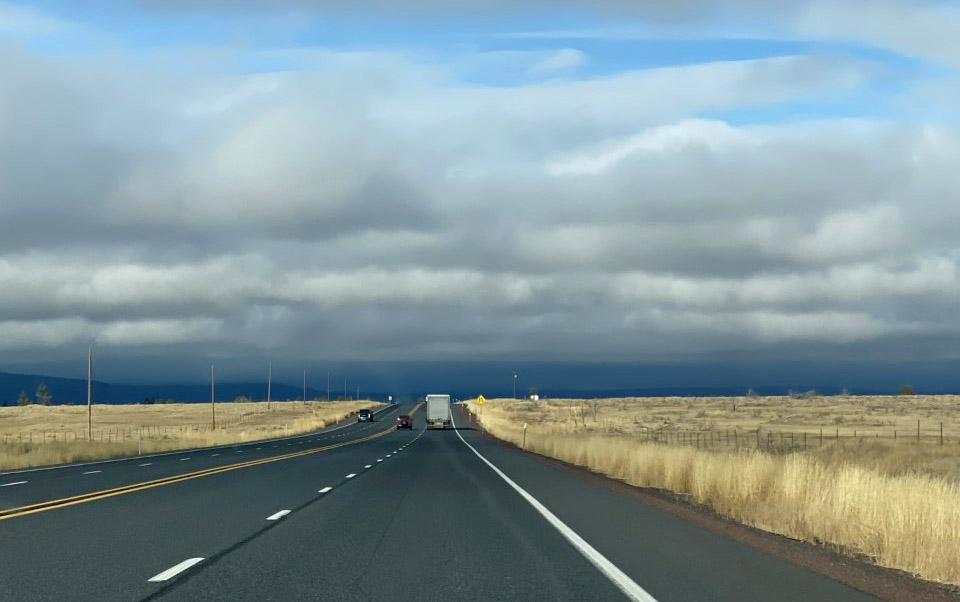 Prior to 1846, The Oregon Territory was known as The Columbia District and included all the lands west of the Continental divide (Rocky Mountains) from Alaska (Russia at the time) to California (Mexico at the time).  Certainly, Indigenous peoples had been in the area for tens of thousands of years, but as British and American fur traders moved in, they began drawing their own boundaries. In 1846 the US/British border was established along the 49th parallel, with the Colony of British Columbia to the north. Starting in 1859 the American portion of the old Oregon Territory began breaking out into the states we know today—Washington, Idaho, Wyoming, Montana, and Oregon.
And on the edge of the Eastern Cascade mountains, surround by lush forests of thick Ponderosa pine, the city of Bend sits on the banks of the Deschutes River. Originally known as "Farewell Bend"—because it was one of few places for early pioneers to cross the river, leave their old lives, and forge into the wild country ahead—Bend's first commercial sawmill (water powered) opened in 1903.
And for nearly a century, logging sustained the town. In 1910 famed publisher George P Putnam—future husband of aviator Amelia Earhart— even moved to Bend to cover the "railroad wars" as competing businessmen rushed to build the first railway connecting Bend with the Colombia River to the north. Putnam later became mayor of the town at age 25, though by 1915 he'd relocated to New York.
The mighty Deschutes River still runs right through town, but times have changed for Bend. These days parks line much of the riverbank and the Old Mill District has transformed into upscale outdoor shopping area (easily found by the three towering smokestacks left over from the glory days.)
Luckily for me, one of those shops is Confluence Fly Shop, because while Bend is now known as a tourism gateway to a plethora of outdoor sports, it's also one of the top ten fly fishing towns in the entire United States.
Early November is not prime trout season in central Oregon. Low air temperatures don't make for abundant insect hatches but there's always fish to be caught nymphing if they aren't taking the dry flies. Buddy at Confluence suggests the same spot the bartender at lunch did—Fall River.
A smaller, intimate, crystal-clear stream punctuated by fallen timber and undercut banks, the Fall is home to Brook, Brown and Rainbow trout and all the locals give the same warning—"the fish can see, probably before you see them."
Paige stays at the hotel to do some work so, armed with some size-18 dries (small hooks! the Rainbows in the Fall can get up to 20 inches in length but the fish are mostly in the 8-12" range), I head south, into a snowstorm. Passing the High Desert Museum and the Newberry National Volcanic monument, so many "points of interest" on even a 30-minute drive. I ponder that Americans excel at showcasing the details that make their nation so interesting and rich. There's a pride in the unique natural wonders of their landscapes, and they acknowledge and promote such things. Maybe they're just better at signage than us Candians, but it feels like our national understatement extends into the landscape as well. Black Tusk, on Whistler's highway 99, has an incredible geological and cultural backstory, but you'd never know it from the highway…
Fall River doesn't disappoint. There are a few other anglers braving the snow but no one seems to be hooking at fish. Still, to be standing alone in these crisp, clear waters surrounded by big pine trees and heavy solitude, with early winter sunbeams punching through the snowflakes…it's almost surreal.
I see a few fish but can't convince them onto the line. It's ok—I'm really only here to be here. To see, and start to learn, a new waterway in a place I'd otherwise never have known. We do have trout in Canada, that custom's lady was onto something. We have pine trees too, and streams, but we don't have them quite like this.
As the name suggests, it's easy to get rid of the post-fishing chills at the Campfire Hotel. Sure there's a 12-foot diameter campfire that fires up every afternoon, but what makes the Campfire a true hot spot is their year-round, 100˚F outdoor, salt-water pool—that's an entire pool, hot-tub hot. Conceived as an affordable-but-unique basecamp for skiers, mountain bikers, climbers, hikers, fish seekers and anyone looking to take advantage of Central Oregon's outdoor adventures, the Campfire Hotel remixes the joys of camping (s'mores, boardgames, & sing-alongs) with the luxuries of civilization (showers, a cocktail bar, karaoke, and pool parties—imagine sitting in a floaty on a giant warm pool, drinking a cocktail and watching Jaws).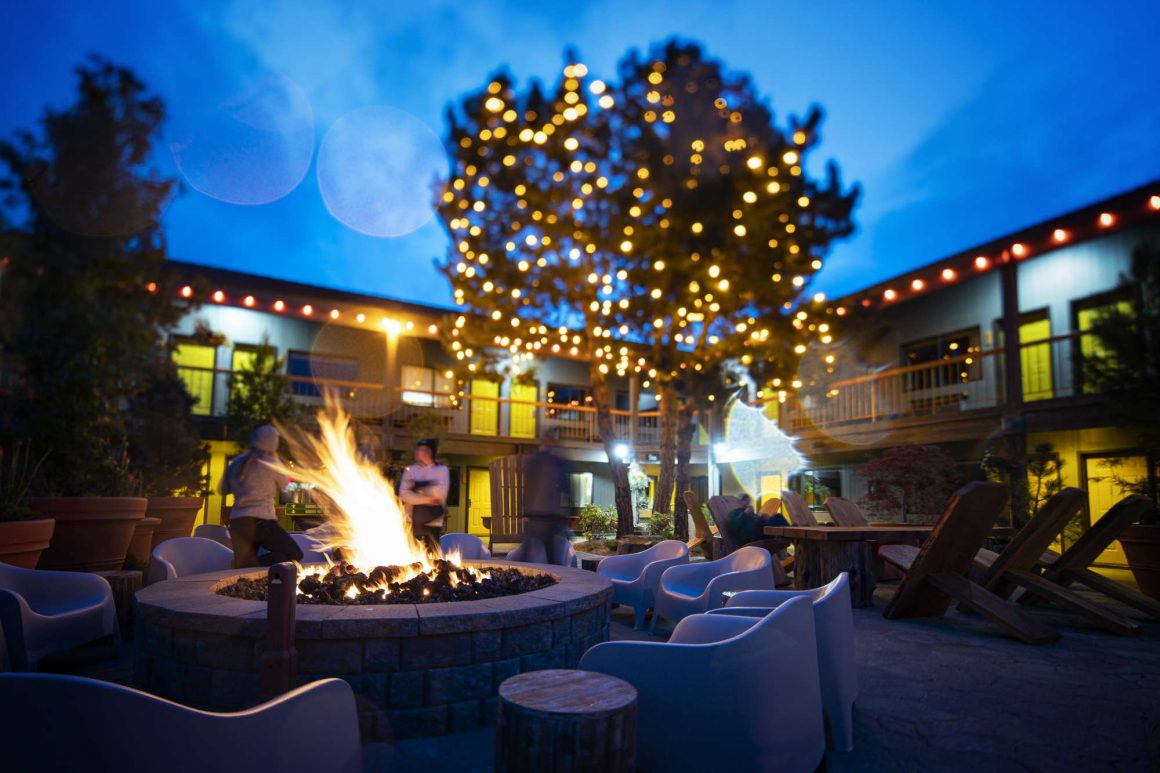 The other nice thing about the Campfire Hotel is its proximity to downtown Bend, which, like much of Oregon, seems custom-built for Après. Beer, specifically craft beer, is synonymous with Oregon and Bend punches well above its class when it comes to hoppy good times. Like every mountain town, there are craft breweries everywhere in Bend (there's even a 4-stool bar in the fly shop), the difference is these are the ones that helped kick the trend off in the first place. But for brews mixed with laughs and hands-on doomsday survival skills, nothing beats throwing hatchets at blood-packed zombie targets at the Unofficial Logging Co.
"The idea came out of a joke we made to our insurance company," says owner John Heylin. "We wanted to open a taproom and the insurance agent asked me if we were going to have billiards on site, because that would raise the rates. I joked and said, 'no we are going to throw axes though!" and turns out, funny enough, that falls under the same rate! That got the wheels turning, I grew up splitting wood and throwing axes in Fort Bragg at their amateur lumberjack contests… so we just jumped on it."
Now obviously, it's unsafe to throw axes with an alcoholic beverage in the other hand (even at blood-packed zombies) but, thanks to the liberal magic of American liquor laws, there is nothing wrong with having a few pints—and a nice meal— sitting at the table just behind your throwing lane. Besides being a nice way to get the competitive juices flowing after an afternoon of fishing in the snow, Unofficial Logging Co also hits both the timber-town history vibe of the Bend area and the impending-doom-survival-training vibe of learning how to hit a zombie in the head with an axe. Win-win.
The trick to really getting to know a mountain town, in slow season or anytime, is to sit at the bar and make friends. Even if—especially if—it's only with the bartender. It was a quiet night at Cascade Lakes Brewing Co, so Paige and I got good seats at the bar with clear views of the day's football scores.
Serving (and forming) the Oregon craft beer scene since 1994, in 2018 Cascade Lakes became Oregon's first and only not-for-profit brewery. "The local community has had a profound impact on my family and I," says owner Andy Rhine. "And one of our goals is to give back. We're doing our best to make a positive impact, and it's all done through the community's support."
Cascade's net profits, and proceeds from special "themed" beers, are funneled into local animal shelters and charities focusing on children and animal welfare, as well as more rubost healt benefits packages for employees.
Which makes it all that much easier to order a second plate of pretzel bites and spicy beer cheese dip, while bartender Curtis explains he's here for the snowboarding on Mt Bachelor, but if I'm into fishing…well the the campground at Fall River (where I went) is a pretty good spot but this time of year I might have had better luck trying for browns (brown trout) downstream from the hatchery. And it's too bad I didn't have more time because there's good fishing to be had out at the Metolius river, a spring-fed, barbless hook, catch-and-release stretch of beautiful water northwest of town. It's not the easiest river to fish, and commercial guiding is prohibited, but there's decent access from the Lower Bridge Trailhead or the Wizard Falls Fish Hatchery. With snowstorms in the forecast, and a tight itinerary, it looked like we'd have to save the Metolius for a future trip… but let the record show—it's always a good idea to take fishing tips from a dude pouring a trout-themed beer called The 20" Brown (5.3 ABV | 17 IBU's).
There are also fish in the Deschutes River, and you can cast for them from a number of Bend's riverside parks, (they even have two stocked ponds reserved for kids under 17), but the real local excitement is floating, tubing, and wave riding at Whitewater Park, where the city has actually built mini-waterfalls into the river for tubers to enjoy, a riparian zone for fish and wildlife, as well as a standing wave for SUPers (or surfers). There are also free lifejackets and helmets on shore for anyone to use anytime (and they don't get stolen overnight, Bend is that kind of town). It's legit the coolest city park I've ever seen—though freezing temps meant we didn't get to see anyone on the water (next time I'm bringing a wetsuit).
Note: any visitors, even kids, that want to fish in Oregon need to purchase an angling license. You can get a single day or multiday here .
There is more to slow season life than fishing and wave-riding of course, there's also drinking! Oregon is a wine state, and a craft brew haven, but over at San Simón, in downtown Bend, the cocktail trumps all. With my kind of slogan ("Sophisticated Debauchery) and an actual shrine/idol devoted to the Mayan trickster folk saint of givin'er, San Simón is all bricks, candlelight, with friendly staff, good music, and a simple charcuterie menu (no forks in this joint).
"I love living in Bend, but it lacks a seedy underbelly," says owner Brian Trottier. "I backpacked through Central America with friends 20 years ago and came across a shrine to San Simón. With this spot, and having a shrine in the bar, it's meant to be an homage to that sense of bacchanalia and debauchery. Something a bit more culturally rich and mysterious."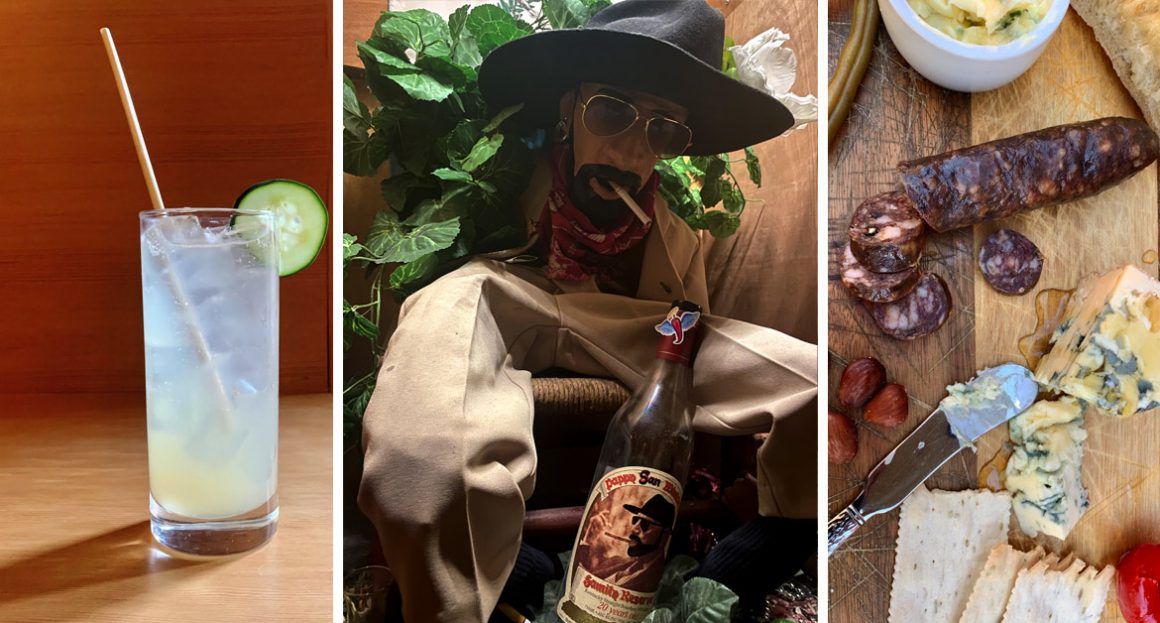 He had me at "Debauchery", but also with the sort of cocktails you don't easily forget (even if you have a crapload of 'em). I chose The Last Blockbuster because pepper-infused tequila with lime and grapefruit soda is always a good call, but also because Bend actually does have the last Blockbuster Video store in America!  It wasn't open at 9 AM however, when Paige and I said goodbye to the Campfire hotel, and the safe and friendly town of Bend. Knowing full well we'd barely scratched the surface of this peaceful mountain haven (Biking! Hiking! Wine! More Fishing!) we headed north for Hood River, wondering if it'd taken enough photos, but not fully aware of of the "influencer-y" identity crisis waiting in the next town…
In the next instalment of Under the Influence: Oregon, Feet and Paige run out of gas in Sasquatch country, go chasing waterfalls, and tap into the joys of slow season life (and the best breakfast ever) in Hood River. Check it out here! In the meantime, winter has come to Bend, slow season is winding down, and Mt. Bachelor opens November 30th, and will soon be back to her full winter glory, like this: