You don't have to be a Voyageur to enjoy the fur-trade routes on Canada's first designated heritage river, but it helps. Words :: Leslie Anthony // photos :: Leslie Anthony & Ethan Meleg.
Alex and I leave the dock around noon. Along the shoreline, lone leaves twist like prayer flags on otherwise naked branches alongside old log lodges that date to the 1920s. We pass Alcatraz Island, scene of a drunk's infamous overnight imprisonment, then Scholard Island, before turning into the channel shadowing Eighteen Mile Island, with its vociferous wolf packs and eastern cougar sightings. We stop above Little Pine Rapid, normally a minor riffle but now raging due to open dams on the upper French River near its egress from Lake Nipissing. Pacing along it on smooth, exposed shield rock, we settle on a mellow line for our inaugural whitewater run together. Back in the canoe, Alex astern, we slide in smoothly and angle left through the main wave train; when it dissipates, I throw a quick cross-bow draw to pull us from a corner eddy that wants to suck the canoe into a rock face, and we regain smooth water. So far so good.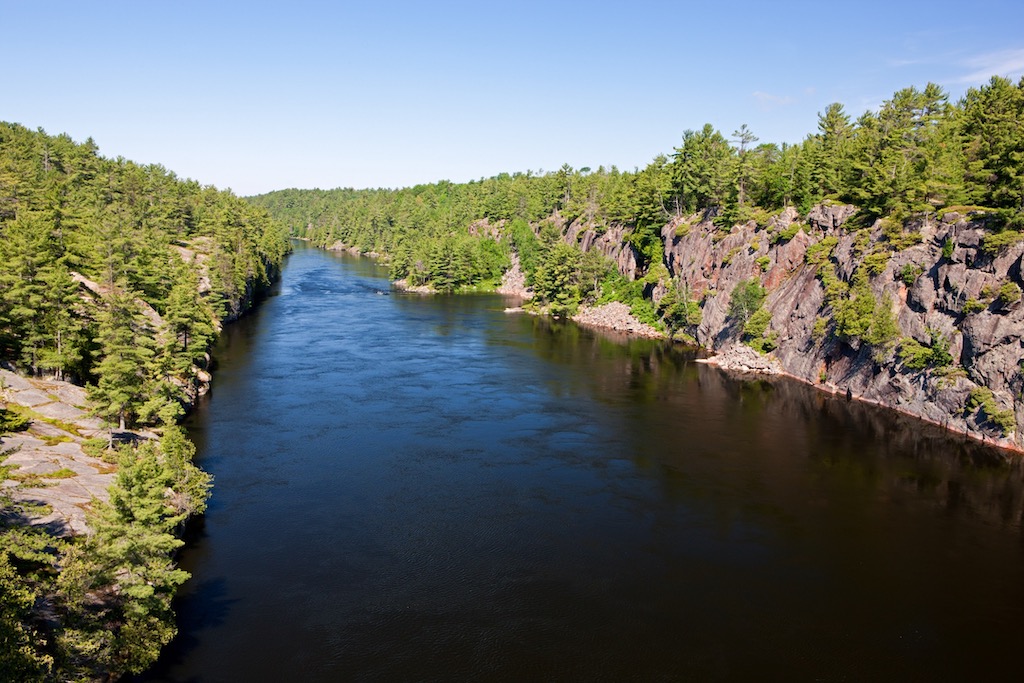 The crack of paddles echoes sharp across still October waters as the quintessential Group of Seven landscape slides past: whaleback rocks, straining white pines; pink granite constellated in earthy patinas of lichen, leaves, needles. Soon the roar of Big Pine Rapid rises to meet us, and it is indeed big—a five-metre drop with ledges, rollers, curlers, haystacks and hydraulics. There's a portage if we wish, the trail worn shin-deep not by modern recreationists but explorers including Champlain, Brulé, and Mackenzie, brigades of Voyageurs, and the First Nations travelers who'd humped over it for thousands of years beforehand.
---

---
It's fascinating to behold this gentle, needle-carpeted trench worn into the turf and imagine the wonder of those who crossed here over the 400 years of Canada's recorded history, of the bottleneck this site once formed in the continent's nascent fur industry, the shores choked at times with hundreds of traders and native allies, encamped and waiting turns to move cargoes up or down, likely out of rum and on starvation rations of pea soup and pemmican until they reached a fort. But Alex and I don't wish to portage—at least not fully—for we have divined a sinuous left-right-left line through the maelstrom. Schlepping our loose gear, lunch and cameras over the trail for pickup later, we prepare to shoot Big Pine.
Dropping in the centre of the ingress, we first cleave a massive haystack then move immediately right to line-up on the main chute; without communicating, we instinctively angle the boat so it ferries swiftly in the right direction. I high brace into the standing waves and we tip down into another substantial drop, paddling hard. The wave train sweeps in a banked curve up the sloping shoreline rock on the right such that the second we reach it a huge draw is required to pull left into the centre, where the highline throws a welcome but soaking cross-wave over my head. Soaked and smiling, we seesaw over the last stacks into the bay and quickly eddy out to retrieve our gear. Exhilarated by the triumph of a run through difficult whitewater, we chatter and paddle twenty minutes before clambering onto an island to lunch overlooking magnificent Blue Chute.
Sitting in sun out of the southwest headwind we've been bucking, the broad, lolling tongue of Blue Chute glistens below like a strange dream; revealed… but also familiar. Not just because it's immortalized in Canadian art, but because I've been here before—38 years ago, as a canoe-mad 17-year-old. I don't remember much, but as we down a thermos of curry vegetable soup and thick sandwiches, some trickles back. I reminisce about the weekend I spent here and the impression this chute—this landscape—made; about the long, looping life's journey through science, academia and journalism that canoeing sent me on while always maintaining a subconscious presence. Like a journey across the land, life takes you to new places – it's exploration and adventure, un voyage.
---
You might also like:
---
Alex Strachan nods in understanding, then opens up about his own voyage from recalcitrant, oddly library-bound student to the corporate world, where he made a fortune trading peanuts and went on to great heights with a real-estate company, to wanting out before it consumed him and walking away from CEO certainty to reclaim his soul. He did so by purchasing a dilapidated fish camp, razing and removing two-dozen buildings, and building a smart, spacious, central lodge with 15 tasteful cabins of rustic chic scattered in the surrounding forest.
That would be the Lodge at Pine Cove, from which we'd set out. Pine Cove offers a different kind of backwoods comfort: first-class digs; breakfast delivered to your door in a picnic hamper; lunch for paddling or hiking excursions supplied from an excellent kitchen; forward-thinking eco-consciousness in a litany of sustainability and local sourcing of hand-made everything, including insect repellant. Alex manages the inn while his partner, Nicola Ross—longtime editor at Alternatives magazine—runs the outfitting business. Both lead canoe and kayak excursions, whether scenic flatwater or, as today, to some of the French's most famous rapids.
Done lunch, bonded, and already a de facto paddling team, we run the Blue Chute without unloading, barreling directly into the straight-forward rollercoaster that was forever etched in my mind. A chance to play in this amazing piece of whitewater is a daily opportunity for lodge guests, some of whom come to do just that. We hit the bottom and paddle a short way before returning to the main channel by dragging and paddling up a route known as The Ladder. Mergansers peel off ahead in small flights of three or four birds, while loons bob alone from time to time as we make our way back to the lodge with some urgency. Alex has to cook dinner for a dozen guests (it's the Argentine chef's day off—though cooking is a job Alex relishes). We make the historic portage at Big Pine and line the canoe up Little Pine. Mission accomplished, I've earned my dinner of the classic French Canadian dish, tourtière, which turns out to be the best I've ever had.
Overnight, clouds gather ahead of a soaking rainstorm, obliterating the ethereal aurora borealis that covered the sky from horizon to horizon the previous evening. When the rain lets up mid-morning, Nicola guides a couple of us on one of her favourite kayak loops. Paddling on glass we head east, turning south down the labyrinthine North Channel just as a light wind scallops the water. Crossing, we tuck quickly into a large bay where an osprey wheels nervously above a perched bald eagle—one of few I've ever seen this far south in Ontario. The eagle hop-scotches ahead as we trace rocky, finger-like points in the bay before crossing back over the channel into another, smaller inlet. Here we beach the kayaks and walk a few steps into an extensive cranberry bog, where Nicola had foraged last week for her thanksgiving meal. Tucked under leaves at ground level, the cerise orbs aren't easily visible, but plenty remain and I eat my fill, pocketing a few tart berries for later indulgence.
Pushing on we follow a right-hand channel into a small bay whose head conceals a short portage that deliver us swiftly back to the lodge by way of the very cove that my guest cottage overlooks. The ultimate convenience: luxury and back, by way of wilderness.
After a lunch of quiche and salad, the sound of a large outboard drifts up from the dock. Local tour guide Rene stands beside his craft, proudly adorned in a plaid wool shirt with a traditional, decorative Voyageur-style ceinture fléchée wrapped around his waist (the wide, multipurpose belt helped with the strain of heavy loads as well as looking flash). He also sports a moose-horn-handled knife, its centuries-old blade first discovered on a diving trip back in the '70s, then fished from the river during low water in the '90s. Rene bubbles with a fount of information.
Every property we pass has a story, most going back to settlers and all entertaining. He also knows the intimate history of the area's exploration: Champlain, for instance, used the French route in 1615 to journey to the heart of the Huron nation on Georgian Bay, then travel south with them to war against the Iroquois. Antoine Laumet de La Mothe, sieur de Cadillac, later Governor of Louisiana, passed through here in 1701 en route from Montreal to founding Fort Pontchartrain du Détroit, which eventually became modern Detroit.
Eventually we reach our destination, the infamously un-runnable Five Finger Rapids, egress of the Little French River into Wolsey Bay, and tie up in a cove. With dams open upriver, the water is canoe-destroying big as we hike braided trails to inspect one roaring finger after another. Near the topmost rapid we pass a shaded rock wall papered for metres in the lichen known as rock tripe, reputedly eaten in soup by natives and Voyageurs. It tastes like dirt.
Returning to the lodge, I happily revive my tastebuds with other guests under the guidance of a couple of passionate cheeseheads from Collingwood's Dags & Willow Fine Cheese and Gourmet Shop, who have arrived to walk us through a sampling of some of their favourites. It's a divine end to another day of outdoor fun and history. In any event, it beats pea soup and pemmican. Tomorrow Alex and I will again follow in the paddle-strokes of the Voyageurs—but we will be far better fed.
This article was originally published in ML Blue Mountains, summer 2013.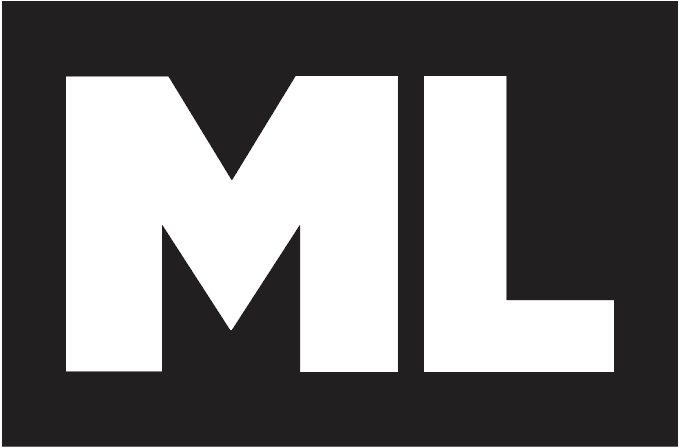 Check the ML Podcast!