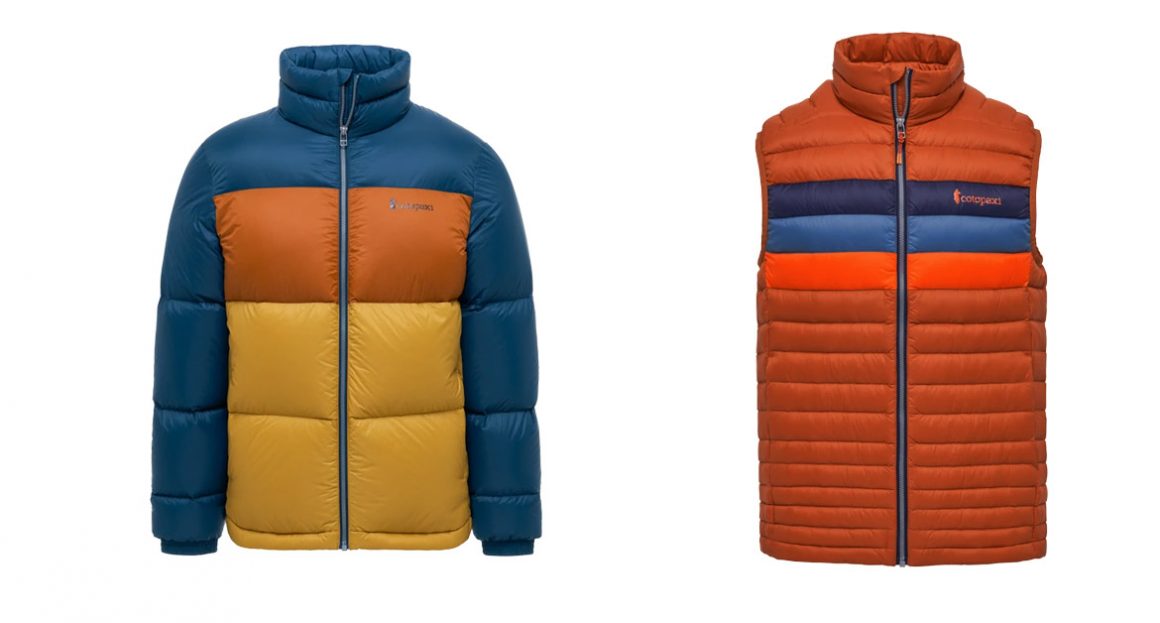 Let's not kid ourselves—down jackets are not rocket surgery. They're fluffy feathers contained by fabric, that trap air to keep you warm. Sure, sure there are nuances like baffle size and fabric type but there's really not that much difference in design from top brand to top brand (or even from the jacket your grandma bought at Costco).
By the standard down jacket metrics (warm, light, comfy) the Cotopaxi Solazo Down Jacket performs perfectly. The down keeps me toasty but not sweating, the fabric keeps the down inside, and the baffles keep it from all sinking to the bottom of the jacket like in those shitty unbaffled Costco garments. And of course, the colours. Cotopaxi colour schemes capture a fun, warm Latin fiesta vibe with a twist of 1970s beach fire/piling-out-of-a-smoky-van-to-go-catch-some-waves vibe. Both of which pair excellently with my mustache. But seriously, every single time I wear a Cotopaxi garment someone comments on the colours—definitely the most eye-catching jackets I have.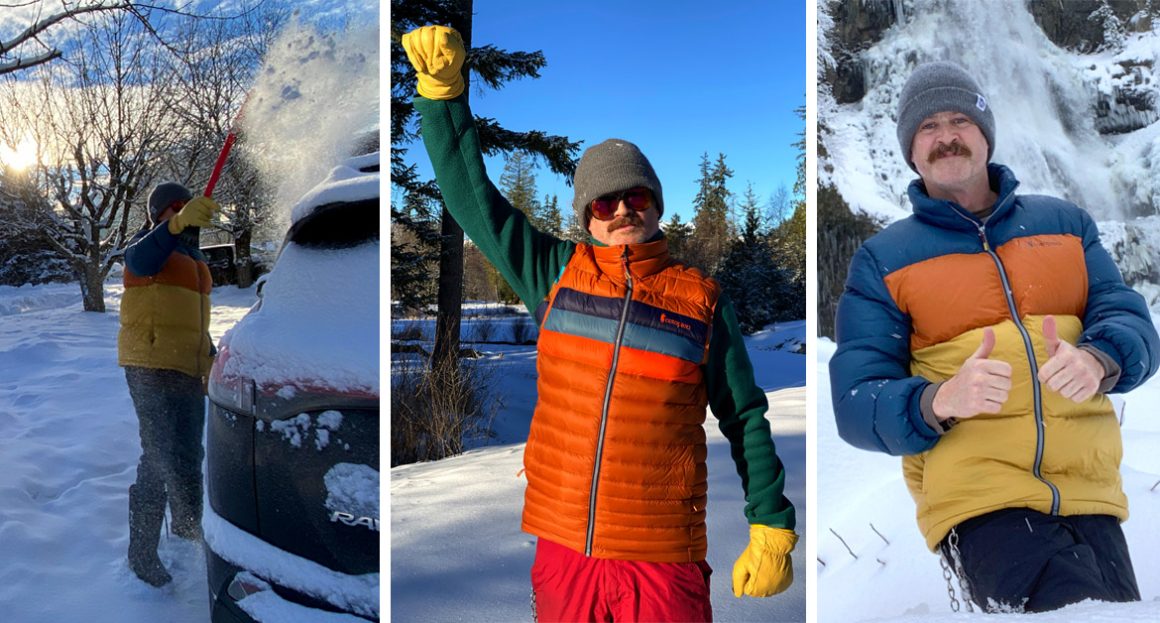 Another thing: I used to not be into down vests. Back in the late 1990s I distinctly remember looking down my nose at kids walking around the university campus on above-freezing days in down vests and saying, "It's not even cold out! And if it ever is cold enough you need down, you probably need sleeves too."
How wrong I was. The Fuego Down Vest has been my go-to daily garment this winter, and it's a nifty mid-layer on the ski hill too on those freezing-cold-but-not-arctic-cold days. Out on the streets, the pocket zippers are easy to get into and they hold a tonne of stuff (sadly it's too often a COVID mask these days). There's an inner pocket too for valuable stuff that's not too heavy (top-loading a down garment never feels good.)
But the coolest thing about Cotopaxi, what elevates it over other brands (and especially that crap from Costco), is something that runs much deeper than how kick-ass their garments are. It's all about the materials they use and, especially, the people who actually make this stuff.
Founder/CEO Davis Smith named Cotopaxi after the volcano that rose above his elementary school as a missionary child in Ecuador. And beyond a (what should be industry-standard) commitment to sustainably and ethically sourced materials, how Davis wanted to differentiate Cotopaxi was to focus on people.
"All the other brands focus on the environment," he says on the How I Built This podcast. "Which is great, but we wanted to also focus on people. What about people that live in extreme poverty? We have the opportunity to eliminate poverty in our lifetime and that is what I wanted to focus on as a brand."
Certified climate-neutral, and conceived from the start as a B Corp company (a community of for-profit businesses working towards global social, environmental, and economic benefit), Cotopaxi identified healthcare, education, and livelihood training as three areas explicitly linked to poverty. Off the top, 1% of all sales goes to established non-profits working in those three areas. Working only with heavily vetted suppliers and manufacturers, Cotopaxi supports local initiatives in their supply chain areas, such as building a community garden at one of their factories to assist food security and nutrition for the workers.
"Ultimately it's about 4.5% or so that is donated," Smith says. "As we scale our business, our impact can scale as well. We expect to make mistakes but we can't let that get in the way of finding ways to do good."
Strict attention is also paid to the materials themselves. Currently, 94% of Cotopaxi products contain repurposed, recycled, or responsibly sourced materials. They only use RDS-certified down (from factories that are audited for animal welfare) and the cotton in tees and logo wear is 100% organic.
But the coolest initiative, I think, is Cotopaxi's (Re)Purpose Del Dia collection of packs and bags, which are made from fabric remnants left over from other brands' product runs, and the factory workers sewing the gear make the colour choices and creative decisions on how each individual bag will look. "We said, 'let's use this waste material and you guys design the bags," Smith says. "No two bags are alike."
With all kinds of transparency reports and supply chain information available on their website, Cotopaxi's tagline is "Gear for Good" but it's also damn good gear. Also, their logo is a llama, my kid's favourite animal.

"Ah llamas," says Smith, who adds that the Cotopaxi volcano area was the first place he saw the animals in the wild. "They're these headstrong herd animals that live in some of the most rugged regions of the Andes. They're hardy, sociable, fiercely loyal, curious, and eccentric… kinda like us."
Cotopaxi— like llamas, only they make awesome stuff and run an admirably tight ship.