British alpine climbing pioneer Rab Carrington designed legit mountain gear for over three decades. So why haven't we heard of him before? Words :: Feet Banks. Article sponsored by Rab.
The mental, physical and spiritual benefits of spending time in the mountains have been well documented. Blood pressure lowers, cells regenerate, souls heal and trauma begins to dissolve. But there's another, lesser-known, benefit to time spent out amongst all that mountainous space, peace and solitude… it drives entrepreneurial innovation and the invention of better gear!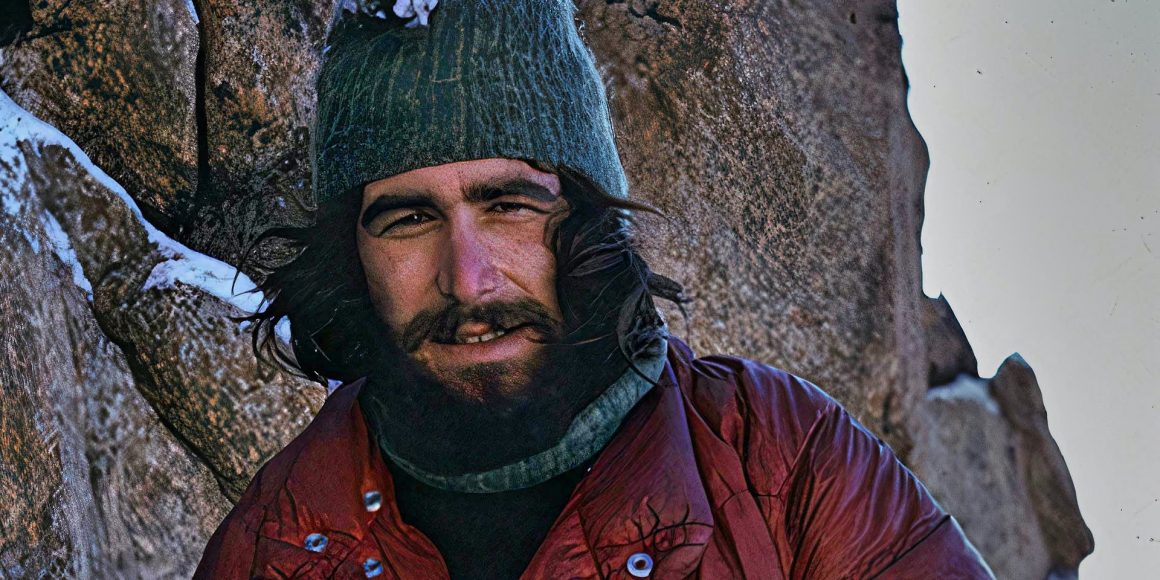 Time lived in the wild has inspired countless outdoor enthusiasts to look at their gear and think, "There has to be a better way to do this," and there are a number of storied examples: Mountain Lifer Eric Hjorleifson designed a better ski touring boot in his head while setting the skin track day after day.
Patagonia founder Yvon Chouinard taught himself to blacksmith after a summer of hang-dogging in Yosemite, and Foehn Clothing sprang from Anthony Boronowski's drive to build the world a better rock climbing pant. The people who intrinsically know, understand and live the mountain lifestyle are the ones best suited to evolve it.
And yet, few people in North America have heard of gear-and-garment innovator Rab Carrington, the distinguished Scottish climber and mountaineer who led expeditions into the Alps, Himalayas and pretty much anywhere the mountains called him throughout the 1960s and '70s.
Known for his diverse climbing skillset—Carrington was at home on lightweight alpine routes, technical sport climbs or sustained traditional big walls— it was after the birth of his daughter in 1981 that the climbing legend shifted his interests away from big, dangerous mountaineering trips and settled down to start what would become an industry-innovating sleeping bag and jacket business.
"It was the only thing I knew how to do," he explained in a 2006 interview with the British Mountaineering Council (BMC). "I worked on a building site in the day and in the evenings, I sat upstairs and made sleeping bags."
Those sleeping bags, and the by-climbers-for-climbers innovation they were built with, happened almost by accident. Back in 1973, Carrington and climbing partner Al Rouse had arrived in Argentina ready for a jaunt into Patagonia only to discover all their climbing equipment was still in Liverpool, delayed indefinitely due to a dock workers' strike. Carrington spent the next six weeks working for a friend, making down-filled parkas and sleeping bags for the Argentinian military.
In those days, the materials used to contain down in garments and sleeping bags were heavy and unsuitable for climbers. But by the time Carrington began working with down in his Sheffield-based attic/workshop the climbing world had begun embracing more synthetic materials.
"Rab knew climbers wanted lighter, moisture-wicking materials," explains Jim Evans, current marketing director for the company that bears Rab's name. "The search for lighter materials led Rab to a company that made typewriter ribbons—those are designed to wick—and they also made parachutes so Carrington worked with them to develop the fabric that would become what Rab is known for: lightweight, down sleeping bags and garments that wick away moisture and vapourize sweat without sacrificing their warming properties."
Rab Carrington originally made bags for friends, or to sell in the local climbing shops that began popping up in Sheffield as more and more climbers began searching for ways to fund their pursuit. "It felt like a shared outlook back then," Carrington told the BMC, "There were a lot of independent climbing shops and the people running them were all my age, doing the same thing. It was an easy way into commerce."
By 2003, Carrington's attic-based business had grown into an international mega-brand and the founder was ready to retire. He sold the company and used his newfound free time to climb more, as well as volunteer as Vice President of the BMC.
Since 2007, Rab (the company, not the guy) has been part of the Equip Outdoors Technologies group alongside Lowe Alpine, another storied mountaineering brand. Traditionally focused on climbing (sleeping bags, shelters, garments), Rab added an alpine ski collection 4 years ago and has since been focusing much of their innovation on sustainability and environmentally positive initiatives. Rab and Lowe Alpine both operate as carbon-neutral companies, balancing what carbon footprint they can't reduce with carbon credits. Recent years have seen huge reductions in the use of polybags (70% reduction by volume) and consumer hangtags (79% reduction, almost a tonne of card saved per season).
"We want to make sure everything we do is evidence-based and verifiable," Evans says. "It's not good enough to just trust what a manufacturer says they do with their waste and water anymore."
As much as possible, Rab has shifted to using recycled down from products like pillows and duvets, and are launching a down collect program this year as well as expanding their repair center locations. And while they've been exploring recycled polyester and other fabrics for almost a decade, Evans says there is finally enough supply of these recycled materials to make the concept viable at scale.
"At the same time, we believe making a product that lasts a long time is better for the environment than buying a recycled product every year or two," Evans says. "We all need to stop the 'fast fashion' ideology."
With a clearly envisioned path to their future and a storied history and "by climbers, for climbers" ethos, Rab has never lost sight of the innovation and perspective of its founder, who built it all around the idea that when it comes to great outdoor gear, the best way to predict the future, is to build it yourself.