Does frequent exposure to the potentiality of death help build a toolbox of resiliency? Words :: Taylor Godber.
For us mountain people who build our lives around kingdoms of granite and snow, being in nature creates space for magic to exist. Hearing the distinct caw-caw of a raven before dropping into a demanding big mountain line may not be happenstance. Large cat prints in the snow in front of your skin track as the sun sets could be a confidant from beyond leading the way. Those serendipitous moments are the counterpart to embracing the wild unknown. And they act as mystical tethers that keep us connected to friends who have passed on to the other side.
"The deep connections forged with friends is one of the most celebrated experiences in the mountains," says David MacKinnon, "and when we lose those friends, we strive to find ways to keep those relationships alive." A Pemberton-based snowboarder since 2015, MacKinnon recalls a particular day last season filming with backcountry skier Delaney Zayac for Resilience, a cinematic ode to mountain partners who have perished and to the crews left behind.
As Zayac and MacKinnon built rappel anchors on the corniced ridge and searched for entrances into two committing lines, a pair of mountain ravens played and soared, their glossy wings outstretched like open umbrellas adrift in a breezy sky. Staring down steep spines that snaked to the valley like roller coaster tracks made of pillowy formations, the riders evaluated the snow patches just wide enough to sink a hop turn in, and the sheer drop-offs on either side of both lines… once they dropped in there'd be no room for missteps or hesitation. Pausing to notice the two-winged visitors above helped balance their excitement and nerves. "It happens enough that it doesn't feel like a coincidence," MacKinnon explains. "The ravens are notorious for showing up when things are about to get rad."
Just moments earlier, the guys had been sharing nostalgic stories about Jack Hannan and Dave Henkel—close friends who had perished in the mountains and were greatly missed. Hannan had placed the first descent down the line Zayac was aiming for, and Henkel had history of leaving his mark on the same face.
"The ravens were still there as we dropped in," MacKinnon recalls. "Banking and floating, surfing puffs of cloud as we took turns riding, retracing lines Jack and Danger Dave had pioneered before us… the sense of connection and of feeling the energy of your friends was very real."
While the idea that ravens can be messengers from beyond can bring some relief, there is no easy way to overcome grief, and the process of mourning the departure of a trusted mountain ally or adventure partner is unique to each person. Some turn their backs, sell their gear, and move on to life's less risky chapters. Others drown their pain with distractions. And most of us mountain people, at some point, question why we continue to chase high-risk objectives when, too often, the results end tragically for local mountain folks taken far too soon.
When Dave Henkel passed in an avalanche this past winter, I spent the first week in near stillness—meditating, crying, staring out the window at Ts'zil (Mount Currie), and listening to eastern philosophy advocate Alan Watts' lectures on the meaning of life. It didn't take long before I realized all I wanted to do was celebrate Dave by snowboarding. And most of my regular shred crew—Joel Loverin, Cedric Landry and PY Boivin—felt the same: that returning to nature was one of the most integral parts of our collective healing process.
"I rode every day," says Loverin of losing one of his best friends. "Obviously, I cried a lot, and it was tough, but snowboarding helped me continue to move forward and keep living my life."
For filmmaker Brian Hockenstein, one way to continue moving forward is to create art in honour of the lost. His Resilience film project was already underway with Joe Lax, Dave Basterrechea, Delaney Zayac, Chris Ankeny and Dave MacKinnon, spurred by the tragic loss of skier Dave Treadway in 2019.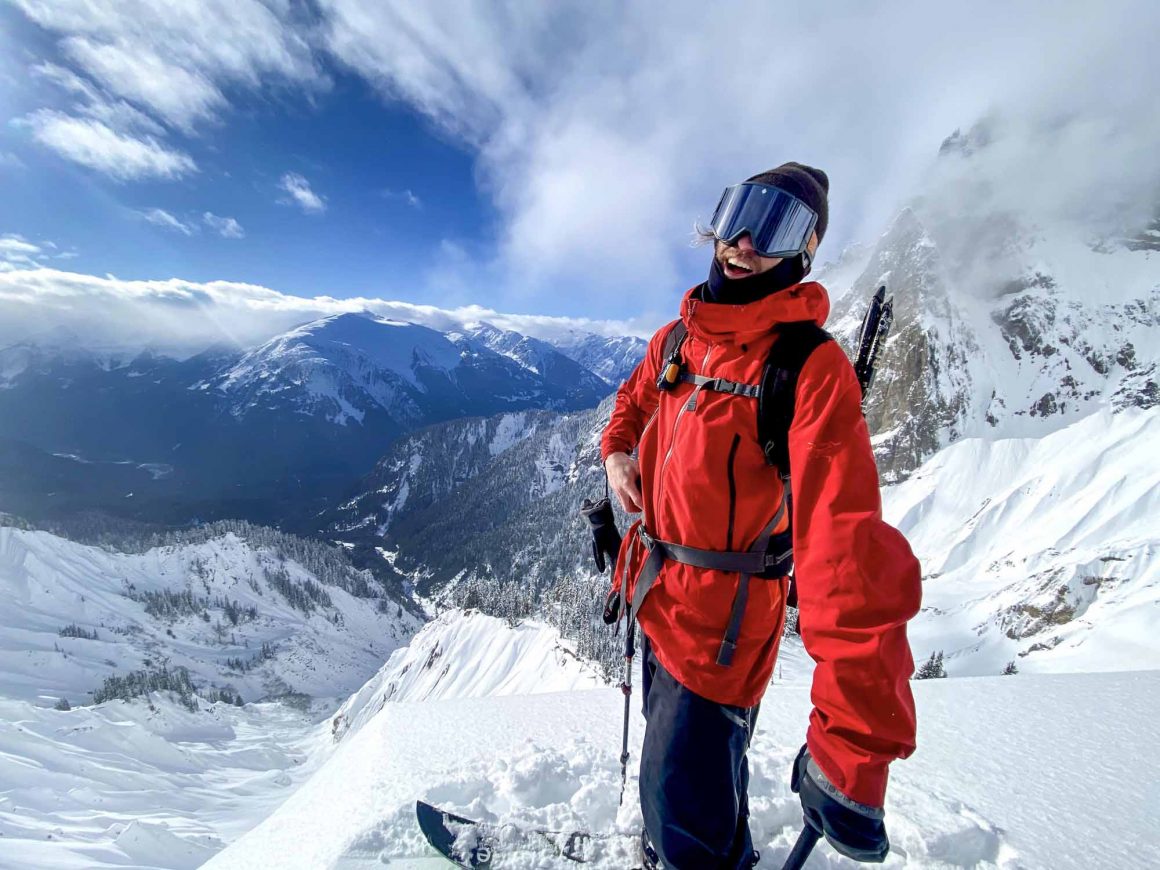 When Henkel passed, his regular crew naturally merged with Hockenstein and the others into what became a winter-long group project for the Pemberton backcountry community. Resilience offered a chance to collect the fragments of our broken hearts and support each other's healing as we remembered our friends, partners, and loved ones. And we'd get to go out into the mountains every day to shred the kind of lines that would make them proud.
"My hopes were that doing this together could help us all put these losses into perspective," Hockenstein says. "Maybe even help others do the same. At the very least, it was a chance to remember and celebrate some great friends." The pull to turn a tragedy into something positive is not unique to mountain culture; and finding a way to digest the difficult emotions of loss is a necessary part of continuing on.
There are no guarantees of safe passage when navigating the powerful, seductive, curvaceous formations of nature. Inherent risk is part of the package—which of course is both the allure and the nightmare. And regardless of how many backcountry safety courses one has attended, how fine-tuned someone's intuition may be, or how many wrinkles of experience and wisdom they have etched into their skin, not everyone makes it out alive. But what separates backcountry enthusiasts from other segments of the population may be that the contemplation of the end as we know it is staved into our decision-making processes like waving flags atop every potential crux, above every no-fall zone, and on each nipple of snow that could be a rock. The dangers are tangible, and right in front of us.
"Every day I go into the backcountry, I accept the risk of dying," says photographer Cedric Landry, "because it's a real possibility. You are working with statistics out there. And as much as you try to be safe, to make good decisions, to trust your gut… one thing could go wrong and take you down."
But does the frequent exposure to loss and to the very real potentiality of death—on the sharp end of a rope or the knife edge of a mountain—actually help build a toolbox of resiliency or of radical acceptance, for when the worst does happen?
Big mountain snowboard veteran Chris Ankeny has experienced the loss of many mountain partners over the years. "I've lost more friends to backcountry accidents since I moved to Pemberton than in the rest of my entire life—it's hard to stomach. But at the same time, you know, all these people lived amazing lives, like hands down some of the richest lives of anybody I've known."
As much as we try to conceptualize something so intangible as the departure of a soul, there is no bypassing the weight of the news of a friend's passing. It is disorientating and suffocating, as if shovel load after shovel load of wet, heavy snow were being thrown into the space our hearts. Joe Lax, one of the most iconic big-line snowboarders in the Sea to Sky Corridor says, "When we lose someone, there is an insane amount of pain. The scars are with you forever and there is a lot of contemplation—why do we do what we do?"

And why do we keep doing it, even after losing people we cherished so deeply? The answer might be because nature has the potential to heal. As much as being out in the mountains can press into the most scarred parts of our hearts by prompting memories of friends lost in the majestic rawness of Mother Nature's embrace; paradoxically these snowy fortresses offer the space, time, and forum to tend to those permanent tattoos of loss.
"There's great peace to be found in natural spaces," says Lax. "A lot of healing has taken place for me this past year and I know it's the direct result of strong friendships and the time spent in the mountains."
Coupled with the energy and support of great friends, the positive impacts can be momentous and influence one's return to a state of joyful being. "You know," Zayac explains, "sometimes I'm out there, I can feel Dave's [Treadway] energy out there. I wouldn't feel it if I didn't go out."
The sobering truth is, our lack of immortality is not unique to the mountains—tragedy can, and does, happen anywhere, all the time, in everyday life around the world. Yet, how often do we catch ourselves worrying about mundane things when we should be having the time of our lives? Both Treadway and Henkel were true examples of what it means to live with a robust desire to make the best of every moment, only giving thoughts to the future when needed, and harbouring no regrets of the past. Ankeny says, "I think we need to have respect for how fully these people lived. It would be a disservice to stop doing what I love because of these accidents. Being out there is a chance to celebrate these people."
And that celebration, that healing bridge to what's been lost, is what Hockenstein, what all of us, hoped to capture with Resilience. Because standing on the pinnacles of mountains is as close as our human bodies get to reaching the revered idea of heaven above, and to the souls we hope are circling there, riding the updrafts and snow spindrifts with a noble caw-caw just when those of us below need it.
Check out resiliencethefilm.com for screening dates.