By Rick Ridgeway. Excerpt published with the permission of Patagonia Books.
In Life Lived Wild: Adventures at the Edge of the Map (Patagonia, Oct. 26), the mountaineering legend looks back on 50 years of exploration and environmentalism. A 2008 recipient of National Geographic's "Lifetime Achievement in Adventure" award, Ridgeway was the first American, along with three companions, to summit K2 and has done other significant climbs and explorations on all continents. Ridgeway is a lifelong adventurer, filmmaker of over 30 documentaries, former Patagonia VP of Public Engagement and author of six mountaineering classics, including Seven Summits (Grand Central Publishing, 1988), The Shadow of Kilmanjaro (Holt, 1999) and The Big Open (National Geographic, 2005).
Chapter One: Sacred Rice
With the trail slippery from the monsoon rain, Jonathan Wright, Ang Phurba, and I entered Thupten Chöling monastery in a cul-de-sac valley twenty-six miles from Mount Everest. The three of us were on a mission to seek a blessing from the high abbot, Lama Tuche Rinpoche. The blessing wasn't just for us, but for our American Bicentennial Everest Expedition. I was the youngest climber on a team hoping to become what back then would have been only the second American expedition to climb Everest. Jonathan was a cameraman on the film crew making a one-hour special for television and Ang, who spoke conversational English, was the climbing leader of our team of Sherpas.
We had left the rest of the expedition earlier that morning in the camp we had set up the previous afternoon at the end of that day's stage of the approach march. The team included my climbing partner Chris Chandler. Chris and I had started climbing together three years earlier, spending a season in the Peruvian Andes, where we succeeded in making a new route on a major peak in the Cordillera Blanca. Chris had started as my climbing mentor, but I learned quickly and now, on a rope team, we were equals.
The American Bicentennial Everest Expedition was one of the last of the old-school expeditions in the style of the first British teams that attempted Everest in the 1920s and '30s. We were approaching the mountain the traditional way, beginning at a trailhead a two-hour drive outside of Kathmandu. From there, the trek to Base Camp was 170 miles and would take a month. The size of the expedition was old school as well: 12 climbers, 44 Sherpas, and a little over 600 porters hired from the lowland tribes.
Six hundred porters! In Peru we had hired only a few burros and an arriero to wrangle the animals to our base camps. The Everest expedition seemed to have expanded under its own compounding inertia. It had an unusual genesis with three friends, all classmates at Harvard Law School, who, after graduation, pledged to fulfill their passion for adventure by getting together every year or two for a trip. They each had gone on to successful careers—one in real estate, one in international law, and one in the State Department—and they had held true to their pledge: skiing across Ellesmere Island, rafting the interior of Borneo, and climbing the Carstensz Pyramid, the highest peak in New Guinea.
Back in the 1970s, when China was closed and Nepal hadn't opened to hordes of guided climbers, the queue for an Everest permit was more than ten years. But the one friend who worked in the State Department got wind from a colleague in the US embassy in Kathmandu that a French team had failed to raise funds, and their permit was available. He got the permit through his diplomatic connections, but to climb Everest the friends knew they would need additional climbers, and ones with advanced mountaineering skills. They went to the annual meeting of the American Alpine Club, hoping to meet expedition climbers. Standing in line at the buffet, they introduced themselves to a guy with long blond hair who looked to be in good shape.
"I'm Chris Chandler. Nice to meet you."
By the time they got to the food, they had invited Chris to join their expedition, and Chris had recommended me. I was living in Malibu with some surfer friends and had been accepted into a Ph.D. program in cultural geography at UC Berkeley that was scheduled to start in a month. I had decided that I wanted to be a professor. To get into a good school, my strategy had been first to enroll at a university in Peru in cultural anthropology, with courses that included fieldwork in the Andes. When my courses concluded, I had stayed in Peru, where I met climbers, including Chris, who took me under their wing and initiated my apprenticeship in high-altitude mountaineering. The strategy had worked, and I had been accepted into one of the best schools in the world.
Then I got the call from Chris.
"I got us on an expedition to the Himalayas."
"The Himalayas? Wow! What's the peak?"
"Everest!"
"Everest?"
Chris heard the dismay in my voice. Everest! But what about school? My future as a university professor? My mother had been relieved that I finally seemed to be settling down. But Everest! I tried to think through the outcome of one choice over the other, but I needed more time.
"Give me a day," I told Chris, "and I'll tell you if I'm going."
We all arrive at forks in the road where the only signposts are constructed not from facts but from intuitions. I was twenty-six years old, and somewhere in my reading I had run across a quote from Saint Thomas Aquinas: trust the authority of your instincts. That sounded like good advice, and the next morning I called Chris.
"I might as well start at the top and work down," I told him.
---
We were two weeks into the trek to Base Camp when Jonathan, Ang Phurba, and I left the entourage, departing in the predawn from the tent city that was our camp. Our plan was to get the Lama's blessing and then catch up to the others. We didn't anticipate any difficulty, since our army of more than 650 people didn't move very fast.
Inside the monastery compound, I counted about a hundred buildings, seemingly living quarters for monks and nuns, all surrounding the central gompa, or temple. But there was no one around.
"Where is everybody?" I asked Ang.
"Time to make meditation."
"Does that mean we have to wait to see the Lama?"
"He knows we come."
We walked through the main door of the gompa into a courtyard to find three monks waiting. We followed them through a low doorway into a small, smoky kitchen. One monk motioned us to sit on a bench while another served us Tibetan tea made with yak butter and salt. In the corner an old monk sat crosslegged on a raised platform, staring at us through pince-nez spectacles. Around him, on several shelves, was an array of clocks: alarm clocks, wall clocks, cuckoo clocks, old pendulum clocks. All showed the same time: 8:50 a.m.
Another monk arrived and asked us to follow him. I considered asking if we could wait ten minutes so I could see what happened when the clocks sounded the hour—I was sure the old monk would break into a beatific smile—but thought that might be impolite. The monk escorted us back to the courtyard and then up a wooden staircase to a doorway covered with an exquisitely embroidered drape. We took off our shoes and entered.
The room was maybe twenty square feet and in one corner, sitting on a pillow, was the Lama. Ang Phurba prostrated himself, as did Jonathan. I followed suit. I knew this was natural for Jonathan; after going to college, he had spent many months in Nepal as part of a years-long overland journey across Turkey, Iran, Afghanistan, Pakistan, India, and Nepal, an experience that had changed his life. He had converted to Buddhism and had also taken thousands of photographs, a portfolio strong enough it later won him assignments for National Geographic.
The Lama motioned us to sit. He next removed four small silver chalices from a cupboard and arranged them in a squareshaped mandala. Chanting, he opened one chalice and removed a pinch of yellow rice. We bowed as he pushed the rice into our hair. Then he took three pieces of folded paper and placed into each one a few grains of the rice. He refolded them, tied them with yarn, and handed one to each of us.
"We will sew covers on these," Ang said, "with the sacred rice inside. Then we wear around our necks. Bring good luck for the expedition. Also, rice stays in your hair for one day. Sacred rice of Chomolungma."
Chomolungma—Everest. The Lama opened another chalice and removed a pair of dice. I looked inquisitively at Ang.
"Lama now makes some prediction, to see if we have any accidents during the expedition. Very important. If no good for climb, Sherpas don't want to go to Chomolungma."
I considered what this meant: the Lama was about to roll the dice to predict our future, and if by chance the roll was bad the Sherpas would not go on the climb. And if they didn't go, the climb would be over before it started.
Resuming his chant, the Lama took the dice in his right hand and held them against his forehead. He closed his eyes and kept chanting. Ang seemed as nervous as I was. I looked at Jonathan. He had clasped his hands and closed his eyes and started chanting. The Lama opened his eyes, tossed the dice, then leaned forward to study them. The three of us leaned forward. The Lama didn't say anything.
"What do the dice say?" I asked.
"Wait and see," Ang replied.
Finally, the Lama leaned back and shook his head.
"Doesn't look good," Ang said.
"Doesn't look good?"
Ang didn't answer. I looked at Jonathan, who opened his hands in a gesture indicating what will be will be. I was wishing I had some of his equanimity.
The Lama then talked to Ang in hushed tones.
"Lama say there is one more thing to do," Ang said. "He will make a prayer to Miyolangsangma, the goddess of Chomolungma. He will tell the goddess that we will put up many prayer flags at Base Camp and have a big ceremony. Throw lots of sacred rice. Then Lama will look again to see if Miyolangsangma says things are OK."
The Lama resumed chanting, picked up the dice, and held them again to his forehead. This time his chant was even longer. He stopped chanting and threw the dice. He leaned forward to look at them, then leaned back and smiled and spoke to Ang Phurba.
"Lama says everything is now OK," Ang translated. I looked at Jonathan and with my lips formed a silent whistle of relief. Jonathan smiled, and I got the impression that with his Buddhist training to accept the world as it is, he would have been OK whether the prediction had gone one way or the other. The Lama then spoke again to Ang, who turned to me and said, "Lama want to know why you want to climb Chomolungma."
I hadn't anticipated that question, and I was caught off guard. I knew the question was directed to me and not to Jonathan because he was a cameraman, so filming the climb was his job. But what was my motivation? So I could have adventures like meeting a high lama in a remote monastery? Because climbing was something I was good at? Because it was still there?
"Tell him I want to know what it feels like to stand on the highest point on Earth."
As Ang translated, I was already thinking that the answer was lame. The Lama looked at me without blinking, and I suspected he had the same thought.
---
The rest of the team had just begun the day's march when we caught up to them. I fell in line beside Chris, as I did most days—although I was enjoying getting to know everyone, especially Jonathan. For Jonathan, like me, interacting with remote cultures in remote parts of the world was as appealing as the climbs themselves. I knew that he valued our audience with the Lama as much as I had, and I wanted to talk to him more about the Lama's question—or was it a challenge to be honest with myself, about why I wanted to climb Everest?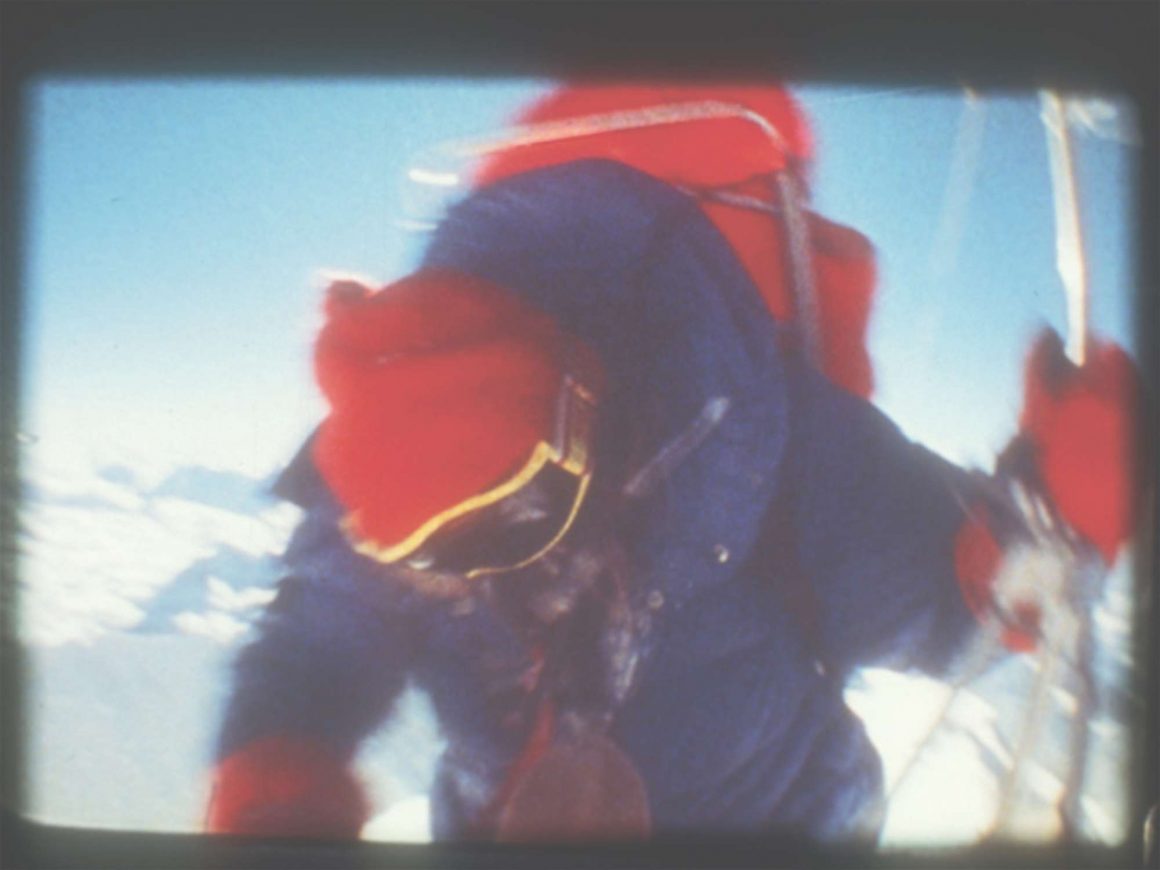 My fascination with mountaineering—my mother would call it an obsession—had started when I was fourteen. My parents were in the process of separating—although I didn't realize that at the time—and I lived with my father on a 125-acre ranch in the Sierra foothills of California while my mother and younger brother had stayed behind in our small one-acre ranchette in Southern California.
My mother kept her job at the aircraft factory where she had worked her entire adult life while my father, at the new ranch, went from one job to another, a logger for a few weeks, working in a limestone mine for a few more. Looking back, I can see now that the organizing principle in my father's life was to avoid responsibility. There were other indicators I should have heeded that his marriage to my mother was in jeopardy: how he spent most of his time between his short-lived jobs sitting in a bar sharing off-color jokes with his barfly buddies, how there was nothing happening on the 125-acre ranch in the way of getting it ready for my mother and brother to join us.
It was a twenty-mile bus ride from high school to home, and one day I was sitting near the back as we crested a small hill just before the ranch. What I remember is not the remains of the house still smoldering in a heap around the brick chimney, but rather how as the bus slowed and then stopped, everyone turned to look at me. That included the bus driver, whose face asked the question he didn't need to voice.
I was sitting next to my best friend. We were on the football team together, and we spent most weekends at his parents' place, where they ran the village grocery store, and with his grandparents, who ran the village hardware store.
"Can I go home with you?"
"Sure."
"Bob"—we called our bus driver by his first name—"take me to Doug's house," I said, referring to my best friend.
I didn't see my father again for nearly two years. A couple of months after the house burned I got a postcard from him, mailed from the South Seas. It had a picture of a bare-breasted woman with a red hibiscus in her hair and a short message telling me that once he got back on his feet, he would send for me. I learned years later that he had burned the house down hoping to get the insurance money, but at the time I took him at his word that it was an accident. As for my mother—bless her now-departed soul—she gave me permission to stay with Doug and his family for the rest of the school year, something I didn't fully appreciate until I myself became a parent of teenage children.
If my decision years later to go to Everest instead of grad school was a fork in the road, deciding to move in with my best friend's family was another one, and looking back on it now I can see how going down one road as opposed to the other would have led to an entirely different life. When I joined Doug's family there was insufficient space in his bedroom for both of us, so we were allowed to move into the family's Airstream trailer. I worked in the grocery, stocking shelves and operating the cash register. I had my own "house" and my own job, earning my own keep, even though, truth be told, my mother folded a twenty-dollar bill in the letters she wrote me each month. In my mind, my independence was probably greater than it actually was, but it gave me an abiding satisfaction.
Things of course weren't entirely bucolic. Doug cut off the end of his thumb in the salami slicer, but once the blood was cleaned up and his parents recovered they continued to give us more responsibility. The bigger setback was the letter I got from my mother saying that she was divorcing my father. I sat on a log next to the Airstream and cried while Doug held his arm around me. Once more, against all the evidence, I had allowed myself to believe that once my father had completed whatever "self-recovery" he was making on that island in the South Seas, my parents would get back together.
My mom had given me a subscription to National Geographic, and before my father had burned our house down I had sat in our living room in front of the fire—the only heat in the house—and read in the October 1963 issue the cover story about the first American ascent of Mount Everest. Inside, there was a photograph of Jim Whittaker, the first American to reach the summit of the world's highest mountain, standing on the crest wearing a down jacket and down pants, holding his ice ax adorned with the small flags of the United States and the National Geographic Society whipped by hurricane winds. I had said to myself, I want to be THAT guy.
Doug's parents vacationed each summer in a rental cabin on an alpine lake higher in the Sierra. It would be my last summer in Northern California, and I was excited to join them. Across the lake there was a peak called Thunder Mountain with a steepsided face. I told Doug I wanted to climb up the steep side. We knew better than to ask his parents for permission to go on anything more than a long hike, so we figured we had just enough time to climb it and get back before dark. We jogged along the trail that circled the lake, then followed game trails through the woods to the base of the peak and started climbing. We made steady progress until just below the summit we encountered a ten-foot-high step of vertical rock.
"I've got an idea," I said.
Doug squatted while I stood on his thigh and then stepped onto his shoulders. He stood and I grabbed the edge at the top of the vertical step.
"OK, now I'm going to hold on," I told Doug, "and you climb up on my legs and arms."
Doug was heavier than me, and it took everything I could muster to hold on. On the summit I was elated, but Doug was worried about getting back to the cabin before dark. We started down, pausing at the top of the ten-foot step.
"Let's jump," I suggested.
We each launched, taking care to land on our feet to avoid rolling down the rest of the precipice. We got back to the cabin before dark. Sitting on the porch with his parents, we looked up at Thunder Mountain in the last light of the day.
"That was a good hike," I told Doug.
---
Of the forty-four Sherpas on the American Bicentennial Everest Expedition, twenty-one of them were deemed high-altitude climbers. This was the team that Ang Phurba led, and they were paid a higher rate than the rest of the Sherpas, who would carry loads to the lower camps. All except for Pasang Kami, or PK, as everyone called him. He was the sirdar, the overall leader of the entire Sherpa team.
He was also my favorite. He was slightly built, with thick glasses that made him look like a professor. I watched amused as each morning he stood on a rock or a camp chair with clipboard in hand and called out the day's duties in an authoritative voice that belied his thin stature. He was one of those leaders who gained respect from his team through the power of his intellect. When you talked to PK, it felt like he knew what you were going to say before you said it.
One day on the approach march I had the opportunity to hike with him. He told me he had a trekker's lodge and general store in the Sherpa village of Namche Bazaar that his wife ran while he was away on expeditions and treks. He had traveled to Europe and the United States, hosted by Westerners he had guided.
"What's the most impressive thing you saw in the United States?" I asked.
"Disneyland," he answered. "It was something like a dream, that didn't seem real. Maybe someday I can take my children there."
A few days later I was hiking with another Sherpa, Nima Norbu. Nima also owned a trekking lodge in Namche Bazaar. Nima had attended Tribhuvan University near Kathmandu; he spoke three local languages, was fluent in English, and spoke passable Japanese. He had been helping the film team, and they had told me he was a quick study, learning to operate the sound recorder—positioning the microphone on a boom pole and leveling the input tracks—and to load 16mm film magazines inside a changing bag.
I asked Nima if, like PK, he had been to the United States. He said he hadn't but that his sister was going to go to college in Seattle, and he hoped to visit her. I then told him that PK had said that the most memorable part of his visit was seeing Disneyland.
"That's not what he told us," Nima replied.
Nima then said that PK had told everyone in Namche that he had visited a small city in the American Midwest, staying in a house owned by a couple whom he had guided on a trek. One morning he got up early to go on a walk, and as he passed a house with a large front window he saw on the other side a number of old people sitting in chairs staring back at him. Perplexed, he had asked his hosts about the house, and they explained that it was a home for old people.
"PK had a hard time understanding that," Nima said. "How you could send your mother or your father to another home instead of keeping them in your own home. I think maybe that was the thing that made the most impression."
---
A week later I was once again hiking with Nima, ascending a lateral moraine connected to the nearby Khumbu Glacier. We would arrive at Base Camp the next day, and as we approached the crest I saw six chorten—small Buddhist shrines—silhouetted against the indigo sky.
"They're for the six Sherpas killed on the Japanese expedition a few years ago," Nima said.
"What happened?"
"They were in the Khumbu Icefall and stopped to have lunch." The icefall is the most dangerous part of climbing Everest—it's a jumble of ice blocks called séracs that shift and collapse as the glacier inexorably moves over the steep underlying bedrock. "An avalanche came," Nima continued, "and wiped them out. All of them. This spot here, it's where their wives came to get their bodies."
We stopped and faced the chorten. Nima clasped his hands and bowed. Neither of us said anything until Nima broke our silence.
"I was on the expedition. They were all close friends."
After a while I asked, "If it's so dangerous, why do you think Sherpas like this work?"
"Some prefer working on treks. It's not as dangerous, but you don't make as much money."
"And the Sherpas on this trip? If they made as much money, they would prefer working someplace else?" "Yes. Especially if they could be home, with wives and children." "What about us?" "You?" "Why do you Sherpas think we climb?" "I don't know," Nima laughed. "But we do talk about it. Maybe you people have too much money and you don't know how to spend it. You wear good clothes and you drive nice cars. Maybe when you have a holiday you don't know what to do, so you go to the mountains."
"But doesn't it seem odd to spend your holiday and your money doing something very difficult and very dangerous?"
"Well, if you really want to know what we think," Nima said with another laugh, "we think it is kind of silly. But you people seem to like it."
---
Clouds of incense boiled up from boughs of smoldering juniper stacked on a stone altar. Sherpas jostled so each could breathe in the smoke. Nearly all were chanting. Nearby, another group of Sherpas decorated a thirty-foot pole with prayer banners and tied two long lines of prayer flags to the end of the pole. It was our second day in Base Camp, and the Sherpas were having the ceremony that the Lama had prescribed to win the favor of Miyolangsangma.
Several bottles of chang—local rice beer—made the rounds. The chanting increased in volume. It seemed to reach a crescendo just as the pole was raised, and then gave way to shouting and cheering as each Sherpa reached into the Lama's bag of rice and tossed the sacred grains into the air.
Four days later, Chris and I stopped at the altar to breathe in the juniper smoke. Jonathan came along to film, as did another Sherpa in his late fifties who was the oldest and most venerated on the team of climbing Sherpas. We were scouting a route through the Khumbu Icefall. Others behind us would fix ropes and install ladders across the crevasses so that the Sherpas could ferry supplies to the upper camps.
It was dark as we left Base Camp, navigating by the beams of our headlamps. At dawn we stopped to rest. We all lit cigarettes, except for Jonathan, who didn't smoke; back in the sixties and seventies, most of the high-altitude climbers I knew smoked, the warmth of the tobacco providing comfort that—at least we thought back then—offset any health hazards.
Across the valley the snow on cone-shaped Pumori turned soft pink. The Sherpa drew on his cigarette, then slowly exhaled. The smoke rose slowly into the still, cold air.
"Look, sahib," he said. "Much view coming now."
Our challenge was finding the safest way through the icefall, although any route was only slightly less dangerous than another. I belayed the rope as Chris led, and when it paid out, I followed him and he didn't stop to belay me; the older Sherpa and Jonathan, on another rope, followed us. We wound around and among the house-sized ice blocks, placing bamboo markers into the snow every twenty yards or so.
In four hours, we neared the top of the icefall. The Sherpa led up a thin snow bridge spanning a deep crevasse. On the other side he set up a belay. Chris followed while Jonathan filmed. Chris was halfway across the snow bridge when suddenly there was a loud rifle-like crack deep in the crevasse. The snow shook as though there was an earthquake. We were surrounded by séracs fifty feet high. The blood rushed to my head and my stomach tightened.
"Up or down?" Chris yelled.
"Up!" I shouted.
Jonathan jammed the camera in his pack and we climbed as fast as we could, even at the risk of bunching up on the fragile bridge. In another fifty feet, we were above the séracs. We collapsed on the rim, breathing hard. The Sherpa started chanting.
"This road no good," the Sherpa said. He reached in his pack and took out a handful of sacred rice and threw it across the crevasse.
"We lucky this time."
---
Chris Chandler was my climbing partner and also my best friend, and Jonathan was emerging as someone I sensed would also become a close friend even though he was very different from Chris and, as a consequence, was becoming a different kind of friend.
Chris was a natural athlete, six feet tall, solidly built, and, with Nordic features and blond hair he wore in a ponytail, uncommonly handsome. He lived in Seattle, where he was a doctor working in a hospital emergency room. I earned money for my expeditions painting houses, and I was conscious that Chris had a profession and I did not. Not that he ever emphasized it; in fact, he prided himself on wearing secondhand clothing, driving old cars, and living in low-rent apartments. He encouraged me to think twice about trading the liberty of my odd-job life for what he considered the chains of responsibility attendant to a professional career. I told him that even though I had traded my chance to become a professor to join the Everest expedition, and even though I didn't know what I was going to do after the expedition, I knew that even if I went back to painting houses, I wasn't going to make my living as a handyman long term.
Chris was only a year older than me, but he had been married and divorced and had two young sons, both in the custody of his ex-wife. He didn't like to talk about it, but he had confessed that he struggled to make alimony payments. He was also hesitant to talk about his kids. Our friendship was based more on doing things, while my friendship with Jonathan was developing around our mutual pleasure in talking about things, especially his commitment to Buddhism. It wasn't that he was naturally voluble; in fact, he was quiet and reticent, but I was interested and he was willing to explain his apprenticeship in Buddhism, including the story of his original trip to the Himalaya three years before when he had dropped out of college to travel overland by low-fare bus from Europe to India and Nepal. He was twenty years old and spent two weeks meditating in a Buddhist monastery, an experience that he said was the most influential of his life.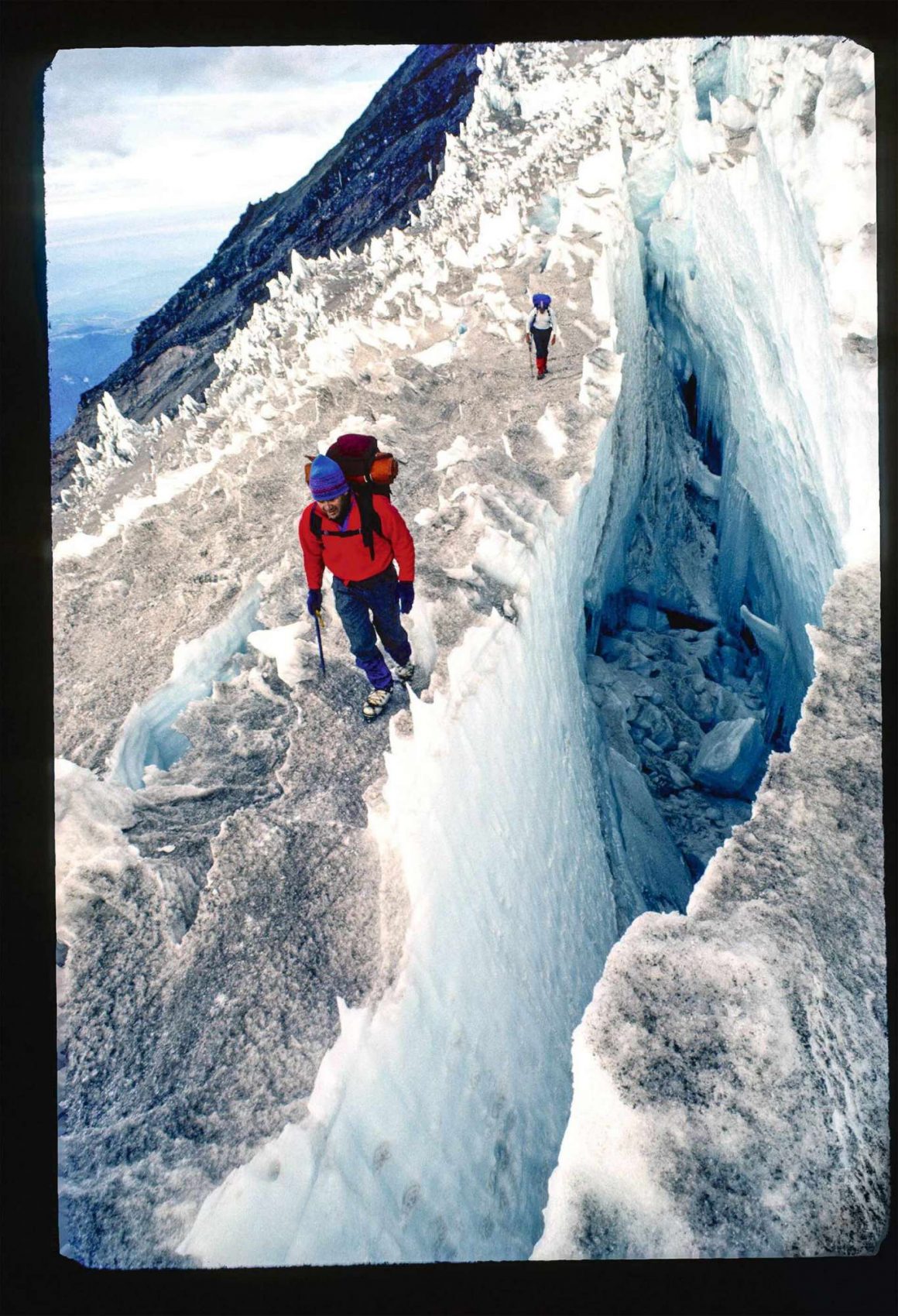 "I used to be short-tempered," he told me, something I found hard to imagine, given his preternatural calm.
After his stay in the monastery, he was in a Sherpa house when he stood and smacked his head on a beam and nearly knocked himself out. He cursed the beam with a string of expletives until he noticed his Sherpa hosts giggling. With his head aching, he suddenly felt as though he could see himself through their eyes and he started laughing with them. They then stood and pretended to hit their heads on the beam, pointing to it and cursing, making everyone laugh even more. From that day on, every time he felt a rising anger or even a minor exacerbation, he remembered the beam, until finally he stopped being angered or even annoyed by life's inconveniences.
Memories can be like movies—sometimes you can't remember a plot as well as you remember a scene. After establishing the route through the icefall, one morning Chris, Jonathan, and I left Base Camp to carry equipment to the site of the next camp, where we paused to rest before going back down. It was still early morning, and we gazed across the valley of the Khumbu, framed on one side by the high pass of the Lho La where wind created a cloud that blew off the leeward side like a banner in the Hall of Valhalla. We were in the lee of the surrounding mountain walls, however, and where we sat there was no wind. Jonathan was quiet and Chris was fidgety. Reaching in his pack, Chris retrieved his ball of hash, loaded his pipe, and lit it. Then Jonathan reached in his pack to retrieve his camera. Holding it in both hands, he positioned his elbows on his knees and remained as steady as a statue while he took a photo of the Lho La.
"I think that's the best mountain photograph I have ever taken," he said quietly.
Four years later, Jonathan's wife gave me a framed print of that photograph. I have kept it above my desk for forty-five years. It is faded, but I can still see Jonathan's signature, a stylized om mani padme hum. When I look at the photograph, I sometimes think of the three of us that morning, each in our own way grateful for the privilege of bearing witness to the majesty of the wild world. In the years that followed, all three of us would remain loyal to our passion for climbing high mountains in remote places, but I alone would survive. I remember Chris's grin, the way he tried to laugh away the burdens of his life, and Jonathan's smile, the way it reflected how he had learned, at an early age, to avoid an attachment to gain or fear of loss.
---
For the next three weeks Chris and I alternated with other climbers on the team pushing the route through the great ice valley known as the Western Cwm, then up the Lhotse Face to the South Col. The expedition leader announced the summit teams, and Chris and I were selected for the second bid. Chris was disappointed because he believed there wouldn't be sufficient oxygen for a second attempt. I thought there would be, and because Chris had a sore throat and cough, I felt an extra day or two would give him time to recover.
There were additional supplies to carry to the upper camps, and feeling guilty about leaving this task to the Sherpas, I decided to help ferry two bottles of oxygen. Chris stayed in Camp II to rest. When I returned later in the day, one of the other climbers met me at the edge of camp.
"There's been a last-minute change in the summit teams," he said.
I went to the cook tent and saw Chris in a corner, looking down. At first, I thought he was still sick. Then I learned one of the climbers on the first team had become ill, and Chris, feeling better, had been asked to take his place. He looked at me, and our eyes held.
"It's kind of tough," he said, "after being together the whole climb."
Early the next morning, Chris and his new team left camp, including Ang Phurba, the leader of our Sherpas who were high-altitude climbers. The second team, which I was on, left two days later. I was still confident I had a good chance to make it, but it was hard to believe it would be without Chris. As I climbed the fixed ropes up the Lhotse Face, I could see Chris and his partners—three red dots—slowly advancing to our high camp above the South Col. I could also see the plume of snow like a great banner boiling off the summit pyramid—not only see it but hear it, like the sound of heavy surf on a distant beach.
That night the wind buffeted our tent. The next day there was no sign of Chris and his team, but in the late afternoon a radio call from Base Camp reported that through the telescope they could see two red dots scaling the Hillary Step, just below the summit. One of them must have turned back, and we soon learned it was Ang Phurba. When he reached us, he said his oxygen regulator had frozen and, not being able to keep up, he had turned back. He took the regulator out of his pack and threw it down in disgust.
"Me and my team finished," he said.
I realized his desire to reach the summit was as strong as any of the rest of us, and I suspected it was because of the prestige it would have brought him, as well as the guarantee of high-level positions on future climbing expeditions. Meanwhile, Base Camp reported that two red dots had reached the summit. Now, the concern as the day ended was whether Chris and his partner could descend in the dark to the lone tent at high camp, at 27,500 feet.
Sometime during the night, I woke from a dream. It was a vision of Chris, old and hunchbacked, his face and beard sheathed in ice, emerging from a storm cloud, hobbling toward me with one arm extended. I lay in my sleeping bag and between gusts I could hear the distant roar of the wind off the summit. The next morning, there was no sign of anyone at high camp. We ascended the fixed rope and finally, just before noon, we saw two climbers—two tiny dots—leaving high camp. Two hours later, Chris and his partner reached us. We hugged tightly. His eyes were a combination of exhaustion and jubilation. He patted me on the head and told me I too would make it. I wasn't so sure. All morning my breathing had been labored and now I could hear congestion in my windpipe. Was I getting pulmonary edema, the potentially fatal accumulation of fluids in the lungs that sometimes happens at high altitude? Chris and his partner left, continuing their descent, and I soon told my partners that I also needed to go down.
As it turned out, that was the end of the expedition. Chris and his partner had reached the summit, so the expedition was considered a success. A week later we were hiking down from Base Camp when we passed a group of trekkers who stopped us to get Chris's autograph. Jonathan and others on the film crew recorded the scene while I stood to the side, off camera. When the filming finished, Jonathan walked to me and smiled.
"How are you doing?"
"I'm OK."
Later, thinking back on that scene, I would realize that Jonathan knew me well enough to know what was going on in my head, that I was reconciling how Chris had reached the summit while I had not.
"Someday, we should come back to the Himalaya," Jonathan said. "You and me. We'll go to a monastery and spend a couple of weeks there, meditating."
---
The next day we reached the Sherpa village of Kumjung, where we planned to have a celebratory party. The Sherpa Nima Norbu asked if I wanted to stop and chat with an old man, then in his eighties, who was the last living Sherpa who had been on the early British expeditions back in the 1920s. I immediately agreed, anxious to meet a man whom I knew only by reputation. We entered his house and he stood to greet us. He was more than six feet tall, with a straight back and broad shoulders, and he served us tea while he and Nima talked.
"He says it is very good we have a successful expedition," Nima translated. "He tells me that the expedition job is very good, and it's good that I follow this work even though it is dangerous. But he says that's why we get paid so much."
"Ask him why he thinks we sahibs come here to try and climb Everest," I said.
Nima asked the old Sherpa.
"He says it's because you make much money, become famous, write many books."
"Tell him that many sahibs climb mountains like Everest because they like adventure, that they like to be away from cities and buildings and trek and climb in remote places where few men have been before."
Nima translated, and the old Sherpa laughed and gave his answer to Nima.
"You don't expect me to believe that, do you?"
On October 26 Rick Ridgeway's book will be available here or in Canada here.