words :: Feet Banks.
There's an interesting photo on Levi Nelson's Instagram feed, dated August 21, 2019. Sandwiched in amongst shots of his paintings or images of life in his hometown of Mount Currie, there's a simple photo of a clear plastic cup with the words "urine only" scrawled on it in thick blue ink.
"One of these days I'll be able to afford to install plumbing and a window in my modest studio," Nelson writes in the caption. "Today I meet with the head curator of the Audain Art Museum in Whistler, and tomorrow a curation visit from the Maury Young Arts Centre. Ever grateful! My dreams are set to come true."
It's safe to say those dreams are working overtime, and so is Levi Nelson. Since that post, he has sold a painting to the Audain Art Museum (one of the world's most celebrated collections of art from Coastal British Columbia), and had multiple pieces featured in the Bill Reid Gallery in Vancouver. His solo show at Maury Young Arts Centre was among the most celebrated they've ever had, and he just graduated with a Bachelor of Fine Arts degree from Emily Carr University of Art and Design in Vancouver (after winning the prestigious IDEA Art Award there in 2018).
One of the most celebrated contemporary Indigenous artists in the country (Nelson is a member of the Lil'wat Nation) he's recently been accepted to do his master's degree at Columbia University in New York City. And perhaps best of all, his modest studio now has a beautiful window overlooking a grassy field and the eastern flank of Mount Currie… shit could be worse.
And it has been. The old saying is that the darkest hour is just before dawn, and Nelson says his path to painting full-time started during an alcohol-and-depression-fueled mental breakdown at work in the kitchen of a pizza parlour in Salmo, British Columbia.
"I'd let alcohol take control of my life," he says. "And I hit a point where I felt, 'I can't be doing this with my life. I need to be doing more.'"
Thirty-two years old at the time, Nelson had already established and let go of careers as a fashion designer and actor, as well as worked a plethora of service industry jobs. Painting and visual arts had always been more of a hobby, but in that rock-bottom moment he wondered if art school might offer a way forward. A search for the best art schools in Canada led him to Emily Carr University; but they needed a portfolio submitted.
"I didn't have any art supplies, so I grabbed an old pizza box and a piece of charcoal and sketched out this Indian chief with a gas mask on. I dug up another small painting I'd done and filled out the application—drunk—and sent it off. I got accepted. I had to defer until the January intake [at the school] but that gave me a path, a goal to work on getting healthy. It was a battle. It was a battle the whole way, but art saved my life."
Over the next half-decade, through the alchemy of hard work, raw talent, sobriety, and wild ambition, Nelson has catapulted himself into the upper echelon of contemporary Canadian artists. And while his works definitely speak to and incorporate traditional West Coast Indigenous form, style and subject matter, he is not afraid to stir things up by mixing pop culture icons, European influences, or biting social commentary into his work.
"When I was in high school, my paintings were heavily influenced by surrealism and Salvador Dali, and of course cubism and Picasso, and even the '60s psychedelic type of artwork. I didn't even really start exploring Indigenous art until eight years ago when I worked at the Squamish Lil'wat Cultural Centre in Whistler. But wow—that art influenced me and speaks to who I am as a person. I guess I relate to the world mostly through an Indigenous lens, so I create Indigenous art, but with a contemporary aesthetic. So, Sitting Bull could be on the same painting as Snow White, which is something I did in a piece called Hunter Gatherer. I guess that sort of thing is an attempt not to be pigeon-holed as simply Indigenous. Plus, I'm an oil painter, and that's a European tradition so I think about that every time I do work."
Nelson says a lot of his work is influenced by the writing and art of Marcia Crosby, who speaks a lot about the First Nations peoples living in urban landscapes outside of their traditional territories. The piece he sold to the Audain Art Museum is titled Nations in an Urban Landscape, and imagines an urban street scene of Indigenous people wearing traditional masks and using artifacts like bent-wood baskets. Trade Blankets features a person sleeping on the sidewalk beneath a classic Hudson's Bay Company blanket.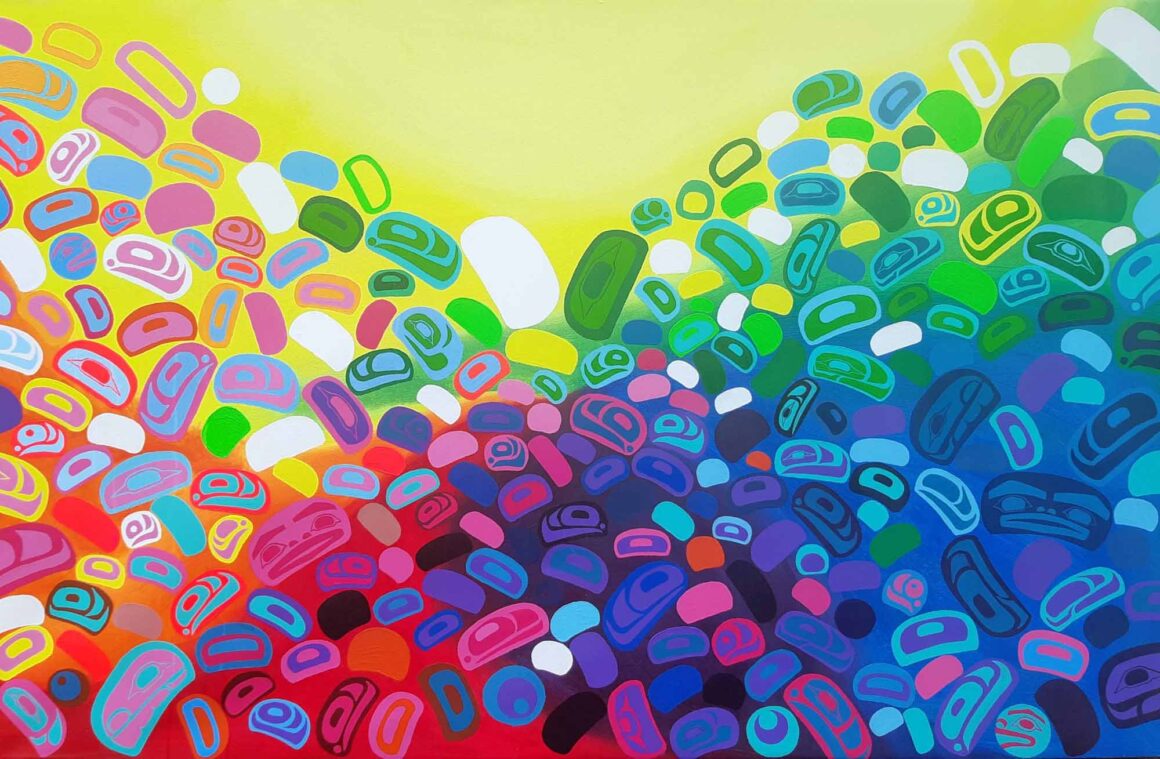 While having his work in museums has always been a goal, Nelson says he's grateful to have pieces hanging in his hometown as well, and that connecting to regular people—selling canvasses for people's homes, or even seeing his work on a newspaper cover sitting on the back of a public toilet—is still something he values incredibly.
"Absolutely. It's an honour to have somebody want to live with your art on their wall. Like a piece I did called Gender Performativity for a group show at the Bill Reid Gallery called 'Resurgence: Indigiqueer Identities'—the show was about two-spiritedness and a lady who has a transgender daughter saw my piece and we've been emailing back and forth because they want to commission something similar that speaks to what it's like for their child's experience going through life. It is incredibly touching that people want to have a relationship with something that, I'd like to think, comes from my soul. I open myself up when I do work. Otherwise, it's not worth it."
Check out Levi's work on his Instagram and listen for an hour-long conversation on the new "Live it up with Mountain Life" podcast. Watch for it in July.
Article excerpted from ML Coast Mountains, summer '21.