words :: Feet Banks // photos :: Mark Gribbon.
Ever attempt to haul a full-sized plastic cooler packed with ice, beer, Jack Daniels and beef jerky up a five-kilometre trail with over 1000 metres of elevation gain? It totally blows. So does going all summer without landing a fish (I'd hooked a couple of nice ones but seemed unable to get them within ten feet of my float tube). Luckily, early last September, my buddy Ian King had a solution to both situations–Lake Lovely Water.
The crown jewel of the Tantalus range, Lake Lovely Water is glass-clear, stocked with trout, and sits at 1138 metres, smack in the middle of a true amphitheatre of awesomeness surrounded by hanging glaciers, waterfalls, thick forest and no fewer than six peaks towering as high as 2575 metres (8450 feet).
You can hike in, but first you have to find a way across the Squamish River (and arrange a pick-up on return) and then slog up a grueling 1000-metre-steep five-kilometre-plus climb–tough without a cooler, impossible with. Kinger, a pilot with Whistler Air, suggested we fly in. I wasn't about to argue.
We met at the floatplane docks in Green lake–myself, Kinger (on his day off), longtime Whistler bartender turned surfer/land baron Greg Pondelicek, photographer/fisherman Mark Gribbon and our ace in the hole–Dave Stratton, an old buddy who works for Whistler Fishing Guides and gets upwards of 100 days a year on the water. My summer of fishing may be salvaged yet.
Despite how many local summits you've already bagged, the flight from Whistler to the southern end of the Tantalus Range totally changes the way you see the Sea to Sky corridor. We flew over sweeping glaciers and hidden lakes ringed with private cabins and docks. Got new perspectives on the narrowness of Black Tusk, the jagged ridges of Mount Fee, Table Mountain (the name kind of speaks for itself), Atwell, Garibaldi–these piles of rock are even more impressive from the sky. I also, finally, got to see the Buddhist monastery on Daisy Lake.
Before boarding the plane the quasi-hippie environmentalist in me (I used to hacky-sack in college) felt a touch guilty about flying into a zone we could realistically reach on foot, but once airborne such feelings quickly dissipated. Call me an eco-terrorist, but flying is the only way to roll.
"I love the ever-changing views," Kinger told us over the on-board intercom system (everyone gets their own mic and headset). "Flying all summer, I get to watch the snowline rise, the ice melt off the high lakes, the crevasses start to open up, the bears make their way out of the valley and up into the alpine, wildflowers popping out everywhere. I love coming to work, every week is different." Lake Lovely Water is so high in the alpine the ice usually doesn't come off until mid-July. We touched down onto some of the clearest water I've ever seen and taxied to the lake's only sandy beach. Stratton and Gribbon, like children rushing out to recess, began to fish immediately.
Well, almost immediately. First we opened the cooler and celebrated summer's last hurrah in the epitome of scenery before bidding our pilot Mike Quinn farewell and settling into a silent, warm and perfect summer day. Whistler Air keeps an aluminum rowboat up there and we borrowed another one from the Alpine Club of Canada, which maintains a top-notch alpine hut on the eastern end of the lake. Soon the tents were up, the boats were beached and it was time for me to do some flyfishing.
With 30-plus feet of visibility we could literally see the fish and cast right at them. But, of course, they could see us too and any fish still alive in September is a smart one.
To the uniformed, fishing in Lovely Water would seem easy, with 30-plus feet of visibility we could literally see the fish and cast right at them. But, of course, they could see us too and any fish still alive in September is a smart one. Gribbon and I struggled immensely for an hour, getting the odd nibble here and there, until suddenly I felt a veritable monster take my fly. I hollered with glee, and lost the fish three seconds later. It was the last strike I'd get all trip. Stratton caught and released seven fish, 11- to 17-inchers, and let me pose with one. I felt like a tourist but whatever, it was nice to be near an actual fish.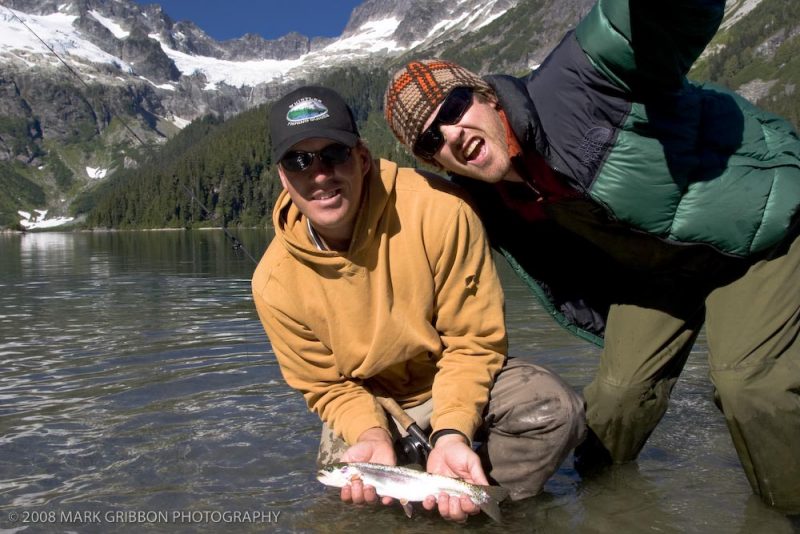 We fished from shore, we fished from the boats and found a few nice holes in the western bays, where the shore is so steep waterfalls pour into the lake and you only get sun a few hours a day. Here you can beach the boat and hike through wildflowers to a plateau tucked beneath a massive glacier under Ionia Peak. The hiking at Lovely Water ranges from really good to full-on mountaineer-style-fantastic, though none of it is especially easy.
That night was clear, warm, and (towards the end) loud and probably not as funny as it seemed at the time (the cooler was depleting). In the morning we feasted on Montreal smoked meat and egg sandwiches (English muffins of course) and spent the day in the sun, fishing, napping, boating and taking things as slowly as possible. Lake Lovely Water is one of those places that impresses instantly but you still never want to leave.
Late in the afternoon Whistler Air's 12-passenger, 750 hp Turbine Otter detoured from its scheduled Vancouver-Whistler flight and dropped in to pick us up. I put my feet up on the cooler, stared out the window as we shot off the end of the lake and over the Squamish Valley and closed the lid on another successful summer of fishing, despite getting skunked.
From ML Coast Mountains, Summer '08.