Text and photos excerpted from Four-Fifths a Grizzly: A New Perspective on Nature that Just Might Save Us All © 2021 by Douglas Chadwick. Reprinted with permission by Patagonia.
Chapter One
I'm at Least Four-Fifths Grizzly Bear
On a warm day in May along the southern coast of British Columbia, I paddled my kayak into the tidal estuary at the head of a small bay where I'd been many times before.
Icefields patterned the mountain horizon behind me. Ahead, thick rainforest enclosed the estuary and its islands of silt topped with grass-like sedges. Rounding the bend in a narrow channel, I heard a Canada goose on shore start muttering about something. I steered closer to find out what was going on. Turned out I didn't need to be closer to see a full-grown grizzly stand up from among the green stalks maybe twenty yards away.
I know; this sounds like the opening of a bear encounter drama. But no, I backpaddled slowly and as quietly as I could and tripled the distance between us. The grizz never looked my way. It tilted its nose up to sample breezes coming from the opposite direction and then dropped smoothly down onto all fours to graze the new sedge growth. Every once in a while, the animal raised its broad head to glance briefly in the direction of the breeze. Otherwise, it fed continuously.
Grizzlies, also called brown bears, belong to the species Ursus arctos, and were originally found across most of the Northern Hemisphere. Of all the stories told of the mighty grizz through the years, you've never heard or read about one being boring, right? But go for a look in spring when the upsurge of nutrients stored in roots over winter makes some plants' tender new shoots nearly as rich in protein as meat. Wherever you come upon a grizzly in green-up time, that animal is likely to be grazing—and to keep on grazing until you begin to wonder if somebody didn't throw a bear hide over a cow.
Half a dozen Canada geese were plucking new sedge shoots not far from the bear. When it swung its head and stepped toward the birds to reach a new clump of sedge, they reacted with a few honks and half-raised wings but soon returned to eating. The only thing remotely in danger of dying was my butt, growing short of blood as I waited motionless on the hard kayak seat while the minutes ticked by. All at once, the geese took noisy flight. Two yearling cubs appeared moments later at the large bear's side. They were what she had been checking on. The cubs must have been resting or nearby; I was too low in the water to have seen them behind the taller sedges. When the family moved closer to where the main stream running through the estuary pours into the bay, I paddled back out into the open water. There, I could scoot around watching at enough of a distance that I wouldn't have to worry about disturbing anyfurrybody.
After a while, another bear stepped out of the forest. It waded through a channel and kept moving toward the bear family. Although close to the mother's height, the intruder had the slender, rangy look of a subadult maybe four years old. It seemed as though this bear and the female were somewhat familiar with each other, for she showed little reaction as it came closer. The subadult was twenty yards away before the mother stiffened. After stepping closer together, they turned at the same time and began walking parallel to one another—until the mother made a lunge. As far as I know, nobody is allowed to get close to a female grizzly's cubs except, rarely, one of her offspring from a previous year. The other bear wheeled and bolted, and the mother started after it.
Storybook bears are often depicted as being on the bumbly, pot-bellied end of the animal athlete spectrum. Grizz do get portly in zoos, which is where most people see them nowadays. In the wild, you're not likely to find chubby bears until autumn, when they need to pack on enough fat to keep them alive for the months they will be in winter dens. Even layered with lard, a grizzly's thick underlying musculature gives it quick reflexes and remarkable agility to go with its brute strength. Within a couple eyeblinks, the subadult was in full flight with the mother close on its heels, and both heavy animals were powering along at least as fast as the local deer, whose top speed is more than thirty miles per hour.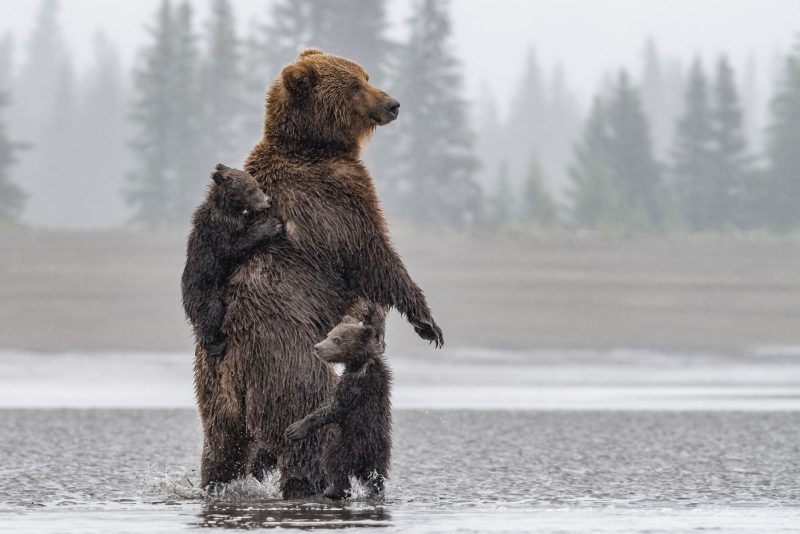 Mom finally put on the brakes. Moments later, one of the cubs caught up with her and went galloping on ahead as if determined to catch the intruder, despite being maybe a quarter the subadult's size. I had the sense that the cub was putting on a brave show—That's right, Dipstick, you better keep on runnin' from Fearsome Junior Bear—because it kept looking back over its shoulder as if to double-check that Mom was still nearby.
An hour later, the mother lay in the sun on an open bank, stretching, scratching, tinkering a while with a little driftwood chunk she held between her paws. Close behind her, the cubs stood with their paws on each other's shoulders, wrestling like dancers. A different female with young had arrived on the other side of the estuary. While she grazed, her new little cubs— recently emerged from their sunless birth den into a world full of scents and motion—raced up tilted driftwood logs and splashed through the shallows chasing gulls at the edge of the retreating tide. It's good to be a grizzly bear on a wild shore of the sea. And it's good to be a grizzly bear–watcher being watched in turn by curious harbor seals whose big-eyed heads pop up next to the kayak now and then.
…
I don't claim to know how grizzly bears think. But this seldom stops me from trying to imagine what the bear I have in sight is going to do in a given situation and then compare that with what the bear actually does. I take delight in occasionally not being wrong. As evidence of bear worship by prehistoric people—not to mention countless children's books and stuffed teddy bears—affirm, an inclination to identify with Ursus is hardly unusual. They are genuinely much like us in a number of ways.
Being omnivores with high energy requirements, they eat just about every type of food we do: new green vegetation; the roots, bulbs, berries, and nuts where plant nutrients become concentrated; honey (of course); fish; eggs; and animals of all sizes. Counting insects and scavenged meat, I can't think off-hand of anything grizzlies consume that modern humans and their ancestors haven't also made meals of. The bears have the very relatable habit of standing and occasionally moving around on two legs, and they use their paws and long-clawed toes with surprising dexterity. At times, they also give the impression of mulling things over before they act.
An assortment of other animals such as ravens, dolphins, elephants, and nonhuman primates show obvious learning talents and have been observed solving problems both in captivity and in the wild. Grizzly bears have one of the largest brains relative to body size among land-dwelling carnivores. They keep adding to the information their gray matter stores, learning and recalling settings in which they found abundant food, experienced danger, and so on throughout a life span of thirty years or more. So if it looks to you that the bear you have a close eye on just paused as if considering its options, that's probably what it was doing, though how much any grizz version of thought resembles ours is a wild guess.
With these bears' intelligence comes a marked curiosity. They seem scarcely able to resist investigating things and manipulating objects, one more reason for humans to empathize with the bear persona. As lords of the landscape, grizzlies can indulge their inquisitiveness with little risk of harm from another kind of animal. Being dominant within the wildlife community also allows them to take part in longer sessions of play than more vulnerable creatures can afford as a rule. Even a solitary bear crossing a meadow may suddenly break into a trot, leap toward the ground, tuck its head, and turn the dive into a somersault, then get up and do it all over again. And again. The convergence of dominance, inquisitiveness, and playfulness certainly applies to humans as well. It also comes to the fore in two other top-ranking mammals I've watched here, the coastal wolf packs that visit the estuary and the killer whale groups that occasionally sweep into the bay.
Your awareness of another grizzly trait, the potential for the kind of aggression that could leave you in shreds, never completely goes away when you're observing these bears in their natural habitats. Yet the same concern keeps you paying attention more intently than you would with most species. And that makes you better at catching subtle expressions, postures, and momentary hesitations, and better at reading between the bold lines of a bear's actions. Sooner or later, you feel that you're beginning to break through the boundary of "otherness" between you and the bear—past the old stories; past the statistics about reproduction, diet, habitat preferences, etc., and into the essence of a similar savvy, emotional being.
Being pumped up in all five senses and whatever that ineffable sixth sense tingling underneath them is—that's really what I'm addicted to.
…
I realize now that it's really been a combination of three elements that have drawn me to watch grizzlies for hundreds of hours over the years. The first is that where these great mammals still roam, the land is most likely to have stayed wild and remain home to all the other native species that belong there. In other words, roaming grizzly country is a special joy whether I see bears or not. Second … alright, I am sort of an adrenaline junkie. Not that I don't work hard to keep a sensible distance from grizz, but being anywhere within sight of them makes me feel alive in all the ways we and our ancestors were designed to survive in environments with a full complement of Big Bite-You's. Being pumped up in all five senses and whatever that ineffable sixth sense tingling underneath them is—that's really what I'm addicted to. The third element is the connection I feel when once again watching these fellow mammals long enough to see them not as anything I feared or hoped or was told they were but just as grizzly bears being grizzly bears. Which ends up being a whole lot more fascinating.
I'm aware that this sense of connection is in my imagination and that the bears don't give a grizzled goddamn what I think. But I know something they don't, which is that we genuinely are connected in a way that makes us kin. We share a majority of the genes that serve as instructions for building and managing our bodies and minds. While enough grizzly bear gene sequences have been identified to allow comparisons with other bear species, I haven't come across a direct comparison with humans yet. However, a more complete genetic analysis has been done for an assortment of other mammals. We know, for instance, that dogs share 84 percent of their genes with us, and cattle share 85 percent. Ordinary mice share a surprising 85 percent. One of the many hunters of mice, the domestic Abyssinian cat, shares 90 percent. So it's fairly safe to assume that we and grizzly bears have somewhere between 80 and 90 percent of our genes in common.
Chimpanzees and the closely related bonobos possess at least 97 percent of the same genes we do. When strictly comparing only genes and not the exact sequences in which they appear along a chromosome, the figure rises to almost 99 percent according to some calculations. During an expedition to survey wildlife in the swampy rainforest headwaters of the Congo River, I encountered a group of fifteen or more chimps that had never seen a human before. Living in an area filled with other chimpanzee bands, lowland gorillas, and a dozen different species of monkeys might have made the troop that visited us all the more curious about what our kinda-sorta-similar-looking troop of half-naked Caucasians and Aka Pygmies might be. As the chimps gradually edged closer both on the ground and in overhanging tree branches, they took their eyes off us only to cast quick glances at their companions, as if one of them might have an answer.
Mike Fay, the explorer I was with, told me how chimpanzees in this region not only fashion twigs into tools for poking into termite mounds and extracting some of the colonies' members to snack on, but also carry around digging sticks for probing the forest soil in search of insect larvae. In addition, they use large pieces of wood to club open the mud nests of bees to get honey. Now and then, we could hear the chimps communicating over a distance using their version of jungle drums—the fin-like buttresses that flare out from the base of certain tropical trees to provide extra support. Large and thin, these panes of wood reverberate like sounding boards when struck, amplifying the drumming. Although there may be a couple percent difference in our genomes, what I remember most about those animals is their boldly inquisitive gaze. Calculating one moment, wide with astonishment the next, it felt 100 percent human.
If I were to walk up to folks on the street and give them the news that the DNA in each of their cells is 80 to 90 percent identical to a grizzly bear's, I doubt I'd be taken seriously, much less welcomed to stick around. I guess I wouldn't blame them, especially since when people hear the word grizzly, many call up the image of some towering ton of gut-crunching terror they saw in a movie or on a TV show. But the number of genes we share with a grizzly obviously doesn't mean that we look and act 80 to 90 percent like even a realistic-size one. Every mammal needs to regulate cell metabolism, oxidize sugars, generate electrical impulses, coordinate packets of muscles, blink, chew, move, make milk, filter waste products, fight off pathogens, get plenty of warm blood to the brain, and we all do it with the same molecular tools. Even the egg-laying, duck-billed, barely-a-mammal platypus shares about 82 percent of its genes with us. As for other vertebrates (animals with backbones), a chicken's share of the genes that humans have is about 60 percent. If you also count genes that differ slightly in structure but perform the same function, zebrafish (a freshwater minnow originally from the Himalaya) happen to share 84 percent of the genes associated with human disease, which makes this popular resident of home aquariums a favorite subject for medical researchers.
All life proceeds courtesy of at least a few of the same fundamental genes. Bacteria, among the first organisms to arise on the planet and so miniscule that many thousands can dwell on a speck of dust, have around 7 percent of their DNA in common with us. The figure increases to 18 percent with baker's yeast, around 20 percent with many plants, closer to 30 per cent with rice and bananas, and 40 percent or more with the likes of honeybees and fruit flies. Again, such numbers vary somewhat from one report to another depending on what is being compared, for genes may become part of different sequences from species to species or occupy quite different locations on a chromosome strand.
Here's how I think about it: However broadly or narrowly one defines identical genes, I am in a sense alive in a mind-boggling number of creatures in a staggering range of environments around the globe through the DNA we share. I leap, I fly, I slither. I shimmer with iridescent scales in the waters off Zanzibar, and I stretch my petals toward the light in far northern Siberia. Being more closely related to avocados, ants, and aardvarks than most people suspect doesn't dilute our stature as humans but instead increases it manyfold. It renders us more than human. This is our deep heritage, an old, enduring kinship as big as the living world.
Molecular analyses of genomes and the mathematics involved make the subject sound theoretical. The grizz at the estuary— and in the mountains around my Montana home—make it solid and exciting. Like every creature, grizz are more than fellow Earthlings. They are our greater selves. I realize now that what mostly drew me to the bears from the start is that I get keyed up enough in their presence to be able to see and sense myself in them and them in me.
Scientists have classified about 1.5 million species so far and expect to find millions more. More than two-thirds of those known species are insects. Thus far, entomologists have named some 400,000 different kinds of beetles alone, and it looks as though most of the organisms awaiting discovery will prove to be more insects, other invertebrates, and a very long list of microbes. All the vertebrates in existence—the fish, amphibians, reptiles, birds, and mammals—add up to roughly 66,000 species. It's a strikingly small group as major divisions of organisms go. But these animals had an outsize role in shaping our hominid ancestors' reflexes, instincts, and skills over millions of years. Modern humans, Homo sapiens, arose as early as 350,000 years ago, and for nearly all the years since then, the vertebrates, and especially other mammals, continued to be a major influence on our activities and characteristics, including the thoughts, stories, art, and prayers of people's cultures.
According to a 2018 summary in the Journal of Mammalogy, the exact species count for present-day mammals came to 6,495. However, ninety-six appear to have gone missing (extinct) lately, so let's round off the total at 6,400. Estimates for the number of species of all kinds existing on Earth today, including all the mostly microscopic forms yet to be discovered, range from 8 million to as many as 100 million.
If we pick, say, 10 million as the actual number to be on the conservative side, the mammals add up to just .005 of 1 percent of the total. That's it in the way of warm-blooded, haired, milk-producing beings on this planet and maybe in the universe: 6,400 forms of life in the category to which we belong—fewer, I'm guessing, than the number of different styles of dress shoes out there in the world.
In a minor way, I am part wine grape (percentage of shared DNA: 24) and part roundworm (percentage of shared DNA: 21 to 38). At the same time, though, I am at least four-fifths of a genetic match with a cheetah, a snow monkey, a blue whale, a bat (at least one of every five mammal species is some type of bat), a bat-eared fox, an ermine, a wild yak—and the last of the beautiful saola antelopes, discovered in 1992 in the mountains of Laos and Vietnam and now perhaps a few dozen survivors away from extinction; last of the little vaquita porpoises, whose numbers have fallen below twenty in the northern Gulf of California; last of the tool-making orangutans disappearing in Borneo and Sumatra. This is some of my greater self, disappearing out there; some of your greater self too.
As I paddled to correct for the drift of the outgoing tide and to keep an eye on the grizzly mothers and cubs, my memory returned to another rangy young bear met years earlier in a different section of the estuary. I was afoot with five other people on the shoreline then. We were checking one of the sites where the researcher Barrie Gilbert, a professor of animal behavior and wildlife management from Utah State University, had previously placed a scent lure and some sticky material he hoped would snag fur from curious bears. From the DNA in such hair samples, he could identify individual grizzlies and their degree of kinship with others here and piece together a detailed picture of the area's population makeup.
We spied the bear walking a good distance away. A few moments later, it paused and stared in our direction. (The popular notion that grizzlies have terrible eyesight is bogus.) Then the animal started moving again but on a new course. With binoculars, I took a closer look at the animal. And said to myself, Oh boy. Here we go. We had attracted the interest of a four- or five-year-old male, the grizzly equivalent of a teenager. I would have bet that he was going to make an indirect loop designed to end up near our little group. He did exactly that, wading through the tidal shallows at a faux-casual pace until he was on the same strand of shoreline where we stood. In grizzly social protocol, a direct stare can be a challenge, and Teen Grizz was taking care to look in every direction except directly at us—a good sign, but he kept strolling our way until he was within ten feet.
Then he turned sideways, as if to give us a view of his size, which was not huge but nevertheless impressive. He made a show of grazing the few sedges on the beach and of snuffling around the tidal rocks coated with algae and barnacles as though they offered the most exquisite seafood in the region. This adolescent wasn't acting as though he planned to add a person to his diet next. To me, what he was really doing was telling us: "I'm a grizzly bear feeding right here, practically in your face. How do you like it?" He probably wasn't quite sure of exactly how powerful he was, but his confidence had been growing along with his size, and so here he was, bold and curious, come to test things out—see who's who and what's what.
Using a calm tone, Gilbert told us, "Don't back away, or he could become a problem for anyone visiting here later. Stay close and let him know he can't intimidate us." We stayed put. It wasn't all that brave a choice. Several of us carried bear spray—a canister of heavy oil mixed with capsicum, the "hot" in hot chili peppers. When it contacts the eyes and nose, it feels like fire and can leave an aggressor breathless and disoriented. We had the cans out and aimed and stood ready to press the plunger if the young male pushed much closer. Stalemate. Teen Grizz took a couple more half-hearted bites of vegetation, side-eyeing us, lingered for a time that felt much longer than it probably was, and finally left—making a point of going very slowly, looking back toward us now and then. "Be ready," the researcher warned. "This is when some will suddenly turn and try a bluff charge to find out if you'll give way."
You can describe a grizzly bear with any terms you want: wilderness icon or unholy monster, mountain monarch or leftover barrier to civilization's progress. Those are labels for a character in the tales humans tell about themselves and their own desires.
How many people have spent enough time negotiating at close range with grizzlies to be able to offer an observation like that? I've been charged a few times by these bears and charged as well by black rhinos, Indian one-horned rhinos, Asian elephants, African elephants, a lion, a grey reef shark, and probably some other animals I've forgotten about. I came out OK, but I don't remember keeping my cool in any of those situations. By contrast, Gilbert couldn't have been more outwardly calm. This was all the more impressive since, early in his career, he had lost part of his face, including an eye, during an attack by a grizz he surprised—and tried to run from—on a Yellowstone mountainside. Since recovering, he had spent decades studying these bears from Yellowstone to Katmai National Park on the Alaska Peninsula, becoming steadily more expert at gauging their body language and serving as a strong voice for better management to protect them. I trusted the judgment of this remarkable man.
The charge to test us never came. Our confrontational young animal merely moved on and disappeared around a bend in the shoreline. Now, every motive and attitude I've ascribed to the bear in this encounter could be completely wrong. I don't know how a grizzly bear's mind works. But I felt sure all along about one thing: This animal had ambled over to where we were for the same reason we went there in the first place—to try to find out more about another kind of creature.
You can describe a grizzly bear with any terms you want: wilderness icon or unholy monster, mountain monarch or leftover barrier to civilization's progress. Those are labels for a character in the tales humans tell about themselves and their own desires. In real life, we and this master mammal are much more alike than not, genetically and physically—and kindred spirits insofar as both of us are curious about the world and live a fairly long time, learning all the while. Beyond the raw strength grizzlies possess, part of the power we sense in them is that intelligence we share. All those commonalities are the when-I-met-a-great-big-bear story that I think is worth spreading around.
Buy Four Fifths a Grizzly here.