mots :: Sandra Mathieu // photos : Collection du Musée du ski des Laurentides.
L'image en noir et blanc de ce vieil homme longiligne au regard vif, skis de fond aux pieds, arborant fièrement une veste de laine à motifs et des bas blancs montés aux genoux, a assurément marqué l'imaginaire de plusieurs générations et continue d'inspirer les pleinairistes en quête d'aventure.
C'est à 111 ans que le légendaire fondeur norvégo-canadien Herman Jackrabbit Smith-Johannsen a terminé son voyage sur terre avec, dans son baluchon, un fort sentiment d'accomplissement. En effet, on lui doit le développement de nombreuses pentes de sauts à ski et de centaines de kilomètres de pistes de ski de fond dans les Laurentides, en Ontario et dans le nord-est des États-Unis. Il a également mis au point de nouvelles techniques, organisé maintes compétitions et enseigné à des milliers de jeunes canadiens. D'ailleurs, le programme d'apprentissage technique pour les enfants de Ski de fond Canada porte le nom Jackrabbit.
Jack Rabbit, William Brind, provided by the National Film Board of Canada
Un pionnier à découvrir
Le livre The Legendary Jackrabbit Johannsen (malheureusement jamais traduit en français), trône sur ma table de chevet depuis que je me suis installée dans l'Nord il y a un peu plus de quatre ans. Pour assouvir ma curiosité grandissante sur le personnage, j'ai mis la main sur le film Le skieur centenaire de l'ONF et je flâne de temps à autre au Musée du ski des Laurentides pour en découvrir les collections et archives et piquer des jasettes éducatives avec la conservatrice Nancy Belhumeur.
C'est grâce à mon métier de journaliste et à ma passion pour le plein air que, au cours des dernières années, j'ai fait la rencontre d'humains dévoués, la plupart du temps bénévoles au sein d'organismes de plein air, qui ont à cœur de faire vivre ou revivre les legs de ce grand homme et l'engagement communautaire qu'il prônait.
J'aime bien cette citation qui dépeint de belle façon sa philosophie : « Vous devez sentir l'effort de vos muscles en vous approchant du sommet d'une longue pente, et connaître la joie de tracer votre propre piste dans une neige poudreuse, hors des sentiers battus. Ça c'est du ski! Ça c'est l'aventure! »
D'ailleurs, il n'y a rien comme explorer en ski de randonnée ces sentiers patrimoniaux après une tempête pour glisser doucement dans l'histoire. Quand, en prime, on tombe sur une ancienne balise, on ferme les yeux et on troque son Gore-Tex pour une veste de lainage pour rêver un peu au retour des belles années du légendaire centenaire qui a laissé une trace indélébile.
La renaissance de la Maple Leaf
Jackrabbit a terminé de tracer la Maple Leaf dans les années 1930. Cette piste de près de 120 km, qui reliait Labelle à Prévost, pièce maîtresse de son héritage, est tombée en désuétude au fil des ans, en raison du développement urbain. Des routes, des habitations, des municipalités en ont peu à peu effacé des portions importantes.
Même si les vétérans de la Traversée des Laurentides poursuivent la tradition et empruntent les segments de sentiers patrimoniaux pour parcourir un peu plus de 160 km en quatre jours, il n'est plus possible de skier à longueur d'hiver d'un village à l'autre comme dans l'bon vieux temps.
La petite-fille de Jackrabbit, Karin Austin, est convaincue que feu son grand-père, où qu'il soit, a présentement un large sourire et elle qualifie de magiques et formidables les dernières nouvelles liées au ski nordique dans les Laurentides.  Elle fait allusion à la corvée historique du 26 octobre dernier à Ivry-sur-le-Lac près de Sainte-Agathe-des-Monts, alors qu'une poignée de bénévoles passionnés se sont donné pour mission de faire renaître la Maple Leaf.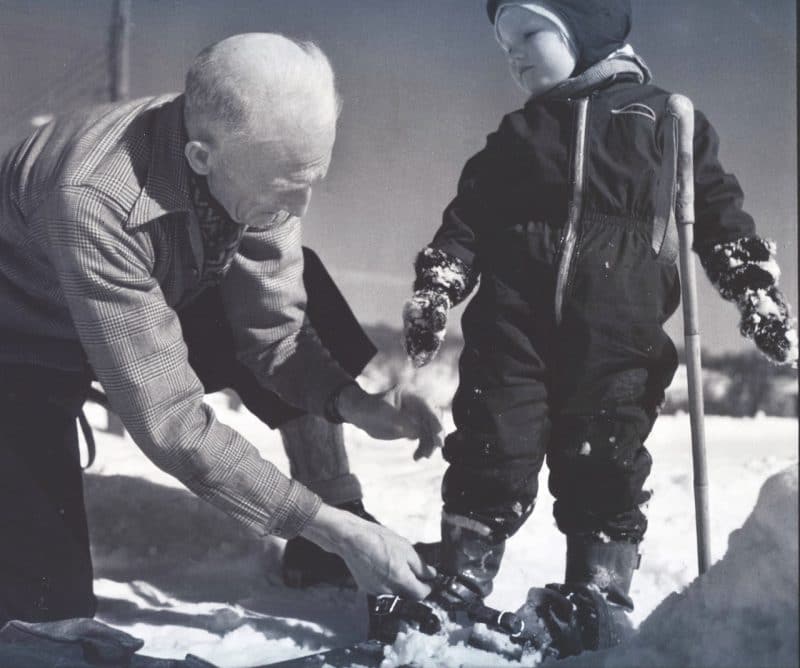 L'émotion était palpable au sein du petit groupe réuni pour la pose symbolique de la toute première balise revisitée, inspirée des balises patrimoniales signées Jackrabbit. Cet événement appuie sans conteste la volonté de survie du réseau quasi centenaire et de renaissance des interconnexions municipales, malgré les défis qui guettent sa pérennité.
« La fermeture récente du Laurentian Lodge Club de Shawbridge, dans lequel ma famille est impliquée depuis plusieurs générations, nous a permis de créer le Fonds Jackrabbit, qui est le point de départ de ce projet, explique Mme Austin, qui confie que son grand-père a transmis sa passion à toute la famille, y compris ses arrière-petits-enfants! La belle collaboration autour de la renaissance de ce sentier est tout à fait en accord avec ses valeurs, son esprit de communauté, son amour de la nature et du plein air. J'espère de tout cœur que ce n'est que le début et que ce sera contagieux! »
À coup de négociations de droits de passage et en empruntant des pistes existantes, l'intention c'est de recréer, d'ici quelques années, un lien en continu et de relier à nouveau les villages entre eux en respectant, le plus fidèlement possible, le profil original de la Maple Leaf.
Pour ce faire, quelques fondeurs émérites de la région se réunissent autour des cartes de l'époque et analysent les options. C'est certes un projet ambitieux, mais ils sont persuadés que leur conviction et leur persévérance les mèneront au bout du chemin, tout comme pour Jackrabbit au siècle dernier.
---
The black and white picture of this slender and bright-eyed elderly man, on his skis, proudly wearing a patterned wool vest and knee-high white socks, has definitely inspired and touched the imagination of many generations and continues to inspire outdoor enthusiasts in search of adventure.
The legendary Norwegian-Canadian cross-country skier Herman "Jackrabbit" Smith-Johannsen ended his journey on earth at the honourable age of 111 leaving with a strong sense of accomplishment. He is credited with building many ski jumps and blazing hundreds of kilometres of cross-country ski trails throughout the Laurentians, Ontario and the northeastern United States. He also developed new techniques, organized races and taught thousands of young Canadians. Cross Country Canada's skill development program for children is even called the Jackrabbit Program.
Jack Rabbit, William Brind, provided by the National Film Board of Canada
Discovering a Pioneer
The book The Legendary Jackrabbit Johannsen has been on my nightstand since I moved to the North a little over four years ago. To satisfy my growing curiosity for this character, I discovered the NFB's film titled Jack Rabbit and I occasionally wander around the Laurentian Ski Hall of Fame to discover its collections and archives and to have educational chats with curator Nancy Belhumeur.
It is through my work as a journalist and my passion for the outdoors that, in recent years, I have met dedicated people, most of them volunteers in outdoor organizations, who are committed to upholding or rekindling this great man's legacy and the community involvement he has advocated.
I particularly enjoy this quote, which beautifully depicts his philosophy: "You must feel the tug of your muscles as you near the top of a long grade, and know the joy of making your own track down an unbroken expanse of powder snow. This is skiing! This is adventure!"
And, there is nothing quite like exploring these heritage trails on cross-country skis after a storm, gently gliding into history. When, as a bonus, you come across an old marker, close your eyes, trade in your Gore-Tex shell for a wool vest and imagine for a little while that you are skiing in the wake of the legendary Jackrabbit and his lasting legacy.
Restoring the Maple Leaf Trail
Jackrabbit finished blazing the Maple Leaf Trail in the 1930s. This 120-kilometre trail from Labelle to Prévost has fallen into disuse over the years as a result of urban development. Roads, dwellings and municipalities have gradually erased large sections of it.
Although veterans of the Traversée des Laurentides are carrying on the tradition and following segments of heritage trails to cover the 160 km trail in four days, it's no longer possible to ski from one village to another all winter long like in the good old days.
Karine Austin, Jackrabbit's granddaughter, is convinced that her late grandfather, wherever he may be, currently has a wide grin while she describes the latest news related to Nordic skiing in the Laurentians as "magical and wonderful."
She refers to the historic task carried out on October 26 in Ivry-sur-le-Lac near Sainte-Agathe-des-Monts by a handful of passionate volunteers who made it their mission to restore the Maple Leaf Trail.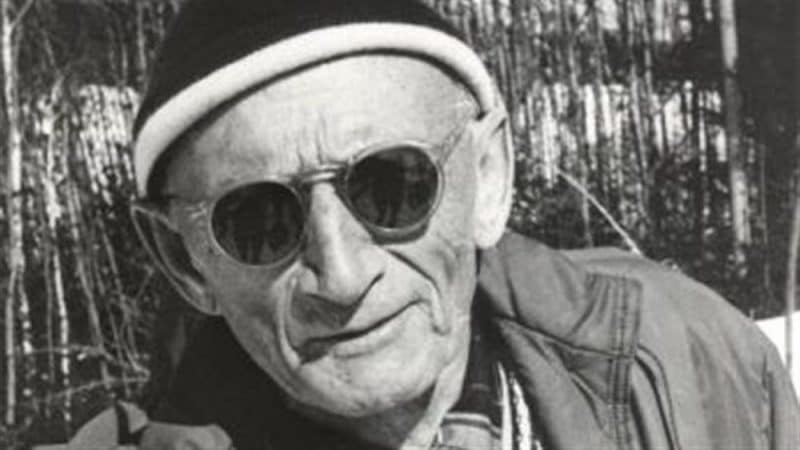 The emotion was noticeable within the small group gathered for the symbolic inauguration of the very first revisited marker, inspired by the heritage markers signed "Jackrabbit." This event undoubtedly supports the desire to ensure the future of the century-old network and to restore inter-municipal connections, despite the challenges that lie ahead.
"The recent closure of the Laurentian Lodge Club in Shawbridge, in which my family has been involved for several generations, has allowed us to create the Jackrabbit Fund, which is the starting point for this project," says Austin, who adds that her grandfather "passed on his passion to the whole family, including his great-grandchildren. The wonderful collaboration around the revival of this trail is entirely in keeping with his values, his community spirit, his love of nature and the outdoors. I sincerely hope that this is only the beginning and that it will be contagious."
Through the negotiation of rights of way and by using existing trails, the intention is to re-establish, within a few years, an uninterrupted link and to reconnect the villages with each other while remaining as close as possible to the original profile of the Maple Leaf Trail.
To do so, a few skilled cross-country skiers from the area gathered around old maps to examine their options. It is certainly an ambitious project, but they are confident that their conviction and perseverance will take them to the end of the road, just as Jackrabbit did in the previous century.
Excerpted from Vie en montagne, Winter '20.