words :: Andrew Findlay // photography :: Steve Ogle
Wind blasts with freight-train force, prowling the frozen plains of the Grand Plateau Glacier. Hate has never come easy to me—spoken or felt—but I hate this place.
It's May 15, in a pre-pandemic year that now seems like a dream: I'm cocooned in my goose down sleeping bag shoulder-to-shoulder with Steve Ogle and Dean Wagner, studying the symmetrical patterns in the tent fabric overhead. It's been a long time since any of us showered…
Two weeks prior, the three of us hopped into a nimble, ski-equipped Bush Hawk plane in Haines, Alaska and flew over a maze of tidewater glaciers before touching down on the Grand Plateau with hopes of climbing Mount Fairweather. Straddling the British Columbia/Alaska border, Fairweather's summit sits 4,663 metres above sea level, making it the highest point in the province (and one of the loftiest coastal mountains on the planet—we are only 20 kilometres from the Pacific shore).
We landed under calm clear skies—it was the last we'd see of the sun for days. Since then, we've been imprisoned in our tent by the weather. I've finished my one book twice: Cormac McCarthy's brutally grim tale Blood Meridian, and I'm considering a third reading. I've even scanned the labels of my long underwear—anything for intellectual stimulation. Conversation has dwindled and communication reduced to utilitarian decisions about who will cook, or boil water. Above us looms the icy north face of Fairweather, dominating a frozen wilderness at the south end of Tatshenshini-Alsek Provincial Park that, along with Kluane National Park and Wrangell-St. Elias and Glacier Bay national parks in Alaska, forms the largest contiguous protected area in the world.
Wind howls louder, snow piles higher. The tent wall sags against Steve's right cheek. He groans, then violently slaps the nylon wall. I am fidgety and envious of Dean—a commercial fisherman accustomed to the tedium of sea life, he slumbers comfortably.
• • •
In May 1778, Captain James Cook sailed the Gulf of Alaska on a rare pleasant day, gazed skyward and named what he saw. It mocks us now, centuries later: Mount Fairweather. Among climbers, the mountain holds the distinction of being the most inappropriately named mountain in the world.
May 16, 7:35 a.m., the tent feels luminescent. Steve wiggles out of his sleeping bag, unzips the door and peers into a frigid morning. "Full blue," he says, breath condensing into tiny clouds. "The summit is totally clear." We have monitored forecasts from Alaska's National Weather Service out of Juneau multiple times daily like a call to prayer, growing to despise the computerized voice crackling over the handheld radio as if it were personally responsible for the horrendous weather. But today, a rare break between systems tracking across the gulf allows the sky to lift. Bushed from a sustained torpor of eating, playing Yahtzee and sleeping, we welcome action of any sort.
The Grand Plateau sprawls around us in a blanket of white creased by crevasses that could swallow cars, a beautiful landscape so vast it challenges my normal frame of geographical reference. Snow billows from Fairweather like a fuming volcano. After an urgent breakfast, we head south from the tent, over undulating snow toward steeper terrain where a tributary glacier plunges from a col on Fairweather's west ridge. Day or night, with an unsettling randomness, we have heard the ominous rumble of avalanches. Today, the mountain is silent. We move quickly, giddy at the chance to attempt a mountain that has morphed into something almost unattainable.

Movement gives us purpose, yet I'm wary. The forecasted weather window may be too brief—already Fairweather's crown is wrapped in a lenticular cloud that signals atmospheric change. Stubbornly we push on into this sucker hole. Far below, the tent is a grain of black sand on a vast white winter beach. After weaving through another maze of crevasses, we switchback up towards the bergschrund.
"Let's aim for that," I say, pointing to a wind-sculpted wave of snow.
In 20 minutes, we gain this protected spot but by then, savage gusts and clouds obscure the surrounding peaks and the temperature has plummeted. Steve flaps his hands like a fledgling, trying to warm them—temps have rarely climbed above minus 30 degrees Celsius.
Overexuberance trumps common sense as we stash our skis, tie into the climbing rope and search for a way across the bergschrund. I traverse right until the slot pinches to an arm-width opening, plunge my ice axe in the wind-hammered snow above, then kick my crampons into the firm upper wall, feeling awkward as a baby attempting first steps. A dark chasm disappears into the glacier below me. The weather deteriorates with every step, our scruffy beards now encrusted in an icing sugar of driving snow. In a matter of minutes, conditions have gone from fine to ferocious. Steve shouts above the gale, "We gotta pull the plug."
When we turn to retrace our route, the glacier has vanished in a murky froth. Each step is a vertigo-inducing plunge of faith in white cloud. We grope along, relying on memory, intuition and luck until we locate our skis where we left them speared in the snow. With skis back on, our retreat goes quicker but we move cautiously, grappling with the lurking terror of glacier travel in a whiteout. The crack of falling ice halts us, a reminder that glaciers are far from static; they are alive and constantly changing.
• • •
In her fascinating book, Do Glaciers Listen?, Professor Emerita in the Department of Anthropology at the University of British Columbia, Julie Cruikshank writes how the Tlingit and Athabaskan peoples who traveled this rugged country prior to European contact considered glaciers animate, able to "make moral judgments" and "punish infractions."
Right now, I feel the full weight of the glacier's impartial strength. An hour later, guided by the waypoints on Steve's GPS unit, we shuffle back to base camp. A prison yesterday, our tent is a boutique hotel this afternoon. Before long, we're ensconced in the familiarity of down bags while the stove whistles with water on the boil. Meanwhile, our objective remains aloof, distant.
Julie Cruikshank writes how the Tlingit and Athabaskan peoples who traveled this rugged country prior to European contact considered glaciers animate, able to "make moral judgments" and "punish infractions."
Also known as Boundary Peak 164, Fairweather is one of many mountains tracing a line through rugged, uninhabited country forming the border between BC and the Alaska Panhandle. In 1958, an eight-man Canadian team led by Vancouver Sun reporter and prolific mountaineer, Paddy Sherman, made the second ascent of Fairweather via Carpe Ridge, a route pioneered more than two decades earlier by American climbers. Following their successful climb, Sherman and fellow climbers lazed at Lituya Bay on July 9 awaiting pick-up. Incoming poor weather prompted their pilot to fly in that evening rather than the following day as planned. Within an hour of lifting off, a magnitude 7.8 earthquake struck the area. Ninety million tonnes of rock avalanched into Lituya Bay triggering a giant 30-metre (100-foot) tidal wave—the largest ever recorded—that scoured surrounding mountainsides as high as 524 metres (1,720 feet) above sea level.
"The camp had vanished, the trees, the lake—all wiped from the earth in one instant of that night when the mountain fell," writes Sherman in his chilling but colourful memoir, Cloud Walkers.
Today these seismic forces are docile, but a strong wind tears at our tent, true to the forecast. However, this storm has a silver lining—for the first time in two weeks, a sustained high pressure is headed our way. Dean grabs the die and scorecards, and I settle in for what has become a ritual, losing at Yahtzee. Steve types a message on his SPOT beacon informing friends and family of progress, or lack thereof: "No summit, storm again."
Suddenly he sits up.
"Did you hear that?"
"What?" I reply, thinking he may have finally succumbed to tent-bound madness. A faint chirp is audible above the wind's roar. Steve, a bird biologist when not on photo assignments, scrambles to open the tent door. "It's a hermit thrush!" he says, recognizing a tiny bird that's normally a resident of lowland forests. I spot a puff of light brown and white feathers perched on a tent guy line; an alien visitor from another world, swept into this merciless white void. Steve captures the bird, brings it into the tent and mixes a nourishing solution of sugar and water. The bird accepts a few drops, then tilts its head sideways as if contemplating its new nestmates. Five minutes later, it dies in Steve's palm. Awestruck, I ponder this obscure act in the great Darwinian struggle while trying not to obsess over the omen—good or bad.
Later, when I wake for a midnight pee, the wind has stopped and the night sparkles. Morning finds a few cumulus clouds suspended listlessly in an otherwise deep, calm and blue sky.
"This is our day boys," I say, ducking back into the tent.
Long ago, we'd booked flights out of Whitehorse for tomorrow evening, meaning this Fairweather siege has been pushed to the eleventh hour. We inhale bowls of oatmeal while prying boot liners into frozen plastic shells as unforgiving as concrete. Our tracks from yesterday's abandoned effort are barely visible, but we can follow them. A cascade of ice and snow plunges from Fairweather's north face, but it is oddly silent—as if all sound has been absorbed by the mountain. Two hours later, we're huddled at the bergschrund, forcing down water and an energy bar rendered into steel by the cold. Steve slaps his hands together as I wiggle toes.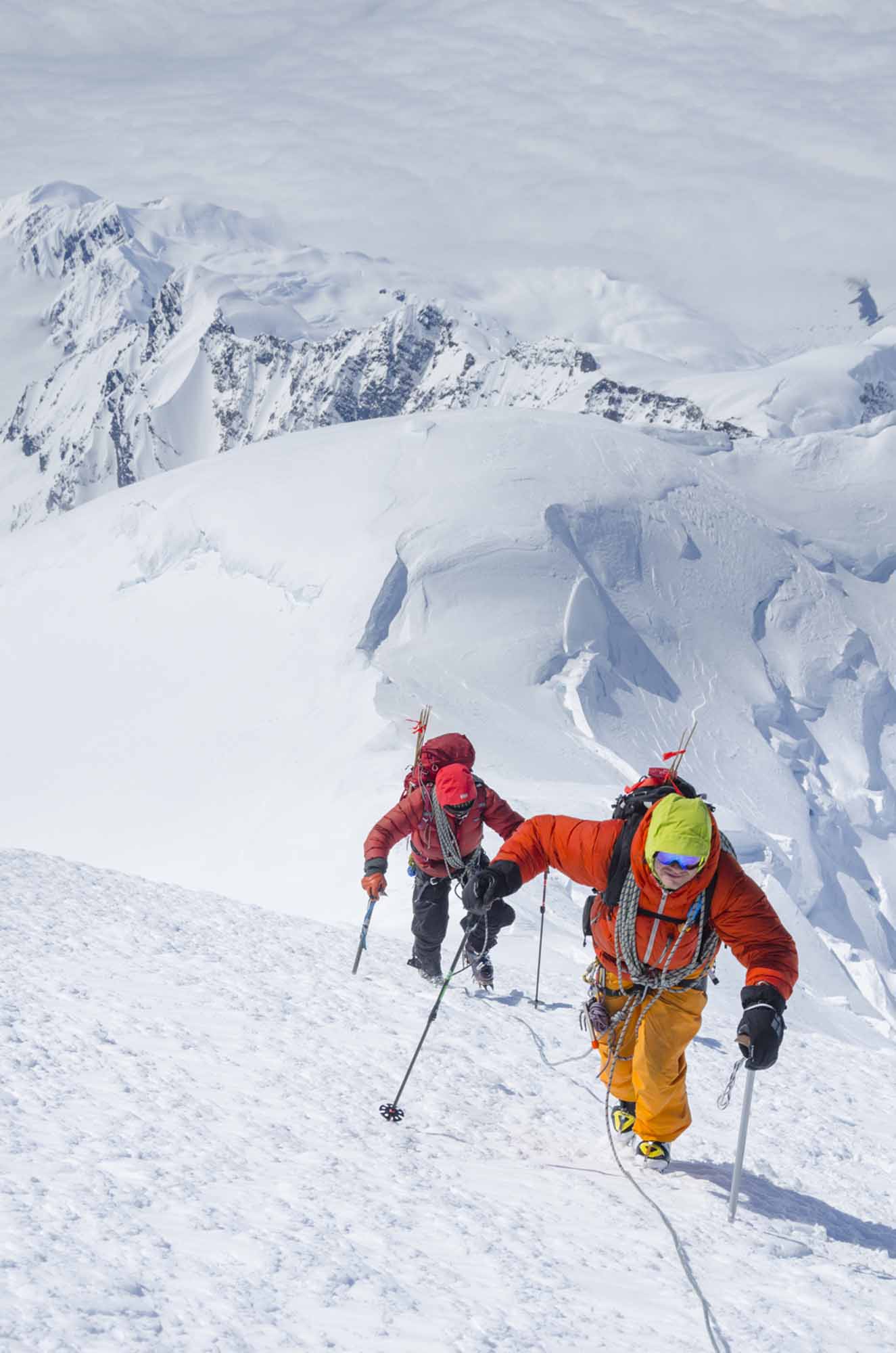 The temperature is alarming—no amount of activity seems capable of generating adequate heat. We trace our route across the bergschrund then ascend the headwall trending toward a low-angled dihedral that splits a vertical slab of ice. Crampons crunch into hard snow. The col is tantalizingly close. Soon, we crest the headwall and are greeted by a jaw-dropping view. The Gulf of Alaska lies far below in a sweeping crescent. To the south is Lituya Bay, a bulge of blue perforating the coastline. Northwards, the lower Grand Plateau snakes into Lake Alsek, the outlet of the mighty Alsek River.
The sight makes me think of the adage, "Mountaineering is only fun in hindsight." My altimeter reads 4,210 metres—another grueling 453 metres to go. We piece together a route among cracks, drifts and gargoyles of ice. Our crampons sink reassuringly into styrofoam-like snow, the destination now seeming close enough to touch. However, one false summit after another tests our resolve. The climbing is straightforward, but the wind, painful and unnerving, burns at a few exposed patches of skin on my face.
I concentrate purely on the next 100 metres, unwilling to be tempted by the deception of another non-summit. The next time I look ahead, the slope decreases and before us sits the broad plateau of Fairweather's crown. Together, Steve, Dean and I shuffle the final few paces up a wind-hammered knob of snow, the hostile but beautiful apex of B.C. that, in a busy year, might see the boot prints of a half-dozen souls, but in most years none at all. On one side, an ocean of ice and mountains, on the other, the wild blue north Pacific Ocean curves to the western horizon. Above us, a jet liner traces a silent white arc across the blue sky. In a euphoric instant, the strain of idle days spent waiting out storms beneath this brooding monolith of snow and ice washes away. Our trio gathers for a requisite hug, our shouts heard by nobody but ourselves. Dean produces a small flask of Jägermeister saved for the occasion. I look at my watch—2:15 p.m., May 17, six hours after leaving the tent this morning, and two weeks after flying in from Haines. Steve boldly removes his gloves then kneels to tap out a SPOT message with numb fingers: S-u-m-m-i-t!
The descent is frigid but quick. Within two hours, we are out of the wind, adrenaline pumping from the ascent. One by one we point down the fall line, carving wide fast turns in shin-deep powder that is mere icing on a long-awaited cake. Legs are burning when we glide into camp, but there's a levity in the air born of sunny skies and perseverance. My hatred of this place has vanished, transformed into something more like love. A quick sat-phone call to the pilot confirms a pick-up in two hours, barely enough time to extract our basecamp, now nearly a permanent fixture of the Grand Plateau. Stuffing packs, we soon hear the faint buzz of the Bush Hawk, the jarring sound of civilization. A plane circles around Mount Watson and comes in for a landing.
"Well boys, did you make it?" the pilot asks. Our grins supply the answer. We load quickly and the plane sputters to life then bounces along the glacier before taking flight. I look back at the ephemeral traces of a campsite on a sea of white, and above it a golden sun dancing on Mount Fairweather—poorly-named perhaps, but no longer an unattainable myth. It is now as tangible as the seat beneath me.
Excerpted from MLCM Winter-Spring '21. Click below for more from the issue.