One night alone (and alcohol-free) in an off-grid cordwood sanctuary in the forest. Words & photos :: Kristin Schnelten.
I packed a bottle of wine for my overnight stay at the Off-Grid Retreat. A night away from the kids with no power and no phone? Seemed the perfect time for a glass or two in front of the fire.
It took only moments on-site to recognize the fault in my plan.  This little off-grid cabin tucked deep into the towering pines, with its quietly zen host and palpable spiritual energy, was no place to catch a buzz. It was, in direct opposition to my comfort zone, truly a retreat—an escape from everything and everyone in the world, except yourself. I leaned into it, and left the wine in the truck.
Arriving at dusk on a cloudy, blustery day, disoriented and a bit lost without my customary entourage of children, husband and dogs, I was grateful for Neil Baldwin's calm, warm welcome. He introduced me to the history of the place, from his 19th-century traditional pioneer cabin, found in Tara and reconstructed on the property by a previous owner, to my own little cordwood accommodation.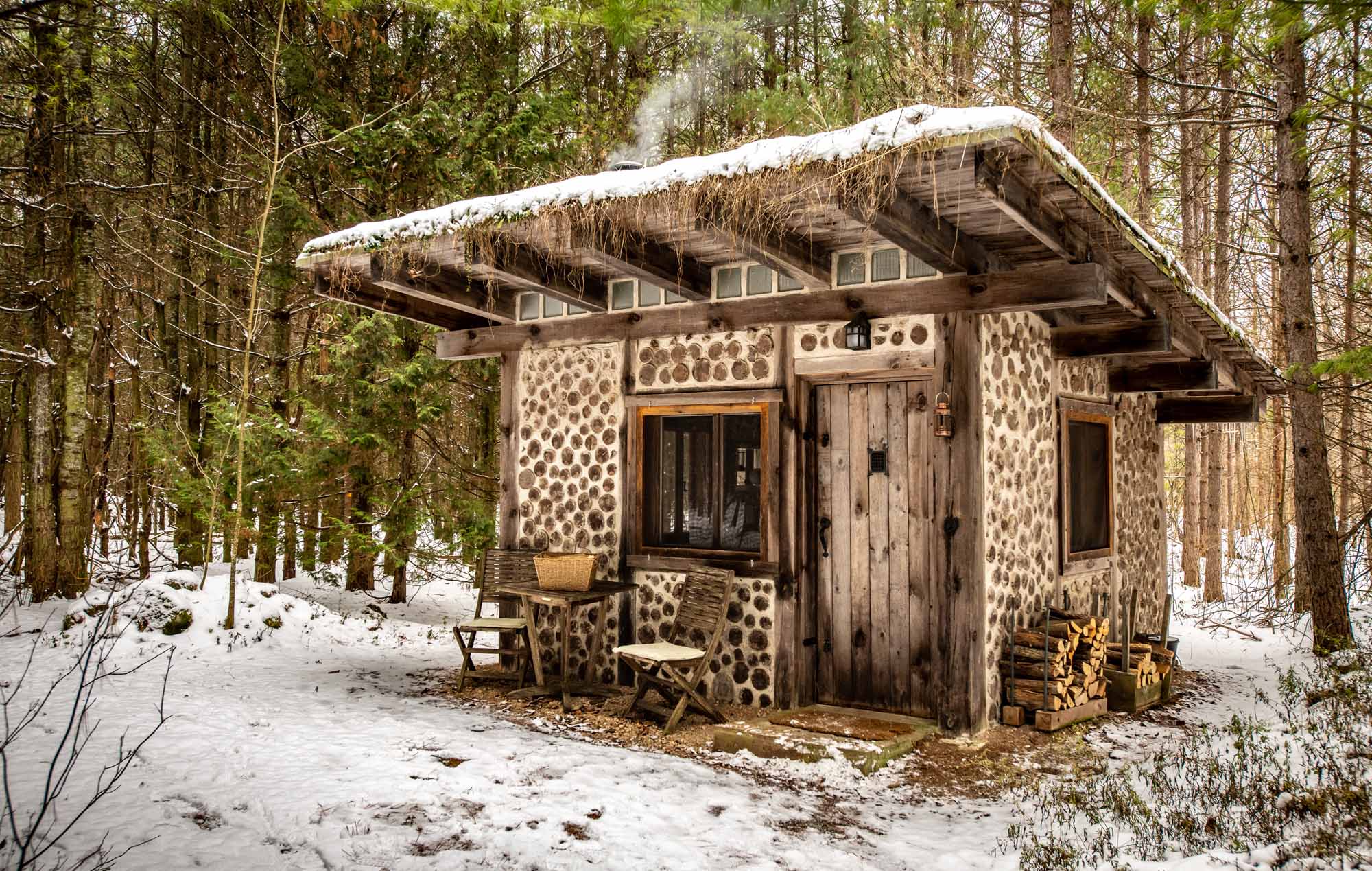 Located about 100 metres from the main house down a dark forest pathway, the eco-structure was just large enough for a bed, woodstove, washstand, table and dresser. The single-pitch natural green roof, with its haphazard sprouts and overhanging moss, was storybook-charming.  Taken aback by the craftsmanship and design, I needed to know the builder's name.
Rob Roy. Of course it was Rob Roy, respected expert on cordwood masonry, whose multiple books on the topic were fixtures on my own coffee table two decades ago. The couple from whom Neil purchased the property spearheaded this project, persuading Roy to make the trip from New York to lead a workshop during construction.
A cordwood structure is, in its simplest form, a log cabin—albeit with shorter logs. Known for its energy efficiency, sustainability and simplicity, the building style tends to attract those with a self-sufficient streak. (As hand-stacking 16-inch cuts is a bit less cumbersome than craning 30-foot trunks.)
Neil's own log home has seen updates over the years, with two additions and the introduction of indoor plumbing, but the property remains completely free from the electrical grid (and the cordwood cabin still boasts a privy). Solar panels provide power for every need down to his chainsaw, which cuts enough deadfall to heat both buildings and the sauna.
The small battery in my cabin stored ample energy for a few lights, which is really all one needs when left alone in a tiny cabin in the pitch-black woods, one night after watching the first episode of Stranger Things. The wind in the pines was otherworldly, as Neil pointed out on his nighttime check-in. Not unlike the ocean, really. Certain the waves crashing on my doorstep were masking the sounds of other things, I chose to forego my nighttime hike.
Morning arrived, as it always seems to do, and those things that went bump in the night were ever more absurd after sunrise. Neil arrived, right on time, with his Brekkie in a Basket: homemade muffins and breads, local jams and spreads, fruits and juices. Spoiled and stuffed, I boiled water on the woodstove for coffee and lazily readied myself for a walk in the woods.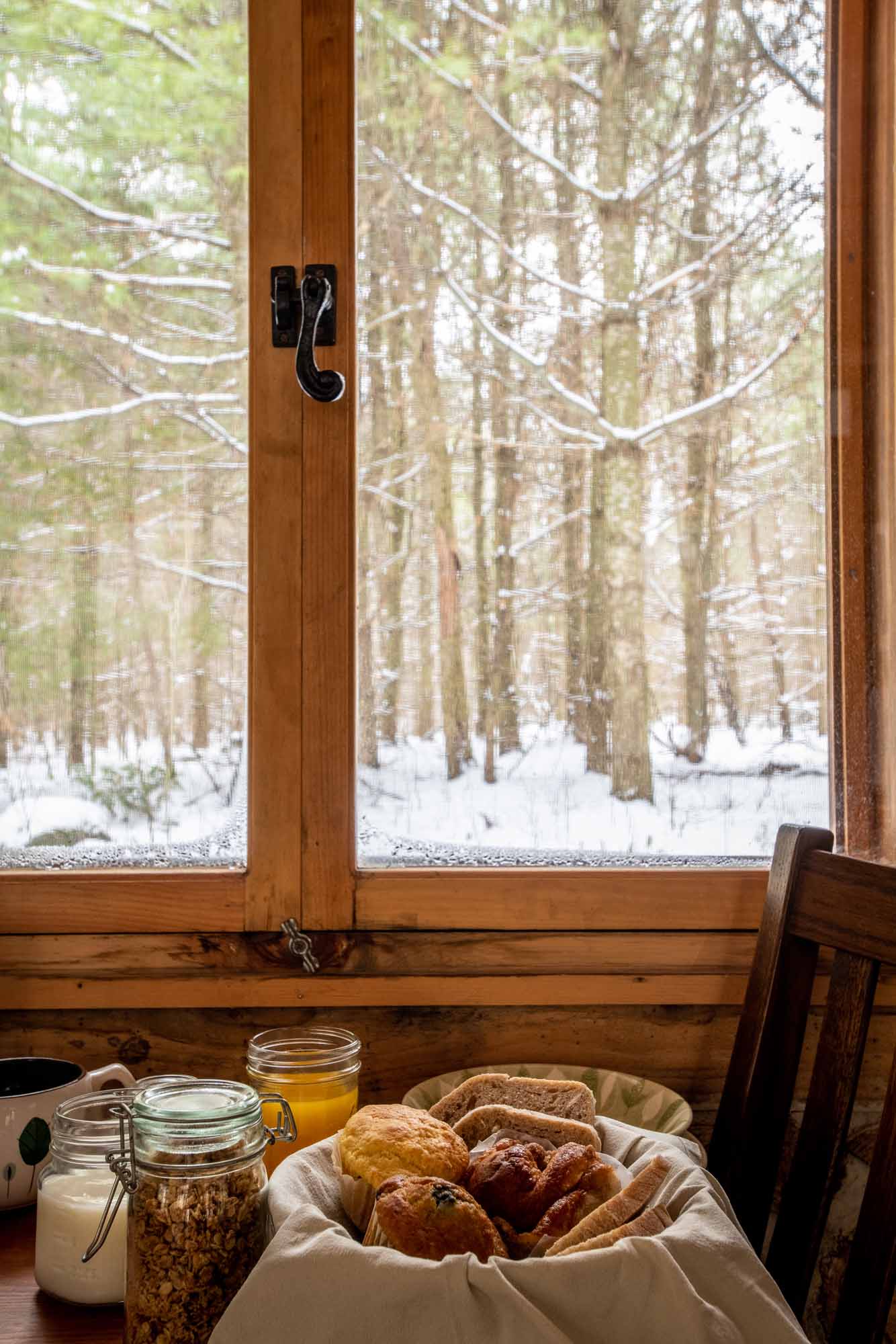 Neil spent several years building the 4.5 km of trails meandering through his 50-acre property. Colour-coded and well-marked both in person and in map form, they lead through stands of maple, aspen, cedar, larch and pine, past the pond and yurt, criss-crossing the creek and one another while passing features created or cared for by Neil.
The Spirit Tree—a hulking, ancient maple whose story he details in the book The Extraordinary Tree Project: A Celebration of the Natural and Cultural Value of Trees in Grey and Bruce—piqued my interest from afar and fairly begged me to sit beneath its twisted branches. Construction of the seven circuits of The Labyrinth, dutifully weaving through a stand of farmed pines, was a "labour of the soul" for Neil, and if I hadn't been so distracted by the fresh critter tracks I repeatedly traversed and documented, I may have found some connection there in the centre.
But resisting the spiritual nature of this place was futile, I knew; it was in The Sound Forest that I eventually surrendered. If not for the cold penetrating my multi-layer pants, I believe I could have lingered beneath those resonating, methodically tuned wind chimes installed high in the pine canopy for hours—no, days.
Packing my bag, procrastinating departure with a second round of woodstove coffee, I found it physically difficult to leave, to close the cabin door one last time. There is a magic in this place, whether inherent or cultivated or a little of both. A hushed, deep kind of magic that won't take no for an answer. And, in the end, I believe that magic would not have shattered with a little Thermos of red sipped at the base of a venerable old maple. In fact, I think we both would have savoured it.
Neil Baldwin hosts Airbnb guests at the cordwood cabin, located about 20 minutes southwest of Owen Sound, but acknowledges it will never be a money-making endeavour. For him it's merely a matter of welcoming people to the space, of sharing it. As a trained Labyrinth Facilitator, his passion for that creation is contagious. He invites day visitors to experience the winding path through registration on his website.
Excerpted from the winter '21 issue of Mountain Life–Blue Mountains.