On the grounds of Free Spirit Forest and Nature School, children duck and run in a squealing game of fox hunt with co-founder Matt Simpson before he slips away to feed the campfire. A gentle bear of a man with kind, playful eyes, he cups his hands to his thick black beard and calls, "Cawww! Cawww!"
At the sound of the crow, eight kids tumble together for morning circle. Bundled in layers and flushed from their post-drop-off play, each child in turn shares a thought of gratitude as the group calms and quiets. Matt sings the first notes of a woodsy tune and a few voices join, listening for familiar words.
Heading into the woods, children fan out across the field in a haphazard procession. Three girls hoist to their shoulders a comically large birch limb, sharing the cumbersome load. A younger boy, not yet tall enough to help with the carry, scoops up cast-aside backpacks, relishing this porter role he created for himself.
It's maple syrup season, and children check taps dotted through the forest. Working together to schlep the heavier buckets, they pour sap into the steaming boiler. Kids use flint and steel to start the campfire that will warm them all day, and Matt chats about the sugar streaming in the maple trees, flowing from leaves to roots and back again throughout the year. There's a hush while he reads a poetic book passage, describing finished maple syrup as "summer sunshine, flowing in golden streams to pool on our plates."
Someone spots a bird high in a tree, and they make note of its size, shape and colour. It's clearly a nuthatch, but Matt keeps its name under wraps for now. After snack, the children will consult guide books to identify the bird on their own.
What may appear to be a bunch of kids playing in the woods is in fact an intentional process of nurturing and educating children through play. It's not yet 10 a.m., and these already-filthy kids have practiced three of the school's core tenets: connection with self, connection with others, connection with nature.
Beginning in Scandinavia in the 1950s then eventually spreading to the U.K., the popularity of outdoor schools has risen and recently grown across Canada. Models differ for various programs, but at its core the movement is about children learning through first-hand experience, outside, with an emergent curriculum (sometimes referred to as child-led learning).
Free Spirit's non-profit private school is certified through Forest School Canada, whose professional learning programs focus on a child's "relationship to a place, through regular and repeated access to it, in the way that is most fitting to them: through play." Founded by Matt and his wife Kim in 2016, Free Spirit's school is well-established in the south Georgian Bay area with locations for ages 4-14 now at Wasaga Beach, Meaford and Highlands Nordic. But families interested in the concept certainly have no shortage of options, with at least seven outdoor schools dotted along the escarpment.
As the first outdoor school in the area, Red-tailed Hawk Forest School's founder Shannon Foley has seen her program evolve over the years. A board-certified teacher searching for a different path, Shannon discovered and completed the Forest School Canada Practitioners Course before pioneering her own school in 2015. Their nature-based board-certified education program follows the provincial curriculum with its now full-time JK–Grade 2 students, who spend the majority of their time in the woods.
Shannon and her team are passionate about connecting to nature through exploration, play and music, with lessons led by local musician Joanna Horning. Joanna and Red-tailed Hawk created the CD Little Tracks: Songs From the Forest, with melodies and lyrics co-written by students. The CD project is part of Joanna's hope that "We can create change and help heal our planet through music, and children falling in love with nature."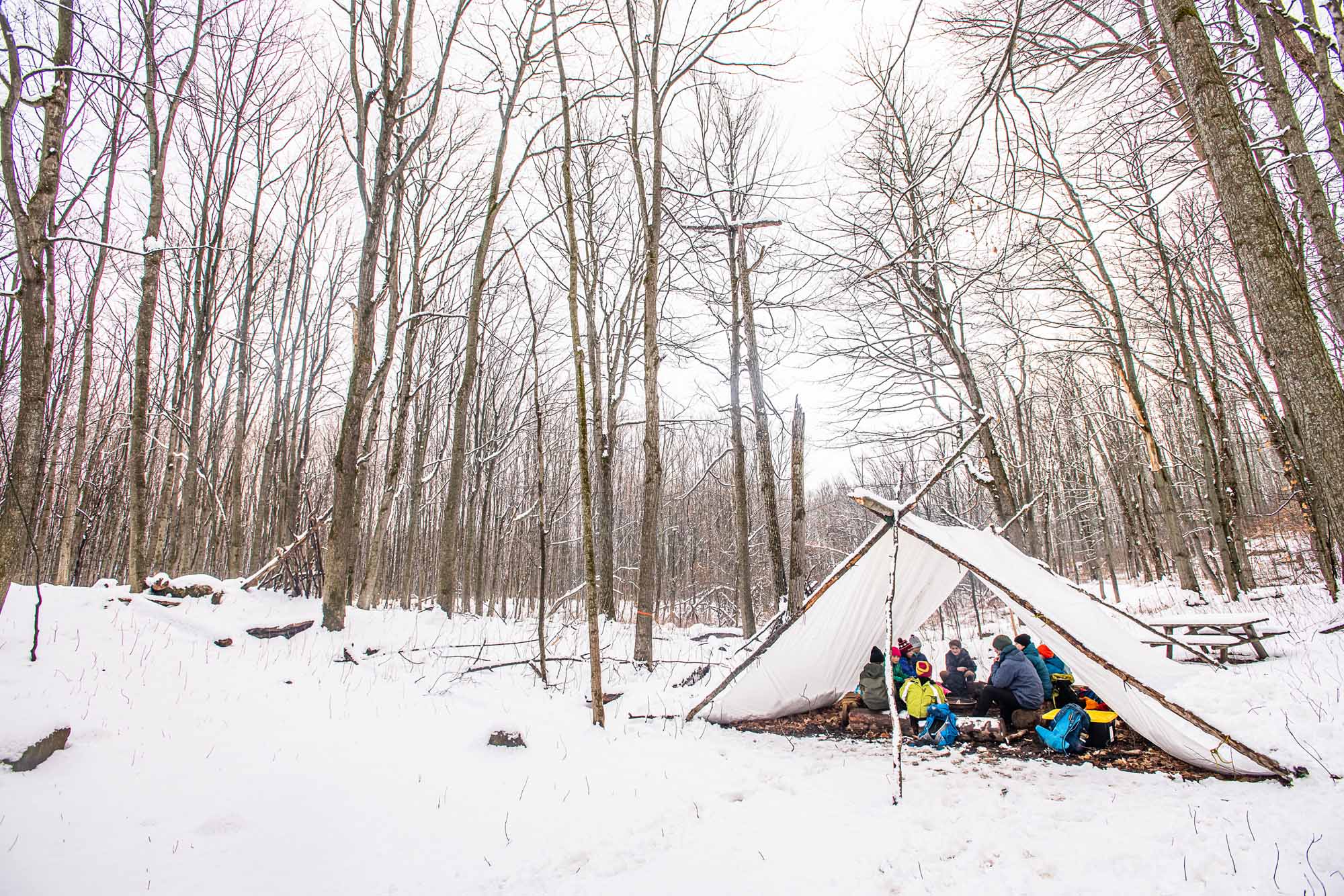 Opening just this past fall, Blue Mountain Wild School is the newest outdoor program established along the escarpment. Founder Jeff Barrett brings his extensive experience in outdoor education and adventure guiding to this leadership-focused private school for children from JK to Grade 6.
Eschewing the label "forest school" and its focus on play, Wild School instead begins with the Ontario curriculum, moving it outdoors and bringing it to life, while remaining true to the student-led, experiential concept of other outdoor schools. Their living curriculum is fluid, integrating multiple subjects into a single project: When older students discover a steep hill that's perfect for face-first penguin-sliding, the group discusses snow science, material selection, trajectory and speed, touching on historical sleds and their uses, then draws up plans for further exploration and sled-construction at next week's class.
"Our key objective is to inspire curiosity and a passion for learning," says Jeff. "We place a heavy focus on emotional intelligence, focusing on the whole student."
After more than two years of research and preparation, Hundred Acre Wood Forest Preschool opened in fall 2019 at The Woods at Kimbercote. A licensed non-profit early years child care provider, Hundred Acre Wood's focus for their little ones (18 months to 4 years) is on the natural world—inquiry-based learning using natural materials, with most programming taking place outside, year-round.
Board chair Kimberly Edwards co-founded the school after the birth of her first child, when "childcare wait lists were long and our options were limited," she says.
"I wanted to create childcare that matched our values of life being intricately connected to the natural world. Our children see what we value from a very early age and assume it is what should be valued, so they can turn to those values throughout life for resiliency, comfort, health."
The centre has taken great pains to extend its holistic approach to the food provided each day, creating relationships with local farms and grocers to source organic ingredients for home-cooked meals served fresh in the outdoor classroom.
Located on the same historic Kimbercote property, School in Nature is a local extension of Elephant Thoughts' international educational resources. Currently in its early stages, the school offers weekly outdoor programming focused on environmental stewardship, cultural diversity and inclusivity. A key principle to the program is its accessibility to every student, and the majority of programs are available free of charge to all.
With plans to go full-time in the near future, founder Jeremy Rhodes sees the growing centre as truly a school in nature, rather than an outdoor school. Its academics-forward curriculum will place its primary focus on global citizenship and exposure to cultural elements, taking learning into the woods and creating connections with members of the local and world-wide communities.
A passion for conservation spurred Sarah Ney to start Wildlings Camp four years ago. With a background in scientific field research and global work with children, her goal is to educate children about their power and their voice through science, nature and play: "Once they know more about wilderness, they're going to love it and want to protect it."
"Once they know more about wilderness, they're going to love it and want to protect it."
Recently expanding to weekly programming, Wildlings operates with the understanding that "kids know more than adults," and Sarah often reaches out to children and parents for input on their current interests, building curriculum around this feedback.
Sarah is passionate that "every kid deserves a chance to experience the forest," and sets aside a portion of each enrolment fee for a sponsorship fund. She credits nature with helping her through a difficult time in her life, and wants all children to have that same chance to "forget about hardships and just enjoy being a kid."
Carlin and Debbie Val were both teaching outdoor programs in the public school system when they discovered Forest Schools. Craving a more authentic and personal way to connect with their students, a tour of European schools in 2016 solidified their goals, and they returned home to establish their own At Last Forest School in Owen Sound.
Aspiring to teach 12 students that fall, they opened registration and within a number of weeks had 50 eager kids enrolled. Parents in outlying communities soon clamoured for programs closer to home, and to meet those needs At Last expanded to eight locations, from Kincardine to Orangeville.
"If I learn from someone who's passionate, I'm going to learn that much more…"
For Debbie, their Forest School is all about children getting out and doing. "Out here in the woods they can touch it, smell it—everything is so hands-on. They create their own knowledge, based on questions about what they're interested in the moment, not later when it comes up in the curriculum."
"Although it's child-directed, our teachers are kind of co-conspirators of play. A teacher might be interested in something—say they like to repair clothing, so they bring their repair kit. Naturally the kids are curious about what their teacher is doing. If they're interested enough, maybe it becomes a big part of their learning over the next few weeks. But if the interest isn't there, we follow what they're into at the time."
Debbie's thoughts about her many outdoor-education teachers holds true for the seven (and counting) outdoor schools in our area. "They're all so different and unique, but the things they share in common is passion for kids and passion for outdoors. If I learn from someone who's passionate about it, I'm going to learn that much more, and it's going to be that much more fun. Everyone can understand and relate to that."
Excerpted from the winter '21 issue of ML Blue Mountains.
https://www.mountainlifemedia.ca/2019/10/fear-of-frogs/