These compact Bluetooth speakers sound like a dream and can handle the outdoors. Now they're even better.
We've been using a FUGOO Tough Bluetooth speaker on our paddling trips for several years now.
A Speaker for the Elements
Waves, rain, sleet and snow, hot sun and early-morning frost, falls on slippery rock—it's been through everything we have. It has emerged unscathed, and the sound remains meaty and sparkling. We have a theory that the best place to listen to a FUGOO is outside, on a rock. Rock provides amplification and adds an extra dimension to the sound quality. You have to hear it yourself to believe it.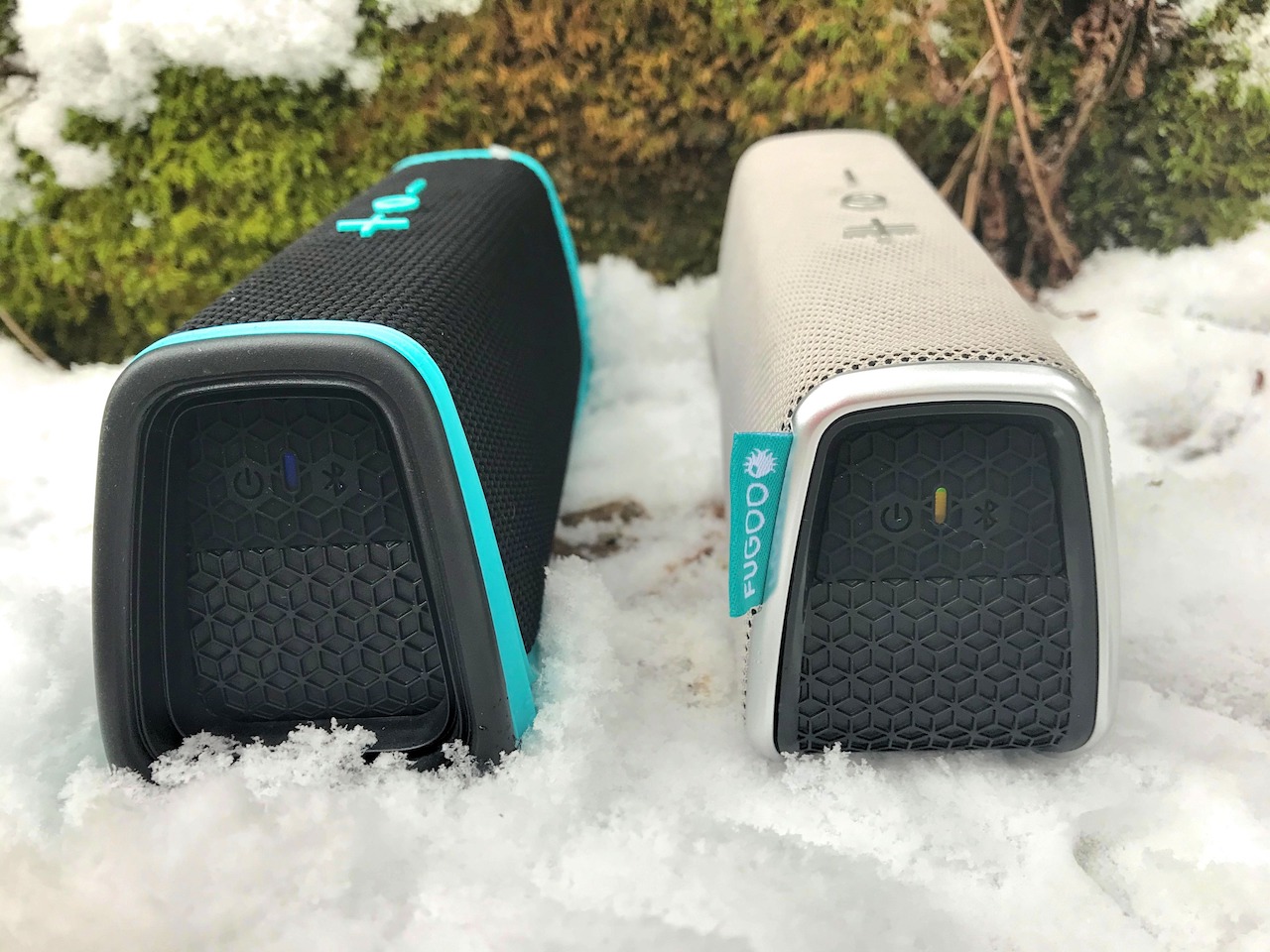 The Sport and the Style, 2.0 Editions
Recently we tried two new speakers in FUGOO's 2.0 update series: the Sport and the Style. For the first time, we paired two FUGOOs, and the results are beyond impressive. The sound is immersive and resonant but perfectly balanced, with a crystalline high range and a lower end that never vibrates. Playing high-resolution audio (the Neil Young Archives streaming service) these two small speakers fill a big room with a lot of depth and just the right amount of dynamics.
FUGOO Bluetooth speakers are inexpensive and you won't find better sound quality at these prices anywhere. In our view, FUGOO sound holds its own against much pricier home speaker systems. And you can take it to go.
The FUGOO Sport 2.0 features the same black and teal colourway as its predecessor but is 20% louder. You can pair it with any other 2.0 speaker for a surround-sound/stereo experience. Pairing is easy. (Instructions here.) You can toggle between a doubling mode where each speaker plays the same audio feed, or stereo so you hear each song's original mix across two channels.
Rounded rubberized edges protect the Sport 2.0 from drops, and its grippy design makes it easy to take anywhere. Put it in your pack and head to the pier, the desert or the mountains without worrying about water, sand, dust or snow.
The Style 2.0 features the same clean design as its predecessor and has also been updated to offer 20% louder volume. It will look right at home in a crisp, modern living room. Its streamlined silver mesh case belies its toughness and proves rugged waterproof speakers don't have to look chunky or industrial.
—Ned Morgan
FUGOO—Overview
FUGOO's Bluetooth speakers combine cutting-edge design and technology to deliver superior audio quality in stylish, portable and extremely durable designs. With an IP67 rating, FUGOOs are waterproof, dust-proof, mud-proof and shock-proof. You can run them under a tap or hose to remove dirt, mud, chlorinated or salt water.
All FUGOO speakers feature specially reinforced materials, waterproof seals and enhanced shock engineering to protect internal technology and deliver first-rate reliability. The resilient end caps absorb impact on all eight corners, so the speakers can endure life's bumps and drops. The waterproof sealants create an airtight design that enhances audio quality while also protecting the speaker from the elements such as water (up to 3 feet), snow, dust, sand and anything else that it comes up against. Since you can easily rinse dirty speakers, you can take a FUGOO anywhere—mountain-biking, paddleboarding/kayaking/canoeing (mounts available), hiking, poolside, or the job site. With sleek ergonomic shapes, they fit nicely in one hand, with no hard or sharp edges. And you can stream from any Bluetooth- or headphone jack-equipped smartphone, tablet, MP3 player or PC/Mac.
All FUGOO Bluetooth speakers include a hands-free mode, making it easy to talk with friends while multitasking. Built-in full-duplex speakerphone functionality and omni-directional microphone with echo cancellation delivers crystal clear audio. FUGOO speakers can even serve as a personal assistant with Siri and Google Now voice support, which are ideal for setting exercise timers, checking sport scores and weather forecasts, or to voice-dial.
Buy FUGOO in Canada here.