words & photos :: Allison Kennedy Davies.
There's a phrase I've enjoyed more and more since I became a mother: Here's to strong women. May we know them, may we be them, may we raise them. I'm the mother of a fierce and athletic ten-year-old daughter and I thought it was high time we celebrated the increasing number of butt-kicking young ladies just like her. For every girl featured in the following story, there are countless others out there, crushing boundaries, shredding bike trails, conquering vert ramps and climbing mountains. Here's to raising girls to be strong. Raising girls to rip. And to all the strong families who support them.
Keira and Sydney Snelling. Ages: Ten and eight. Sports of choice: Obstacle course racing, gymnastics, soccer, running.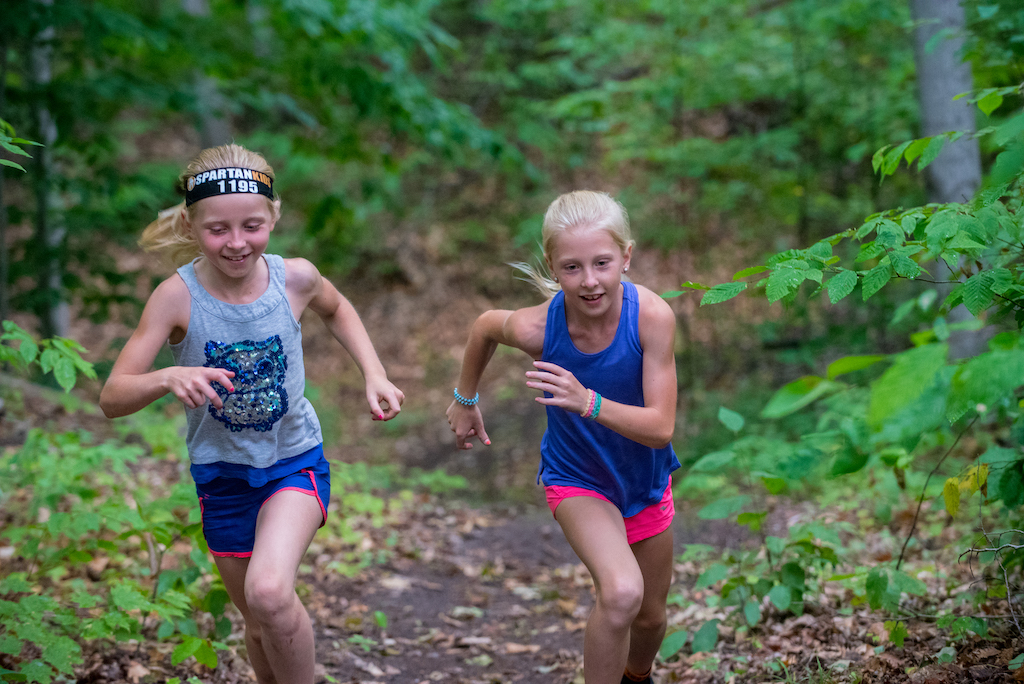 The sport of obstacle course racing is a unique blend of things kids inherently love: running, climbing, sliding, swinging and getting dirty. Sisters Keira and Sydney Snelling are following in their mother Barb and father Matt's footsteps, both of whom have completed multiple OCR events. While Keira and Sydney originally watched from the sidelines, that didn't last long.
"Jesse Bruce came back to run with us and cheer us on…"
They started out in the kids' races at each event, quickly asking to be signed up for the competitive kids' classes. This fall they ran their first full 6km Mud Hero event in Caledon, where organizers let them complete on the longer and more technical adult course. Keira also ran the Shore to Shore race last summer, a 13-km road run from Oliphant to Wiarton. She finished third in the Under 19 category, narrowly beating her mom's time.
The sport has also provided the girls with some great role models, like top-level OCR athletes Ryan Atkins and Lindsay Webster, as well as Jesse Bruce and 14-year-old phenom Bailey Stonham. "We stole Jesse Bruce's warm-up one day," says Keira. "He let us join in. He said, 'I'm going to do my race and then do my best to cheer for you.' He won his race and came back to run with us and cheer us on."
It's easy for the family to prepare for obstacle events as the Snellings have built several obstacles at their home including a rope climb, rings, incline/decline monkey bars and several kilometres of hilly trails for training. It's a kid's paradise out there. Add in a trampoline, a slackline and a Lake Huron pier to jump off just a short bike ride away, and these girls have it made.
When asked what they love about OCR, Sydney explains: "We get to have fun. We get to run and you get to pick your own pace and how you want to do the obstacles. You always have a certain way you want to climb the wall in your mind. Once, there were these monkey bars in the rain and I had a really tough time. I wasn't really tall enough to reach them. After when it was a bit drier it was easier. It feels good when you figure it out. After the race, we went back and did them over and over."
Barb says the girls set their own goals for each race; they choose between chasing a higher goal or running for fun. "Sometimes my goal is a top 10 and sometimes I want to be on the podium or sometimes I just want to have fun," explains Keira. "I've actually decided to do Mud Hero with Sydney for fun. I've done lots of races this year where I've run really hard but for that one I'm just going to be like, 'doot de doo' and enjoy it." Barb laughs in agreement, "Yep, they said 'don't worry if we take a long time on that one—we're going to do some of the obstacles a couple of times just for fun.'"
Lily Kenbur. Age: Seven. Sports of choice: Climbing, sailing, gymnastics, swimming, biking.
"I started climbing when I was a baby, around 11 months old," explains Lily Kenbur, a quietly confident Grade 3 student. "My parents used to put stuffed animals higher up on the climbing wall and I'd go get them," she smiles.
Lily is a second-year member of the competitive climbing team based out of Climbers Corner in Collingwood. Her father, Trevor Kenopic, is the coach of the team while her mother Sarah Burke is an avid climber as well as an accomplished skipper and the race director of the Collingwood Yacht Club.
"Girls' divisions are twice as big as the boys'"
Lily shows me around the basement room that's been converted into a climbing den. There are holds on every surface of the room, including the ceiling, and even a little hidey-hole you can climb into by the window—an obvious kid's favourite. Lily can navigate the entire circumference of the room without touching the ground and still have her smile firmly in place. "Climbing is fun and I do competitions," explains Lily. "I have lots of friends who climb too. I feel excited when I'm at the competitions."
Her dad explains that climbing competitions at her age are all about exceeding individual goals. "In her division they don't do a first, second and third," explains Kenopic. "It's all about personal achievement. There are five routes and on the certificate, it shows how many you topped and how many you attempted. It's more like real climbing—'what did I accomplish and did I do better than the last time?'" At Lily's age, the team trains once a week at Climbers Corner, but her family gets out locally and has also done many climbing trips further afield.
"I like to go to Metcalfe Rock," explains Lily when asked about her favourite local spots. Her favourite is the White of Spring climb.
Lily and her family have travelled to California, where they climbed in Yosemite, as well as Nevada. This fall they are travelling to Greece, Croatia, Italy, Spain and France.
Kenopic says the number of girls at climbing competitions is on the rise. "It depends on the division but it seems to be more popular with girls. Some of the girls' divisions are twice as big as the boys'".
Kara and Gabby Bosse. Ages: six and five. Sports of choice: Snowboarding, gymnastics, trampoline, swimming. 
If you've ridden the park at Beaver Valley Ski Club, you've probably noticed this team of pint-sized sisters hitting the boxes and shredding the slopes. Kara and Gabby Bosse were born into snowboarding. Their father, Caleb Bosse, is the Head of Terrain Parks & Outdoor Events at Beaver and also runs his own consulting and park-building company called Bosse Snow Parks.
Raising Girls To Rip on Snow
Their mom, Julia, is a snowboarder who regularly sessions the park and won last season's Beaver Valley Banked Slalom in her age category. It's little wonder that the girls are totally at home on snow.
Kara and Gabby bypassed two planks and started out on snowboards right away. When they hit Beaver's lesson and freestyle programs, aged three and five, things really started to take off. They are comfortable on most runs at Beaver and regularly ride the terrain park. "They're so low to the ground already," laughs Julia.
"I'm just trying to make sure snowboarding is fun for kids. There are so many activities competing for their attention."—Cara and Gabby's Dad
Their dad in the meantime has learned to look at park building in a whole new way. The focus is on fun for both parents and kids. "It's definitely changed my outlook on building smaller stuff and all the struggles kids have getting off chairlifts and onto certain features," says Caleb. "Rails that are four to six feet off the ground are pointless to almost everyone but resorts are still putting them in. Even if it's two feet off the ground it does the same thing but is more usable to a wider range of abilities. My focus is on adding things like a boardercross course. And more turny terrain. I'm just trying to make sure snowboarding is fun for kids. There are so many activities competing for their attention."
When I can get the girls to sit still long enough to answer a few questions, their thoughts on snowboarding are straightforward and fun. "Turns are my favourite and I like doing 360s. I like making new friends, learning tricks and jumping," says Kara. "I just like going fast," says Gabby. "The cross course is my favourite."
Snowboarding is an activity that lets the whole family get out together. "We're having fun snowboarding with our kids instead of sitting on the sidelines watching them play," explains Caleb. And Julia (who still hits rails and jumps with tons of style) continues: "Now that we are a park family we get to ride the park all the time. We still want to hit the rails and jumps too and they're into it now so it's great for everyone."