During an audacious coast-to-coast expedition in
Greenland, risk and reward play tug-of-war across
a line of acceptability drawn in ice and water.
words :: Colin Field // photos :: Erik Boomer and Sarah McNair-Landry.
Disaster struck on day seven. Observing Ben Stookesberry having trouble with his kite, Sarah McNair-Landry decided to drop her own rig and give him a hand. But there was a sudden malfunction: instead of releasing all power, her kite powered up, lifting McNair-Landry—along with her pulk and loaded kayak—ten metres into the air, then slamming her down headfirst onto the ice. For most, the injury she sustained would be a trip-ender. For this team, however, it was merely one of a litany of serious risks that might have manifested on this Greenland trip. And now, everything depended on the outcome. They had only covered 12 kilometres. They had 988 to go.
To call the Twin Galaxies Expedition "epic" might be insulting. With the word now thrown around for everything from a shin-deep pow day to a three-hour bike ride, its meaning has been diluted. 
Versed in Unpredictability
The "Greenland Kite Kayak Supertrip 5000" (as it was also labelled) was, however, a true epic in the Homeric tradition. An Odyssey with the requisite monstrous hazards—freezing, injury, gear failure, disorientation, and a death that might come via tumbling into a crevasse, being crushed by icefall, pummelled to bits in a waterfall, or simply drowning. But the three voyagers on this particular epic—McNair-Landry, Stookesberry and Erik Boomer—were old hats at such things, being among the best in the world at what they do and well-versed in the unpredictability of adventure.
The Team
McNair-Landry boasts a polar résumé without peer, comprising a litany of Arctic and Antarctic expeditions by various conveyances. Raised in the Nunavut capital of Iqaluit by two of Canada's most famous polar explorers, Paul Landry and Matty McNair, at age 32 she now runs her parents' guiding company, Northwinds.
Boomer, her partner in both adventure and life, is a professional kayaker with first descents on rivers from British Columbia to Kyrgyzstan. He took up polar adventuring a few years ago and hasn't looked back. 
Stookesberry, also a professional kayaker with numerous first descents, is no stranger to high-stakes adventure. Kayaking the Congo's Lukuga River in 2010, friend Hendrik Coetzee was attacked and eaten by a crocodile; a trip in Colombia saw him kidnapped by guerrillas.
When McNair-Landry and Boomer came up with the idea to combine their passions—polar travel and kayaking—on a single trip, Stookesberry was one of the few who expressed interest in joining. Greenland had all the challenges they sought… as well as all the risk.
Crossing Greenland's Ice Cap by Kite-Ski and Paddle
Starting from the east coast to take advantage of prevailing winds, the team would cross Greenland's ice cap in a northwesterly direction, hoping to finish with the first descent of a river spotted on Google Maps in an area they named Twin Galaxies (an ode to the arcade documentary The King of Kong: A Fistful of Quarters). The river's headwaters began as glacial meltwater flowing west in a deep canyon cut into the ice cap—a meandering azure ribbon that dumped into a remote lake. The lake then emptied into two rivers, both dropping to the Arctic Ocean with over 900 vertical metres of never-been-run whitewater. But first, they'd have to get there. That required dragging supplies not only for a kite-ski crossing of the ice cap, but also for paddling the river: 50 days worth of food and gear—including kayaks. Their loads weighed 100 kilograms each and made human-powered travel slow and difficult, particularly climbing onto the ice cap from sea level. Once they plateaued, theoretically, reliable katabatic winds would allow them to really start moving.
During the first ten and then final 15 days of the trip, a film crew led by director Jochen Schmoll of Red Bull Media House tagged along. "When we agreed to a film crew, it was really important to us that we were always two separate units," says McNair-Landry. "We carried our own gear. We didn't want the crew to influence us—they were just there filming."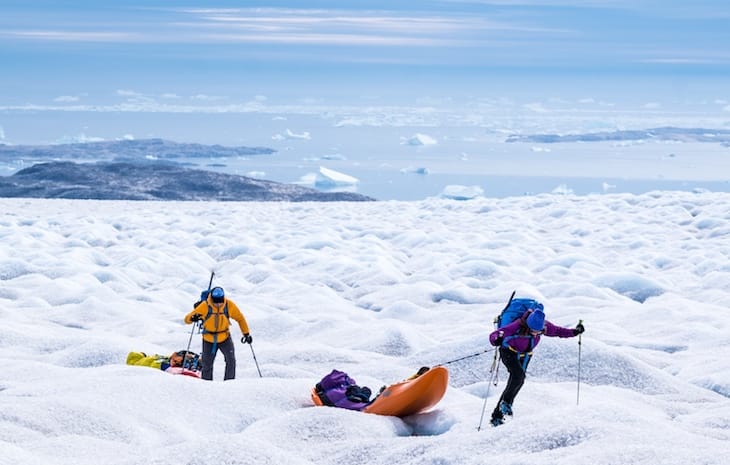 Adventure or Insanity?
Garnering over 20 awards on the global adventure film festival circuit, Into Twin Galaxies offers an incredible look at both the trip and psyches of hard-core adventurers. Watching, however, you can't help wonder: What are these people thinking? Sure, Greenland will be an adventure, and you couldn't choose a better/worse combination of objectives and route to deliver maximum hardship and risk, but to then take on the added risk of an injured person by letting her rescue opportunity fly away? That seems, well… insane.
The definitions for both risk and adventure are tightly intertwined. Risk is defined as a situation involving exposure to danger, while adventure is an unusual and exciting, typically hazardous, experience or activity. The crucible that forms the major attraction for expeditions and explorers lies in the latter, but the real question—the one most often asked—is why take such risks?
"Why W
ouldn't
You Think They're Crazy?"
It's something scientists, researchers and philosophers have pondered for centuries. A 2011 study, for instance, suggests risk-taking behaviour is governed by genetics, and that the measurable effects of prenatal testosterone exposure is predictive of greater risk-taking behaviour later in life. Other studies use the precepts of attachment theory to support the notion that the style of parenting a person experiences will affect aversion or predilection for risk. But for Eric Brymer, a psychology professor in the Carnegie School of Sport at Leeds Beckett University in the UK, it's more complicated.
"[These studies] come from a perspective of, 'There must be something wrong with these people because why else would they do it and we've got to find the one thing that links it.' But the reality is that no research has come up with anything solid. There may be reasons why people get into these sports. You might guess personality traits, but a variety of personalities are into them; some are extroverts, some are introverts. There are all kinds."
This isn't just passing comment from Brymer. In fact, he literally wrote the book on this behaviour—Phenomenology and the Extreme Sport Experience—and realizes how these athletes look from the outside. 
"Why wouldn't you think they're crazy?" he asks. "They're doing things a normal person isn't supposed to do."
While McNair-Landry would learn after the trip that she'd broken 40 per cent of her T8 vertebra (in the middle of the spine), it didn't really slow her down. In fact, though Stookesberry and Boomer hauled her loads for a couple of days, she otherwise didn't take a break. 
Ice Canyon
"It obviously really hurt and I didn't have much mobility. But many injuries really hurt and then after a day or some rest you feel better," she says. "So I wanted to give it more time. We agreed to feel it out and if I wasn't kiting by day five, we would seriously reconsider our options. On day four I put up a kite in camp. It felt pretty good and the next day we were back travelling as a team."
With McNair-Landry gobbling painkillers, they covered nearly 900 kilometres over the next 14 days. But a bigger challenge lay—quite literally—on the horizon. Arriving at the ice canyon they'd scouted on Google Earth, they were heartbroken to discover it was dry. Instead of the expected flowing river they found an empty, ice-hard riverbed winding through the glacier. 
"I'd hoped when we got there the [meltwater would still] be flowing. We'd scout it, ghost our gear, then get to paddle it, too," recalls Boomer of their disappointment.
With zero flow in the canyon and sketchy ice bridges spanning some sections, travelling on the frozen riverbed would mean ratcheting up the already considerable risk of the expedition even further, something they spent much time debating. It would, however, be spectacular.
"From a paddling and stunt-kayaking perspective, it's all about being in those kinds of places," says Boomer. "Ben really wanted to spend the day down in the ice canyon. But we were like, 'Dude, we're not off the ice cap yet, and we still have a ways to go.'"
"Why Take This Extra Risk?"
Boomer also articulated his concern about going into the canyon just to appease the newly re-arrived film crew. "It was beautiful, but I didn't want that to change my decision making. It was a tough call. Eventually we committed the rest of that day [to checking it out] and it was cool and no ice fell on our heads. So it was like, 'Okay, we did it, we travelled four–five kilometres, and it was a good experience.' And those images kind of make the trip." 
When the group returned to rally mode on the ice cap's deteriorating surface, however, conditions proved so bad that it was clear the quickest way off was to get back into the canyon. The remaining distance was eight kilometres in a straight line, but the winding riverbed required a 19-hour push to make it through. For Boomer, it marked a turning point.
"Part of the goal, always, is to explore and check things like this out," he says of the perspective and mindset that ultimately prevailed. "But in the moment, I was like, 'Why take this extra risk?' Looking back at it now, it was a different element of our trip; like stopping to smell the roses."
Those roses included passing under ice bridges weighing thousands of tons that could collapse at any moment. 
Paddling at Last
"Jochen, the director, is a mountain guy, and climbing is more his thing," recalls McNair-Landry. "He was saying, 'You have to promise me you'd do this even if we weren't here.' And when we dropped into the ice canyon, he was like, 'I'm not sending anyone down there. We'll film from the top.'" 
Though it took a while and some serious portaging once off Greenland's ice cap, they eventually found flowing water. The team was ecstatic: having slogged nearly 1,000 kilometres, it was a relief to finally put in and start paddling. But while the film makes this seem like a simple travel transition, it was anything but. 
"The river itself was about 12 kilometres long," says McNair-Landry. "And we basically each had three loads and a kayak load. So, to do a kilometre of paddling we'd have to shuttle three loads downstream, scout the river, then go back up and paddle our loaded boats down."
Waterfall Risk Factor
The trip had changed character, too, from the difficult but manageable risks of an Arctic traverse to a whitewater paddling mission where the spectre of a different kind of peril took precedence. When Stookesberry and Boomer started looking at waterfalls, the risk factor multiplied exponentially; they became the experts, with McNair-Landry providing support where needed. It was during one of their shuttle runs that they found the first big waterfall—a 15-metre drop that Boomer simply had to run. 
"It was an interesting switch," says McNair-Landry. "The first part of the trip was very much the style I'm used to: point-A-to-point-B where risks that get in the way are expected. There were huge crevasse fields, but we didn't seek out the biggest crevasses, [only] a way through. But at the river the dynamics totally switched. We were looking for these big drops. And they took a ton of time to assess and set up safety for; it wasn't the most efficient."
Greenland's "Biggest, Most Intimidating Rapid"
Stookesberry and Boomer, confident river paddlers, were sure they could handle the 15-metre falls. After scouting the line, Boomer dropped it without problem. Ditto Stookesberry. As they continued downstream, they encountered more dramatic waterfalls. The largest would become the film's climax. 
"It's the biggest, most intimidating rapid I've ever seen," states Boomer in the movie. "Usually things this massive have clear game-enders. As we've been going down this one, there are no showstoppers. It is runnable."
He was referencing a double waterfall that fell nine metres to start, then 14 metres immediately after. The narrow canyon it flowed through, lined by intimidating walls, offered little margin for error. With helicopter rescue anywhere from three hours to three days away depending on weather, choosing to run a cataract like this was a major decision.
Lingering Risk
"My goal was always to cross the ice cap then run as much of the whitewater as we could," says Boomer. "So I was already mentally there; waterfalls were on my mind the entire 40 days it took to get there. And never-been-done-before makes it a better, more impactful experience. That doesn't mean the waterfalls are more dangerous or challenging, just that [you get to discover] the unknowns and figure out what you can get away with. There was so much safety set up and we worked through most of the X-factors, but there's always that little bit of lingering risk you can't quite clean up."
After a night to sleep on it and with Stookesberry and McNair-Landry on safety, Boomer dropped in. Watching him perfectly execute the line—despite cutting his nose on impact—is like watching any world-class athlete in their element; he makes it look, well, if not easy, almost beautiful.
On the last day they struggled with frozen spray skirts as temperatures plummeted to –15˚C. Though Boomer declared it officially too cold to kayak, they nevertheless paddled the last few kilometres to the Arctic Ocean. 
Living the Adventure
Looking back on the trip, the trio remain undeterred for the future by any of the risk, discomfort or challenge they faced.
"Where do you start assessing which risks are necessary and which aren't?" ponders director Jochen Schmoll. "I mean the whole trip is unnecessary. It's all ultimately about finding the river and those falls and those drops. That was the whole motivation, at least for Ben and Boomer. If you're a kayaker, and you see that river, it's like a climber standing in front of El Cap for the first time; nobody has climbed it and you just kind of discovered it and you're like, 'Okay it's all for me now.'" 
Schmoll believes the paddlers mostly wanted to experience the simple joy of exploration, with no greater earth-shattering goal behind it. "There was no big reason, or anything like that. You can feel that even if they're having a hard time they're really just having fun. Like pure fun. Not like pretentious, show-off fun. They really live the adventure."
"Transcendental"
For Brymer, risk isn't even part of the equation.
"To argue that these are risk-oriented activities is the relatively naïve, non-participant's perspective," he says. "From the outside, there's a high likelihood of something going wrong, of being injured. You look at this and say, 'You know what? That looks dangerous.' Well, it is dangerous. But that's different from risky because the amount of energy participants put into understanding the environment, into understanding the task—into understanding themselves—minimizes the chances of something going wrong. People don't want to die. The feeling they get from their chosen sport is too powerful… and something they want to reproduce. The experience, for want of a better word, is transcendental… where time slows down, senses become more alive, people appreciate what their body and mind and soul are capable of when it's all working in sync. From the outside, it can sometimes seem like a death wish, but it's anything but—it's more of a life wish."
Epic Play
With each of the team in the throes of planning similar trips, perhaps Boomer sums it best. "We love hard challenges and peak experiences, but to be honest it's really just about play. [Sure, this was a serious trip] but there were a shit-ton of funny little moments because we were just enjoying ourselves. That's a big part of it for me—it's just play; it's just fun."
A lot of fun, no doubt. And a little bit of epic. —ML