As early as the 19th century, Polish climbers had achieved great success on the major peaks of Europe. But only much later, in the 1980s, would this country's fearless alpinists redraw the alpine world map. In the Himalaya, Alps, and Andes they would appear at the bottom of the toughest climbs, bearded and quiet, in the worst conceivable weather, ready to strike the climbing world with awe. Thus was my own experience on the Norwegian peak Romsdalshorn.
"Isn't a person who survives on nothing much stronger?"—Voytek Kurtuyka
"I Am Polish"
On a summer day in the mid-1980s, a partner and I were only a couple of rope lengths into the climb when we smelled the sweet scent of tobacco. Gravel fell from above, and we realised there was another team ahead. Clambering onto a ledge, I met several pairs of dark, searching eyes.
"I am Polish," hissed the closest, presenting his broad, dirty paw.
He took a deep drag on a hand-rolled cigarette, exhaling through hairy nostrils. His face had a sickly pallor that I prejudicially connected with coal mines, communist suppression and food of low nutritive value. Yet he was strong; neck muscles reached sideways to his shoulders, and beneath the pale skin of heavy arms blood vessels curled like thick, overfed worms.
He fingered my shiny new wedges. "Humph—expensive," he commented.
His tone had a hint of envy, and no wonder: from his own harness hung home-made wedges fashioned from rope and rusted metal.
"From auto scrapyard," he said proudly of a harness made of seatbelts, wedges culled from cogwheels, and nuts lifted from propeller shafts and wheel bearings.
The Poles, still smoking, left us to climb up a new, tricky section with only questions to attest to the meeting: Why so harsh, so uncompromising?
In an early 1990s article, the visionary Polish climber Voytek Kurtyka explained what he called "The Polish Syndrome."
"Despite poverty and limited freedom, climbers were overtaken by a tremendous inspiration to overcome all barriers. The Himalaya offered an exciting escape from the drab system and grey stability of [home], and a rare opportunity for creative communication with the outside world."
It took a few years before that world realised what was happening in the Himalaya.
Polish Alpinists Rock the Establishment
In the 1980s, American, British, Italian and French climbers dominated climbing magazines with their braggadocio and sentimental prose, lulling themselves into the belief that Western climbers owned alpinism's leading edge. But when the formidable Himalayan winter descended, and the Western loudmouths fled, the Poles struck. Over the course of eight seasons, they rocked the alpine world with a number of spectacular winter ascents: In February 1980, Krzysztof Wielicki and Leszek Cichy conquered Mount Everest; Manaslu fell in January 1984 to Maciej Baebeka and Ryszard Gajewski; 1985 saw two major achievements—Dhaulagiri in January, by Andrej Czok and the legendary Jerzy Kukuczka, and Cho Oyo conquered by Baebeka and Maciej Pawlikowski in February; the summit of Kangchenjunga was claimed in January 1986 by Krzysztof Wielicki and Kukuczka (during the ascent, Czok—who by this point had climbed Everest, Lhotse, Makalu and Dhaulagiri—perished); Kukuczka and Artur Haizer summited Annapurna in February 1987; Krzysztof Wielicki drove his ice axe into the top of Lhotse on New Year's Eve, 1988.
For an astonishing 17 years, these remained the only 8,000-metre peaks climbed during the hellish Himalayan winter, every one a first ascent. When the winter assault resumed in 2005 with the January ascent of Shisha Pangma, it was Piotr Morawski with Italian Simone Moro working under Jan Szulc's Polish expedition banner.
A Nourishing Climbing Culture
Not that the Poles were idle during summer. In May 1984, for example, Krzysztof Wielicki climbed 8,047-metre Broad Peak in a mere 17 hours before rushing back down to base camp in only six hours.
The Polish climbing miracle wasn't solely a response to government oppression. More explanation can be found in the country's south, in the town of Katowic and surrounding Tatra Mountains. Here, a nourishing climbing culture had sprung up, aided by the many dramatic peaks with difficult routes and sleepy communist enterprises where bosses didn't care if adrenaline-seeking employees snuck off to the rocks.
Swedish alpinists Micael Sundberg and Per Malmsten, along with Norwegian Torbjörn Enev-old, made friends with several Polish climbers during expeditions to the Himalayas. At the end of the 1980s, they were invited to the lion's den—the Alpinist Club in Katowic.
"Bad protection—very dangerous!"
During their visit they explored routes regularly negotiated by celebrities like Kurtyka, Kukuczka and Tadeuz Pietrowski. Along with Janusj Nabradalic they tackled the dreaded Kasaniska Wall, a brutally steep, broken, overhung north face. After several rope lengths, the team faced the crux: a loose, out-leaning pillar that finished with a couple of equally loose overhangs. At this point, the Scandinavians' mental state had been badly affected by rockslides and rope falls of 10–15 metres. Nabradalic danced up onto the pillar. Without an intermediate belay for protection, he gazed down at the others some 10 metres below, looked up to the overhang, entered a small, slightly off-camber wedge and declared: "Kukuczka made this. Bad protection—very dangerous!" Then, blowing a dramatic kiss at the overhang, he swung himself up the crux and disappeared.
Later that night, Nabradalic and his guests shared Himalayan experiences by the campfire. During the conversation, it became clear Nabradalic had lost many friends in the great massif. He tried to summarize his reality in broken English: "This year some of my friends are very lucky—still alive!"
Jerzy Kukuczka—Greatest Himalayan Alpinist?
What he didn't know at the time was that close friend and hero Jerzy Kukuczka had only weeks to live. Last contact from Kukuczka came only days later when Micael, Per and Torbjörn stayed with Janusz Majer, chairman of the Polish alpinist club. The telephone had rung late one night. On a crackling line, Kukuczka reported his plan to climb Lhotse's south wall. Majer offered advice that, as always, wouldn't be followed, then wished him luck.
If you ask non-climbers whom they consider the greatest Himalayan climber, the answer is often Reinhold Messner. If you ask a climber the same question, they'll likely say Jerzy Kukuczka.
Both conquered the Crown of the Himalaya—all 14 of the range's 8,000-metre peaks. Though Messner was first, Kukuczka was faster, accomplishing the feat in just over eight years, from 1978–1987, 11 of those on new routes, four as winter first-ascents, one—Makalu—solo, and all save Everest without oxygen. Messner was well off, and continues to make good money on books, films and lectures. Kukuczka, meanwhile, was a poor, anonymous figure who struggled and suffered in quiet, ascending only difficult new routes, often in alpine style during winter.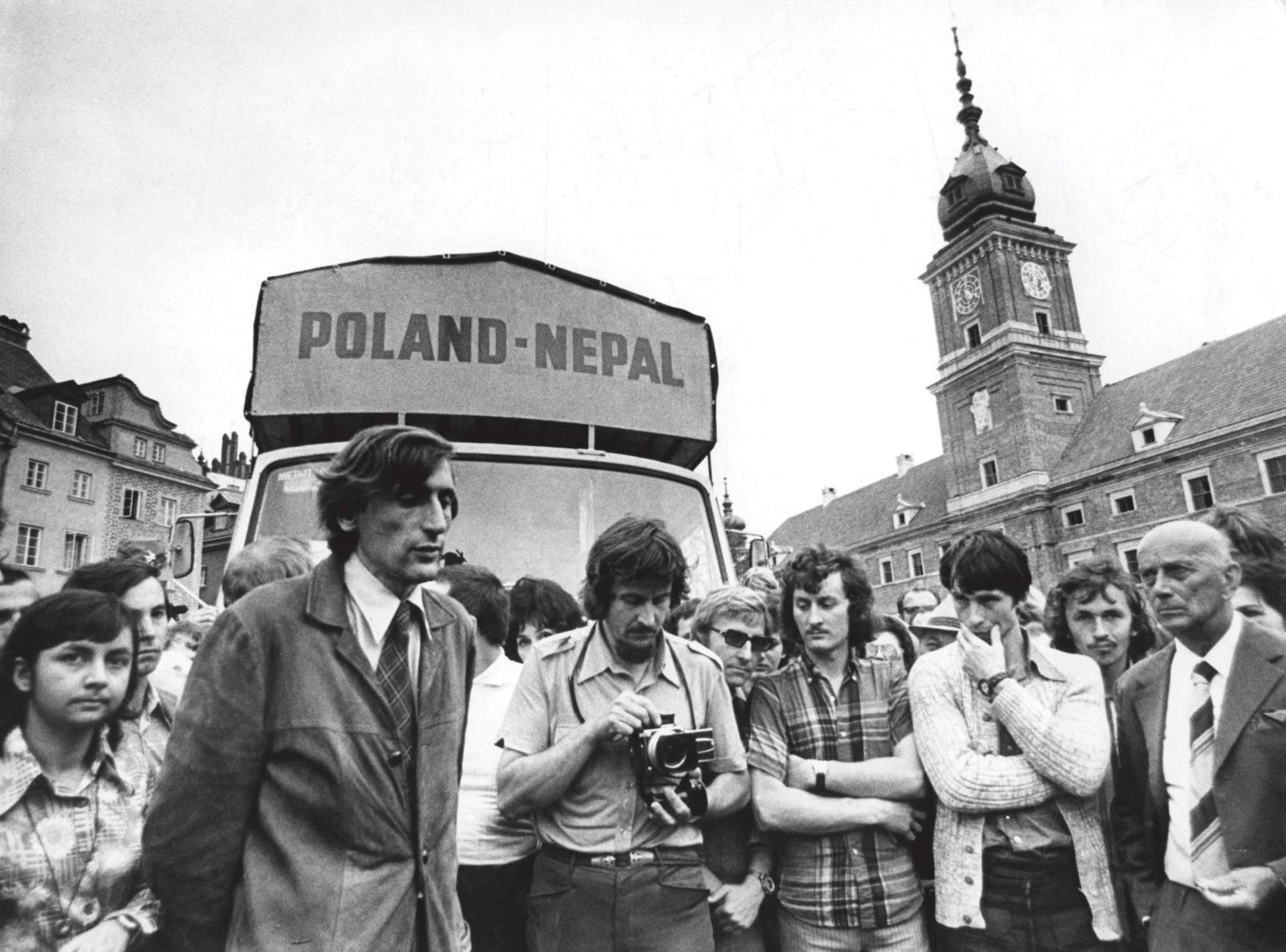 Kukuczka's "Lack of Fear"
Jerzy "Jurek" Kukuczka was born in 1948 in Skoczow. As a young man he trained as an electrician and found employment in the labour-intensive coal industry. In 1965 he moved to the Tatras where, over two years, he climbed all existing routes and pioneered a number of his own. After completing military service, he was back in the Tatras in 1970 training for longer, more difficult climbs. His eventual success in the Himalaya saw him elected 1987's Man of the Year in Poland. In 1988 he was awarded an honorary silver medal at the Winter Olympic Games in Calgary.
"Jurek was the greatest psychological rhinoceros I ever met, unequalled in his ability to suffer and lack of fear."—Voytek Kurtyka
Embarrassed by the praise, Kukuczka stated that the real reasons for his success should be sought in the mountains, which he felt were kind to him. Truth, however, holds another explanation. Voytek Kurtyka summarised Kukuczka's attitude: "Jurek was the greatest psychological rhinoceros I ever met, unequalled in his ability to suffer and his lack of fear… Characters like that, when they meet an obstacle, strike against it until they either crush it or break their necks. Recognizing these twin beasts inhabiting Kukuczka goes a long way towards explaining his splendid success—and ultimately death."
The accident occurred on 24 October 1989. After an extremely difficult climb up Lhotse's south wall, Kukuczka stood below the summit. He struggled up to a difficult crux and boldly went for it, despite the fact it would put him past the climbers' point of no return. The moment of triumph was near when Kukuczka lost his footing. In the ensuing fall, the rope snapped and he tumbled into the abyss. His friends buried him in a crevasse.
A Fatal Environment
What sort of environment were Kukuczka and the others taking on? Himalayan climbing has been compared to running naked through an Arctic blizzard while breathing through a straw.
The straw metaphor aptly captures the harsh reality of low oxygen exacerbated by the hurricane-force winds common during winter; you're not naked, of course, but often feel so when an impaired general state exposes your weak spots to relentless storms, temperatures as low as –50°C, and an omnipresent wind that penetrates Gore-Tex, down, fleece and base layers to slowly but surely freeze you to the bone. They hacked their way up with ice axes and crampons, constantly dizzy, always thirsty, often sick, in poor visibility, empty space below, avalanches unleashing relentlessly from above. They battled on in spite of fatigue bordering on unconsciousness because if they stopped the cold might deliver a fatal blow.
Daring Winter Ascents
It was in such a milieu that Kukuczka registered his most daring and remarkable feat. During December and January 1985, he and Andrej Czok were on Dhaulagiri, making the first winter ascent via the normal route—in reality, one of the most demanding itineraries in the Himalaya. That winter, frigid air from Central Asia blew in with gale force, stirring an astonishing amount of cloud to produce vast amounts of snow. The climbing was extremely dif cult and Kukuczka frequently admitted he felt hopeless. Then, on 21 January, the men reached the summit. Both were in poor shape as they began the descent, becoming separated as they staggered towards Camp 3. Czok continued on to Camp 2, while Kukuczka, without equipment, stopped and dug a hole in the snow. Crouching in the wind, he passed the night in a trance, focusing on survival, not giving in to the hunger, cold or fatigue. Perhaps he also thought about his newborn son, Voytek, back in Poland.
Despite poverty and limited freedom, Polish climbers were overtaken by a tremendous inspiration to overcome all barriers. The Himalaya offered an exciting escape from the drab system and grey stability of home—a rare opportunity for creative communication with the outside world.
Miraculously, Kukuczka survived and continued to Camp 2 next day, where he found Czok suffering from frostbitten feet and the two slowly made their way back to base camp.
At this point, Kukuczka could have returned to Poland and spent a few months as a hero. Instead, he looked to the opposite side of the country where colleagues were climbing 8,201-metre Cho Oyo. Getting there, however, would be prohibitively lengthy unless he could find a shortcut. Kukuczka analysed his map and deemed the demanding French Pass around Annapurna possible. Shouldering his backpack, he ascended toward it for two days. There was a lot of fresh snow and the climbing was more like swimming.
Double Triumph
Once through the pass, Kukuczka rappelled over a precipice then ran down to a Nepalese village. From there, it was a seven-day hike to the town of Pokhara; Kukuczka hired a porter and ran him to Pokhara in three. From there, a bus to Kathmandu, airplane to Lukla, and three days of turbo-trekking got him to Cho Oyo base camp where he joined Zygmunt Heinrich. There were others on the mountain and so, true to form, Kukuczka chose a more dif cult route—the South-East Pillar. After fighting his way through uncountable blizzards and enormous amounts of snow, Kukuczka summitted on 15 February.
Three days before, countrymen Baebeka and Pawlikowski completed the first winter ascent of this peak, but Kukuczka still made history: no one had previously climbed two 8,000-metre peaks in a single season, let alone winter—and in an almost unbeatable 24 days.
Almighty Zloty: Financing Expeditions
Polish climbers may have been stretching the human limits of success, but they were also under pressure from a State that would only allocate funds to grand projects that might bring it favourable PR. Bureaucracy was heavy and the process unpredictable; after civil servants scrutinized plans, the government might grant anywhere from U.S. $100,000 to a mere $2,000. This meant expedition costs were often inflated for the sake of support.
It was also difficult for Polish expeditions to send sponsors. While climbers from capitalist countries could point to several minutes of commercial TV and articles in climbing magazines, Poles had only their previous feats and quiet determination to offer.
The solution was to work to finance expeditions, and these jobs were in the West. Because the funds needed were substantial, Polish climbing clubs became de facto job centres; when climbers weren't in the Himalaya, they were doing high-altitude work in western Europe. The money piled up in an expedition fund until the time of departure. Between expeditions and high-altitude jobs, climbers lived on nominal salaries from safe, permanent employment in local companies. But they were paid in zloty whose value was only marginally higher than toilet paper.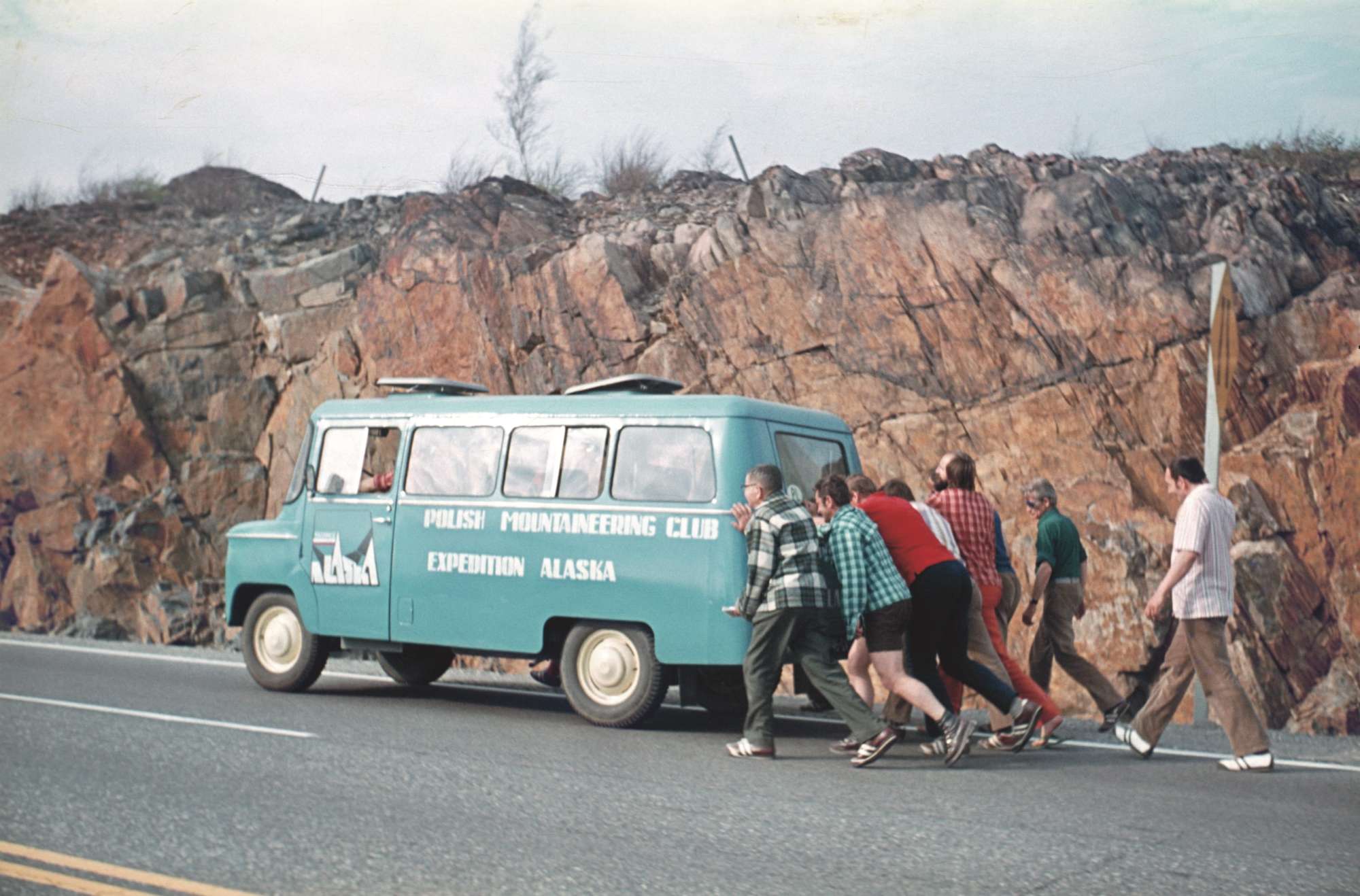 Polish climbers may have been stretching individual human limits, but they were also under pressure from a state that only allocated funds to grand projects that might bring favourable PR.
Smuggling for Peaks
Another means of financing was smuggling. Climbers would transport cheap Polish crystal, cameras and whiskey to the Himalaya by truck, where they sold for a good profit in the bazaars. For the return drive, lorries were loaded with cheap goods from the Orient: sheepskins from Kabul, silk from New Delhi, and the Istanbul jeans popular in Poland. Some of the profit was used to bribe customs officials, the remainder went into expeditions. According to Voytek Kurtyka, "Once barriers and bribes were successfully negotiated, the ascent of an 8,000-metre peak was a picnic in comparison."
Wanda Rutkiewic: the First Polish Alpinist to Conquer Everest
If Kukuczka was the high-altitude King of the era, then the Queen was his compatriot Wanda Rutkiewic. Between 1978 and 1991, Rutkiewic climbed eight 8,000-metre peaks, aiming to be the first woman to conquer the Crown. Her first was Everest—the first European woman to summit (prior, only Japan's Junko Tabei and Phantong from Tibet had done so).
More remarkable, Rutkiewic was the first Pole to conquer Everest, a feat that slightly rattled the country's male climbing contingent. A few months previous, Kukuczka summited his first 7,000-metre peak, Kohe Tez in the Hindu Kush; following Rutkiewic's ascent of Everest, however, he immediately aimed higher, climbing Lhotse without oxygen in 1979. In 1980 it was his turn on Everest via the South Pillar. That same year, Wielicki completed the first winter ascent of the peak.
While the men sped on at a furious pace, Rutkiewic took time off, returned to Warzaw, was elected Sports Woman of the Year, and became a popular postcard subject. Her reward from the State? The option to jump the queue and, at nominal cost, buy a new car of the domestic brand Polonez.
She headed back to the major ranges with a vengeance. In 1985 she ascended Nanga Parbat, and in 1986, K2 without oxygen at the same time 13 alpinists died on the peak (again, the first Pole to summit). By 1987, she conquered both Annapurna and Shishapangma. Nineteen Eighty-Nine saw her summit Gasherbrum II, in 1990 Gasherbrum I, and finally, Cho Oyo in 1991.
The following year, at 50 years old, Rutkiewic took aim at 8,598-metre Kangchenjunga. She'd been told her liver and kidney status were alarmingly bad but ignored it, taking on the climb with the same stubborn energy as in 1981, when she'd broken her leg and hobbled on crutches up to K2 base camp.
At 8,300 metres on Kangchenjunga, Rutkiewic encountered Mexican Carlos Carsolio descending from the summit. He urged Rutkiewic to turn back. But she could make out the peak 300 metres above, and though she had no food, drink or bivouac essentials, decided to continue, explaining that she'd wait until morning for the attempt.
Such is the code among climbers that although Carsolio considered this a highly perilous strategy, he accepted her decision. He staggered downhill, while Rutkiewic curled up to survive a bitterly cold night in the death zone.
Rutkiewic never made it down, and whether she reached the summit remains unknown.
Starvation Diet
Following the fall of the Iron Curtain, Poles continued their strenuous climbs, but primarily on major walls in Patagonia and Pakistan. Even Norway's Trollväggen (Troll Wall) saw their mark.
During the 1994 Olympic Winter Games in Lillehammer, a period of cold, clear weather, the world's best winter athletes fought for medals while just northwest of them, a three-man Polish expedition battled up the brutal 1,100-metre Arch Wall, Trollväggen's most difficult route. While the rest of us sat comfortably in front of our TVs, the Poles strove for the summit with a mixture of advanced free-climbing and Grade A4 aid—extremely risky and reserved only for the elite. Typically, they had no port-a-ledges or bivouac tents, and their tiny food supply was heavily rationed. Despite a starvation diet, they succeeded after an incredibly difficult nine-day siege.
"Polish Syndrome"
While a new generation struggles to prolong Poland's profile as a climbing power, the 1980s still stand as the campaign's acme. Of the old crew, there remain only Krzysztof Wielicki and Voytek Kurtyka. After Kukuczka's death, Kurtyka completed several groundbreaking big-wall ascents while Wielicki dedicated himself to alpine-style speed-climbs and soloing new routes in the Himalayas, completing the Crown in 1996 with a solo climb of the Kinshofer route on Nanga Parbat. Not given to retiring, Wielicki kept his hand in, attempting the elusive winter ascent of Makula several times and summiting Gasherbrum II again in July 2006.
Although Kurtyka's "Polish Syndrome" has more or less been expunged, with most Polish climbers now swimming in the mainstream, the masters left a powerful legacy—seven of eight of the world's highest mountains ascended in winter in eight years, all first climbs by Polish alpinists and inspiring a new wave of tough climbers from former Eastern Bloc states like Slovenia and Slovakia. But what happened In Poland?
The Passing of an Era
The last of these was 30 years ago when Wielicki soloed Lhotse, so there appears to be a significant gap in the country's alpine mentality.
"It was caused by Poland's political and social situation," says Wielicki. "At the beginning of the '90s, along with freedom and democracy, we all had to continue working. Many alpinists gave up climbing to start careers. I think that the gap was also caused by the tragedies that struck Polish alpinism at the end of the '80s."
Another reason was the preciousness of time. "In the past, expeditions took two or three months," notes Wielicki. "Nowadays people can't afford that. They go away for a weekend to climb some rocks and on Monday they're at work in a suit and a tie. The times of exploration and adventure are over. Winter Himalayan work requires more patience and self-possession."
As the new millennium dawned, the ever-philosophical Kurtyka had also weighed in. "I sense in Poland a subsiding of the great mountain inspiration. It's being replaced by the onerous awareness of a new era and the necessity of meeting its demands. For the first time in almost 200 years, Poles have nothing to fight. I'm concerned about this." —ML