words :: Feet Banks // photo :: Blake Jorgensen.
With all due respect to the wood-panelled basements of the 1970s-80s, when you take social and cultural-historical significance into account, the garage has got to be the most important room in the house.
Apple was launched from a garage—so was Disney, Google, and outdoor gear empire, Evo. A garage gave birth to Nirvana, The Sonics, The Beatles, and Metallica. And even though the North American garage (not to be confused with the English "carriage house" which was generally detached and housed horses too) didn't gain mass popularity until the 1940s and 50s, it's safe to say the garage is where the action is, especially in a multi-sport, action-focused zone like the Sea-to-Sky Corridor.
"Space is at such a premium here," says Jason "Goldie" Smith, co-founder of GoldBarr Garages. "Too often the garage is a cold, damp place where your gear is strewn amongst piles of recycling and random stuff that doesn't fit in the house. We take all that and turn it into a liveable space."
"I grew up wanting to do everything and it got to a point where I couldn't keep up with the gear," says lifelong Whistler resident and 2010 ski cross Olympian, Davey Barr. "I couldn't go mountain biking and skiing in the same day because half my stuff was in my parents' crawlspace on the other end of town. If you're not organized, you can't even use your gear properly."
Longtime friends and ski/bike buds, Smith and Barr ended up living a few doors apart in the Whistler Housing Authority's Rainbow neighbourhood. Finding themselves with their own garages for the first time ever, the roots of GoldBarr were planted.
"Right away it became the battle of Goldie vs Davey," says Julia Murray, iconic Whistler vegan/Olympian/entrepreneur and wife of Barr. "The had the same trucks, campers, sheds and gear, and were always one-upping each other and spending literally thousands of hours in each other's garages figuring out what could be better and how to maximize their space."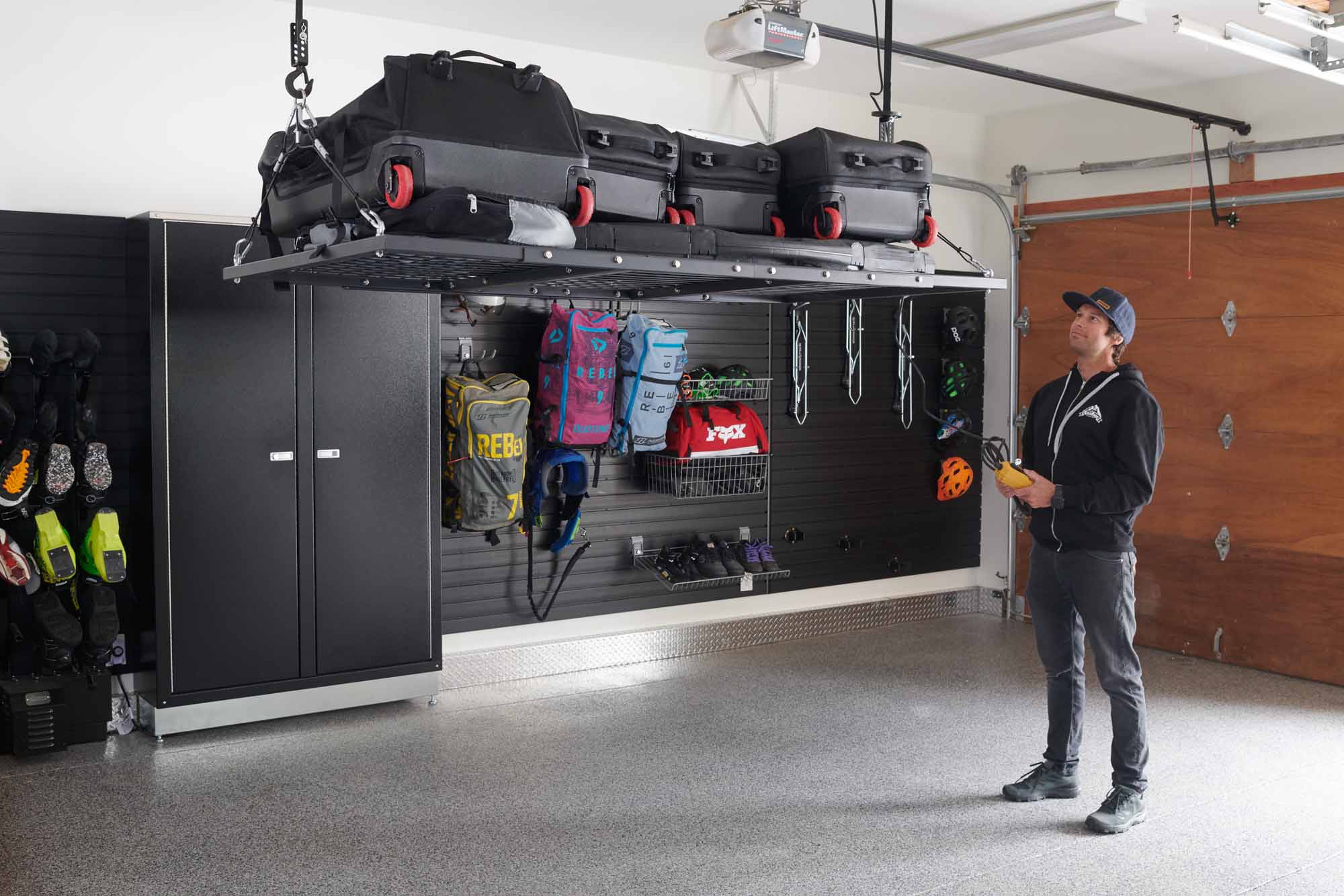 Building on a revolutionary ski/snowboard storage system Smith devised in 2015 and some product research at the Vancouver Home Show, the duo launched GoldBarr last summer, hoping that others in the community shared their "garage envy" and desire for organized gear enough to keep them busy part time. Word spread quickly, even as they honed their suppliers, processes and designs. Despite their highly efficient ski and bike storage racks or the simple-but-organized basket, hook, shelf and cabinet systems, GoldBarr's main selling point became their floors.
"The floor is literally the foundation of the GoldBarr standard," Smith says of the unique, Polyaspartic flooring they work with. "It's waterproof and it seals up cracks and seams to lock out pests. You can squeegee or sweep it clean. And it looks good—once that nice floor is in, it transforms a non-liveable space into a happy space."
Of course, homeowners often have to purge some accumulated stuff, but GoldBarr works to ensure everything that truly matters fits into an easily accessible space—including the recycling.
"Recycling is hard to hide, so we set up an area where everything has its own bin and comes out of the garage, into your vehicle and into the right place at the depot," Smith says, adding, "They can be militant about plastic if it ends up in the wrong spot."
In the past year, GoldBarr has transformed more than 40 local garages, and while some are actually used for parking cars, the majority become hybrid gear storage/gym/man-cave spaces. Smith and Barr work with their clients to create the ideal solution for their space. While they do a lot of ski/bike racks, boot dryers, and cabinet/tuning benches, Smith says there's no limit to what's possible.
"We just finished a build with overhead racks and an automated winch so all the camping gear can be lowered from the ceiling into the bed of a truck—just unhook the rack and drive off. We're coming up with new ideas all the time—I've been daydreaming about garages built with a steel beam that would support a system to take your dirt bikes or sled right out the back of your truck."
Barr and Smith can finish a new garage floor in a day, and a full overhaul can take as much as a week, but GoldBarr is more interested in the time a good garage can save their clients. "It's cool to create a space that's a home for all your toys," Barr says. "The point of it all is so you can rip in, grab what you need and be back outside to meet your friends and get out into the mountains."
"Nothing is worse than holding everyone up while you search for a lost pad, or your right wetsuit bootie," Smith says, referencing the classic Sea to Sky 'no friends on a pow day' culture to get out and make the most of every minute of the day.
"If it's not grab-and-go," Barr says. "You're not going."
With that kind of logic, and considering the hard cost of all our tents, stoves, bikes, boards, kites, ropes, boots, skis, pads, paddles and everything else that makes life in the Coast Mountains amazing, it's hard not to wonder—is the most important room in your home is getting the love it deserves? —ML
goldbarrgarages.com