words :: Ned Morgan.
In recent years, I've paddled nothing but kayaks. I grew up canoeing, but on a trip over a decade ago on the Oxtongue River, my canoe dumped in rapids because of some bad communication with my bow. The following year I borrowed a friend's sea kayak and it felt good to be in solo control. Though I occasionally missed the lakes-and-rivers mobility of canoeing, Georgian Bay and Lake Superior offered no shortage of exploration. And I could make my own on-water mistakes and live with them.
So when a spot on a canoe trip came up this year with an odd number of paddlers, my first thought was to bring my kayak. But one glance at the 75-kilometre route in Chiniguchi Waterway Provincial Park told me that with the number and length of the portages, a heavy polyethylene sea kayak would be absolute murder to carry. 
Solo Canoe with a Kayak Paddle?
I began to look around for a solo boat. As I researched, I found an online community of canoeists paddling solo canoes with long kayak paddles. This was appealing. After growing up using a canoe paddle, the switch to kayaking led me to prefer a double blade. While kayaking I feel I'm working my upper half more evenly. I also feel I can generate more power.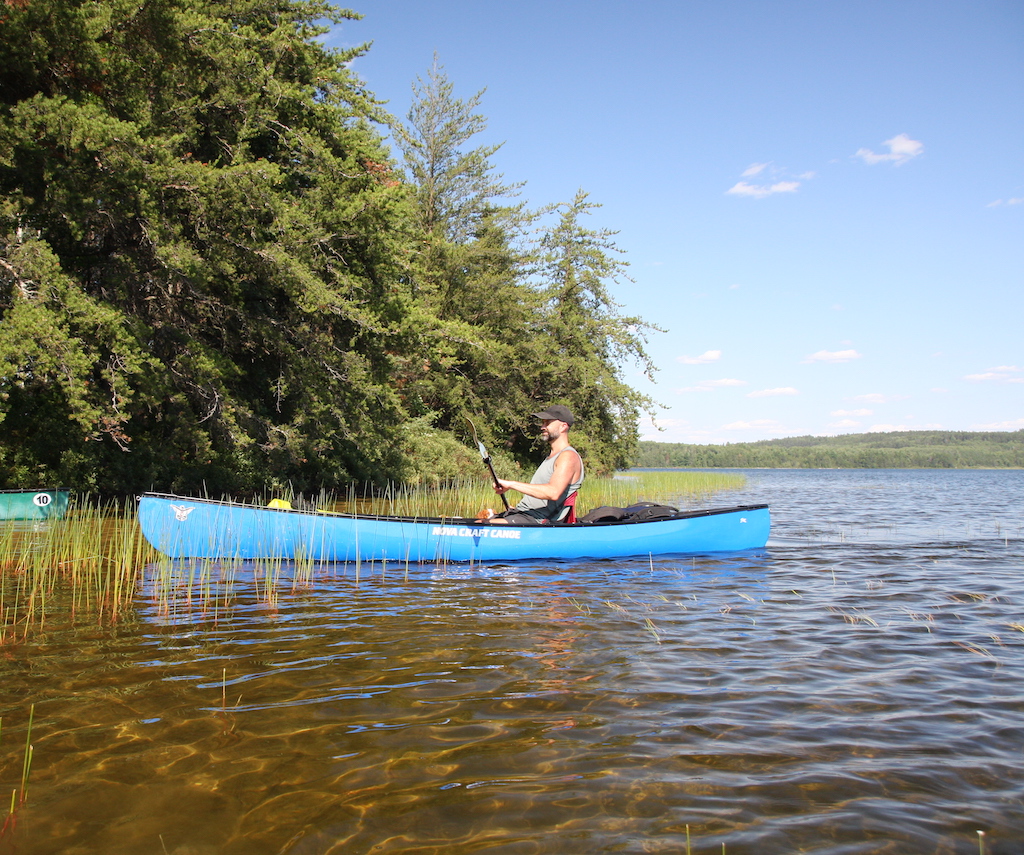 So could I have it all? Could I use a kayak paddle to power a canoe? Yes, I could. Enter Nova Craft's Fox 14 Solo, navigable with single blade or double blade. (With the boat's 32-inch beam, you need a kayak paddle of 250 cm length minimum. I used a Bending Branches Angler Classic 270 cm paddle.)
When I first tried the Fox 14, empty of gear, it felt a little tippy. But as soon as I loaded it with three heavy packs for our five-day lake-hopping trip, the tippy feeling vanished. So if you demo this boat, I recommend you do so with cargo loaded in, because weight really stabilizes it. When loaded, it felt less tippy than a sea kayak. Total capacity is 249 kg (550 lbs), so you don't have to hold back on gear.
Tracking and Stability
Before the trip, I was a little concerned about the tracking of the canoe. Without the advantage of a kayak's foot-controller rudder, wouldn't each paddle stroke turn my bow and require constant correction? But this didn't happen. Because of its shorter length, this boat tracks very steadily. I easily kept my bow straight and maintained speed even in moderate winds and chop. (The canoe's shallow depth also lends more stability in windy conditions.) And with its minimal rocker, it was appropriately responsive to my kayak-stroke variations when I needed to steer. Plus the shallow arch bottom added a lot of stability in waves, which I sliced through with ease and speed.
Nova Craft designed this solo canoe with a slight tumblehome—which means the gunwale width is narrower than the waterline width. Tumblehome canoes don't deflect water and are easier to paddle as you don't have to reach out as far.
Tips for Solo Paddlers
You can purchase a removable yoke for portaging but I used my kayak paddle, halved and secured lengthwise with short bungees, as a very effective makeshift vertical yoke.
The only modification I'd suggest for long portages would be to wrap lengths of pool noodle or other removable padding around the paddle shafts, as they dig into your shoulders after a while. Still, at 42 pounds, my Fox 14—constructed with Nova Craft's own TuffStuff proprietary composite material—was a cinch to portage. (And the Aramid Lite version is just 34 lb.) While my friends struggled with their heavier canoes, I was able to spirit mine out of the water practically one-handed, and assemble my yoke in about 20 seconds.
The seat is set slightly low and will serve both single- or double-blade paddlers. However, using a kayak paddle does impact your lower back more than a canoe paddle, so it helps to have back support. I used the GCI SitBacker canoe seat and I recommend it or something similar. Those using a double blade may also feel the need of some sort of leg brace. I've heard of paddlers rigging a piece of plywood from the thwart down to the floor of a solo canoe and bracing their feet against it. In my view, this isn't necessary. I found that resting my feet against my pack in front of me was more than enough.
As a kayaker, I found this solo boat freeing. I wasn't stuck in a cockpit under a spray-skirt but I was still low to the water where I like to paddle. I could travel as fast as in my kayak. The canoe tracked so well that I didn't even miss a foot-controller rudder. And I could hold more cargo than a kayak and didn't have to painstakingly cram everything into small hatches. 
I will keep my kayak for big water like the Great Lakes, but for smaller lakes and slow rivers, the Nova Craft Fox 14 is a soloist's fast friend. 
SPECS
Fiberglass: 50lb / 22.7kg
TuffStuff: 42lb / 19.1kg
TuffStuff Expedition: 48lb / 21.8kg
Aramid Lite: 34lb / 15.4kg
Blue Steel: 37lb / 16.8kg
Dimensions
Length: 14′ / 427cm
Width: 32″ / 81.3cm
Center Depth: 13″ / 33cm
End Depth: 19″ / 48.3cm
Rocker: Minimal
Capacity: 550lb / 249kg
Check out Nova Craft's London Paddle Shop here.
https://www.mountainlifemedia.ca/2020/03/your-curated-covid-19-isolation-reading-list/