It was a six-day trip to Vancouver Island with 4 guys, and we forgot the second bag of coffee. We each sighed out a collective "f*****ck", and we soldiered on. Armed with 2 AeroPresses and one bag of espresso, we limited ourselves to one cup of coffee a day—something none of us ever want to do again on a surf trip.
The jury is out on what the best camp coffee technique is, but it's obvious that there's one undeniable truth—you should always bring more than enough coffee for the crew, no matter what the brewing technique. Lesson learned.
Inspired by adversity, we've compiled a list of the different ways to get liquid gold into your body and the pros and cons associated with each. —ML
Italian Espresso Moka Pot
This one is my personal favourite. It's reliable, sturdy, and I don't need to buy a new fancy lightweight coffee-maker. It's not always practical to bring, but when it is, it's good value and makes a damn fine cup o' joe. Best used when car-camping, but some hike-in spots may allow for this luxury.
Pros: Sturdy, makes the best backcountry coffee short of bringing an espresso machine and a generator, makes plenty of espressos and can be watered down as you wish.
Cons: Heavy, hard to pack, easily knocked over.
Aeropress
A very close second to the Italian espresso machine, this one is the lightweight version, which is an obvious pro, but the limit is on the number of coffees you can make. Maxing out at two, this one will leave the coffee hounds fighting over who gets the first sip.
Pros: Lightweight, not easily broken.
Cons: You might forget the filters, easy to knock over, maximum of 2 coffees may lead to fights over who gets the first round.
Jumbo Percolator
While this one may lack in quality for those coffee snobs, it makes up for in bringing the good vibes. Everyone gets to drink coffee at once, does it get much better than that?
Pros: Coffee for the whole squad.
Cons: Lacking in taste, heavy, can be awkward to pack.
The Pour-Over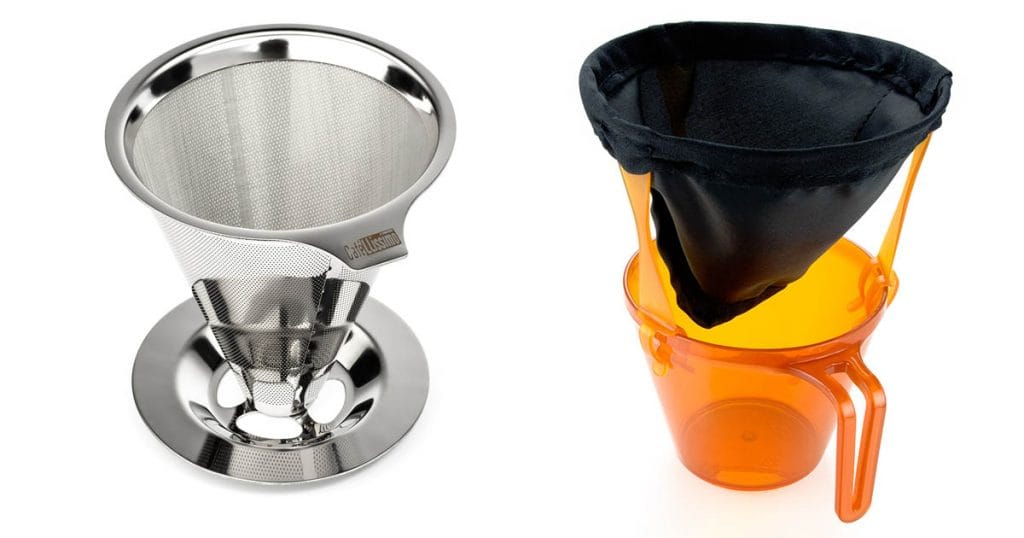 This one is undeniably simple but leaves everyone making and drinking their coffees one by one. Where's the fun in that?
Pros: Lightweight, cheap.
Cons: You might forget the filters; only one cup at a time.
Instant Coffee
There's a pretty big industry growing around this as the backcountry continues to grow in mainstream popularity, with brands like Starbucks jumping on with the Starbucks Via, and plenty of other options. The taste might be there, but the ritual is missing. Isn't there something special about having just a bit of a process to get that coffee brewed?
Pros: As lightweight as you can get, quick satisfaction.
Cons: Not espresso-quality taste, you don't have to work for it (but maybe that's a pro?)
Cowboy Coffee
Ah, the good ol' cowboy coffee—grains in the bottom of the cup, hot water on top. My personal favourite name, but my least favourite in reality. Doesn't get much simpler than that. Also, doesn't get much grittier than that. Enough said.
Pros: All you need is grains!
Cons: Lots of grit, taste will inevitably be on the lower end, inefficient use of those precious beans.
Mini Express Stovetop Espresso Percolator
Similar to the first unit we outlined, but this one's a bit simpler. Geared towards making two espresso shots, this one makes things nice and simple—but you might need to bring along some custom cups to make it work.
Pros: Simple, works on the fire and on a gas stove, and most importantly it makes you look really sophisticated.
Cons: Limited to two cups, some have complained of a short lifespan.