In cold-water surfing circles, Pete Devries needs no introduction. A second-generation Canadian surfer from Tofino (yes, they do exist), and first Canadian to win an international surfing event, Pete's passion for surfing has allowed him to travel the world, and explore some of the most remote breaks in the world.
It's these hard-to-access locations, in some of the most frigid waters—where oddly he feels most comfortable—that call to Pete's desire for adventure (read: no crowds on the breaks, no wifi, no cell reception). But despite having an explorer's innate wanderlust and an instinctual curiosity for the unknown, Pete will be the first to admit there's no place like home.
 Words: Brian Peech
How does a kid from Canada get into professional surfing?
It was not a very well thought out path at all. For me, it was a love for the sport that brought me to where I am today. I'm lucky enough to have grown up on the beach with waves right in front of my house. My dad was a surfer here, so I got to watch him surf as I was growing up, and that in turn made me want to do it. A couple buddies and I got into it at about 12 or 13—that's when we really started to focus on it. I just loved surfing, still do, and got to do some traveling around the world because of it. It was a real eye opener and some great experiences for me. I just kept going with it, and it all kinda fell into place for me.
Second generation surfer in Canada is pretty rare.
Yeah, there aren't many of us.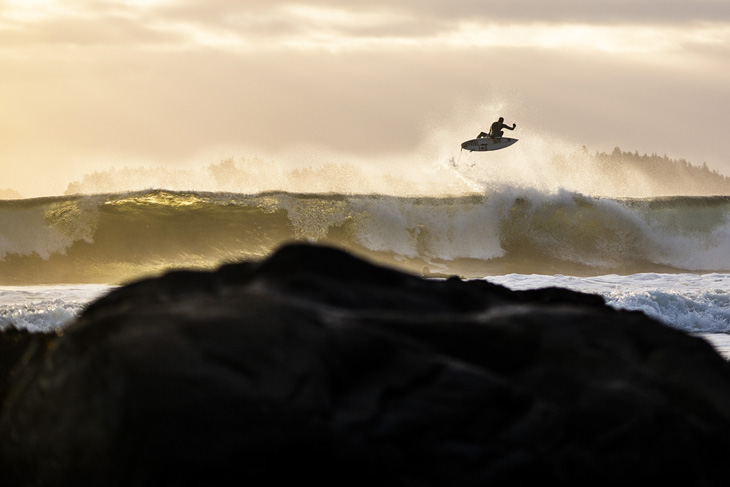 What was beach life like in Tofino in the '90s compared to now?
When I was getting into surfing, tourism was just starting to become one of the focuses here in terms of the economy—but not surf tourism. That took a while to unfold. Summer time was busy—a lot of people vacationing, whale watching, kayaking, hiking and just seeing the area. There would be two months every summer where you'd see people around on the beaches, cars in the parking lot, but surf wise it was empty. It wasn't until about 10 years ago that surfing first started to take hold, and more so the last 3-5 years. Surfing has really gown in popularity. So it was totally different than today.
How does witnessing the change feel to you?
I grew up surfing by myself or with just a couple friends I'd paddle out with. It's pretty rare to find a session alone these days that's for sure, especially in the summer. There are so many beginners, and hundreds of people coming here to surf every day, and a lot more people are moving here to surf and staying through the fall, winter and spring season, not leaving like they used to. It's one of those double-edged swords. It's great for the community and the economy here, and it makes sense to me because surfing is such an enjoyable sport. I do miss those days and those sessions I could get with just a few friends, but there are still those [more private] moments, if you know where to go and have everything dialed. Plus, I do a lot of traveling to locations where the surf bug hasn't really hit yet. It's one of those things that I've fully accepted, and I still think it's a great place to live and a great place to be a surfer. I still love home.
What is it about cold-water surfing? Is it tempting to get out and surf some warmer more tropical beaches?
I'd say it's tempting. Warm water is easy. The conditions are less variable with fewer tide changes; the winds tend to be more predictable in a lot of places, and you tend to get consistent swell if you're there at the right time of year. It's easy, but with that comes more and more crowds, which I personally try to avoid as much as possible. I don't know, there's just something about growing up here, and the comfort level. It just feels natural to me to go to these cold places where there are less people and still great waves if you can figure it out and time it right.
When it comes to adventure, the BC coast is where it's at. You have boats, hiking, camping…
Everything's so remote here. Tofino is one of the few "easy" places to get to around here, and it actually takes quite a while to get here. It keeps you hunting and searching and thinking about those locations that are very hard to get to and somewhat inconsistent. It keeps you on your toes a bit more than say driving on Highway 1 in California and stopping wherever you see waves.
Is that sense of adventure as important to you as catching waves?
I think that's something that keeps me excited about the sport of surfing. It's almost the anticipation of knowing you have everything dialed—right swell, right winds, right tide—and you go to a place where you maybe haven't been before, and seeing it as it's best. When you get there and it's firing, to me, that's the ultimate in surfing.
Does it ever feel like you're detached from the rest of the surf industry?
Definitely. It's very removed here from the true surf scene in California or Hawaii or Australia. Although, the scene is growing substantially. It's an interesting one. I used to travel to California quite frequently for contests, to Trestles or Huntington or Santa Cruz. I used to be more in the loop those days, but everything is so digital now; you can feel connected even if you're sitting in the middle of nowhere, as long as you can get online. It's definitely changed the way surfers have approached their careers and how they go about getting their content out there.
Is it important for you to disconnect from social media?
For sure. I think everyone needs to disconnect from social media. It's something that's a little over done, in my opinion. It's easy to lose touch with what you're doing, and what's happening in your life. Some of my favourite trips are to areas that there is no cell service, so you can't check anything out, you just go and camp and surf. It's as simple as making a fire on the beach, eating your food and going surfing. To me those are the most enjoyable trips I've had.
What gets you up in the morning outside of surfing?
I'm definitely an all-around sports guy these days. I have a 7-year-old son, so we wake up and do everything from hockey to basketball, soccer, surfing, skateboarding. Just playing outside every day.
Tell us about the Great Bear Rainforest.
It's so pristine up there, very untouched. We took a sailboat on a 10-day journey and just touched the region. We didn't get to see as much as I'd like to see. I'd like to spend more time there in the future. I got to see grizzly bears for the first time in my life, which was very interesting; they are scary animals, that's for sure. It was definitely a special trip with Patagonia and I was lucky enough to be invited. We made a little film called Groundswell to highlight the importance of the area—to make people realize that we need to keep these areas protected and not allow oil companies to take over what we have here.
As someone who spends so much time in the ocean and on the coast, it must be concerning.
It's scary for sure, just to think how treacherous the waters are up there, and if something were to happen it would damage a lot of this special coastline. That area up there is so pristine, and it really shouldn't be an option for that to happen.
Any advice for up-and-coming Canadian surfers?
For me, number one is always love your sport. That's what's going to bring you through the tough times, and push you forward when you don't want to surf. You've just got to have that love and that passion for what you're doing. It doesn't matter what your contest results are or if you're getting magazine coverage— your love for your sport is what's going to push you the most to improve.
Finally, what fuels your sense of adventure?
It's getting to those remote, unexplored regions, where you don't have all the facts or the answers, but by putting in your work and getting to the right place at the right time, you find good waves with your friends. That's the ultimate in adventure for me.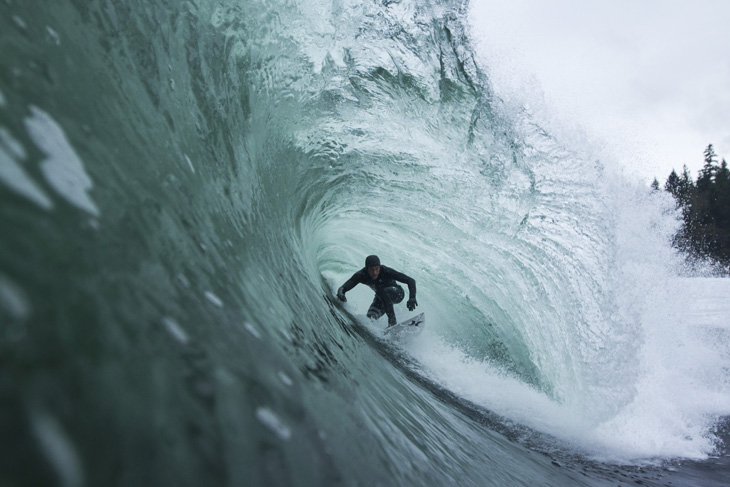 More on Clif Bar athletes:
CATHARINE PENDREL ON CONSISTENT PERFORMANCE AND AVOIDING BURNOUT
Three-time Olympian and 2016 Bronze medalist Catharine Pendrel grew up riding horses in New Brunswick, Canada. At a young age she discovered mountain biking and the rest, as they say, is history. She has two World Championship titles for Canada and 40 World Cup podium finishes under her belt… Read more