Chili's plan was solid. It was 2013 and Canada Day weekend hit the Coast Mountains and it felt like taking the lid off a BBQ. Temperatures pushed up around 35degrees Celcius (94º F) as the first true heat wave of summer settled in. Chili's new girlfriend/future wife Lauren was visiting so he proposed an overnighter to Valentine Lake, a little alpine spot east of Pemberton that none of us had ever heard of. Chili had a lesser known guidebook claiming the hike was a 13-kilometre roundtrip with only 650 metres (2,133 feet) of elevation gain.
This article is part of the Mountain Life Isolation Reading List
Introducing our Curated COVID-19 Isolation reading list. Editors from each of our publications have gone through and compiled a list of pieces from past issues of Mountain Life for you to enjoy, and we're excited to share them with you. Sit back and relax, because we might be in this for the long haul. But most importantly, let's not forget to do this together.
Words: Feet Banks
As his best friend for over two decades, my favourite journeys with Chili Thom almost always involved some sort of mishap. We were rained off cliff faces, blown right past islands, and stormed off mountainridges from one side of BC to the other. Often (almost every time, actually) it was because we got too cocky or focused too much on the destination. This time it was a wiener dog that got us…
Back to the plan: "We'll leave early to beat the heat," Chili enthused. "Couple hours in… should be awesome—no long weekend riffraff."
We left it at that. Or we should have. Like an idiot, I turned to the Internet for a bit more beta. There wasn't much, just a report of two hikers who went missing in 2010 and a YouTube video of 'Joey the Wiener Dog' dashing around treeline boulder fields on the shores of a beautifully pristine looking alpine lake. I emailed Chili the link and a note: "Lake looks rad! And if a wiener dog can make it up there…"
We recognized the massive error even as we made it—never underestimate the mountains—but still, a wiener dog… the legs on those things are not even four inches long.
I packed liberally for a sunny Canada Day at the beach: squirt guns, Frisbee, sparklers, a special red plaid outfit and a throwing axe. Chili bought a 44-inch samurai sword! For a 6.5-kilometre approach we even felt good enough to leave the expedition toothbrushes (handle cut off to save weight) behind and opt for the luxury of a full-length.
We left early, as per the plan. Except the forest service road ended prematurely due to a creek washout well before the trailhead. Then, while we stared at the massive ditch of rubble as if a bridge would suddenly manifest itself, a green Volvo pulled up and four other hikers hopped out with the same guidebook Chili had.
"Looks like we have about 2 or 3 kilometres of logging road before we make the trailhead," Chili peered at the hand drawn map as the city folk 17-point-turned their car around on the narrow gravel road and parked it half in the ditch. "Let's get moving."
It turned out to be more like 7-8 kilometres of dusty, switch-backed, bug-infested monotony with at least 400 metres of elevation gain. The heat wave didn't help and we were exhausted by the time we reached the trailhead. I tried to keep spirits high, "Hey, only a couple more hours tops, Wiener dog-Wiener dog!"
That became our ridiculous mantra for the next four hours. A mindless phrase repeated ad infinitum to help power us up the beautiful but instantly steep trail. Chili sang 90s gangster rap songs to ward off bears, had lusciously dark chocolate chips and dehydrated blueberries in his trail mix, and performed first aid on blisters as they occurred. He even entertained us by orally rewriting the guidebook as we trudged along:
Chili's Trail Notes:
A perfect Hobbit-like single width feootpath flowing through carpets of moss and bunchberry flower. Then it gets steep and rooty. Then it becomes a boulder staircase/creek bed (with creek) before relaxing into four or five kilometres of soppy muskeg and bog. Spring melt is in full effect.
Perhaps August offers fields of dry swamp grass that rustles as you glide through it but for us it's slipping and sludge and boot-top sinkholes. Then more hill (with less forest) and then victory, Valentine Lake!
Fear not, six-and-a-half hours of sweat-draining morale and clenched perseverance will pay off! The waters of Valentine Lake await!!
It was frozen solid.
Our highly anticipated turquoise waters were white, marked only with circles of grey where the early summer sun had almost eaten through winter's last hurrah. Chili and I jumped in a melted-edge section anyhow, and jumped right back out. It was so cold we didn't even notice that the bugs had momentarily stopped gnawing on us. Needless to say, there was no Frisbee game, very little squirt-gunning and the sword stayed sheathed. The other hikers arrived eventually but had to push past us in search of a dry camp spot. We dined on Chili's go-to hiking lunch of Landjaeger sausage, smoked gruyere and a crisp green apple before filling the rest of the day with naps and firewood foraging. That night the sky shone as star-filled as we'd ever seen it, and we sat by the fire sharing laughs, making plans, and enjoying the crackling silence that only happens when time and space both fuse into nothingness…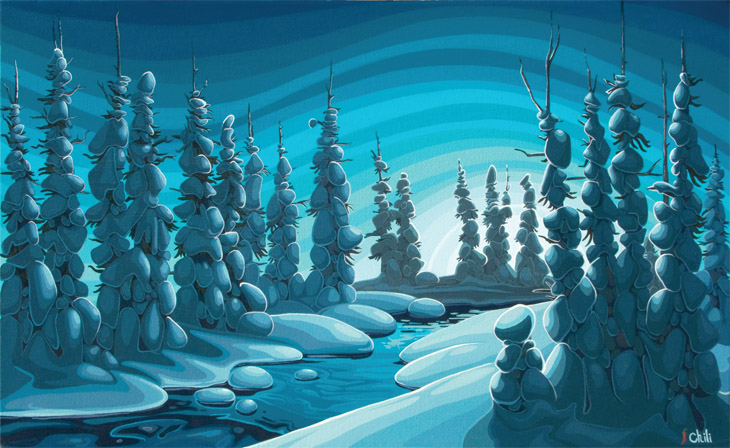 "I'll never get sick of being on that outer edge of the BC coast. Being able to see the passage of time in these trees and rocks. They've been hammered by the elements, constantly twisted and pushedaround. It's a long, hard rugged struggle that's been going on for thousands of years, and yet they're still there, hanging on."— British Columbia magazine, 2006
Canada Day sun hit my bivy sack just after 5:00 a.m. the next morning and ushered in a sense of warm, quiet joy that could only mean the beginning of summer. Except the lake was still frozen so we ate some oatmeal, packed up, sprayed each other with bug dope, and headed for home; another great trip.
Looking back, it makes me laugh. Chili and I knew that we should have known better than to get overconfident in the mountains. But with each epic survived, we felt more equipped for the next one. We'd almost seek them out, because finding yourself off the map and floundering is the best way to discover something new about yourself.
"I think every time you come into this physical plane it's to learn a lesson," Chili told me a few months before he died. "And once you've learned that lesson and it's embodied in your soul, you can travel out of the physical, tangible realm and back into the energetic realm where you can grow and expand. That helps the universe expand because you've had a positive experience and learned a lesson. It's like a video game, you have to pass a level or you do it again. So you are not really dished out things in this world that you can't handle. The trick is figuring out what it is we are supposed to learn here."
That was the last time Chili and I really had time to talk that in depth. Afterwards, our time together was packed with the details and challenges of shooting his cowboy movie (Chili Thom literally rode off into the sunset of this world) and before we knew it he was gone, breaking trail on whatever the next adventure may be.
"Nature has given me a lifetime of inspiration. In just a few decades I have seen how man is damaging the planet at an exponential rate. I love snow. I love clean water, fresh air, wild animals. There comes a point where you have to look inside yourself and ask, 'What am I willing to sacrifice for something that has given me the life of my dreams?'" —The Ski Journal, 2015
"Chili Thom taught me that life is short, sometimes unexpectedly so. He taught me to face my fears and to find joy in those times when the plan suddenly fails, because that is where the real fun lies. Together, we also learned to never underestimate a wiener dog. And now, when times get dark or my soul needs a fresh spark, I know I can go stare at a Chili Thom painting. Or better yet, head out into the wilderness that inspired it and let the magic of nature remind me just how small we are in the universe…and how big of an impact we can make. Chili's spirit and artwork will live forever at chilithom.com
Chili Thom: A Technicolour Life Less Ordinary
Chili Thom was a man of the mountains, an eager adventurer who wandered through some of British Columbia's most incredible landscapes. He was a self-taught painter who could capture the colours, motion and magic of all that time spent in the wild and somehow recreate it on a two-dimensional canvas we could hang in our homes. He was also a husband, father, filmmaker, DJ, wilderness guide, TV personality, an activist and a high-kicking, ass-shaking friend to almost everyone he ever met.
When Chili died of cancer in November 2016, his artistic legacy was already well-established. He completed over 400 paintings, unique interpretations of motion and colour in nature which now hang in homes around the world. A fearless spirit fuelled Chili's art, and that spirit was intrinsically tied to his adventures in nature. Nothing made him happier than leaving all the noise behind and stepping into the unknown. Chili turned art into activism, creating pieces to celebrate the 125th anniversary of the Glacier National Park and sailing in the Great Bear Rainforest with Canada's other top artists to help protect BC's North Coast from unnecessary oil tanker traffic.
"I have always said the best time to buy art is when an artist needs money for a project."—Chili's Blog, April, 2012