If you visited Blue Mountain Resort as a kid in the offseason, there's a decent chance you willingly threw your body down a 3,000 foot mini-bobsled track on a plastic sled for a wee thrill.
Words: Nelson Phillips
Emphatically known as the Great Slide Ride, the attraction operated from 1977 to the 1998-99 season as a means of summer income for the resort. In 1980 the Slipper Dipper Waterslide was built next to the Slide Ride and then another water slide, the Tube Ride, followed in 1985. Collectively they became known as the Slide Rides and boosted BMR green-season credentials at a time when snow resorts still struggled to define their non-winter roles.
The Slide Ride has since been replaced by the sleek, safety-oriented Ridge Runner Mountain Coaster, but the original Ride was the stuff of a generation lost. This was a time when no one would sue if something went awry, when scars made for great campfire conversation starters and pseudo badges of honour, and reminiscing over rag-dolling down the hill was met with laughter and glee.
Accessed by riding the triple chair to an interim get-off, the Ride's sleds were operated by a central lever that was used to press a wheel down onto the track. Down meant fast, while pulling up would lift the nose off of nylon runners housed under the chassis. What made the Slide Ride different from similar amusement attractions was the fact that Blue Mountain's clay topography meant the hill was constantly shifting. While the Slide Ride was solid as a rock in its infancy, gaps and twists developed over time, meaning staff would have to realign the track and fill holes with bondo and fibreglass, and even re-pour foundation supports.
The two sled courses were built with an asbestos/cement mix and were well known for their 'sled burns.' Onetime Slide Ride employee (and current President and COO) Dan Skelton told us that when a burned rider would surface, they were ushered to a first aid station, sprayed with an aerosol disinfectant and sent on their merry way.
"People would scream," says Skelton. "It was a little painful. Friction burns were always on the elbow, shoulder, or knee… It would heal in a few weeks. People are still kind of proud and remember getting their burn from the Slide Ride."
The thing about nostalgia is the sensation of physical pain can't be brought back to mind. This allows the memories of injuries to be recalled with simple ingredients like smiles and tall tales. The times were certainly different. If you're one of the lucky ones who ate it coming down BMR's infamous asbestos-cement pipeline, wear that scar with pride. It's a reminder that we're tougher than we let on these days, and still have the ability to shrug off catastrophe.
In today's realm of abundant accident reporting, liability concerns and safety protocols, the memory of the Slide Ride is a not-so-gentle reminder that jumping in with both feet is still an option worth exploring.
…
To get an authentic sense of the Slide Ride user experience, we took to our Facebook page to ask locals about what it was like to ride the Slide, work there, and about some of the reported carnage that made it the legend it is today. Check below for some of our favourites.
"We used to hit that ride all day long. One of us would get sent down first then would brake and wait around the corner for the other guy then smash into each other. Then raise havoc the rest of the way down."
"Worked there when I was 15. Shaved the brakes down and put new wheels on one of the carts the employees would ride. Fast as hell."
"If we wound up with an asbestos burn [from the Slide Ride] … we couldn't work with open sores…. and they were brutal."
"Still have scars. It was so great. We would null the pain with shots of tequila."
"I remember never using the brake, but then again you would go off the side. Wish they still had this old-school one."
"Great memories of jumping the tracks. Brakes? They had brakes?"
"I still have a scar on my arm from a run-in with a buddy. Loved that ride."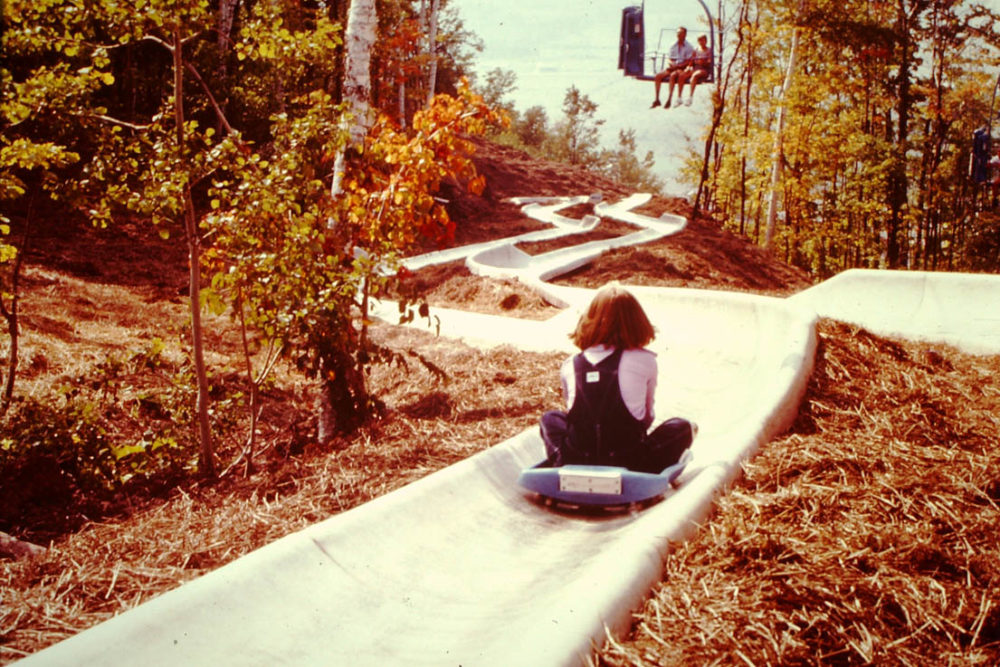 Related Searches: blue mountain slide ride, blue mountain rides, blue mountain ride
You might also like: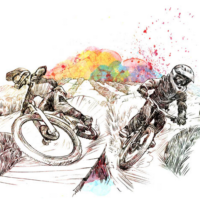 HOW TO KEEP YOUR YOUNGSTERS OUTSIDE (AND UNPLUGGED) THIS SUMMER
Summertime: simply put, I love it. Warm sunshiny days where you transition from pyjamas to bathing suits and back again—where you're outside from morning until night, and weeks go by without even touching a TV remote or recharging an iPad. To me, this is what summer is all about: suntans and popsicles, evening swims, long hikes, pier jumps and playgrounds… Read more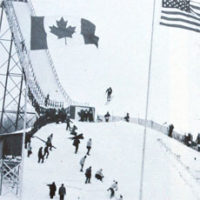 FROM THE VAULT: CELEBRATING 75 YEARS OF BLUE MOUNTAIN RESORT—PART 1
BMR founder Jozo Weider oversaw the construction of this 50-metre jump just a year before his death in a car accident in 1971. The jump was named in memory of Pete Pettersen, a Norwegian who had developed ski jumping programs in Ontario in the 1950s. The jump was the site of the North American ski jumping championships… Read more