She looks a little out of place among the modern pleasure boats that jostle these days near the disused grain elevators in Collingwood, Ontario and the increasingly residential atmosphere of what once was a thoroughly industrial harbour.
words :: Jim Algie      photos :: Willy Waterton
The 26-foot, double-ended, clinker-built, wooden fishing skiff, Endurable I, would have fit right in here 120 years ago. That's when grain shipments, commercial and passenger traffic and newly-established rail connections made Collingwood one of Georgian Bay's most active commercial ports trading west. She's a replica of similar, centre-board skiffs built in Collingwood by the hundreds beginning in the mid-nineteenth century by Irish-born brothers, William and Matthew Watts, for the Bay's sail-powered, commercial fishery.
A Watts skiff, replica-building project began with the enthusiasm that accompanied a Georgian Bay-wide, marine heritage festival planned for the summer of 1994. It took longer than expected but led in May of 1995 to an elaborate launch that capped the efforts of more than 200 volunteers. Spearheaded by the late Gord Hanson, a financial advisor who once calculated the effort at 13,000 hours of volunteer labour, the project scoured Collingwood and surrounding region for financing and for mostly donated, scrounged materials. (She was named for Alex Tilley's outdoor clothing line after the latter made an undisclosed financial contribution to the project. Tilley was among many who made donations either in cash or in kind.)
The project also had reliable guidance from key retired employees of the Collingwood Shipyards, a venerable industry that ended shipbuilding in 1985. Endurable I launched, May 22, 1995, just over 10 years after the shipyard's final commission, a 272-foot, $50 million government icebreaker named for our turn-of- the-20th-century Prime Minister, Sir Wilfrid Laurier. It also occurred with more than a little symbolism for the hundreds of jobs lost, as former Shipyards launch master Gordon Thomas, who handled Laurier, also did the honours for Endurable I.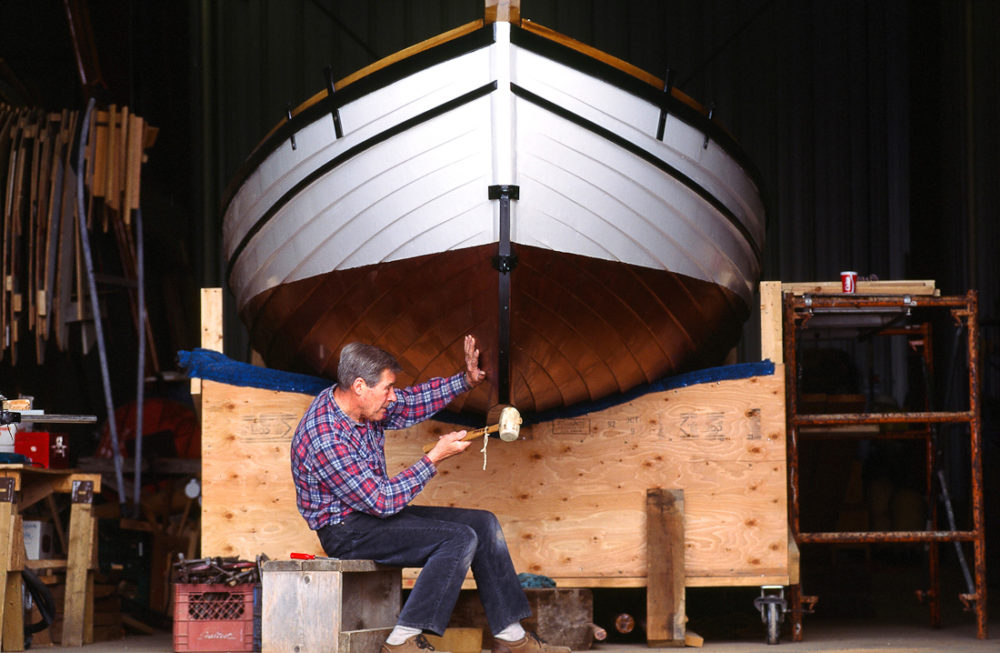 Gord Hanson never hazarded a guess as to the project's finished cost. A collection of brass, engraved plaques now lines the cockpit with the names of key volunteers, several of whom have since passed away.
The vessel remains the property of Collingwood's municipal government and is maintained by a group of 16 enthusiasts, members of the Collingwood Watts Skiff Club. A $20 annual fee permits members to sail aboard the skiff and helps with insurance costs, secretary/treasurer Brian Bailey said in a recent interview. He spoke during a visit to the Endurable I in storage in a workshop in former Collingwood Terminals' offices.
While underway, sailors must manage lines without the help of automatic winches, using belaying pins and hitches as rope holding devices instead of automatic cleats. The only electrical system on board uses a deck-mounted solar panel.
Some modern sailors may find Endurable I awkward to manage, Bailey said as he looked over the vessel for maintenance chores ahead of this year's launch. Twin-masted with a 30-foot foremast and 24-foot, 9-inch main mast, she weighs 4,400 lbs. (including 1,700 lbs. of moulded lead ballast) and carries about 600 sq. ft. of sail.
"It has a lot of what they call 'weather helm', Bailey said, which means she pulls into the wind and requires extra effort at the helm to maintain course. "And there are a lot of lines," he added.
"It's a gaff-rigged boat so you've got two halyards essentially, one for lifting the gaff and one for lifting the main part of the sail. Each sail has a sheet," he said, referring to extra spars carried aloft when the vessel is under sail. Now 80, Bailey began sailing aboard British meteorological service vessels in the north Atlantic where he worked as a scientific assistant. Both he and his wife, Cathy, are "captains" qualified to teach others to manage the skiff safely under sail. Club rules require a "captain" and a minimum crew of two.
While underway, sailors must manage lines without the help of automatic winches, using belaying pins and hitches as rope holding devices instead of automatic cleats. The only electrical system on board uses a deck-mounted solar panel to recharge the bilge pump. As with all wooden boats, Endurable I leaks.
"When we first launch her we let it sink and stay submerged," Bailey said of the spring routine. "Then we start pumping it out as the wood swells up. All wooden boats have the same problem," he said.
Designed for commercial fishing with a broad hull and flat shallow keel, the original skiffs left port ballasted with stones to be jettisoned gradually as captured fish made up the difference in weight. Permanent ballast in Endurable I eliminates that job. Also, the vessel now tows an outboard-equipped tender in the event of light winds, leaving her double set of oars as backup.
"What's impressive to me is a single person ran the boat by themselves," Bailey said, referring to the nineteenth-century fishermen who popularized the fast-sailing skiffs.
"We need volunteers to learn how to sail her so we can go out more often," Bailey added. "We want more people to come sailing."
You might also like:
THE LAST LIGHT KEEPER: INSIDE COVE ISLAND'S LIGHTHOUSE AT THE END OF AN ERA
Whenever I sail past Cove Island lighthouse – about 5km off Tobermory and the final beacon the Chi-Cheemaun ferry passes before heading into open water – my memories go back 25 years when I spent two days photographing Jack Vaughan, the last lighthouse keeper on Georgian Bay… Read more