It's a sunny Thursday morning at Crankworx Whistler and the godfathers of freeride—Brett Tippie, Wade Simmons, Richie Schley—are grouped together looking at an old BIKE magazine. Then Christian Bégin walks in…
Words :: Feet Banks.
"Tippie!" Bégin bellows, obviously excited to be reunited with old friends. "You look good. You look like you've lost 20 pounds."
"Well," Brett responds. "I got circumcised…"
Big laughs, hugs, and high fives all around. The sense of camaraderie is so strong it almost feels like a time warp-are we back in the mid-nineties, when this posse of renegades literally revolutionized the way people ride a mountain bike? Is this the first scene of Kranked 10: Back in the Saddle?
Almost. Instead, the legendary "Froriders" are reunited to talk, for the first time, about the roots of freeride mountain biking for The Moment, a new documentary about the story behind the first Kranked film and the British Columbia locations, personalities and attitudes that inspired the bike world to go free.
"There was an ominous North Shore scene that no one knew about," explains Richie Schley, "and Kamloops was another thing, big steep lines. There was a bit of competitiveness, but really it was two scenes that needed to come together, after that it blew up like a Roman candle."
It's been two decades since Bégin began filming Richie, Tippie and Simmons, but he says the idea of a freeride documentary has been with him for years.
"I was always a fan of Stacy Peralta's movies," Bégin says. "And when I saw Dog Town and Z-Boys, I got a sense of the story of me, Bjorn and the boys; the freedom of 'lets just go shoot and see what happens.' Peralta and [the others] were surfers who took that to skateboarding, and we were skiers and snowboarders bringing bikes into the mountains."
Kranked producer, Bjorn Enga, had kept crates of behind-the-scenes footage from the era but Bégin knew he was too close to the material to direct The Moment himself. Instead, he brought on Darcy Turenne, a competitive freerider-turned-filmmaker who grew up (and prospered) within the bike culture Kranked kicked off.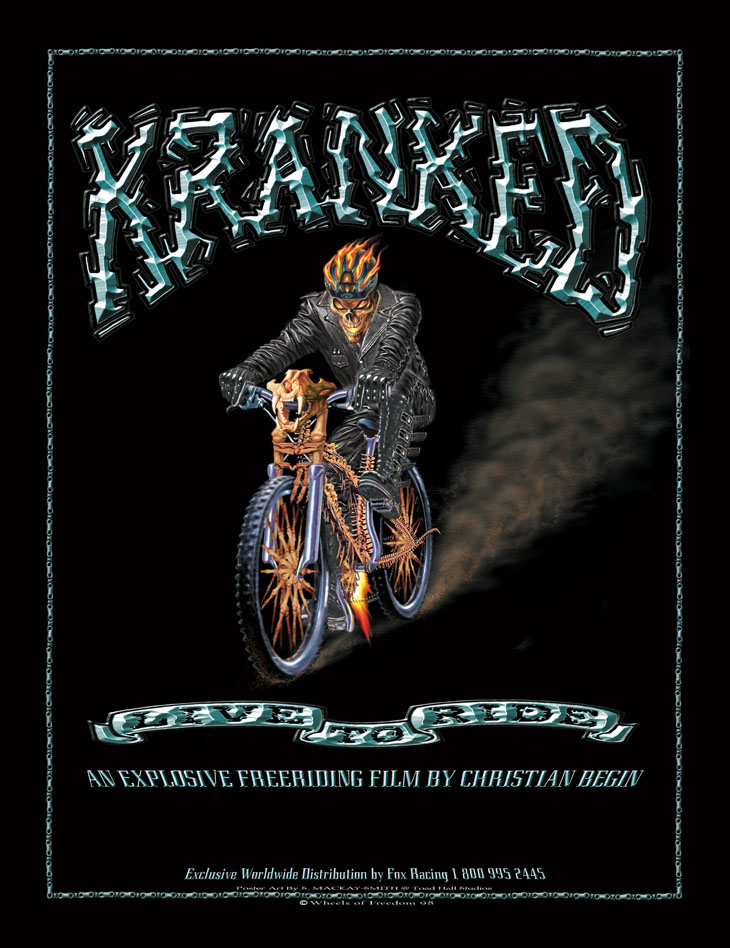 "I'm so glad this film is happening," Turenne enthused last month. "I was worried about the task of combining hundreds of hours of footage with 30 different interviews and so many storylines, but everything is coming together. I want depth over breadth, I want to go deep into this one piece of time, rather than covering a lot of topics over the past two decades. This movie really is about that moment that started everything."
"Darcy is passionate and loves the sport and understands it is not a movie about mountain biking, it's about people whose whole life is mountain biking."
"I like her because she is a storyteller," Bégin says of Turenne, whose previous film Jackieland was included in the Court Métrage short film corner of the Cannes Film Festival. "Also she is passionate and someone who loves the sport and understands it is not a movie about mountain biking, it's about people whose whole life is mountain biking."
The film is about half completed right now and Turenne expects to release it before the end of 2017. "We have such great characters," she says, "funny characters, and people on screen you can't get enough of. We also have deceit, death, addiction and a lot of drama and dissuasion from most of the bike industry at the time. It's an honest and truthful portrayal."
"A lot of people hated us back then," Bjorn Enga recalls. "People thought we were going to get all the trails closed. There was a handful that saw the potential and everyone else said, 'Forget it. You can't ride bikes like that.'
But time tells all. Just look at Squamish—20 years ago we wouldn't stop in Squamish to ride, we'd get beat up. Now look at it. . . and it all happened organically because really, you can't keep a good shred down."
You might also like:
MULTIPLICITY 2017: BRETT TIPPIE AND THE BIRTH OF FREERIDE MOUNTAIN BIKING
Brett Tippie is a legend, no question. He was among the first to snowboard at Sunshine and Blackcomb (at the time two of the only places you could in Canada), he's competed in over 25 World Cup events and represented Canada on the National Team in Snowboardcross and Giant Slalom. But Tippie is most recognized for two things… Read more
Check out our definitive guide to mountain biking B.C.'s South Coast:
Mountain Biking B.C.'s South Coast: Howe Sound
Mountain Biking Vancouver's North Shore
Mountain Biking the Sunshine Coast
Mountain Biking the Chilcotins