The small ski operation launched by Jozo Weider in 1941 has grown into a fourseasons resort and village. Changes in management and ownership make this a fitting time to reflect on the past and the present. In 2014 the Weider family sold the remaining part of its interest in the Blue Mountain Resort to its partner Intrawest, which had bought a 50 percent stake in 1999. Along with this change, Gord Canning, the architect of Blue Mountain's growth after Jozo, and many of the top and middle managers retired to be replaced by a new generation of leaders.
While an era has ended, the themes of the Blue Mountain story continue. I am always asked what Jozo would have thought of the resort today. My answer is that the expansion we see today reflects a vision that Jozo himself pursued while he was alive, often with great creativity and entrepreneurial spirit.
Jozo drove the business by always thinking ahead and out of the box and improvising solutions when survival was at stake. He turned a farmer's barn into a lodge; he grew food on the mountain and built chairlifts out of scrap steel in the back yard of our home farm, located between the Bay and the Mountain. In the basement of his lodge, the Ski Barn, Blue Mountain Pottery was born.
Upstairs was a cafeteria offering home-grown food, entertainment with sing-songs and barn dances, and a third level of rooms and accommodations. From this eclectic mix of businesses, he launched expansion of trails, lifts and base lodges to make Blue Mountain the leader among Ontario ski resorts.
Loving the Winter, but Seeking a Four-Seasons Resort
Skiing was just getting off the ground as a popular sport in Ontario when Jozo arrived on the scene in 1941 after two seasons of teaching skiing at Quebec resorts. Jozo was a flamboyant showman and promoter and made a mighty effort to put Blue Mountain Resort in the forefront of this trend in recreation as it gathered momentum. Much of that impetus came from Jozo's own efforts. Above all he encouraged Ontarians to love the winter.
Instead of dreading its onslaught and heading for Florida, Canadians were to stay and enjoy the winter sunshine and powder. At the same time Jozo knew that he had to expand the business to bring visitors here after the short ski season was over. He developed subdivisions and built chalets to encourage city dwellers to settle into second homes.
When we expanded the Resort in the 1970s and needed a parcel of land for parking I had to buy back three lots that he had sold in the 1950s for $600 each. The owner of the vacant lots was a tough negotiator and knew that he had the upper hand. He was a former flyer in the Luftwaffe, the German Air Force. His price, which the resort had to accept, was $350,000. (There were many veterans of World War II who came to Blue Mountain to enjoy the peace and quiet, and this included men who had fought on both sides of the conflict.)
In the early 1950s Jozo, continuing his summer efforts, built a concert shell and hosted orchestras and ballets near the Ski Barn with seating on the hillside. When the snow melted in April, he boiled maple syrup tapped from nearby trees or served gluhwein from a big iron kettle at the bottom of the O-Hill to mark the end of the ski season. In the 1960s with the onset of summer he hauled summer visitors to the top of the Mountain using the newly built South Chair. Near its top terminal he built a rustic restaurant warmed by a cavernous fireplace and featuring panoramic windows affording spectacular views of Georgian Bay. He named it the Hohenblick ("View From the Top" in German).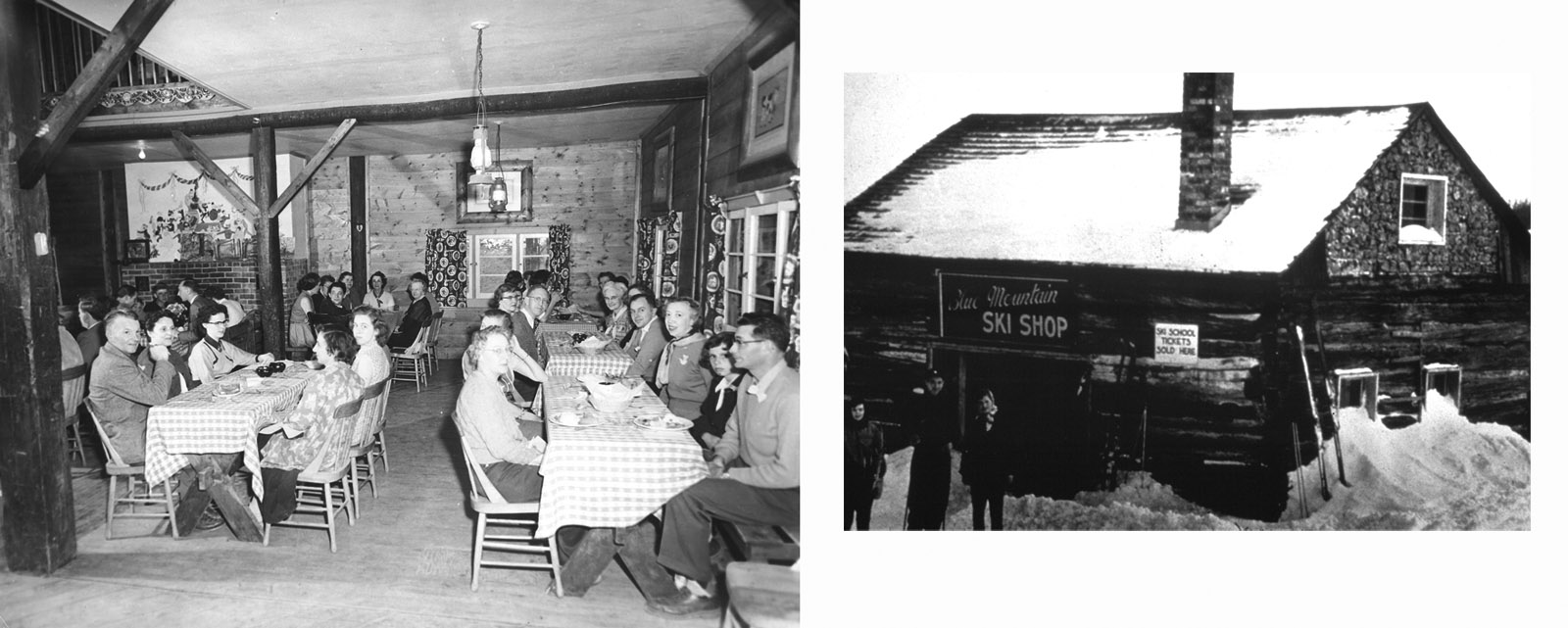 Immigrants
Jozo, always looking ahead, had anticipated the conflict in Europe and immigrated shortly before war broke out with his wife and son to Canada, leaving his idyllic lodge in the Slovak mountains and seizing new opportunities opened up at Blue Mountain. He loved his adopted country and was generous in sharing his good fortune by assisting other immigrants and employing them in his ski and pottery businesses. They, in turn, brought talent and skills to the area. A Czech dishwasher in the Ski Barn, Denis Tupy, stepped into heavy blue clay churned up by bulldozers on the Apple Bowl.
Scraping the thick lumps off his boots, he casually remarked that they reminded him of the clay he had used in a pottery factory in his home country. Jozo jumped on the idea and with the help of Tupy launched Blue Mountain Pottery, Ltd. The pottery company grew into a major business that rescued the resort from mild winters. (There was no snowmaking at that time and the resort was struggling.)
European immigrants not only brought skills and a fierce work ethic, but there were talented artists and craftsmen who came as well. They injected a sprinkling of culture into Craigleith, the struggling farming village at the foot of the mountain and into Collingwood, then a blue-collar town. My wife Barbara, an American import, later built on that legacy and distinguished herself as a leader in arts, theatre and business.
A standout among the newcomers was Walter Trier. This Czech-German artist had enjoyed fame and success as an illustrator whose work was featured in leading European and British magazines. Like many of Jozo's friends, Trier and his wife were refugees from Hitler. Jozo built a house and studio for Trier on the mountain that is still standing.
Trier paintings are prize possessions among our four families (Cannings, Mariks, McGillivrays, and Weiders). My favourite is a caricature painting of a prize-winning cow wearing skis. It hangs on one of the walls of our original farmhouse, now owned by Joseph Marik, husband of my late sister Anna. Trier's work is featured in a special room at the Ontario Art Gallery.
Just as important were the neighbouring farmers at the base and top of the mountain. While initially shocked by Jozo's foreign ways, they soon adapted and many took jobs at the Resort. They were used to hard work on their farms and were adept at making equipment work. They welded steel, built kilns for pottery making, dug holes for lift towers, and cut out trails, first with axes, then with chain saws and bulldozers. Farm wives served homemade chilis and stews in the base lodges.
Growth After Jozo
In 1969, after a decade of major expansion of lifts, trails and lodges, Jozo named his feature trail, Tranquillity, (now served by the Silver Bullet Chair), after the site of the moon landing.
Two years before Jozo's death in a car accident, this marked the emergence of Blue Mountain as Ontario's leading ski resort. Upon his death in 1971 he left his successors with a powerful business, but one that relied mainly on winter.
Gord Canning, Bill Skelton and the top managers, backed by the family, and in 1999 joined by Intrawest, built on the foundations and retained much of the culture that Jozo had instilled.
Technology has been transformative and a great enabler. Jozo had dug out reservoirs and installed pipes for snowmaking on the Apple Bowl, but the system developed in later years was a massive one, reinforced by water lines extending into Georgian Bay. Backhoes, bulldozers and even helicopters allowed more rapid and efficient installation of lifts and facilities.
In 1954 Bill Skelton, who later became area manager, and I spent the good part of a summer digging irrigation ditches and putting in drainage tiles under the North Area parking lot. Today a job like this could be done in a few days with dump trucks and earth moving machines.
Technology has improved the comfort of the winter experience and made it easier to appreciate Jozo's slogan of loving the winter. In the 1940s and '50s Jozo would provide a day ticket to skiers, usually students, who would tramp the hill in the morning in return for free lift riding in the afternoon. Today the resort relies on its $3,000,000 grooming fleet.
The town and the resort plough roads and parking lots much more thoroughly than in Jozo's time but if there is drifting snow it can be easily mastered by the ubiquitous SUVs that bring skiers to the mountain. Car company advertising encourages winter adventure in these vehicles. Subaru (current sponsor of Blue Mountain) and other companies encourage drivers not to cower indoors when a snowstorm hits. In recent ski seasons Blue Mountain ran a "Be a Winter Warrior" promotion. Jozo would have applauded these messages.
Successive generations of skiers have enjoyed endless improvements in their equipment. In the 1940s fixed-toe and heelpieces caused many a broken ankle. Leather boots got wet in slush and did not provide great support unless reinforced by long leather strapping, which also increased the danger.
The wise would glance behind them and be aware of runaway skis. The 1950s and '60s brought metal skis (later to be replaced by even better fibreglass ones), firm plastic boots, safety bindings, safety straps and ski brakes. It took time to perfect the equipment. Near the end of a slalom race, I was within ten metres of the finish when my new Marker bindings released without cause and I took a humiliating face plant. This would not happen today when the mechanisms are precisely calibrated.
My laminated wooden racing skis (used for both slalom and downhill) were advanced for the time but their 215cm length slowed you down in slalom gates and would have been trounced by today's fibreglass models. Despite their vastly shorter length they provide greater stability, float through powder snow, but also hold an edge on ice or hard pack.
Early parkas and pants could be stylish, but in order to be warm and dry there had to be layers of underwear and sweaters and not even that always sufficed. Mitts could be soaked and torn on rope tows. Today's jackets can wick away dampness and some even contain battery-powered warmers in the pockets. Heated ski boots can keep the feet warm; Gore-Tex gloves do the same for fingers; and there are great masks and goggles that protect a skier's face from frostbite. The winter outfits are so cozy that they give new meaning to the Norwegian saying: "There is no such thing as bad weather, just the wrong clothing."
Beyond Winter: The Four- Seasons Resort at Last
After Jozo, the family and managers led by Gord Canning expanded the Resort into summer, with slide rides, golf, a beach, hotel accommodations and attractions. The advent of Intrawest in 1999 brought huge changes, with that company importing its experience with resort villages in North America and Europe. Blue Mountain was not as high as most of their mountain resorts but the bet proved successful. What was lacking in vertical was made up by breadth of the mountain, putting in mind Jozo's slogan, "Blue Mountain's vertical is three miles wide." If this was not enough there were the surroundings, the views of the mountain and the Bay and the proximity to millions of recreation-hungry residents of nearby Toronto and suburban populations.
As the Village was rising, construction of new lifts, buildings and attractions continued to expand the resort operation. As a result of investments by the family, together with Intrawest, the resort today has 15 (most of them state of the art) lifts on 42 trails spread out over 364 acres of mountain terrain.
Activities include golf, indoor tennis, an aquatic centre and an impressive lineup of activities, highlighted by mountain biking, stretching from the Village up into the mountain. The accommodations complex can house over 2,000 overnight guests. Amenities in the Village include restaurants, spas, shops and conference facilities.
The Village made possible projects that the Jozo and his family had struggled to develop. There had been concerts at a band shell at Central Base Lodge, and arts and crafts courses inside the lodges, many of these organized by my wife Barbara. Now such activities had traction as a result of the flow of year-round hotel guests and visitors.
Musical performances in the Village plaza had an uncanny resemblance to the previous attempts. In the summer of 2015 a large crowd gathered in the Village square to hear Canadian rock star David Wilcox. They were singing, clapping and dancing to lyrics that many knew by heart. At the edge of the plaza mountain bikers were descending into the Village like armoured knights. Mothers and fathers were pushing baby carriages at the edge of the millpond, where bigger children were hunting for frogs among the natural mosses planted by landscape architects employed by Intrawest.
In the early 1950s Jozo had built a chalet for David Wilcox's grandfather, a fellow immigrant from Czechoslovakia. It is no longer there, but nearby is the Walter Trier house, also built by Jozo. Below the Trier house is a recently built huge modern residence costing several million dollars. It sits on the site of what was once a ramshackle farmhouse occupied by the Campbells, descendants of the original mid-19th century settlers in Craigleith.
Like Jozo's family they, too, were engaged in a survival exercise. They supplemented their income from farming their rock-strewn land by taking jobs with Jozo and they hunted for coins and jewellery on the mountain after the snow melted.
The themes of entrepreneurship, immigrants and loving the winter loom large today, but they have changed with the times. Jozo's original venture is not likely to be repeated anywhere. Start-up of a new ski resort of the kind that Jozo built would be almost impossible because of the costs and complexity. Jozo's rope tows cost about $300 each, and even Jozo's (and Ontario's) first chairlift, considered state of the art in 1959, did not exceed $250,000.
Before Jozo's arrival engineers from Collingwood Shipyards designed the Red Devil sleigh tow. Very basic, it carried only nine skiers to the top of the Schuss. Blue Mountain's Orchard lift, built in 2013, was installed at a cost of $5 million. Even if the money were there for land accumulation, computers and buildings, the would-be founder of a new resort would face a host of environmental and land use controls and a jungle of red tape and regulations governing operations.
Jozo's 1950s Ski Barn enclosed agricultural (apple storage) industrial (pottery), hotel accommodations and food and beverage services. This mixture of uses would have horrified the planning authorities of today.
Environmentalists, however, might have approved of Jozo's farm-to-table food service and his efforts not to waste one scrap of lumber and materials that he could scrounge up for his projects. Many of the projects were wild and whacky. There was a failed water ski tow on the pond that is now at the heart of the Village. (I tested it and sank). Jozo built his first ski jump in 1954 using boards sawn on our sawmill at the home farm and beams from wrecked buildings that he scouted out at auctions and the yards of salvage merchants. He was excited when he finished the jump one February afternoon and extracted me from my class at Collingwood Collegiate and took me out to give it its first trial. I landed safely and there were many competitions on it after that.
For Jozo recycling was a matter of survival. Today's environmental policy is systematic and deliberate. The resort's Director of Planning and Environment Lindsay Ayers oversees a comprehensive program that diverts over 350 metric tons of waste from landfill each year through composting and recycling measures. Knowing that loving the winter means trying to contain climate change, the resort encourages employees and customers to "Keep Winter Cool" by reducing waste and conserving energy and water.
In 2000, along with construction of the Village, Intrawest established the Blue Mountain Village Foundation. With the support of Blue Mountain Resorts and stakeholders in the Village the BMVF hosts an annual golf tournament and makes donations to local charities. I served on the board along with Gerry Wayland, owner of Remax at Blue, and Bruce Melhuish, owner of Sunset Grill. Both men enjoy conducting business in the Village.
"I loved Mont Tremblant for its history, colour and beauty," says Gerry, a former slalom racer in Quebec, "but Blue Mountain is just as good in that way and easier to get to. As at Tremblant, there's a great history and an interesting family that goes with it." Bruce Melhuish keeps meticulous records of visits to his restaurant and the meals that are consumed. "It gets better every year," he says. "This past year we served 300,000 eggs through winter, spring, summer and fall."
At the Resort, President and COO Dan Skelton embodies a link to the past that the Weider family has relinquished. His family has long had a flair for technical improvisation and a deep knowledge of mountain operations. Grandfather Ken was Jozo's mountain manager; father Bill took over that role when Ken retired, and now Dan runs the whole Resort as COO. To his experience in the field with lifts and trails he added formal training as an engineer. This has helped him to implement new software and hardware to modernize Blue Mountain's massive state of the art snowmaking operation. Even on a clear and sunny day, when the snow guns are going full blast it can look like a snowstorm is raging over the mountain.
"Intrawest," jokes Gord Canning, "should be looking at the Skelton grandchildren for future management." (Dan Skelton has two sons who have held summer jobs at the resort).
The hurricane forces of change have hit the whole area. I can't avoid culture shock when I drive into Collingwood or Thornbury. In the 1950s it was a treat to have lunch or dinner at one of the handful of restaurants. I remember hamburgers at the Red Hen (miraculously still operating), grilled cheese sandwiches at Bender's Grill and chop suey at one of the inevitable Chinese eateries. Now there are 80 places to dine in Collingwood alone. The choices range from Italian to Mexican and the décor is upscale and slick. Offices and stores house sports therapists who treat athletic but aging baby boomers, high-end boutiques selling gifts and clothing, and decorators catering to wealthy second homeowners.
There are legions of service providers in place of the factory workers who left town, changed jobs or retired. While the transformation has its problems, it has brought prosperity and jobs. Many of our young people are staying on here or returning to businesses and positions that were not here when I graduated from high school.
In 2013, for my 75th birthday, my son Michael took me to visit our home countries (Czech Republic where mother and grandmother Helen was born) and the Slovak Republic, birthplace of Jozo. It was our pilgrimage. We visited Jozo's home city of Žilina, a one-hour drive from the mountains and then went on to Terchova. This is a smaller town nestled in a valley near the base of the Rozsutec, the mountain where Jozo built his original lodge.
Jozo's first mountain is an imposing one. Mike, along with a guide, made the one- hour climb to the site of the chalet, long ago destroyed. It was a scene of great beauty and tranquillity that made me understand my parents' nostalgia for the home from which they were forced to flee. Outcroppings of jagged rock mingled with trees of all shapes bordered by lush meadows where sheep could graze. Contrasting shades of green, gray and brown etched the valleys and slopes. The spring sunshine had melted the snow on the peak of the Roszutec, but not on a higher mountain on the other side.
In Terchova, the Mayor welcomed us and praised Jozo as the Slovak innkeeper who made good in Canada. Even after 80 years, Jozo was remembered as a good promoter who brought tourists to the area and gave employment to local youths. Jozo is featured in the Terchova hall of fame.
Slovaks love their history. A centrepiece of Terchova is a museum honouring Jánošík, a bandit leader who organized Slovak peasants to fight against their Hungarian overlords. On display are murals and emblems of Jánošík mounted on a horse and brandishing an axe. The axe was the weapon of choice of the Slovak peasants, whereas the Hungarian nobility used swords.
Until 1918, when the Czechoslovak Republic was established in the aftermath of World War I, the Hungarians had the upper hand. Jozo's primary schooling was in Hungarian, a language that was useful in 1956 when he assisted Hungarian refugees who fled from the Soviet invasion of that country. The mayor was intrigued when I told him that Jozo had a nearly identical mural of Jánošík painted on the wall of our house at Blue Mountain. Jozo called Jánošík the Slovak Robin Hood and joked that he was carrying on that mission. Maybe he was thinking of the axes that he had used to cut trails on Blue Mountain.
In Terchova, we met a man named Vlado Križo who had been a school child in the 1930s. He was now a healthy 85-year-old, fit and trim from years in mountain rescue service. He remembered being hosted at the lodge on the Rozsutec where Jozo had served him and his school group goulash soup after a climb up the mountain. He told us that these mountains and towns had not always been peaceful. In 1945 he was forced to dodge shellfire from advancing Soviet and retreating German armies. The crossfire destroyed his home and he had to take shelter with relatives. Pigs and sheep occupied the bottom floor of their dwelling.
Jozo's homeland is now peaceful. The closest thing to violence is in hockey games. Slovaks are as hockey crazed as Canadians; in fact they celebrateas heroes the Slovaks playing in the NHL. In Žilina, many residents came together in the town square draped in Slovak flags to cheer for the Slovak national hockey team. It was playing in an international tournament, and they had gatheredto watch the game on giant outdoor TV screens. When their team scored, the noise was deafening. goodbye to bLue mountain
So, for this 78-year-old it is goodbye to 75 years of supporting entrepreneurship, welcoming immigrants, loving the winter and overseeing the transition to a four-seasons resort.
I regret that the family has departed from the business, but it would have been difficult to continue into a third generation with such a complex and demanding operation. The third generation has many talents and each family will go its own way but will remain friends linked by a warm and colourful legacy. We must be content with having enjoyed a prosperous and exciting business and having made many friends among employees and neighbours. My dear wife and two sisters are no longer with us, but fond memories remain.