For the last few seasons, Skye Follas has been a familiar and fast face at the Blue Mountain Bike Park. Honing her downhill skills on the Niagara Escarpment, Follas was on the brink of racing her first World Cup downhill as a junior last year when a hand injury sidelined her. Her family had been planning a move to New Zealand and with this unexpected break in her race schedule, they traded continents and shipped Skye's bike to Rotorua.
Back on the bike, Skye has been learning all about racing in New Zealand, rubbing elbows with the likes of Wyn Masters and claiming the New Zealand Downhill Junior Women's overall title. She may be halfway across the world, but Skye is holding her "Give 'er the Goose" sign high while chasing the same two-wheeled dreams. We caught up with Skye (in her school uniform) for an early morning Skype call.
words :: Allison Kennedy Davies
Good morning, Skye. Tell us a bit about yourself and what you're doing these days.
I'm turning 18 in July and I'm from Elora, Ontario. Now I am living in Rotorua, NZ. I'm in my last year of high school and I'm just riding bikes, going to school and being a teenage girl.
How did you end up in New Zealand?
My dad is a Kiwi and when he married my mom they moved to Canada because she had a big family there. Now the family ties in Canada have gone down while in NZ they've gone up. We have a growing family here and this is the lifestyle we wanted so it just made sense. This is a permanent move for my family. For me, we'll see. I also have British citizenship but this will be our home base for now.
Before you made the move, you were turning heads on the downhill scene in Canada. Tell us about that.
I was racing downhill at the Canada Cup level before I got hurt last summer. I was very passionate about that and I was very motivated. I've only been downhilling since late 2014. I decided I really liked it and I made a gym plan for the winter doing weights and sprints on the spinbike. I built up my core and arm strength and that really helped. In 2015, I did the weekly series at Blue and two other races. It wasn't much but it was enough to know what I wanted.
Last summer was going to be your big year here, before you got hurt.
Last summer hit me really hard. It was definitely a turning point. In July, I was in Quebec doing the Quebec Cup race with my new team. I had an accident on course and fractured my hand. Everyone told me it was a chip fracture at first and I thought it would heal up in four weeks. At three weeks and five days a hand specialist said it's an avulsion fracture. The ligament tore a piece off the bone so it would be a lot more than just four weeks in a cast to get back. I've learned a lot from that.
And that was the end of your year?
Yes. I remember driving in the ambulance in tears, not because of my injury, but because I was supposed to get on a plane that Tuesday to fly to BC with the Quebec team and do Canada Cup #3 and the Canadian Nationals and then come back for my first World Cup Downhill. For me, that was heartbreaking. It was going so well and then it just stopped. I wasn't on my bike again until the end of August and then I moved to New Zealand. That was always part of the plan but we'd pushed it back for last season. When the accident happened, we decided that since I couldn't race, we'd move.
And now that you're settled in NZ and back on the bike, how does that feel?
It was late September/early October when I got on my downhill bike. We had to have it shipped over. Rotorua is very different from Blue Mountain. Blue Mountain is very hard-packed. I knew how to ride in the dust like no one's business—but here it's mud and slop, from the top to bottom. The week before my first race, I still felt horrible. There's another junior girl who's done very well at Worlds who is my age, and I wanted to see how I lined up with her—she beat me by two minutes and that definitely knocked me down a few pegs. But now, a few months past that, I've raced plenty and done very well. I needed to admit that I couldn't just return to racing at the same level. I needed to learn the area and recover. I realized I had to be on my downhill bike a lot to get back up to speed.
"This is my year to sit back, go to work, go to school, ride my bike, support my friends racing and see how they do and what it's like for them."
You raced the New Zealand Downhill Series and took the overall as a junior. Tell us about that?
I did four of the six National rounds and took the overall. I also raced a 2W Enduro which was cool.
What is the racing and riding scene there?
It's unreal. I live six kilometres away from the Redwoods—with over 100km of singletrack. I go out every day after school and there are so many more kids riding. In Elora, I was the only kid who mountain biked. Here I have a best friend—Katelynn—she's the same speed and she races Cross-country and Enduro and we're out together all the time. There's a school mountain bike team. There are a lot of fast boys too—it's great to ride with girls but if you want to get faster and push yourself, you've got to ride with the guys.
There are a lot of fast downhill riders from NZ. Have you met many?
Yes, when I was travelling with Nelson my travel partner, he raced for GT as well, just not at the World level, and we parked our van next to Wyn Masters' van and hung out all day. Brooke MacDonald is always around and Blenki [Sam Blenkinsop] has been super helpful. Blue Mountain is very hard-packed. I knew how to ride in the dust like no one's business—but here it's mud and slop, from the top to bottom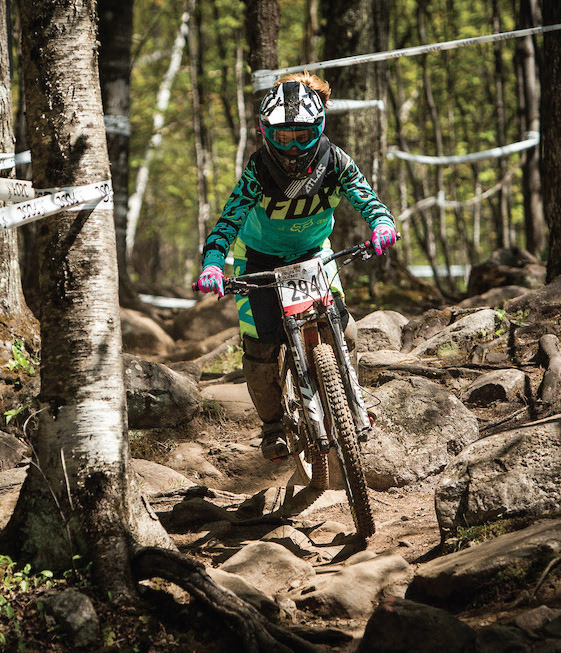 I've seen a lot of photos of you with the "Give 'er the Goose" sign. What's the back-story there?
That came from the Blue Mountain Canada Cup and it was Sam Measures' thing. All I remember is that they gave Carson [Webb] and me two signs. One said "You Suck" and one said "Give 'er the Goose". I got the "You Suck" sign and I refused to keep it. It was too negative so I traded with Carson. And that's how the "Give 'er the Goose" sign came in my possession and it's just stuck. Now I'm known for it. It's made the journey and it's made an impression. It's actually made it easier to connect with people because they're curious and start conversations.
How did your time at Blue Mountain prepare you for racing in NZ?
Now that I've been in NZ and I've ridden many downhill tracks, I can say that Blue Mountain stacks up. The runs might be shorter but the trails are phenomenal and there's such a good range. I could go to the far end and practice jumps, I could do more pedaling on Embryo or I could go to the steep stuff and work on my race pace. Here in NZ, there are tracks that have little to no technical stuff and massive 30-foot gap jumps the whole way down. I wasn't prepared for that by any means but I was prepared for the steep stuff and for the pedaling. This January with the National series, the conditions have been similar to Blue Mountain last summer and that's helped me find my footing and get up there. Blue Mountain has everything you need as a young developing rider. This is my year to sit back, go to work, go to school, ride my bike, support my friends racing and see how they do and what it's like for them.
Blue Mountain is very hard-packed. I knew how to ride in the dust like no one's business—but here it's mud and slop, from the top to bottom.
What's your ultimate goal in the downhill world?
The goal is still the World Cup. I think my attitude has changed a little bit since we arrived in NZ. My parents met ski bumming in NZ and I've always wanted to travel. I've made the conscious decision not to go to university right away, although that's really important to me. I want to put that off for a little bit and take a crack at racing. I've also decided I'd like to give Enduro a crack too. This is my year to sit back, go to work, go to school, ride my bike, support my friends racing and see how they do and what it's like for them. Then I'll make my decision.
Your season will wrap up at Crankworx Rotorua at the end of March/ beginning of April. What will you be competing in there?
My goal is to be the National Downhill Secondary School Champion and do well in Downhill there. I may also have enough points to do the Enduro World Series round that same weekend.
Good luck. Is there anyone you'd like to thank?
Yes, I'm racing for a NZ team now called Action Down Under Industries. I'm sponsored by Devinci, Fly Racing and Leatt and I'd also like to thank my mom and dad—they've been there since day one and they'll be there 'til the end of it.