On our last day of surf camp, I paddle into a whitewater wave. I stand up and enjoy the feeling of riding the wave. It's not the coolest, biggest wave, but it feels rad to be surfing. Then I see my six-year-old son's surf instructor Christy. She's got him on a board and is setting him up to catch the same wave as me. As I get closer she pushes him gently onto my wave.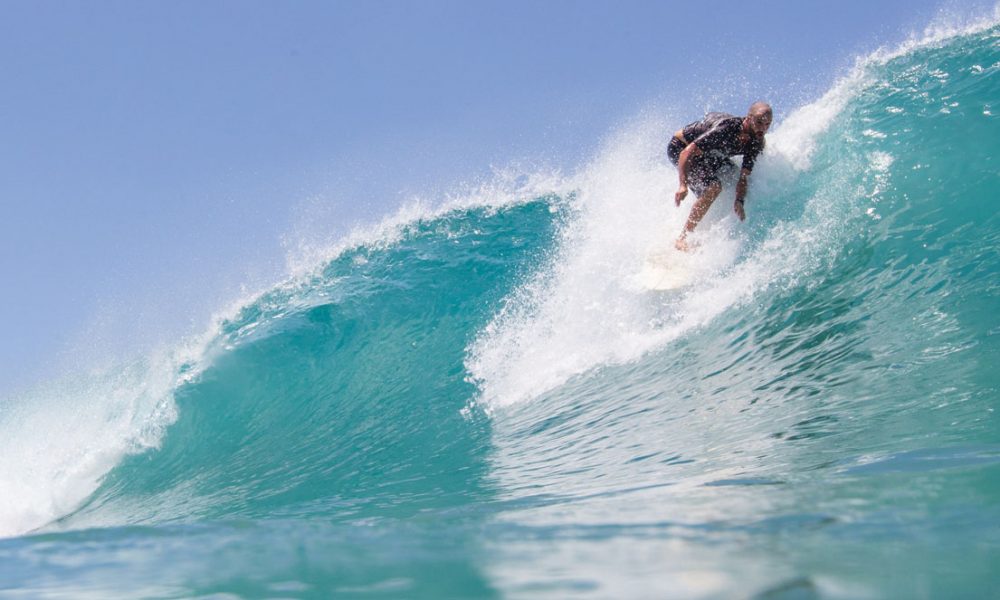 words and photos :: Colin Field
He's been riding boogie boards all week, and this is one of the few times he's decided to try a surfboard. Christy is infinitely patient. She's been with him every day, letting him go at his own pace. And as I look over, to my surprise he stands up. He's slow but steady in his pop up and then he's up with a stance that is, from my 40-year-old perspective, infuriatingly natural. He looks over and for about ten metres we are surfing the exact same wave; laughing and hollering over the roar of the surf. It's a moment I will cherish forever.
As far as surfing destinations go you'd be hard pressed to beat Costa Rica. With 1,200 kilometres of coastline on both the Pacific Ocean and the Caribbean Sea, the number of breaks is nearly endless. And every coastal town has a surf shop, a surf school and dedicated locals that are surprisingly generous when it comes to sharing their breaks. Add to that an average water temperature of 25°C and it's never difficult to get in the ocean.
And if you're looking for a family getaway like no other, I'm not sure you could beat the Peaks 'n Swells Family Surf Camp in Montezuma. Run by Hillary Harrison and her husband Ryan Watts (both former world-class mountain bike racers), the couple spends summer at their homes in Pemberton and Washington and winter running the camp out of Hillary's mother's estate in Costa Rica. With an incredible property right beside a sea turtle sanctuary (and the beach of course), the camp is an all-inclusive affair; meals are prepared by locals (the food is incredible), and drinks flow freely, but the main focus is learning to surf.
With a maximum capacity of 12 guests, the camp is small enough that everyone becomes friends and as far as instruction goes, these guys are pros; adults get one coach per two people and each kid gets their very own coach. These coaches are locals and foreigners alike and they are all as stoked to be in the water as their students. There are on-beach lessons as well as extensive time spent in the water. It's an incredibly effective way to learn. We spend mornings in the water, then everyone comes back to the resort to eat lunch.
After lunch the adults have the option to do yoga with a local instructor to stretch their wearied muscles (and I mean wearied), while the kids go off on adventures with a couple of the surf coaches. They play in tide pools, visit waterfalls or go for gelato. They always have a blast and give parents exactly what we need: time to recoup from the morning's pummelling.
He looks over and for about ten metres we are surfing the exact same wave; laughing and hollering over the roar of the surf. It's a moment I will cherish forever.
In the evening after a family-style dinner around a huge table, we do surf theory classes. We learn the difference between ground swells, wind swells, point breaks and beach breaks. We learn how to deal with rip tides, how surf competitions work and we do a night of video analysis to learn from our mistakes.
It's now our last night and we're celebrating with a bonfire on the beach at Playa Hermosa. All the staff has gathered for dinner and drinks while the sun goes down and the stars splatter across the sky. We laugh as the kids run up and down the beach, collecting hermit crabs and goofing around with each other. They've all become incredible friends.
"We originally started with a surf camp for adults," says Hillary Harrison, as we watch the kids playing, "but then we just found the family camp was way more fun."
And it's easy to see why. The feel-good, family vibe at the camp is incredible, supportive and open. It's a healthy learning environment for both parents and kids. Hillary and Ryan's three-year-old daughter Coco is as much a part of the Peaks 'n Swells family as any of the guests or staff; she's constantly making sand castles, chasing geckos, or making new friends.
I came here with my wife and son. My wife Rheanna had never surfed before and stood up on her first day. I'm better at surfing than I've ever been. Our son has learned, and grown and changed so much over the past seven days; he's made friendships, developed skills and learned to surf.
But more important than learning to surf has been our time spent together. Surfing is simply a vehicle to enjoy each other's company. As far as I'm concerned, Peaks 'n Swells has those lessons on lock.
For more info, check out: http://www.surfcamppeaksnswells.com/