After 14 years of publishing Mountain Life in Ontario, we finally gained access to The Vault—Blue Mountain Resort's historical archive stretching back to 1941, the year Jozo Weider founded the resort. For this 75th anniversary issue tribute we've searched through many boxes of unseen material and conducted interviews with BMR insiders. We've selected these 75 images and anecdotes—in no particular order—that commemorate life at Blue since that long-ago first winter season of '41/'42. We hope you find them every bit as enlightening as we did.
31. LIVE IN THE VILLAGE
The Village is the nucleus of culture at Blue. Its free concert series operates four seasons and has featured everything from acoustic sessions in the Village Plaza to full scale big name concerts including The Leahys, Alysha Brilla, Sarah Harmer, Serena Ryder, Cowboy Junkies, and Whitehorse. The Village is home to the Peak to Shore Music Fest, World Music Weekend, Salsa at Blue, and many other gigs. In this shot, These Kids Wear Crowns rock the March Break crowd.
32. THESE GUYS LOOK REALLY HAPPY
Did the photographer spike their Dr. Pepper? HENRY GEORGI/BMR
33. BLUE MOUNTAIN BEACH
When BMR acquired Georgian Peaks Club in the early '80s, they also gained the beach across Highway 26 on Georgian Bay. Though they sold The Peaks in the late '80s and broke even, they kept the beach, which can be used by any guest of BMR. Nice!
34. BLUE & THE BRUCE TRAIL
Canada's longest continuous public footpath traces a good portion of the summit of Blue. "Blue Mountain has a longstanding relationship with both the Bruce Trail Conservancy and the Niagara Escarpment Commission," says BMR's Director of Planning & Environment Lindsay Ayers. "Given we are located on the Niagara Escarpment and a portion of our lands have been used as a Bruce Trail connection for decades, Blue Mountain feels an inherent commitment to ensure we are maintaining our property in a manner that both present and future generations can enjoy."
35. GEORGE WEIDER
Jozo Weider's son earned a PhD in History from Berkeley and taught at York University before returning to Blue after Jozo's death in 1971. George served as BMR President and Chairman for many years and shepherded the resort through many expansions, including the partnership with Intrawest. He still lives in the chalet his father built near the base of the mountain.
36. A TOP HOTEL
37. THE SEVENTIES
38. AND EIGHTIES
39. THE MOUNTAIN IN YOUR POCKET
In the earlier years, Blue's brochures often featured illustrations like the Dr. Seuss-style "snow machine" (left) as well as trail maps by noted artists Walter Trier and Robert Kemp. By the 1970s and '80s as colour photography became the norm, we see the old design dilemma: one striking image on the cover, or a collage? A few of the choices seem downright bizarre today; probably some 2017 imagery will seem that way in few decades too.
40. WINTER PARK
You might also like: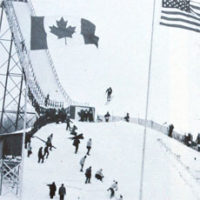 FROM THE VAULT: CELEBRATING 75 YEARS OF BLUE MOUNTAIN RESORT—PART 1
BMR founder Jozo Weider oversaw the construction of this 50-metre jump just a year before his death in a car accident in 1971. The jump was named in memory of Pete Pettersen, a Norwegian who had developed ski jumping programs in Ontario in the 1950s. The jump was the site of the North American ski jumping championships… Read more