After 14 years of publishing Mountain Life in Ontario, we finally gained access to The Vault—Blue Mountain Resort's historical archive stretching back to 1941, the year Jozo Weider founded the resort. For this 75th anniversary issue tribute we've searched through many boxes of unseen material and conducted interviews with BMR insiders. We've selected these 75 images and anecdotes—in no particular order—that commemorate life at Blue since that long-ago first winter season of '41/'42. We hope you find them every bit as enlightening as we did.
21. GREENE TURNS BLUE
Here's Ontario-born slalom skier Nancy Greene at BMR after winning the Peter Campbell Memorial Competition in 1966. Two years later she won Gold and Silver at the Grenoble Olympics.
22. PARKS & PIPES
Blue's first halfpipe was built by farmers in 1998, constructed of stacked hay bales that led to one smokin' pipe—literally. What began as an impromptu jib park is now Ontario's fastest lapping terrain park, playing host to premier winter athletes from all over the eastern half of the continent. The park builders have always opted for an open concept approach to its layout, taking into consideration the opinions of seasoned pros, new groms, and event promoters making it one of the most progressive setups in Canada. Laura Duke in the halfpipe.
23. SUMMER SLIDES
The Great Slide Ride was a mini-bobsled warm-weather course with Porsche-designed sleds and a winding concrete track, launched in 1977. Three years later the Slipper Dipper Waterslide was built next to the Slide Ride. Another water slide, the Tube Ride, followed in 1985; BMR was now a summer speed-freak destination. These rides are all gone now, but the Ridge Runner Mountain Coaster and the Timber Challenge High Ropes Course keep the green-season adrenals juiced.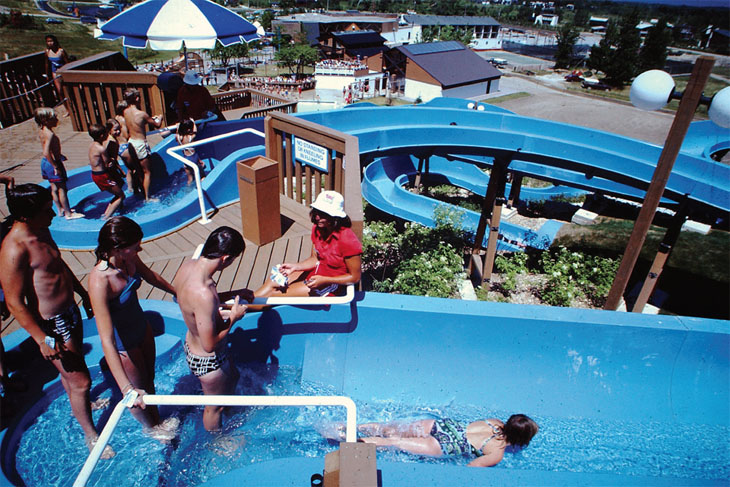 24. AVALANCHE AT BLUE
During a blizzard in 1954, a Toronto man named George Bornet was skiing glades off O-Hill when a cornice detached itself from an Escarpment rock face and buried him. A 16-year-old George Weider helped rescue him: "The avalanche had pushed him into a creek bed and icy water had been flowing over him for several hours," Weider remembers. "Miraculously a natural, chimney-like opening had remained above him, enabling him to breathe." Though suffering from hypothermia and frostbite, Bornet recovered in Collingwood Hospital and returned to Toronto the following day.
25. CHAINSAW ART
Local chainsaw artist Jim Leithead worked at BMR as a snowmaker and groomer for 15 years. He knows snow. And when there's a lot of it, he forgoes his usual medium of wood or metal. He carved this Speedskier at Blue in 2007 and though he left the resort a few years ago to sculpt full time, Leithead is willing to bring a colossal snow structure to Blue slopes. "I could dig out an acre of snow with a mini excavator, he says. "And build big cliffs and canyons like the Niagara Escarpment." Give Leithead an electric chainsaw, a few helping hands, and a lot of snow, and something spectacular will happen.
26. ERNIE MCCULLOCH
One of the top North American skiers of the 1950s, a young McCulloch took the 1949 Quebec Kandahar Cup from the French team, then considered unbeatable. An Olympic coach of both US and Canadian teams in the 1960s, he founded the Ski School at Blue in 1970 and wrote 2 books and dozens of articles on instruction. Among his pupils in the early 1970s was a teenaged Todd Brooker.
27. WILLI WINKELS
Skier, skateboarder and inventor Winkels began to experiment with "skiing" on a single plank in 1978. At the time, this new sport didn't have a name: skiboarding was a popular term, but a company in Europe had trademarked the name, so Willi decided to call it snowboarding. That same year, Winkels took his customized snowboard on Blue's Apple Bowl, probably without the knowledge of ski patrollers. Willi's friend Tom Sims later took the idea to market.
28. THE SKI BARN MEZZANINE
The Ski Barn boasted a second floor of dorm-type rooms where guests could bunk down for the night. These unidentified guests from the early 1950s are looking down from the mezzanine to the main floor which served as cafeteria, warming lodge, and dance hall. "Jozo [Weider] was a strict chaperone," wrote BMR founder's son George Weider in his 1990 book Blue Mountain, "protecting his single female guests against predatory male skiers."
29. SKIIN' 9 TO 5
Modelling new skis and sweaters in front of the Inn, late '80s.
30. SIT BACK, RELAX
You're about to be boot-fitted.