After 14 years of publishing Mountain Life in Ontario, we finally gained access to The Vault—Blue Mountain Resort's historical archive stretching back to 1941, the year Jozo Weider founded the resort. For this 75th anniversary issue tribute we've searched through many boxes of unseen material and conducted interviews with BMR insiders. We've selected these 75 images and anecdotes—in no particular order—that commemorate life at Blue since that long-ago first winter season of '41/'42. We hope you find them every bit as enlightening as we did.
11. MAKING FLAKEY
This shot may be retro but BMR's new high-temp/low-energy snowguns can make snow at -2.5 or -3ºC, meaning mild winters don't have as severe an impact on resort operations. The system can can pump 14,000 gallons of water and 20,000 cubic feet of air per minute to make snow. This makes it one of North America's most advanced snowmaking facilities.
12. TORONTO SKI CLUB
Formed back in the mists of 1924, the TSC boasted over 7,000 members by the year of Blue's establishment. Originally based out of facilities in Caledon, the Toronto Ski Club trails were reputed as treacherous, boasting stumps, rocks, ravines and thick forested runs. Together with the Blue Mountain Ski Club (later renamed the Collingwood Ski Club) the TSC purchased over 350 acres of land in 1940, on which Big Baby, O-Hill and L-Hill currently reside.
13. KANDAHAR
One of the original three runs cut at Blue Mountain in 1941 alongside Schuss and Granny, Kandahar was named after a battle victory in Afghanistan by British Field Marshal Frederick Sleigh Roberts. A competition, the Roberts of Kandahar Challenge Cup, was held annually at Mürren, Switzerland in his honour. After Robert's retirement from the military, he became vice-president of the Public Schools Alpine Sports Club in 1903. The FIS Alpine Ski World Cup circuit uses the name Kandahar for races to this day.
14. CATCH RAYS, OR CATCH AIR?
Your call.
15. SMART ALEC ALE
Made in cahoots with Creemore Springs Brewery, Blue Mountain's
75th Anniversary Smart Alec Ale is a Kolsch style brew beaming with
citrus and a lovely grainy, bready character with hints of fresh pear,
and a delicate grassy hop aroma. It'll be on tap at Jozo's in the Blue
Mountain Inn, and the new Bullwheel Pub at South Base Lodge.
16. HAPPY PATROLLERS
This shot is jam-packed with hillside shenanigans.
17. WATER SKI POMA
Touted as "America's 1st", we could not find any photos of this poma in action and according to George Weider the summer venture—on the original snowmaking reservoir that became the Mill Pond—was shortlived. Noted painter Robert Kemp illustrated the brochure.
18. MARIJANE'S LANE
This trail is named after the first full-time ski-patroller to be employed by Blue Mountain, Marijane Thomas. A friend of Jozo Weider, Thomas helped shape the early days of Blue's redcoats.
19. CAR CULTURE
When dedicated ski trains were discontinued in the 1950s, the automobile took up the slack.
20. LIVE APRÈS
Is that Dire Straits playing in the background?
You might also like: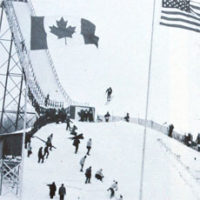 FROM THE VAULT: CELEBRATING 75 YEARS OF BLUE MOUNTAIN RESORT—PART 1
BMR founder Jozo Weider oversaw the construction of this 50-metre jump just a year before his death in a car accident in 1971. The jump was named in memory of Pete Pettersen, a Norwegian who had developed ski jumping programs in Ontario in the 1950s. The jump was the site of the North American ski jumping championships… Read more