Words :: Ilissa Maiatico.
As one of several stops along British Columbia's Powder Highway, the city of Kimberley tends to shy away from the limelight. But while this blue-collar, Bavarianesque town can easily be overlooked, Kimberley is chock full of character and charm.
Only 20 minutes away from the Canadian Rockies International Airport in Cranbrook, or a four-and-a-half hour drive from Calgary, Kimberley is easily accessible. With a population of 6,700 people, you'll find a mix of ski bums, hikers, mountain bikers and retired miners who call this place home.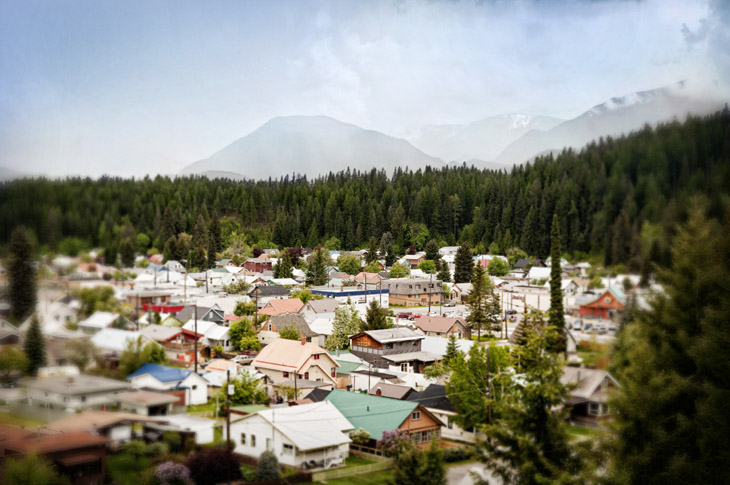 Established in 1898, settlers began making their way here to work at the local Sullivan Mine (known for producing lead, silver, tin and zinc). However, it wasn't until 1970 that Kimberley officially became a ski town thanks to opening of Northstar Mountain. Today, Northstar better known as Kimberley Alpine Resort is a year round playground. From the conveniently located 18-hole Trickle Creek Golf Course to the 65-plus ski trails –there's something for everyone. Glade lovers can get their fix in The Black Forest, while speed demons can test their luck on Dreadnaught, a FIS approved downhill course. The resort is even home to a state-of-the art Paralympic Training Centre.
Kimberley's charm further lies in the fact that city is home to one of Canada's oldest restaurants. The Old Bauernhaus is a 350-year-old reconstructed barn from Bavaria. And Kimberley's pedestrian-village, the Platzl, even features a giant cuckoo clock. Combine all that with a few schnitzel houses, souvenir shops, sophisticated pubs and German flags, and you'll truly feel like you're in European ski town.
But most of all what makes Kimberley bucketlist worthy are few simple things: the incredible views of the Kootenays, the friendly locals and the laidback vibe. You're not going to see designer skiwear or fur coats on the slopes, but you'll for sure experience an intimate ski experience at a uniquely charming resort. It's the kind of place where restaurant goers don't check their phones every two seconds, where there's epic skiing to be had, beautiful scenery everywhere and where the locals are simply busy living.
While the city of Kimberley promotes itself as "A Good Place To Be" its slogan comes up short. Kimberley is an awesome place to be, epic, unassuming and full of surprises.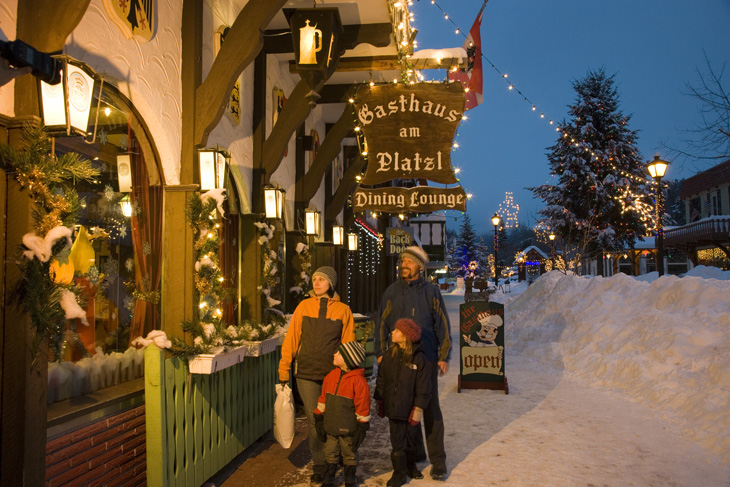 When visiting Kimberley, here are 10 things worth checking out:
Grab a drink at Pedal & Tap. Check out the giant chalkboard for their complete beverage selection. If Pilsner's your poison of choice, you'll find it under the Dirtbag section. pedalandtap.com
Try the daily specials at Kimberley City Bakery. On Thursday's they serve bacon maple doughnuts. kimberleycitybakery.ca
Visit Kimberley's Underground Mining Railway run by former miners to learn about the city's early days. kimberleysundergroundminingrailway.ca
Drop by the Yodeling Woodcarver Shop and slap high fives with Adi Unterberg – he's a local legend. To hear his amazing yodeling skills, insert $1 into the coin slot at the town Cuckoo Clock.
Take part in the annual JulyFest celebrations, which include the Canadian Bocce Championships. kimberleyjulyfest.com
Head over to the Kimberley Nordic Club and test your luck at snowshoeing and cross-country skiing. kimberleynordic.org
Unleash your inner mountaineering skills at the Spirit Rock Climbing Center. Just watch out for all the ten-year-olds because they'll put you to shame. spiritrockclimbing.com
Hit up the Centex gas station/fruit stand to get your multi-tasking on.
Purchase some beverages from The Sullivan Pub's drive-thru liquor store, simply because that kind of luxury doesn't exist everywhere. sullivanpub.com
10. Fly from Calgary to Cranbrook/The Canadian Rockies International Airport then catch a ride to Kimberley. But be warned, these flights take place on Air Canada's smallest passenger plane (the Beechcraft 1900D) so there's no in flight service.
From the 2016/17 Mountain Life Resort Guide available by digital download now.
2016/17 MOUNTAIN LIFE RESORT GUIDE
As Mountain Lifers, it's no secret our most memorable experiences are realized in the resorts of the world. Mountain Life Resort Guide is the only publication to really celebrate four-season resort culture, delivering a diverse blend of ski, snowboard, mountain bike and travel content to ignite and stoke the wanderlust in us all. Inside you'll find profiles of more than 100 of the best North American lift, cat and heli resorts, along with coverage of mountain bike parks, vibrant photography, travel tips, après advice and insider knowledge on terrain and gear… Read online
---
You might also like:
MOUNTAIN TOWN: THERE'S SO MUCH MORE TO FERNIE THAT ITS FAMOUS POWDER
Say the name Fernie to anyone familiar with this picturesque mountain town of about 5,000 permanent residents, and you'll without fail be met with responses akin to "Tons of snow, eh?", "Doesn't that place get more snow than anywhere else in Canada every year?" or "Best powder days I've ever had!"… Read more