It's pitch black. You can't see your hand in front of your face or your feet beneath you. But when you look up you can see millions of stars, planets and galaxies lit up against the black sky—a celestial light show that's invisible in the city.
by Carmen Kuntz :: photos by Wesley Liikane

The Torrance Barrens Dark-Sky Preserve gives everyone the chance to experience the splendour of the night sky. There are no streetlights, house lights, floodlights or bright signs—simply a 360-degree dome of stars. Located about two hours north of Toronto outside of the small town of Bala, the barrens landscape, distinct from the surrounding Muskoka Lakes, is dominated by Precambrian rock and peppered with stunted pine and linear troughs of wetlands and bogs. With this unique geography comes unique flora and fauna. And more stars than you've ever seen.
A popular spot for astronomers and stargazers, the Ontario Ministry of Natural Resources (MNR) created the Torrance Barrens Dark-Sky Preserve in 1997, one of the first reserves of its kind in the world.
"It is also a regulated Conservation Reserve, which is like a wanna-be provincial park," says retired MNR biologist Jan McDonnell. She helped found the 1,990-hectare parcel of Crown land along with a dedicated grassroots team of astronomers, local conservationists and biologists. "Conservation Reserves were created to protect areas from mining, hydro development, and logging, but you can still hunt there."
Light pollution is most often associated with urban spaces, but is also an issue in cottage country.
The Preserve is easily accessible by car and the hard, flat(ish) granite surface is ideal for tripods and telescopes. Its remoteness and vast, unobstructed horizons provide the perfect conditions for stargazing in all seasons. The parking lot can fill up during major sky events like mid-August's Perseid meteor shower or cold nights when the brilliant greens of northern nights splash the sky. But typically, you find yourself alone with the stars here.
Plants and animals depend on darkness. Constant light pollution—defined as man-made light that brightens the night sky—can disturb the growth patterns and development of many plants and animals. Numerous bird species hunt and migrate at night and light pollution disturbs these activities; and scientists suspect that light pollution may be related to the global decline in amphibian populations. Nature needs darkness.
Walk along the open rock trails at Torrance Barrens during the day and you might see nationally rare bird species like the Cooper's hawk soaring overhead or a threatened eastern Massasauga rattlesnake or hog-nosed snake. Long boardwalks over wetlands give hikers a chance to get close to provincially rare plants like the white-fringed orchid or peer inside a pitcher plant.
Typically, you find yourself alone with the stars here.
On a typical evening, recreational astronomers set up telescopes in clusters, waiting for the sun to go down. In winter, a snowmobile trail transects the property and XC ski trails criss-cross the snow. Day or night, winter or summer, the unusual topography combined with the dark skies make the Barrens unlike any other place in Canada.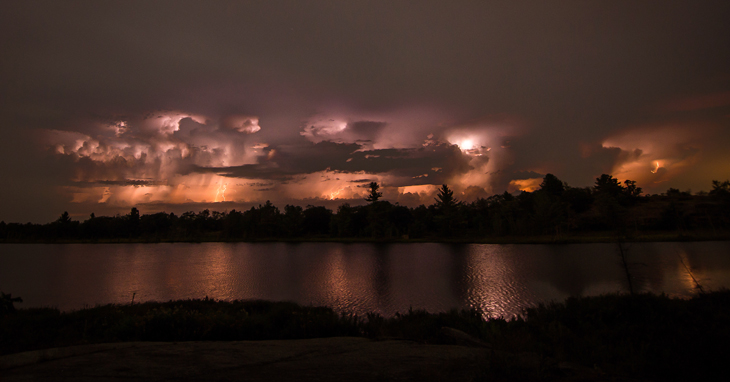 Pro photographer and Muskoka resident Wesley Liikane stumbled across Torrance Barrens while riding his motorcycle. He later discovered its classification as a Dark-Sky Preserve and returned at night with his camera. "During a night shoot you can hear nature and its orchestra," says Liikane. "From the migrating birds and howling coyotes to the frogs and the insects—there is so much to listen to while enjoying the view."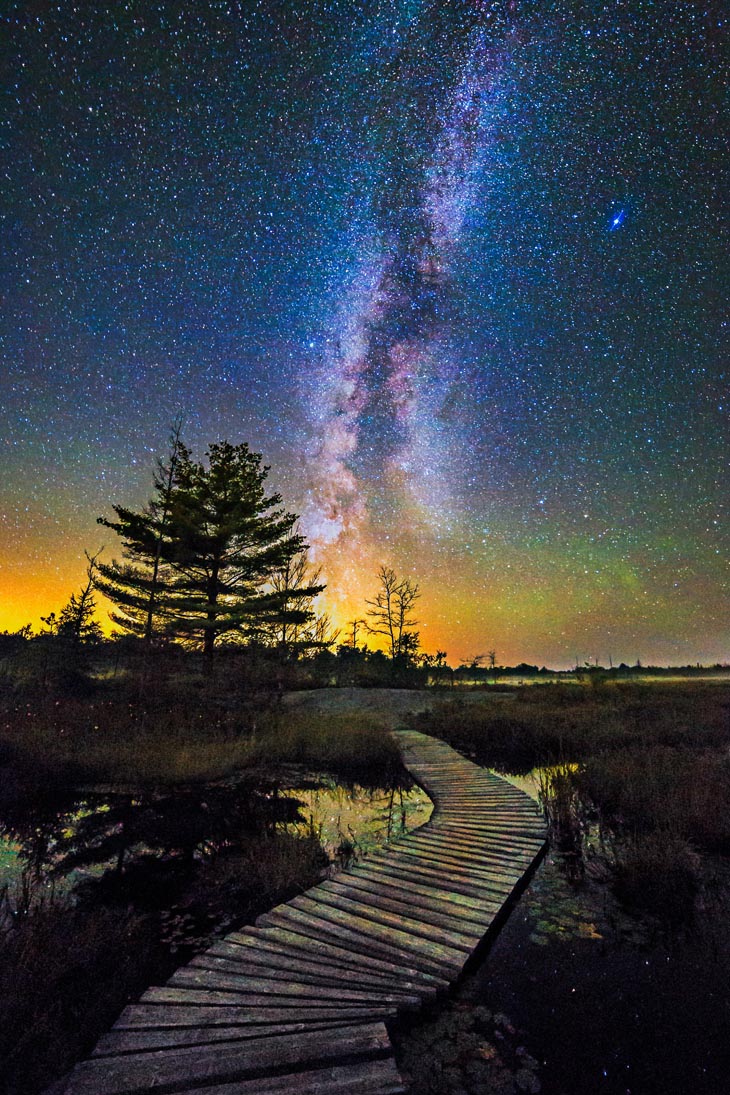 In an infrared satellite image of Ontario, the Barrens is a dark island in a sea of light. Light pollution is most often associated with urban spaces, but is also an issue in cottage country, where visible numbers of stars and celestial bodies is greatly diminished by floodlights and the reflection of lights off water. Replacing bulbs with lower wattage, selecting fixtures that direct light down, and using low-colour-temperature LEDs are three easy ways to reduce pollution. "There is a whole industry around night-sky-friendly outdoor lighting," says Jan McDonnell.
"The other thing you can do is just turn out the lights. It's not rocket science."
The Preserve is a celebration of the night sky and allows everyone and everything to thrive in the natural rhythm of light and dark. And it gives people the chance to reconnect with natural darkness in all seasons. "I can't adequately describe what it's like to be out there and see a billion stars," McDonnell adds. "You just don't get a sense of the night skies until you see them out there." Bundle up and visit the Barrens this fall or winter. And don't forget to turn off the lights.
For more info check:
rasc.ca/torrance-barrens-dark-sky-preserve