Sun Tzu said, "Be so subtle that you are invisible." In The Art of War, the ancient Chinese philosopher general was writing about craftily putting yourself into an advantageous position so you could quickly dispatch your military opponents, but the sentiment is universal: Don't draw attention to yourself.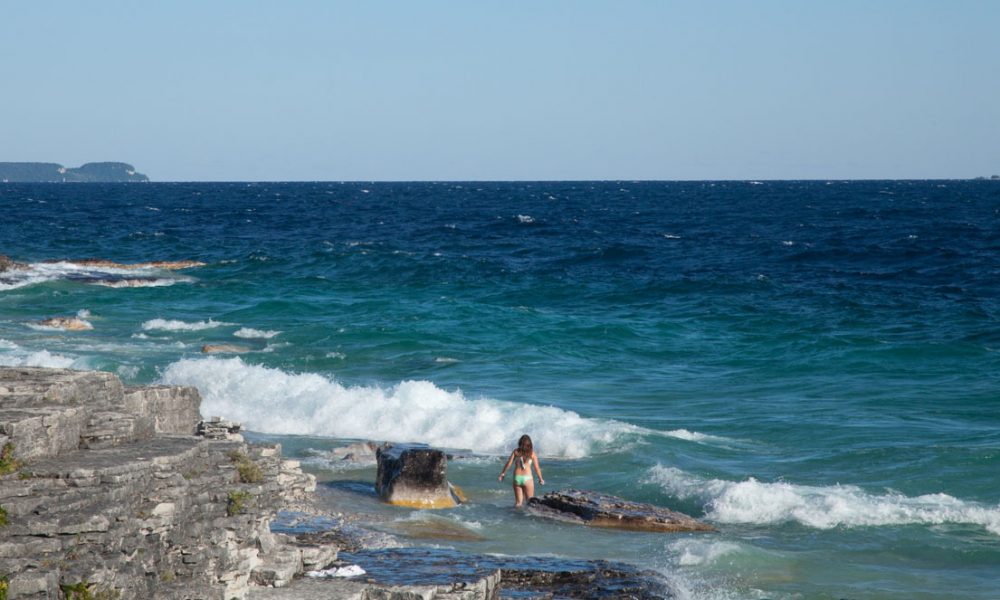 words :: Nelson Phillips
Ontario's Bruce Peninsula boasts an impressive number of cataclysmically good swimming spots, so for locals, there's a delicate balance involved. The subtle art here is talking up the Bruce Peninsula in order to entice the seasonal crowd, while keeping a few places secret. We swim and dive in these places so silently that they elude the tourists' maps and remain relatively untouched. These are coveted aquatic gems that we want to keep for ourselves. If you're crafty enough to find them based on these local nicknames and cryptic directions, congratulations, but remember: Stay subtle. Be invisible.
If you're crafty enough to find them based on these local nicknames and cryptic directions, congratulations, but remember: Stay subtle. Be invisible.
THE GAP
Perhaps the most well-known spot on the list, this dive spot boasts crystal depths only a five-minute stroll from downtown Tobermory. Featuring the occasional view of the Chi-Cheemaun leaving the Tub, and a typically low body-count, The Gap is a local favourite for its accessibility and proximity to apres-dip beers.
BIG SANDY
Located just north of the Checkerboard, the shallow, greenish, warm water is due to two merging river mouths, and makes this local spot a favourite for kicking back and enjoying the white sands of the Peninsula's Huron coast. Located within a natural cove carved out by glaciers once upon a time, this teeny cousin to Sauble Beach is sheltered from the relentless northwest gales coming off the lake. It's rarely too busy, has always featured free parking, and offers up views of pine-topped islands.
BRUCE'S COOLER
You have to like hiking and climbing, but this is my personal favourite. A Georgian Bay haven fit for a king, this dolostone oasis takes its visitors on a 15 minute hike through pristine wilderness before revealing its halfway breaking point—a deceptively tropical looking rock beach. Ready yourself for another 15-minute coastal hike and climb north, over some considerable chunks of Escarpment. The "cooler" itself is hidden on the outside edge of a particularly massive and inviting rock formation, and makes for a perfect, all-natural place to stash a few cold beverages. The waves replenish the cooler with cold water; lugging in ice for an extended day-trip is a cultural faux-pas. Be a dear and don't ever bring glass bottles, and remember to pack out your trash.
THE STAIRWAY
Though located on the Bruce Trail and close to the The Grotto, The Stairway is hidden from view—only swimming will reveal its location. This white limestone "staircase" descends 30 feet into the depths of the northern Bruce Peninsula's eastern coastline. As a tip, this sweet spot lies close to where three national park trails converge, and near a tiny lake that desperately wants to be a part of the Bay. Climbing, crawling and jumping from one nearly vertical stair to another brings out the kid in everyone who visits. Goggles are recommended; the stairway boasts visibility up to 30 metres.
PARADISE
The name says it all. Located on a chunk of Sauble crown land, this spot beside a lazy, meandering river lends itself well to canoeing, swimming and fishing. Gigantic sand and clay banks plummet into deep, cool river elbows; the plateau with white sand dunes is perfect for relaxing under the shady limbs of a tree overlooking the river.
THE PIONEER'S HORSESHOE
Another north Bruce spot, this stunner is nestled in a tiny cove that breaks the beastly waves of Georgian Bay and leads into a calm, clear lagoon. Horseshoe-shaped and overseen by Escarpment bluffs that make up the tallest elevation on the Peninsula, the 'Shoe is home to a seldom visited shipwreck. Don't worry about crowds, but you may be met by a few sailboats looking to shelter from the Bay.
---
You might also like:
KAYAKING THE BRUCE PENINSULA
Kayaking the Bruce Peninsula sounds like a good idea if you know what you're doing. The problem with hanging out with easygoing dudes is you're constantly forced to act as though things aren't a big deal. So when we put together the annual Mountain Life kayak trip from Tobermory to Cabot Head, the fact that I had never really kayaked before was ignored… Read more