Bare-legged, I'd shuffled through the slushy water flowing over the ice surface like a zombie, little but sheer will telling my feet where to go. Anything below the knees had long since progressed to a state beyond numb—like stumps of wood attached to my body. It wasn't yet painful, though I knew it eventually would be. All that mattered at that point was to keep going, to get out of the freezing water and onto the rocky shore.
That was six years ago. Deep in the gorge of the Zanskar River, halfway to our destination of Padum, a partially frozen waterway—the Chadar (white blanket) route—was the only way in or out of the tiny Kingdom of Zanskar when the passes were closed by winter snows. It became passable when temperatures plunged to -30˚C or lower, when shelves of ice could form along the edge of foaming rapids in a vertical-walled canyon at an altitude of 3,500 metres. As I experienced even then, however, warming winter temperatures meant less ice and more moving water, rendering the historic route increasingly treacherous. A day or two before, we'd heard, someone had fallen in the river and been swept under the ice, never to be found.
There was a reason why it had been hard to get anyone to join me on that adventure: the Chadar, one of the wildest, most remote treks in the world, was also one of the most dangerous.
Living in Switzerland in the eighties, I'd learned of the photography of a Swiss adventurer by the name of Oliver Follmi. His stunning imagery—from a virtually unknown hidden enclave of Tibetan Buddhism in northeast India—portrayed small, mud-walled villages set amidst towering peaks and robed peasants walking on a frozen river. Mostly, however, his photos depicted a beautiful, peaceful, and happy-looking people. Zanskar became a place I had to see for myself.
It took many years, but I finally caught a glimpse of Zanskar in 2003 while trekking and volunteering on a service project in Ladakh, the far-flung eastern corner of troubled Jammu and Kashmir State in northwest India, the country's most remote and sparsely populated region. Occupying a high-altitude snow desert cradled by the Karakoram and Greater Himalaya ranges and crisscrossed by myriad razor-sharp peaks and ridges, Zanskar remains cut off from the outside world by snow for up to eight months each year, and only saw a drivable summer road completed in 1980. When word got out that the first lorry had crossed the 4,400-metre pass into Zanskar bearing a load of lumber, the event was deemed so miraculous and unheralded that people walked as far as 50 kilometres bearing gifts of hay for whatever kind of animal could have made such a prodigious journey. Over thirty years later this seasonal road still represents the only vehicular access.
My brush with the remote kingdom painted it in even more magical light, and I knew I would find a way to get back there. Eventually, I convinced a sponsor and a few intrepid friends to undertake the infamous Chadar. Walking at high altitude on ice over running water (and then water running over ice) walled in by 5,200 – 6,100 metre peaks and sleeping in caves while enduring temperatures below -30˚C isn't for everybody, though the centuries-old route is still used by locals; even children on their way to boarding school in Ladakh's capital of Leh annually endure the 100-kilometre struggle. Despite its brutality, the Chadar was the most amazing trek I'd ever done, and my desire to return yet again was chastened only by the difficulty in convincing others of its uniqueness—and coming demise.
While climate change renders the Chadar less amenable to passage, India's Border Roads Organization (BRO) is simultaneously building an all-season passage for motorized vehicles in seemingly impossible terrain: the agonizingly slow process of blasting and bulldozing along vertical cliffs and through steep mountains featuring constant rockslides isn't stopping the inexorable march toward "progress." When the government's route is complete, however, commerce, traffic and the inevitable tsunami of global culture are likely to spell doom for one of the last Buddhist strongholds on earth.
One reason for India's new-found roadbuilding zeal is Zanskar's strategic position: Pakistan lies to the west and north, Afghanistan a stone's throw away, and bulging, voracious China pushes down from every direction. With the garrison town of Leh populated by soldiers serving on the longstanding disputed border with Pakistan along the Siachen Glacier, India is playing catch up with both that country and China in establishing roads through this Himalayan labyrinth. Thus, it now seems every valley has its bulldozers, dynamite, and road workers from far-off southern Bihar state. A tunnel is under construction beneath the infamous Rothang Pass connecting Manali with Leh and the valleys of Spiti and Lahaul. At just under 4,000 metres, Rohtang Pass—literally, "pile of corpses"—isn't particularly high or difficult by Himalayan standards, but strategic importance and the fact that it's only passable May through September have made it a military priority to construct an 8.5-kilometre tunnel underneath the ancient trade route to access to the southern reaches of Zanskar.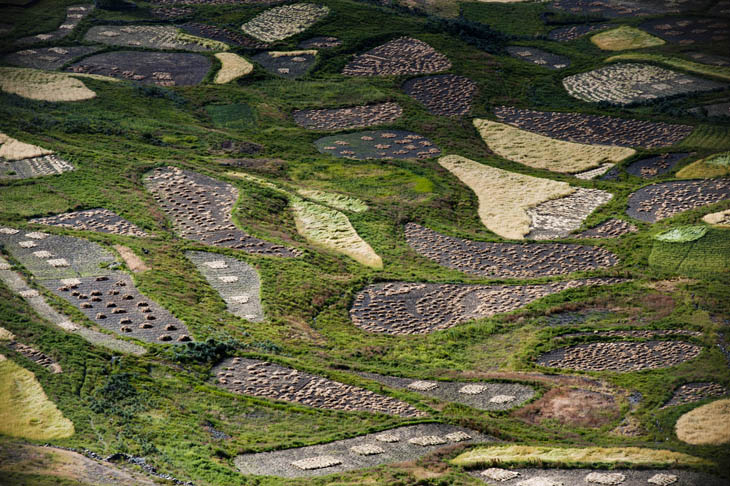 Pastoralists who live on a diet of little more than barley and yak butter in small, mud-walled communities that house up to four generations, Zanskaris for the most part welcome roads and the practical changes they will bring: glass windows, motorcycles, foodstuffs. Unfortunately, with these will come trash and pollution, the dark side of modernization of which Zanskaris have no concept or knowledge how to deal with.
For non-winter trekkers, the route across Zanskar has already been shortened by jeep access that speeds both the approach and finish—the latter facilitating the urge of most exiting the route to get more quickly to cold beers in Leh. What once took a month or more of walking can now be completed in half that time.
In 2011 I was lucky enough to return in summer to lead a trek across Zanskar from south to north, starting from Manali in Himachal Pradesh and finishing in Leh, 20 days and a hard 320 kilometres later. With ponies carrying our supplies, a fantastic cook by the name of Marco, and two young local guides, life was a good deal easier than on my previous winter trek. We walked carefree all day with our material and nourishment needs catered to. Although getting over multiple passes of 5,000 metres wasn't without risk, rewards were huge: the ability to step back in time in a land without cars, electricity, or running water; to walk through self-sufficient villages; the chance to meet open and generous people who have no qualms about inviting you in to sample home-brewed chang (made from millet and hot water, chang is the Holy Beer of the Himalaya). Our small group of friends and relatives was well aware that for a limited time there was still a chance to view a simple and beautiful way of life, where the spiritual is everywhere and in everything—whether endless strings of prayer-flags, or the mani walls with their thousands of prayers stone-carved by monks over the centuries. My companions quickly discovered what I already knew: in Zanskar, it's impossible to not be moved by the beauty, the silence, and the stark contrast to our own light-speed lives.
In southern Utah where I live, it's possible to daily come across signs left by various cutlures that thrived there between 800 – 10,000 years ago, and I spend countless hours looking for traces of ancient civilizations. But I recognize that my searching for arrowheads and ruins represents more than a pastime—it's an urge to connect with the past. Walking in a place like Zanskar, I feel that same passion of stepping directly back in time and instantly making a connection. Valleys and villages have been consistently inhabited for thousands of years essentially unchanged. Coincidentally, the huts in Zanskar are similar to the pueblo-like dwellings of America's desert southwest and were inhabited at the same time. The difference is that Zanskar is a living museum. A museum that may soon be closing.
Low-hanging clouds obscured the view as I waited for the group to gather on a pass marked by huge piles of small stones and hundreds of prayer flags. Each stone was a symbol of someone's passing, of a journey over this ancient route from one kingdom to the next. As leader, I checked on everybody just to be sure all was okay. It was only our third day trekking and we were already at 5,000 metres, but this was the moment for which we had all journeyed so far. We gathered for a moment, took a few photos, had a bite to eat, then began our descent into the Kingdom of Zanskar.
It's possible to trek without a guide or ponies but one must be prepared with all the essentials. Trekking in Zanskar differs from the more popular version conducted in neighbouring Nepal. To start, there are few other trekkers or villages catering to their needs. Nevertheless, amenities are beginning to sprout in limited ways along more popular routes, where enterprising locals have constructed tiny tea houses from the old stone walls of shepherd shelters and used Indian army silk parachutes as roofs. The region lies in the northern part of the Himalayan rain shadow and comprises high desert similar to the Tibetan plateau. Virtually treeless, it's beauty is stark: light plays tricks across huge plains, wavering along jagged ridgelines that stretch to the horizon. What look like small piles of rocks in the distance are often ancient castles and ruined monasteries. The scale, at first, is too big to comprehend; the air so clear and our brains so starved of oxygen that we have no frame of reference for the view unfolding beneath our feet.
Soon the group was straggling, spread out over a mile or more. Various degrees of headaches, sore feet, and bad stomachs from poor food at a roadside stop days before had made it difficult to appreciate the beauty and vastness. We'd all turned inward simply hoping to soon arrive at a comfortable camp where our various needs would be catered to. In the distance a few people were heading up the pass in the opposite direction. As we closed the gap we saw an old man leading a young girl on a pony. Jullay! Jullay! they sang, greeting us in Ladakhi as huge smiles split their weather-beaten faces. We stopped to share what snacks we had in our packs, handfuls of nuts and energy bars disappeared into the folds of their robes. With more smiles and much head-nodding they continued their slow uphill climb while we descended into a green, oxygen-rich valley surrounded by glacier-clad peaks. Crossing a stone bridge over an icy torrent, one by one we arrived to the luxury of tea and cookies at camp, beautifully situated in a meadow below a stunning 6,000-metre peak. Marco, who'd preceded us, told us that the old man was taking his granddaughter to the Manali-Leh road—where we'd begun our own journey—to catch the bus over Rohtang Pass to attend boarding school in Himachal Pradesh. Though a journey of at least four days, they'd had almost nothing—just a couple of worn blankets, some tsampa (roasted barely flour) and tea. Their hardiness, resourcefulness, harmony with a harsh environment, and, most of all, happiness, left a profound impression. We were a modern, well-equipped group with all the comforts of home traveling over the same ancient route on which people still followed the thousand-year-old rhythms of walking for days or even weeks to trade, attend a festival or wedding, or deliver a child to school.
In a few years time the road through Zanskar will be complete. Lorries will arrive with lumber, ramen noodles, plastic toys, and other hallmarks of modern civilization. The road will transform a way of life forever—both for good and for bad. The outcome will follow a predictable, inescapable path. Presently, villages far from the reaches of the growing network of roads produce their own food, as they have for centuries; barley, potatoes, and a few other staples are grown; yaks and goats produce milk and cheese; dung provides fuel for heat and cooking. Almost everything produced is now utilized in some way, but when goods begin to arrive from the outside world the litter will begin. With no concept of garbage, wrappers and tins will simply be tossed outside. The closer to a road a village lies the more trash will surround it. Without proactive measures the refuse will find its way into the waters of carefully constructed aqueducts cutting through the alluvial fans of mountain streams on which villages inevitably locate. Satellite dishes will bloom on the rooftops, the internet will bring the future before the present can catch up; youngsters will leave for the cities, and the Indian Army will use increased access to amass troops in its border regions.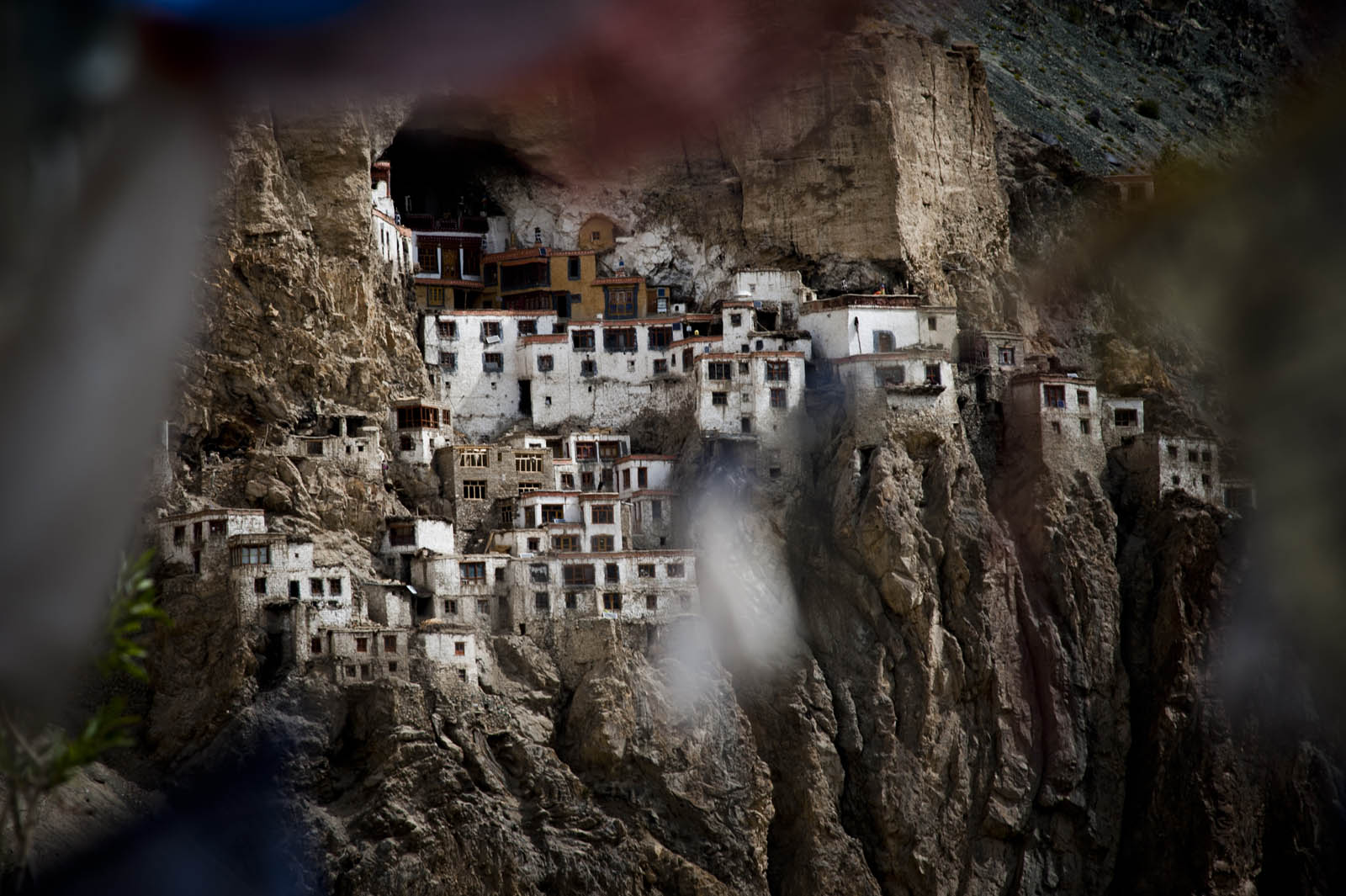 The old ways in Zanskar will indeed change forever. But it won't all happen overnight, so there's still opportunity to walk back in time in these mountains, experience life in the slow lane, and the happiness that seems to dwell in the timeless interplay of hardship and beauty.