With over 52 Class V and VI whitewater first descents together in 32 countries, American kayakers Ben Stookesberry and Chris Korbulic don't toss words like 'epic' or 'remote' around lightly. But a 6-week, 1,120-kilometre mission with various teammates through remote northeastern Quebec and Labrador last summer clearly merits both.
Bookended by a 770-kilometre paddle down the historic George River and a 160-kilometre return out the Koroc, "Destination Torngat" ticked off a mid-trip, no-portage, Class V first-descent of the Nachvak River in one of Canada's most unknown wilderness reserves—Torngat Mountains National Park. The voyage also ranged through Quebec's Kuururjuaq National Park and the margins of George River and Pyramid Mountains interim protected areas; together with Torngat park these create a welcome industryfree area on a resource-rich subarctic peninsula that's also home to threatened caribou. Formerly one of the world's largest seasonal mammal migrations, the George River herd has seen stunning decline—from 750,000 animals in 1993 to an estimated 27,000 today. The vulnerability of caribou habitat to mining development has seen the indigenous Inuit self-government pushing strongly for more protection.
"The trip was epic for its remoteness—the opposite of roadside. By the time we arrived at our objective we'd paddled more than 800 kilometres into the roadless peninsula," explains Stookesberry, a National Geographic Adventurer of the Year and Banff Mountain Film Festival winner. "From satellite images we imagined the Nachvak could be one of the most spectacular kayaking descents on Earth, but the real challenge was getting to it."
"By the time we arrived at our objective we'd paddled more than 800 kilometres into the roadless peninsula." – Ben Stookesberry
The team arrived at Shefferville via iron-ore train, then linked-up chain lakes to the traditional George River put-in. Paddling north for 18 days through brutal insect swarms to Ungava Bay, they traversed rich Atlantic salmon grounds and bucked 12-metre tides to reach the coastal town of Kangiqsualujjuaq in Quebec's Nunavik region. En route, some of the team managed a first-descent of the Nutillilik River and a second of the spectacular Ford River, the required route-finding and portaging delivering an appreciation for the region's sweeping vistas and 1,500-metre peaks. But it was nothing compared to what they'd see in Torngat park.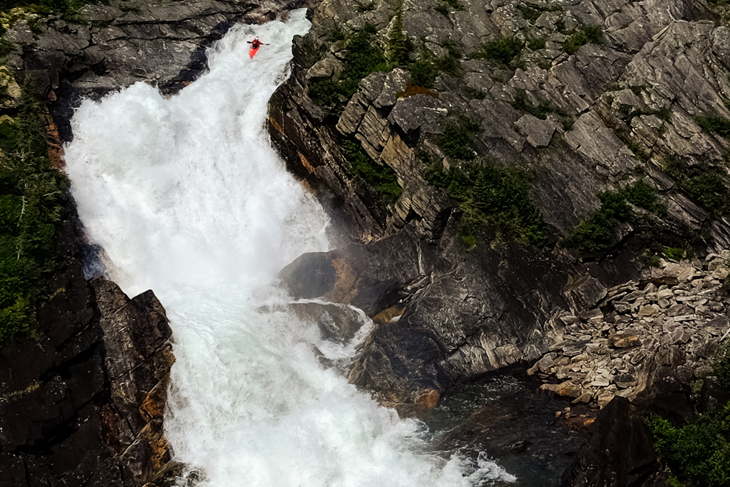 The geologically and archeologically-rich park covers 9,700 km2 above 55˚ latitude, from Saglek Fjord in the south to Labrador's northernmost tip, bounded by Quebec on the west and the Labrador Sea elsewhere. The process to create this remote reserve that sees only 600 visitors a year was long and litigious, beginning with a Labrador Inuit Association land claim in 1977 and ending three decades later with official designation as Canada's 42nd national park—the first managed by an all-Inuit cooperative. "The [park] is the Inuit gift to the people of Canada," said Toby Andersen, chief Inuit negotiator at the time.
The land that Inuit ancestors named Torngait—"Place of Spirits"—and white traders christened "Ghost Coast" proved an ideal paddling venue. After trading out some members in Kangiqsualujjuaq, the team reversed course east, traversing into Labrador by longboat and a taxing 65-kilometre portage to the Nachvak, a steep whitewater river they'd first envisioned exploring a decade ago. Here they collected a food cache, and with Inuit guides guarding against polar bears on the camp-to-camp descent, successfully ran each of the Nachvak's 18 waterfalls.
After celebrating in Nachvak Fjord with a feast of Arctic char, they began the trying and technical return trip to the top of the drainage, and a final food cache on the approach route to 1,652-metre Mt. Caubvick, Eastern Canada's highest peak. A whitewater descent of the Koroc River to Short Lakes Fjord, and a final battle through the world's largest tidal rapids put them back in Kangiqsualujjuaq.
While the achievements were historic and the journey photogenic enough to be shaped into a film, it was the Inuit's gift that made the most lasting impression on the crew. So much so, they donated their kayaks to the community in gratitude. "Ultimately, it's a humbling experience to paddle here, where the Inuit literally invented the kayak thousands of years ago," summarizes Stookesberry. "Floating through this magnificent wilderness, our boats were more time machines than sporting equipment."