The loudest house party in Whistler history took place in one, the first Chapel was housed in one, and local ski legend Rob Boyd grew up in another. Whistler's A-frame houses are stoic veterans of mountain living that grew from the glory days of ski town living and have kept the fires stoked ever since.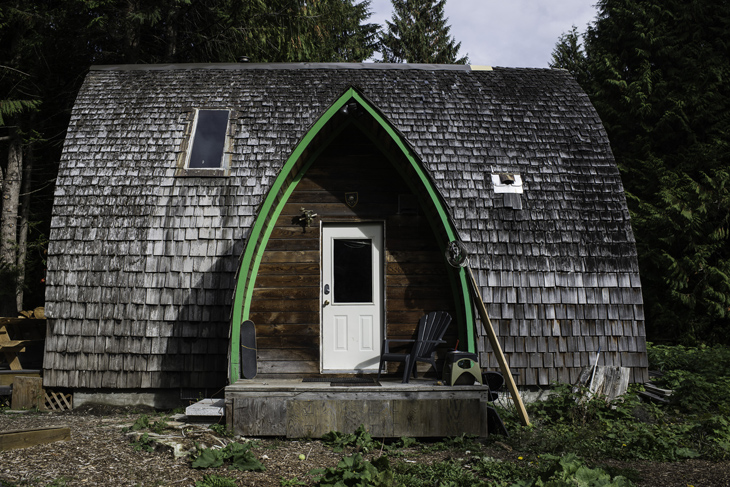 Photography by Blake Jorgensen | Story by Feet Banks
Quietly camouflaged in the forests north of town or leisurely propped along the shores of Alta Lake, these simple, triangular wooden structures, particularly the arched Gothic variety, now serve as one of the last remaining links to the carefree era and attitude fondly remembered (and marketed) as authentic mountain culture.,
"It's a simple structure that is inherently strong," says long-time local home builder, Bob Deeks. "Very few windows, so it's self-supporting, and of course the walls become the roof with that ribbed upside-down boat design. I would guess that even against modern snow load and seismic requirements, that design stands the test of time."
Created sometime in the 13th century as a way to build bigger church windows (and then bigger churches), the Gothic arch was revolutionary for its ability to distribute weight over a broad open area without collapsing. Good enough for the Notre Dame de Paris; perfect for Whistler winter snow loads. But as the moss grows heavier along their rooflines and the land beneath them grows in value, it's easy to wonder if the gusting winds of progress will sweep up Whistler's A-frames just like so many other historical buildings before. The answers, and salvation, may be found in the one of the very strengths that made A-frames attractive in the first place: they're cheap, sturdy, and a little bit magical inside..
THE ORIGINALS
In the late 60s and 70s, anyone with basic carpentry skills could have a DIY Gothic A-frame kit shipped up from North Vancouver, starting at around $12,000. "Cheap" has always been an integral part of ski culture, so the Gothic "A" quickly became the go-to design for a weekend ski cabin in a very unproven, and reputedly wild, little town in the mountains.
"Our street was still a dirt road, our basement was dirt," says Ken Melamed, who bought a newly constructed Whistler Gothic with his wife Uschi in 1979. "We didn't have any concept of the structure, it was just affordable and the whole place smelled of freshly milled cedar, like a forest. It was a true classic ski town cabin."
1979 was also likely the start of the end for Whistler's A-frames. Blackcomb Mountain opened that winter, Whistler Village followed shortly after, and as property values rose, the idea of a cheap and cozy weekend ski cabin was replaced by larger, pricier and much more luxurious dreams of a "vacation property." As the resort became more successful, many classic Whistler A-frames were bulldozed in the name of progress.
The Melameds went the other direction, raising two sons in their A-frame while making constant improvements to preserve it. Over the years, they upgraded it with a finished basement, new roof, high-performance insulation, ventilation and solar panels. "I think they are worth saving," Ken says. "One thing that surprises people about Whistler is the strong sense of community here. And I really think these older homes and ski cabins are a central part to that aspect of Whistler. An inventory of affordable, simple homes will keep people here and make the community richer."
With 15 years of public service as a councillor and mayor, Ken says there was talk of a heritage project to help preserve the disappearing A-frames, but nothing ever came of it. "It is really challenging. Whistler is different than a place like Quebec City, where a heritage home can go back 200 years. But even though these homes are only 30 or 40 years old, you feel that magic every time you walk into one."
THE RENTALS & THE RENOS
As Whistler's housing market exploded in the 1990s, many A-frames became rental units, easy income generators for aging or absent owners. Awesomely, this helped the ski bum party culture transcend into a new generation of rippers (and snowboarders), but almost always did so at the expense of the buildings themselves.
The loudest house party in Whistler's history took place at an A-frame on West Side Road. A live punk band set up on the back deck and proceeded to sonically melt people's faces while testing the structural limits of both the deck and the building it was attached to – a literal house shaker that probably contributed more than a little to that building's ultimate demise.
Out in Alpine Meadows, "The Love Shack" was a tiny 1971 Gothic A-frame built on a cinder block foundation that routinely hosted 300-person-plus shakers with live bands, chainsaw carving, and high amounts of both mayhem and skullduggery. With a fully plumbed bus parked in the yard (guest wing!) The Love Shack was a place where legends were made and children conceived.
And then Tim and Natasha Pulfrey bought it to try and start a family.
"It was in terrible shape," says Tim.
"It was worse than terrible," Natasha counters. "The floor was on an angle and rotten – when you walked in you'd get seasick. Behind the stove was rot and mouse shit, there was a giant, disgusting Jacuzzi tub, and someone had been growing weed in here… For sure everyone thought we were high on glue to even think about it."
The price was right though, and the forested lot offered privacy and space. At a time when an entire generation of Whistler locals were flocking to more affordable Pemberton or Squamish, Tim and Natasha saw The Love Shack as a 900-square-foot opportunity to stay in Whistler and build a life.
"I remember the moment," Tim says. "Natty was outside with the realtor and I was in here taking a dump, which you're not supposed to do during an open house, but I was. The bathroom floor was so crooked, one of my feet wasn't even touching and there were ants crawling across my other foot, but for some reason I just felt like, I can see this working."
So they made it happen. Over the years, Tim and Natty, both registered nurses, chipped away at renovations, added an entrance/mud room, and gently eased The Love Shack back to life just in time to become a first home for their two sons. "It's simple living and you have to be a bit tough," Tim admits, explaining that Natty's organizational skills are integral. The kids spend a lot of time playing outside and in the summer they often eat meals out on the deck, under the trees. "We're not reinventing the wheel, but I can't tell you how happy I am every single time I turn into that driveway."
"It is an honest house," Natty says. "You can hear an ant farting, and I have to warn our guests to be ready to sleep in very close quarters, but it seems like being so close to each other makes for a really tight-knit family. It's a different kind of love shack now – we had a pretty epic dance party over Christmas, but it was all 5- to 8-year-olds."
THE COMMUNITY
Just down the street, Colin and Alicia Duncan bought a 1973 Gothic off the original owners in 2013. The couple had been looking at condos and resident-restricted housing, but Colin admits that Alicia kept nudging them towards the Gothic. "It wasn't the fact that it was an A-frame, even though they are inherently cool," Colin says. "Alicia saw the big picture and recognized the size of the lot, the sun path and the location within the community. We took down a lot of trees, opened everything up, and right away four different realtors left cards on our doorstep asking if we wanted to sell."
While the property evaluation lists their home as less valuable than the new wood cook stove they put into it and their kitchen is crowded with more than a single person in it, the Duncans say it's been astonishingly easy to simply "make it work" in their new home.
"We have 700 square feet, but we have a king size bed," Colin says. "No other place in our price range could fit a king size. The kids share a room, but they are five and three – they don't fight. Sure, if you're coming to a party at my place, we will be outside around the fire, but we have a flat lot on the valley floor that gets sun all day. We're by a bus stop, a park, and the Valley Trail. We can bike to the Village or the skate park with the kids and everything is super easy compared to a house up on the hill."
And as Whistler becomes increasingly filled with big (often empty) houses on the hill, there remains a core group of locals dedicated to staying in town and carving out their own place within a community. And they're all in it together.
"We got this place because I was skateboarding with a friend of Tim and Natasha's and they warned us about lowballing the owners," Colin says, adding that he has also been over to Ken Melamed's to check out renovation ideas. "For sure, once you have an A-frame you notice them and feel like part of a larger thing, like people who have airstream trailers of VW vans. Who knows? But there is something about the shape. I'm not religious at all, but you feel it in here, it is Gothic. And having 22 feet of ceiling, that airy space to live in… I can't explain it, but it's simple and it's good, and I like it… We did just buy an old Airstream too, that has a real similar curve. Maybe I'm back in the womb. A womb with a view."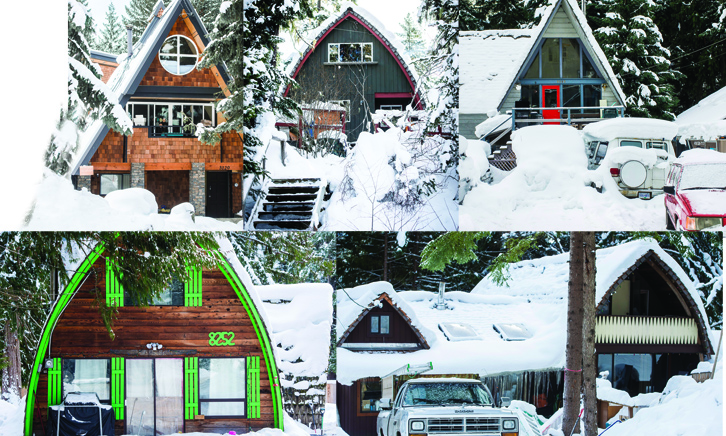 ---
You might also like:
CLIFF JENNINGS: 50 YEARS OF WHISTLER GOLD
If you see a bit of extra smoke wafting through the Whistler Valley this winter, it's probably not a sit-in at Rebagliati Park, but rather the aftermath of all the birthday candles Whistler is blowing out this year. Winter 2015/16 marks 50 years of ski hill operations in Whistler, and Cliff Jennings has skied here for every single one of them… Read more
DODGING THE BULLDOZER: THE RESURRECTION OF THE WHISTLER LODGE
Falling out of fashion like the long, skinny skis that once lined its patio, The Whistler Lodge was on its deathbed last season. Having tumbled into disrepair, the lodge, one of the last remnants of Old Whistler in an otherwise modern resort town, had become a prime target for demolition in a saturated real estate market. But thanks to a local couple, the former (and legendary) UBC Lodge, not only dodged the bulldozer, it's now thriving… Read more