The team – two skiers, a photographer, a filmmaker and a sled-neck – saddle up and pin it north, navigating by map, compass, GPS and memories of Google Earth. All of this technology does very little to make the wilderness seem less wild, and day one ends with substantially less distance covered than initially planned.
It's not all bad though. We set up camp at the base of a stunning mountain face with 2,000 metres of vertical relief. While staring at a wall of snowy spines over dinner, someone mentions that we should probably ski this thing to get the adrenaline flowing early in the trip. The next morning we bag one of the longest and most complex ski descents in the area – turns so good a decision is made then and there to keep the actual name of the peak a secret.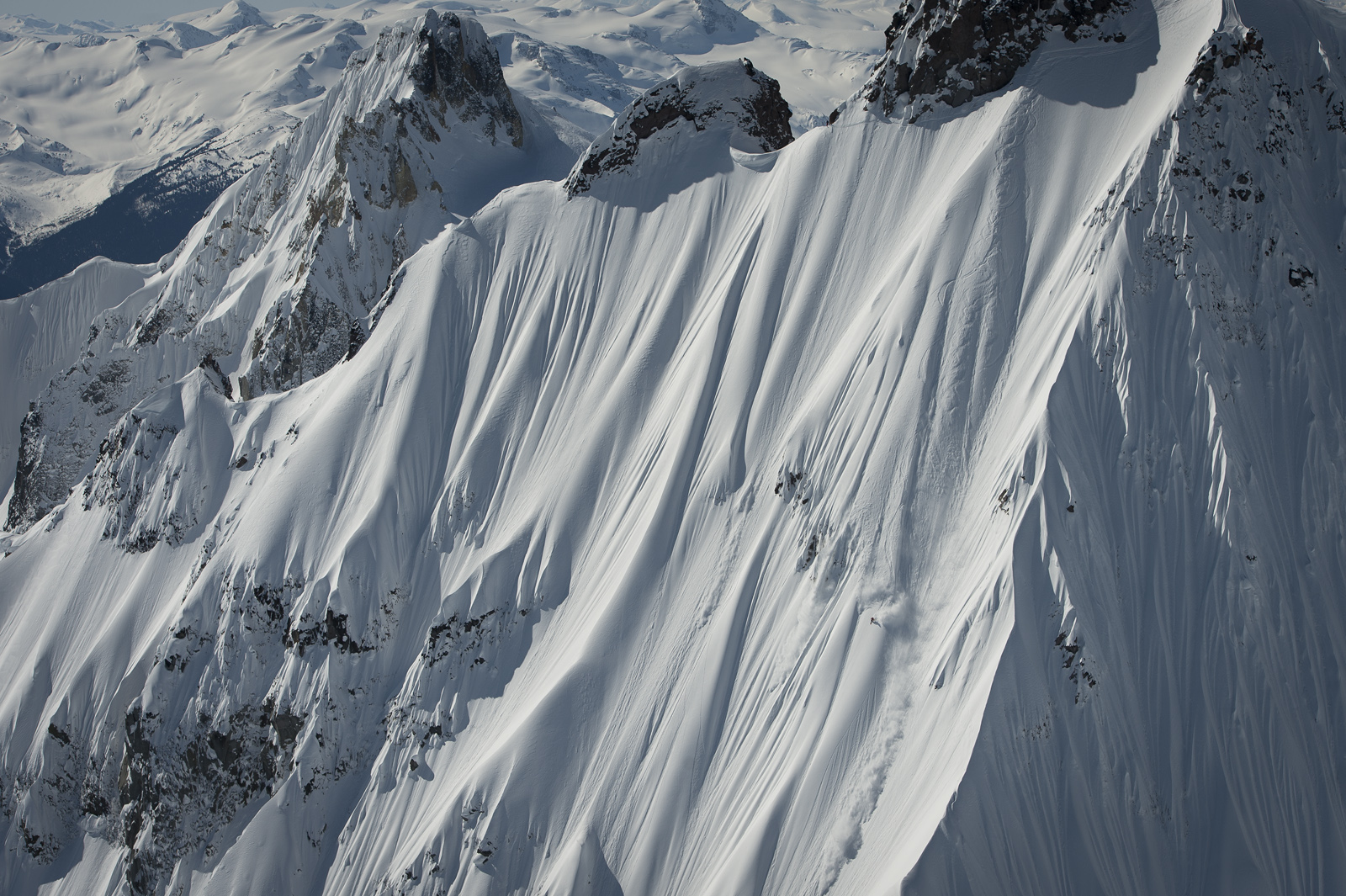 In years past, that ski would have been enough for me; an awe-inspiring descent to be celebrated as a grand finale to my season. But this year, it's a warm up. This year, I seem driven to adventure beyond my usual exploits even as I constantly battle the urge to turn back. These thoughts haunt me as we push through dense old growth forest, over oceans of crevassed ice and deep into the heart of the Coast Range. It is easier and safer to stick with things that are close and familiar, so why am I spending so much energy pushing towards something farther and riskier? Something inside me wants to explore deeper and see beyond anything I've ever seen before.
By 6:00 p.m. on day two, we've made it seven-eighths of the way to our intended base camp when the glacier we're travelling over begins to roll a bit steeper than I'd like. Roped up and on-belay, I walk ahead to discover a deep, gaping crevasse running the width of the glacier. That wasn't on Google Earth! Now what?
I remember seeing a mellow glacier off the other side of an adjacent peak. If we could just get our sleds up and over the face, we could potentially be back in action. Even though the face looks way too steep, I zip over and take a stab at it. My Skidoo pulls hard and on my second attempt I crest the ridge top, shouting into my radio, "Boys, we're back in action."
"Rejoice in sufferings, knowing that suffering produces endurance, and endurance, character, and character, hope. And hope does not disappoint."

–Romans 5:3-5
I'm met with silence … the rest of the team is already retreating back across the glacier with two-strokes screaming in their ears and no way to hear me. The only thing to do is follow them 40-kilometres back to a small shack and let them know that tomorrow we are headed to Mount Monmouth. The smokies cooked over the propane heater that night are especially tasty, everyone knowing there is still hope for our original goal.
We have hope, but day three brings suffering as well. Our big ambitions come to a screeching halt as thick fog engulfs us on the Bridge Glacier. The fog makes it impossible for us to see even the previous day's sled tracks, and navigating crevasse fields and technical hill climbs by GPS and braille isn't working either. We take shelter under a cliff and wait. Idle time fuels demons of doubt— we are a long way from anything, lost on a glacier and hoping to ski lines that have probably never been done before. Can we pull this off?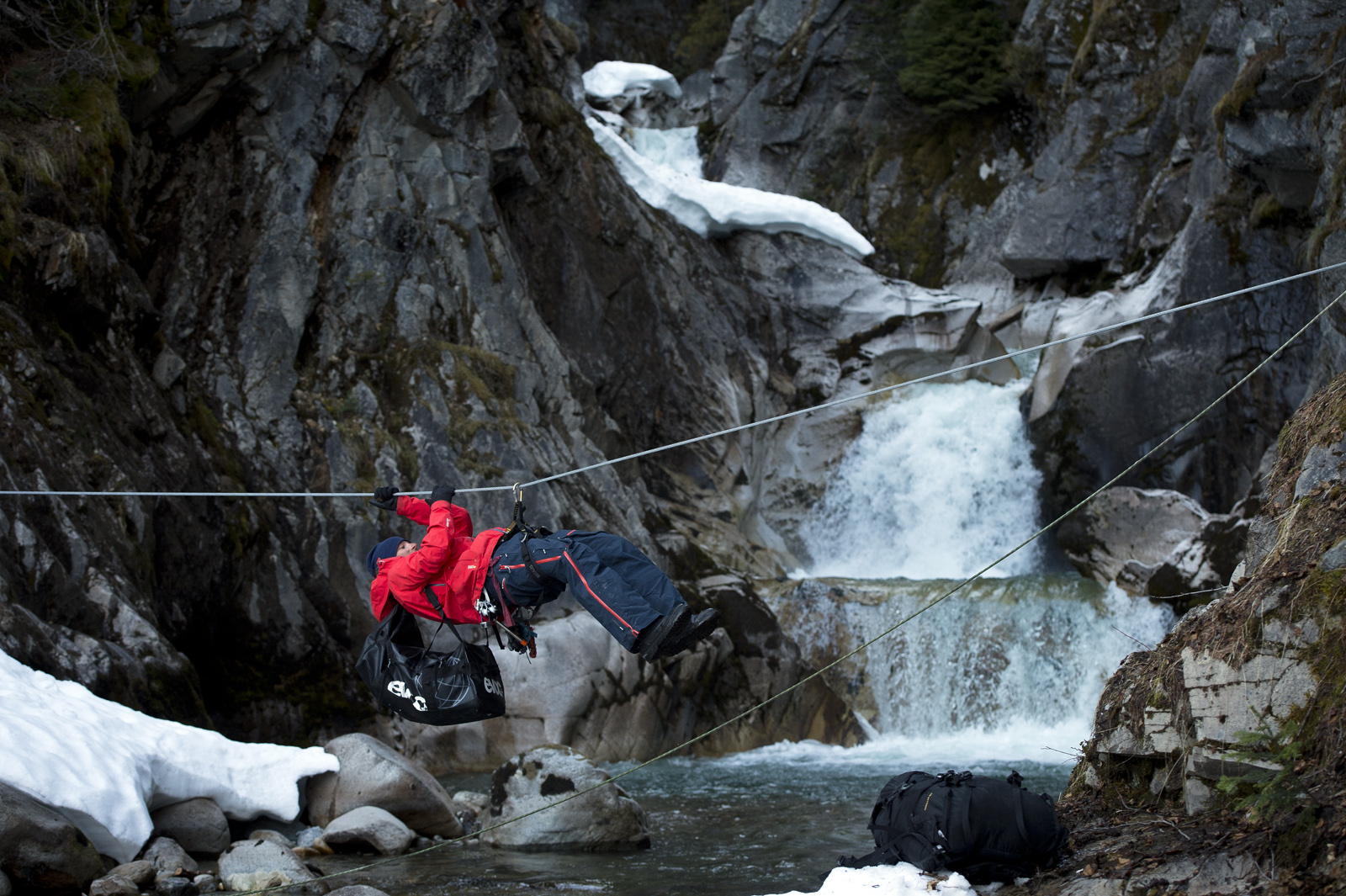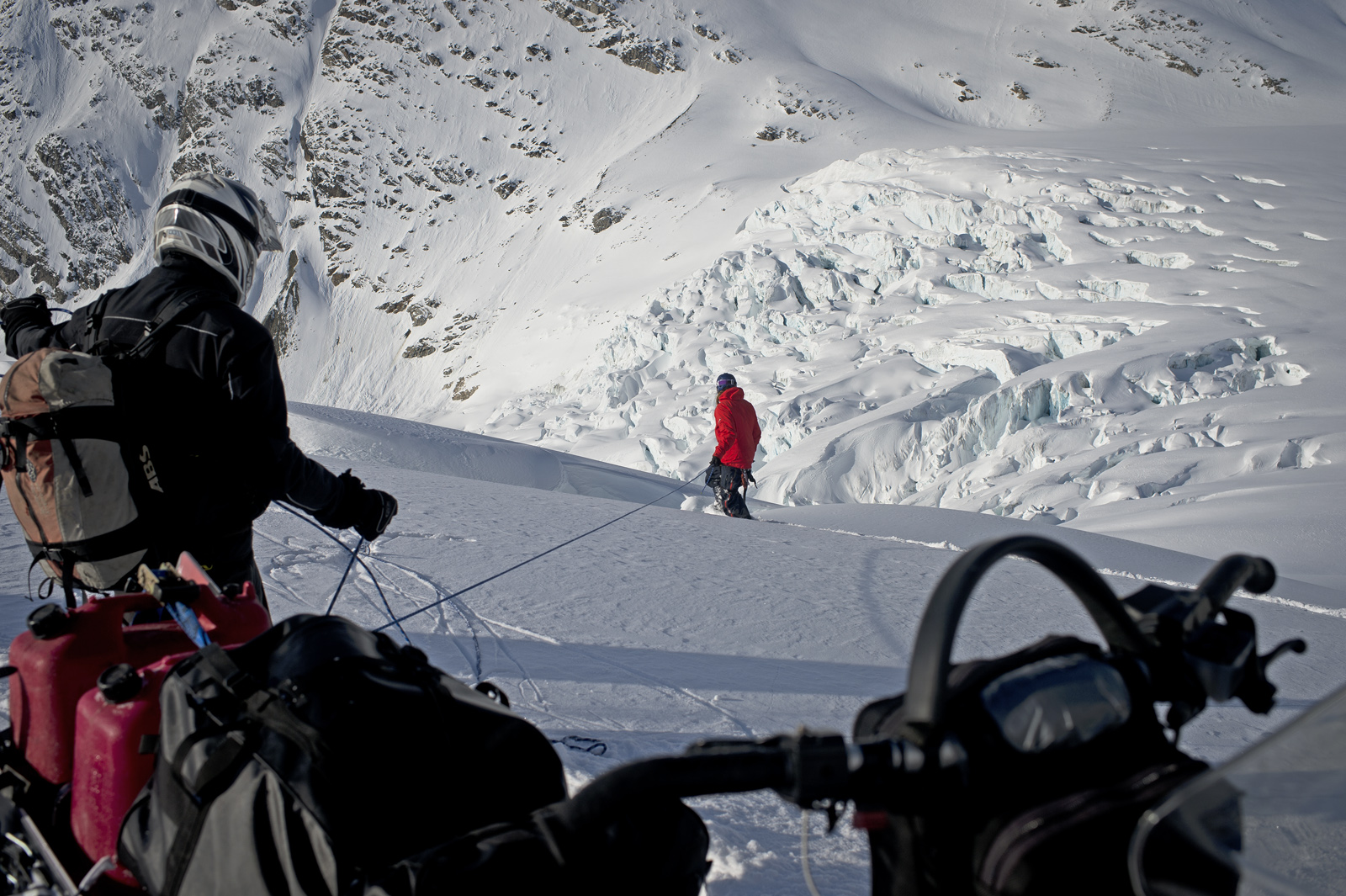 Three hours later, the fog clears and we are back on the throttle with 91 per cent octane fueling our sleds and hope fueling everything else– we need to get up what I had scouted the day prior. After a few failed attempts, the whole crew makes the steep climb and safely navigates the remainder of the way to our beautiful base camp at tree line and the foot of Mount Monmouth. After an exhausting three days, base camp quickly takes on the look and feel of a Mexican family restaurant, with everyone enjoying a quick lunch and well deserved siesta before trying to figure out how to approach, climb and ski this 10,440-foot (3,182-metre) behemoth of rock, ice and snow.
Day four sees Henrik and me approaching Monmouth's daunting north face. After years of staring at that old-timer's photo and so much work to get here, it feels unreal to finally be standing at the base of the real thing. The mountain stretches high and steep, but we make it past the bergschrund with relative ease. The snow thins soon after and we are faced with a wall of sheer ice. Clinging to the mountain by only the tips of my axes and crampons, the questions pile up again– Is the entire face ice? Can we ski it? If we climb farther and conditions worsen, will retreat still be possible? Am I ready for this?
Henrik is equally gripped and scared, yet we continue to scratch upwards as wind-spun snow off the peak slides down hundreds of feet of slope, gaining momentum and hammering down on us. The mountain seems intent on forcing us back down, but inch by inch we progress upwards. Then foot by foot and then we are successfully on top. Standing on that beast of a mountain, we enjoy the scenery of the Coast Range's highest peaks including Mount Waddington and Mount Queen Bess. Despite this high, my mind continues to fight itself. Why have I pushed beyond my comfort zone and risked my life just to slide down some slope? What is the real reward here? Is it worth the risk?
"The sweet isn't as sweet without the sour," my momma used to say to my brothers and I. Fortunately, the turns on that north face wall of Monmouth are as sweet as it gets. There is nothing like the feeling of linking turns down a face so steep your up-slope elbow brushes the snow with each turn while gravity's pull floats your stomach up into your throat. We ski it right to camp and big high fives. Then, with weather approaching, we pack things up and head for home. Home: where my realistic alter ego wanted to be this entire time.
Days later, I am hanging out with my 88-year-old hunting partner who has explored the Coast Mountains for most of his life and still continues to journey into areas he's never been before. I ask him why he keeps pushing his frontier and I prepare for one of those long-winded, old-timer philosophical answers. Instead he looks me in the eye and sums up everything I've been asking myself over the past few weeks.
"Well, I guess I just like to see what's on the other side of the mountain."