Siberia is extreme. Everything from the food to the weather to the landscape to the national drink is pretty no-holds-barred.
Back in 1996 I was shooting with famed ski filmmaker Greg Stump. A Japanese snowsports magazine hired our film crew to shoot a movie in a remote area of the Siberian Badzhal mountain range with Craig Kelly and Scot Schmidt, arguably the best snowboarder and skier in the world at the time. For any sports cinematographer it was a dream come true. Be careful what you wish for.
The journey began innocently enough. We hooked up with our Japanese partners in Tokyo, took a train to Nigata and caught a flight to Khabarovsk, Russia, a city of 600,000 on the shores of the icy Amur river, just 30 kilometres from the Chinese border. Traveling from Tokyo to Khabarovsk is a trip from the future into the distant past. The day started on a bullet train and we arrived in Russia on a rickety, old Aeroflot plane (a sign of things to come).
We were the only Westerners aboard a half-full flight of Japanese and Russian businessmen hoping to cash in on the fresh collapse of communism. Even the film we were making was to be a calling card for the heli-ski business our Russian hosts were trying to promote to our Japanese magazine's audience. Our second bit of foreshadowing came when Craig revealed that this heli-ski operation was brand new and our pilots had only two hours flying experience in the mountains. WHAT?!
Safely landed in Khabarovsk and booked into the only "tourist" hotel, we explored the city and spent a strange and chilly night taking in our hotel's "dinner theatre," a sort of Vegas-style strip show under fluorescent lights in a large gymnasium-type room. We feasted on a multi-course meal consisting mainly of cucumbers and really overdone meat while the band, Russia's equivalent of Loverboy, wailed out guitar-driven ballads for the girls to get undressed to. Interesting. After one of our camera crew upset a Russian mobster by accidentally filming him with a woman who must not have been his wife, we retreated to the basement bar to relax amongst more gangsters flashing wads of single rubles while a duo played beautiful Russian music on piano and violin. We were told that all the women in the bar were prostitutes, a fact that became glaringly evident with the numerous propositions they threw at us when we tried to escape to our rooms.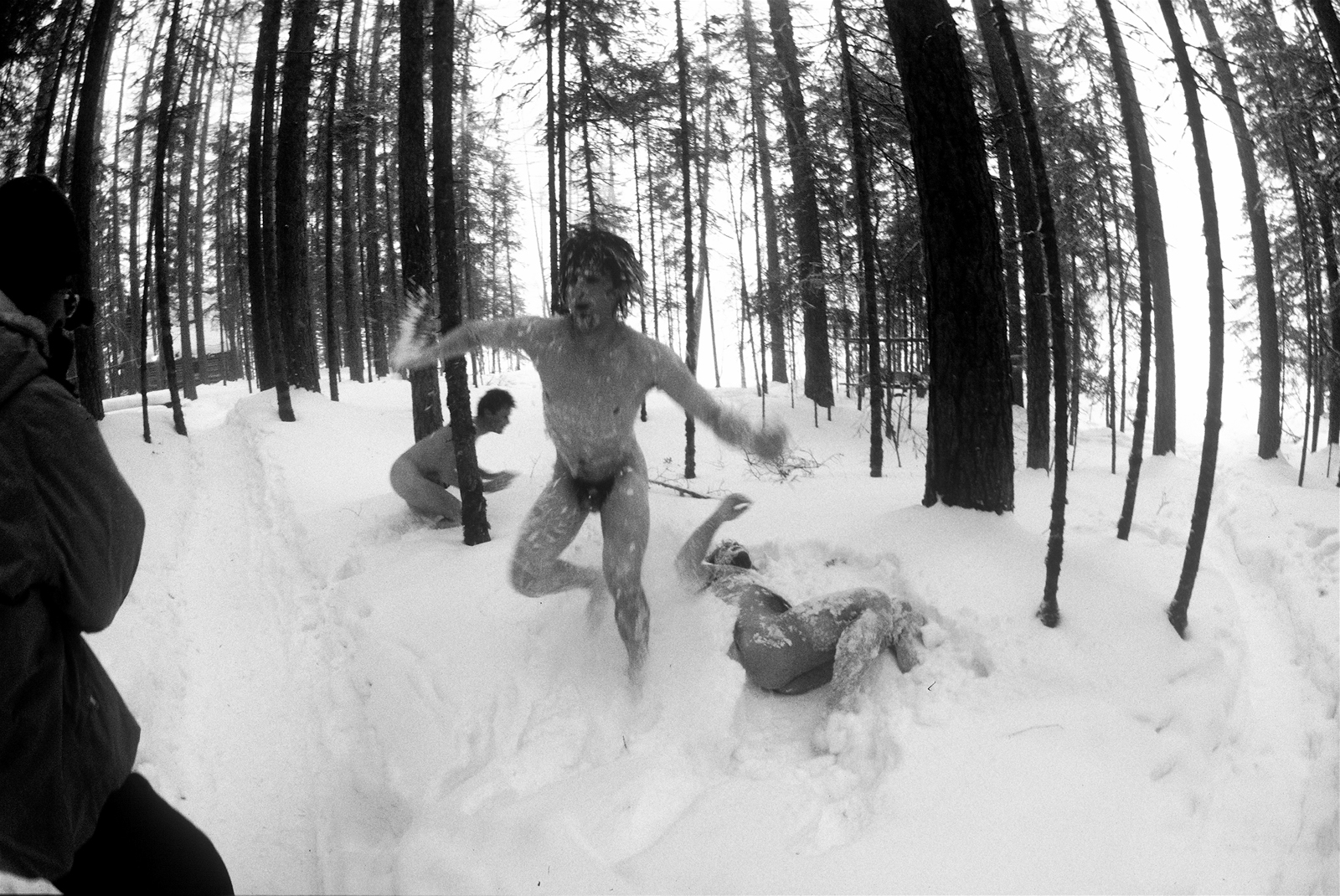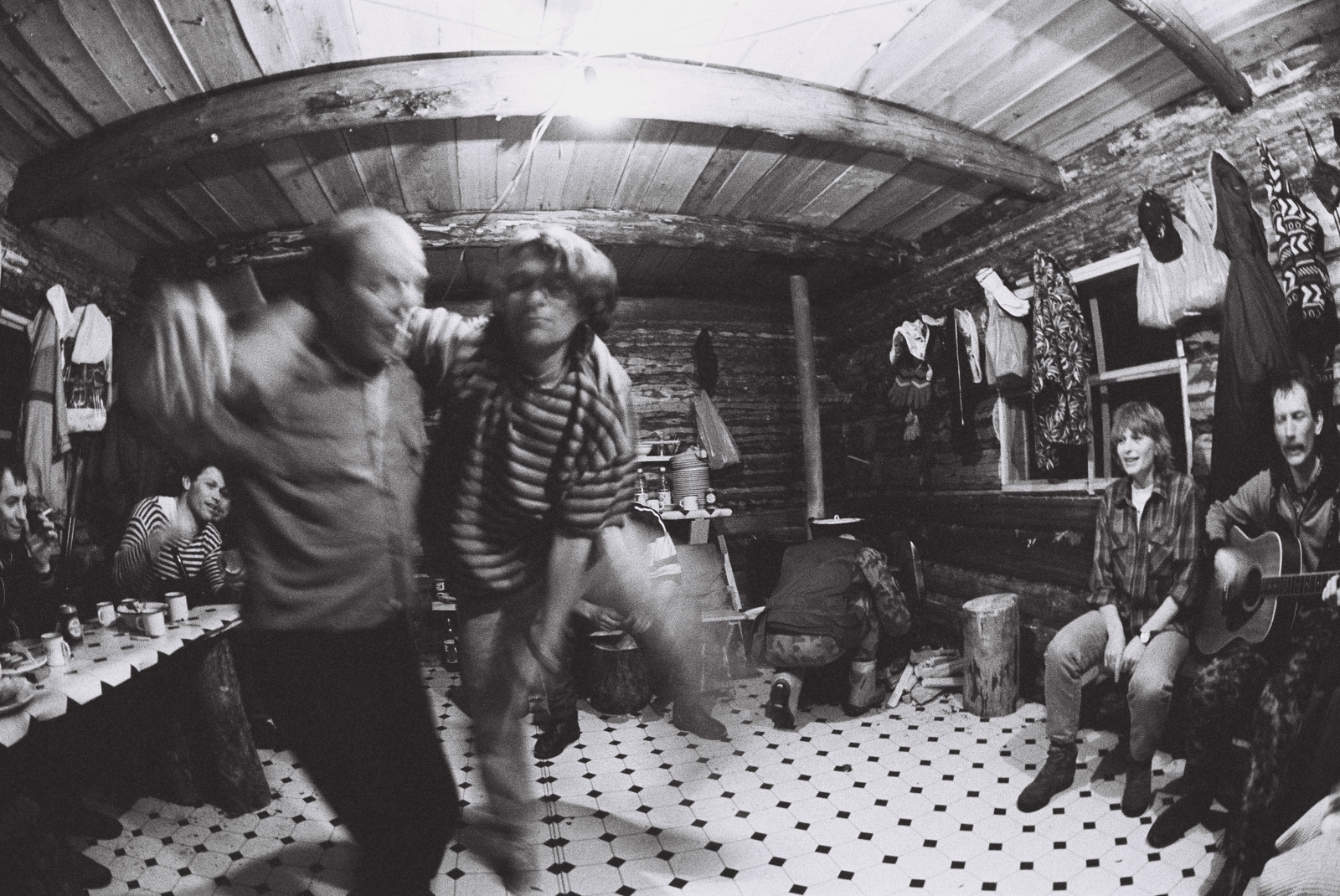 The next morning we met our Russian hosts at the heliport (an old military base) and loaded our beast (a 28-person military chopper) for the two-hour flight north to the camp. The 120,000-km expanse of the Badzhal Mountains stretched out before us. Excitement levels rose as each stunning peak passed underneath.
Our camp consisted of three cabins, two outhouses, and a Russian sauna built on the edge of a frozen lake. Our male hosts were Victor, a slim, serious Russian, and Kim, a jovial extrovert Mongolian. They already had a successful fishing camp business called BokTok (EastWest), and were hoping to make it into a year-round resort with heli-skiing/boarding. Water came from a hole in the ice and food was prepared by Victor's wife and friends who also kept the fires going and helped with camp chores.
Dinner that night consisted of what seemed to be fish head soup and millet with tiny rock bits – both scary and delicious. What we assumed were bottles of water on the table turned out to be vodka, which is more plentiful and cheaper than any other beverage in Siberia. Victor and Kim provided after-dinner entertainment by playing beautiful songs on acoustic guitar accompanied by more vodka. Everybody was bonding, speaking with hand signals and there was much laughter to send us off to bed happy and excited for the week to come.
Filming Day 1 – We woke early, ready to shoot. Of course it was bitterly cold but the BokTok beast was capable of flying in -60ºC. We took off with no words of safety or protocol and headed for the first drop zone – warning sign number one.
Suddenly everything got hectic. Gusting winds blew our heli around like a bumble bee in a blizzard. Our pilot hovered over the landing site but the flat grey light made it impossible to judge just how high we were. Over the pounding drone of the rotors the pilot relayed a message to the Japanese translator who passed it on to the English translator who yelled at us, "Time to jump!"
"What? Is that really what he said?" It was hard to know what anyone really said or meant as we played a Russian roulette game of password/telephone. One by one we jumped and then huddled to protect ourselves from the rotors, which seemed to be skimming just inches from the sidehill. In a later interview, Scot Schmidt remarked, "That was the hairiest thing I've ever done around that kind of machine." The heli took off and left us hooting, hollering, and hugging out of giddy fear. Alone in the Siberian wilderness.
Scot dug a pit to analyze snow stability and found three fairly unstable layers on top of "climax rotten snow, all the way to the ground." Also known as – unskiable. The snowpack was so unsafe we had to downclimb the ridge to the heli pick-up spot at the bottom. With giant packs full of camera gear we sidestepped downwards, ever so carefully staying clear of the edges and keeping space between us. Even being ultra-tentative, the vibration of our trailing crew above set off a huge avalanche, below, that nearly carried off Tanaka, our soundman.
Eventually we made it to the pick-up but Scot chose to ski/walk back to camp along a creek rather than get back in the heli. I only got on board because I was freezing. We were all spooked but made it to camp and decided to call it a day and regroup. Our crew got a Russian branch lashing in the sauna (to promote circulation) and after dinner and more vodka, a good, nerve-restoring sleep on the wooden family-size bed.
Day Two – Scot and Craig took charge of selecting the next location via the heli's porthole windows. The good news was unlimited visibility and our pilots, after yesterday's flight, had 50 percent more mountain flying experience than when we started the trip. We harnessed Craig up and dropped him on a north-facing aspect to dig another pit. The results were deemed "moderately dangerous" so he and Scot took turns dropping into incredibly dry, untouched Russian powder while the cameras rolled.
Off-camera, we set off another horrendous avalanche and with a storm approaching, decided to call it day.
Camp that night was the calm before the vodka storm. Kim once again entertained everyone with his acoustic guitar and the Russians broke out a two-litre plastic bottle of Russian moonshine – 96 percent alcohol, not 96 proof. It was very much one of those "When in Rome" moments and out of respect for our hosts, we all tilted a glass.
Victor and the boys introduced us to the three-step ritual that harkens back to times of famine when vodka was more readily available than food (or something like that; we were still dealing with multi-step translation). You breathe out heavily, take a shot of the booze, then a sip of water, and then you deeply sniff a small piece of bread and pass it all on. And then you are instantly drunk and your mouth feels like all the skin and membrane has been stripped out of it.
Everyone took a turn, some took two, and soon there were people breathing fire inside our tinder-dry cabin and Craig danced on the table amid more laughter. Darkness closed in.
Day 3 – The storm passed and the boys scouted a wide, true north-eastern chute. Craig harnessed up and cut across the top without sending down even a bit of slough. He then strapped in and rode a slide-free ridge-line in his ultra smooth, flowy style. With half a camera crew shooting from the top and another half below, Schmidty geared up and dropped in at the top of the main chute. He cranked several fast turns, got a gut feeling and glanced back. At that moment the whole slope fell apart right under his feet. He cut hard right and rode out through the blocks at high speed, reaching safety as the massive slide billowed down to the valley. The crown line fracture went right down to the rock. Scot rejoined the bottom crew and said, "We've had one good slide each day we've been here. Someone is going to get hurt."
In response, the Russians watched intently and rewound the tape several times declaring Scot a hero while Kim toasted to his "second life." That night the vodka tasted better and so did the food. The music was beautiful. Victor and Kim played Russian folk songs on their guitars and we cleared the tables and chairs and danced well into the night. The helicopter mechanic took a real shine to Stumpy during the slow dances and eventually had to be escorted/carried to his bed by coworkers. That night is, to this day, one of my favourite parties ever.
Day 4 – After much snoring that night in the cabin we had no choice but to cut the trip short. The best skier and the best snowboarder had been unable to find a single safe aspect and we were courting serious injury or death. It was sad to leave our new amazing friends. That day we gave the Russians snowboarding lessons (they had never done it) and left them with a board and other swag. They gave us traditional Russian gifts and Kim placed a rock in my hand saying, "Special, for luck."
That night we showed the video to the Russians. Nobody at camp had any avalanche experience, nor had they ever skied out of bounds or from a heli. We wanted them to understand how dangerous it could be after we left, before they enticed more customers up. This was not your average heli ski operation; you had to bring your own expertise, gear and instincts.
We left Siberia and finished the film at Island Lake Lodge in Fernie, BC. They had been getting great snow, stable snow, and we still needed some decent riding footage. Eight months afterwards, while Greg was editing the movie, we got word that Kim, our joyful host, had died in an avalanche. We were heartbroken.
Seven years later Craig would also leave us the same way – something none of us expected. Craig always respected the terrain and conditions and was one of those riders that became part of the mountain. He picked his lines like water flows and had a style like a laid-back surfer while his artistic side instinctively understood where to slash to make that beautiful shot. He is greatly missed.
Siberia the movie turned out great – almost more documentary than ski flick. When I watched it again recently the songs Kim played for us made me cry because they are so beautiful and he is no longer here to play them.
Be careful out there because it's better to live, doing what you love.