Words :: Ned Morgan.
Mount Namuli is unlikely to be notched on any mountaineer's bedpost. As mountains go, it isn't very high. The 2,419-metre granite monolith in northern Mozambique can't even boast an iconic horizon line like Argentina's Fitz Roy or Switzerland's Matterhorn. If anything it calls to mind an ancient fortress looming above the surrounding rainforest and grassland, its lopsided summit often obscured by clouds.
Until recently, Namuli was known mainly among biologists as one of 35 Biodiversity Hotspots identified worldwide by Conservation International. The Hotspot is a concept defined by British biologist Norman Myers in the 1980s as a place of extraordinary species concentration—including large numbers of endemics—also threatened by human activity. Namuli is unique even in this rarified company. That's because the massif comprises an inselberg (from the German for island + mountain): an erosion-resistant geological relic older than the surrounding landscape, and on which flora and fauna evolve in relative isolation. In 2012, an international joint initiative known as the Critical Ecosystem Partnership Fund (CEPF) designated Namuli a Level 1 Priority Key Biodiversity Area, proclaiming it "significant, threatened and understudied"—a clarion call for conservationists.
Namuli has been overlooked largely because it was effectively lost to the greater scientific and conservation community while civil wars convulsed the southeast African country from the 1970s–1990s. Today, the Zambezia province in which Namuli stands is peaceful, but the mountain and surroundings lack official conservation status. Last year, an international team of climbers, scientists and conservationists set out to re-discover this mountain. Their ongoing mission aims to document and bring international attention to rare and threatened species, and to propose a multifaceted long-term sustainability plan for the region and to document the connections to another inselberg, neighbouring Malawi's Mount Mulanje.
Initially known as The Lost Mountain Project – recently rebranded Legado, from the Portuguese "legacy" – the mission is the brainchild of New Hampshire-based climber, guide, author, and filmmaker Majka Burhardt. Having climbed and guided all over the world, Burhardt would not find Namuli her most technically challenging ascent. But it would deliver its own more daunting problems.
The United Nations Development Programme (UNDP) considers Mozambique one of the poorest countries in the world. The majority of citizens survive on subsistence agriculture, especially around Namuli where soils are good and water plentiful. As a result, the mountain's lower flanks now show alarming wear-and-tear from unregulated timber harvesting, livestock grazing, char lines of slash-and-burn agriculture, and willy-nilly expansion of tea plantations.
In May 2014 a 17-person team led by Burhardt and sponsored by the CEPF, Clif Bar, Julbo, Osprey, Patagonia, Petzl and other companies and NGOs, mounted an expedition to study the cliffside habitats of Namuli's far side—the unexplored southeast face. As lead climber, Burhardt had no trifling responsibility guiding non-climbing scientists and a film crew up an unclimbed and remote monolith. "The challenge was not only to get people up, but to make sure they were safe and could do their work," says Burhardt. "Instead of just having [the scientists] get through and survive, we wanted them to thrive in their own element on vertical terrain." And thrive they did. The expedition checked off some notable discoveries, especially for today's picked-over planet: a new and as-yet-unidentified species of snake; a rare caecilian; and 40 ant genera including several unidentified species. In the process they also put up the first technical climbing route on the mountain (Majka and Kate's Science Project IV 5.10-).
"We were bolting on lead because there was no other way to have protection," says Burhardt. "The two crux pitches were solid 5.10 climbing. I would've loved to bolt sooner on my lead but there was no way I could stop to put a bolt in. And all the while we were laughing at the absurdity of climbing on grass clumps… I've never seen a granite formation with as few cracks: a giant [600-metre] face, about the same in width, and pretty much just one crack system—choked with vegetation. So: great for science, hard to climb."
At one point Burhardt and climbing partner Kate Rutherford led Mozambican herpetologist Harith Farooq into a hanging chimney system to look for specimens. "This chimney was the singular crack system on the whole 12-pitch climb. And to leave it we had to climb a face riddled with giant clumps of grass," Burhardt says. "You had to have the mentality of an ice climber: you're using all points of your body very carefully because you're not sure if anything you touch will ultimately support you. It's not 5.14 climbing, but the consequences are high—if something fails, it's going to be a big, bad, not very fun fall."
In the chimney, Farooq was determined to take full advantage of the virgin habitat. "He stuck himself [3 metres] inside and kept reaching back further in to explore," says Burhardt. "As you can imagine, as expedition leader I had two key thoughts: 'That would be fantastic if there was a pit viper in there,' and, 'I really hope there isn't a pit viper in there.'"
The cool weather that day wasn't right for reptiles or amphibians so the chimney proved herp-free, but over the course of the expedition Farooq collected 27 rare or unknown species. One such find turned up not on Namuli's face, but at base camp in the rainforest. During a rest day, Rutherford and volunteer Richard Halsey were moving things around in the cook tent when they turned up what appeared to be a large, pinkish worm beneath a big piece of Tupperware. It was a caecilian, a seldom-seen order of ancient, burrowing amphibian with a global but largely equatorial distribution. After they summoned Farooq, the herpetologist was close to tears as he explained it was only the second caecilian ever found in Mozambique—and the southernmost from anywhere in the world.
The team also discovered a mountainside "pocket" forest tucked behind a rock slab. "To get there entailed roughly [120 metres] of climbing exposed terrain to where you could scramble into it," says Burhardt. "Kate and I climbed up there and set anchors so our scientists could jumar up, do the science they needed to, then rappel back down. And once we hopped over the lip of this slab it was just what it sounds like—a pocket forest, where we could move around without a rope and be quite comfortable."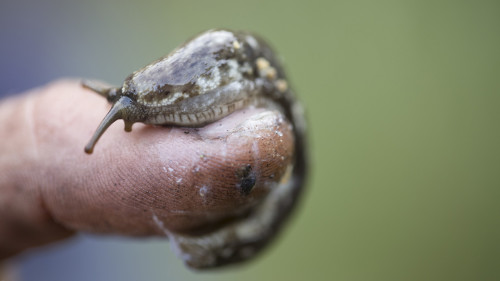 This untouched habitat proved especially fruitful for the expedition's lead scientist, Brazilian entomologist Dr. Flávia Esteves, who, along with South African entomologist Caswell Munyai, is the first ant scientist to do fieldwork on Namuli. "We spent many hours looking for ants, breaking twigs [for larvae] and digging the soil," says Esteves. "It was an interesting place because of its high elevation and isolation. It had the structural complexity of a forest—canopy, bushes, leaf litter, soil—that could house and feed a high number of animals. But at the same time, the trees weren't so high, so the undergrowth received much more light than other forest fragments. As a result, the ant fauna we collected was a mix of that found in 'regular' forests, grasslands, and on the face of Namuli." During the month-long expedition Esteves also collected Promyopias, a rare ant genus found but a handful of times before, plus many other endemic and unstudied species.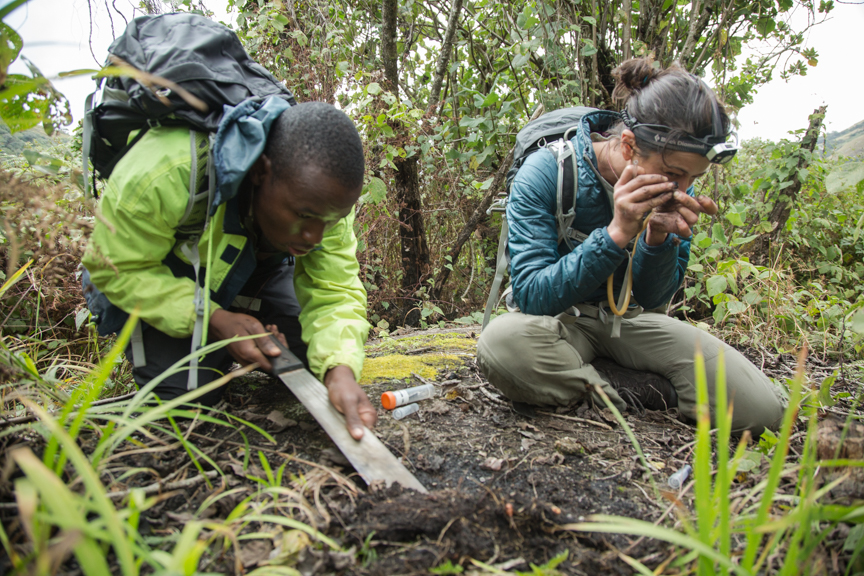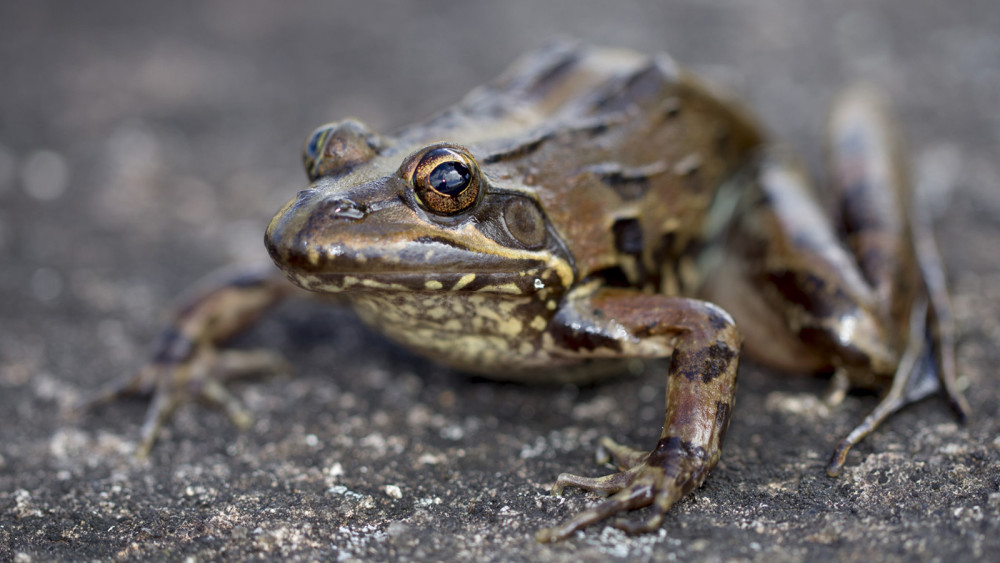 The ability to take non-climbing scientists safely up an unexplored rock face set a precedent in exploration. "The idea of rock climbing scared me… every time I learned what our climbing schedule would be, I could feel my heart beating in my mouth," underscores Esteves. "However, when I was actually climbing I loved to feel my body responding to fear; plus it felt much safer to have Majka and Kate by my side. Climbing is a great skill for field biologists. In Madagascar my group and I were collecting in a mountain forest and one day found ourselves at the base of an impassable granite wall that we spent a good few hours trying to skirt. How I wished Majka and Kate were there."
Though Namuli's vertiginous levels of biodiversity needed no proving, the expedition reinforced for biologists around the world that this lush inselberg is an untapped goldmine in the sky. After making observations over the entire southeast face of Namuli as well as on Mulanje, the number of rare and unidentified species uncovered by expedition scientists emphasizes how much more work remains to be done.
While the vertical fieldwork unfolded, another arm of the group reached out to surrounding communities. The project's conservation team, Mozambican NGO LUPA, hit the ground in Curruca, one of the larger villages at Namuli's base, to conduct interviews about residents' natural-resource use and development priorities. "This is part of a baseline rural assessment that will inform the next steps of the project," says Burhardt, adding that biodiversity protection is only one aspect of the mission. "We also need to develop a plan that advances human livelihood. It's not a pristine mountain with no human involvement—it's very much peoples' backyard."
Formally speaking, it is the backyard of the Queen of Mukunha district, with whom Burhardt requested an audience before approaching the mountain. "You need the Queen's permission to be on the mountain at all," she says. "Legend has it that if you don't, you'll be frozen in place on Namuli, or disappear into the clouds."
Wisely, the expedition brought offerings including flour, sugar, dried fish, and corn whiskey to the Queen's house, where she conducted a ceremonial blessing for the climb. Though the blessing was symbolic, it was no less crucial to the short- and long-term success of the project. With their specialized scientific and conservation goals comprising agendas that some villagers might see as inimical to their livelihood, Burhardt was well aware of the tricky issues around land use and sustainability. "Mount Namuli currently provides the people with everything. They're not at a point where they're concerned about these resources disappearing. From the outside you could say, 'Yes, but if you continue these unsustainable practices, in 40 years you'll no longer have that,' but to someone dealing with malnutrition and extreme poverty, long-term thinking is less of a priority."
Burhardt also mentions preconceptions that distort what Legado: Namuli seeks to communicate. "Narratives can fall into really simplistic boxes: 'The crazy foreigners don't know what they're doing and they're telling locals how to use their land.' Or, 'The locals don't have the educational background to understand that they're destroying their landscape.' None of these are nuanced enough for the real situation."
That Burhardt even mulls such nuances is reason enough to be optimistic about Legado's long-term success. "I think we're in a new era of what conservation means," she summarizes. "We're coming out of a time where the only option for protection was to create a national park. We need a more nimble solution. What we're hoping for is something small-scale and replicable that can then be adapted in other areas."
The ongoing Namuli Conservation Plan will serve as a template for sustainability in the region and establish practices—such as reforestation from locally raised tree seedlings—that can be transferred to other vulnerable and exceptionally biodiverse locales. And for a sign of promising things to come, look no further than the international youth-oriented conservation, science, and adventure Symposium that brought present and future Namuli players together in Mozambique's Gorongosa National Park last summer.
Through the focused ambitions of Burhardt and partners, Legado promises to be an inclusive, portable paragon for land and habitat protection in Earth's threatened places. "Some days I think we can pull it off and some days I think this is the craziest thing I've ever set out to do," Burhardt concludes.
Though Namuli is no longer a lost mountain, preserving its riches remains the task at hand.
Namuli the film will be released in early 2016.
Read more from the Mountain Life Annual.