Spencer Seabrooke broke the world record for the longest free solo slackline last week, shattering the previous record by 7 meters.
Check our story on slacklining in Squamish, BC, with Seabrooke and Allen Stevens, from the Summer issue of Mountain Life Coast Mountains.
Walk the Line Slacklining Finds a Home in Squamish
Words: Drew Copeland
From easy-going slackers hanging out in a grassy park on a sunny day to the diehards balancing their way between alpine spires, slacklining is tiptoeing along the edge of mainstream culture.
Modern slacklining (walking on nylon webbing as opposed to circus tightrope), got its start in Yosemite in the late-'80s and continues to gain popularity around the world. In Vancouver, slacklines are no longer a bizarre sight for passersby and new highlines crop up throughout the Sea to Sky each year.
Squamish resident, Allen "Hevy Duty" Stevens was a Camp Four Yosemite dirtbag in the days when slacklining was getting off the ground. He moved to Squamish in 2002 and brought his psych for the sport with him. Hevy saw the potential in slacklining and became a champion of the local scene by starting Hevyfest: an annual slackline and music gathering.
What initially began as a bunch of his buddies on the beach with brown bags fooling around on the lines has become a regular part of Squamish summer culture.
"I like to see all the people and just watch it grow," he says. At the 2014 Hevyfest, there were over 200 waivers signed, a DJ and 15-some slacklines—including a waterline out into Howe Sound.
Hevy is stoked to see the next generation taking the sport to the next level: Highlining and free-soloing (without a leash connecting the slackliner to the slackline) hundreds of metres from the ground. "There are a million people who can walk longlines," Hevy says. "You get up high and it cuts it down to a hundred. You take the leash off and it cuts it down to five. You've got to have the focus. It's unbelievably hard. When I saw Spencer, it was like a breath of fresh air."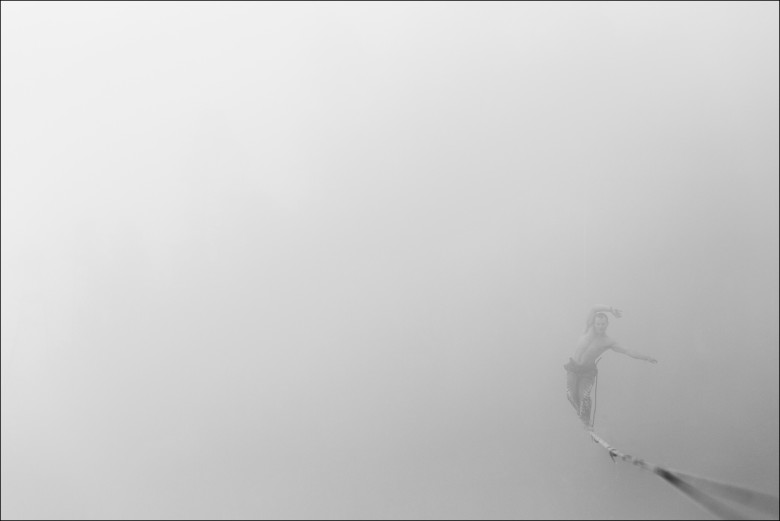 Spencer Seabrooke is Canada's first slackline superstar. Initially drawn to slacklining after watching the Real Rock Film Tour in May 2012, Seabrooke recently walked a personal best—a 70-metre line—on Christmas Eve 2014.
"There are a million people who can walk longlines," Hevy says. "You get up high and it cuts it down to a hundred. You take the leash off and it cuts it down to five."
"I do it for the excitement of it," Spencer says of free soloing. "Once you are comfortable catching the line [when you fall], you're no longer really relying on the harness and leash. It's all mental, right? It's being able to overcome my fears and execute on something I know I can do and have practiced a hundred times before. I don't have a death wish. I want to continue to slackline and highline for a long time to come."
Stemming from a desire to share the sport, Spencer and close friend, Brent Plumley, founded Slacklife BC in March 2013. Based out of Vancouver, the group advocates for slacklining, introduces the uninitiated, and establishes progressively longer and higher lines. Last summer, SlackLife BC organized the Assault on the Chief: five lines set up over the North Gullies of the Stawamus Chief, which drew people from as far off as Fort Nelson and Joshua Tree. "Over one hundred people came to check out the highlines," Brent says, "and about 50 walked or attempted them."
As public understanding of slacklining grows, Squamish continues to be a focal point. Down at Nexen Beach, Hevy is planning to run Hevyfest again. "It is the one and only slackline park in North America where lines are always set up with free use to the public," he says, adding that he's working with the District of Squamish to get the space officially recognized for this purpose.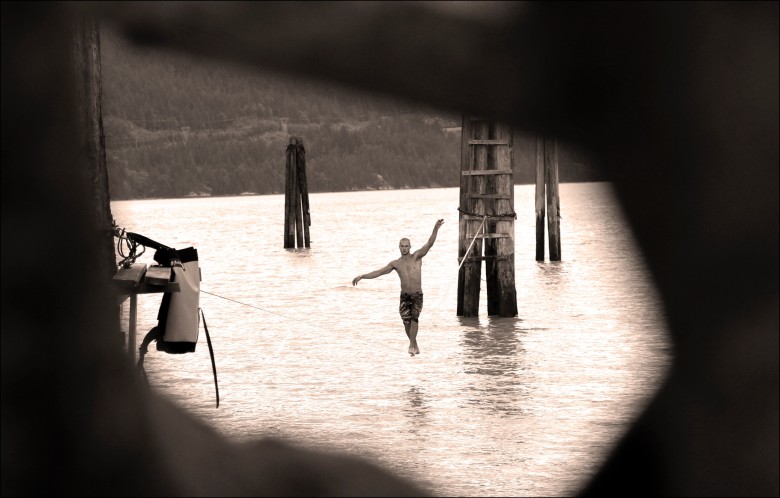 Downtown, signs and posts have been erected for a second slackline area across from Pavillion Park, and in 2014, Spencer and the Slacklife BC crew put up new highlines and waterlines throughout the Sea to Sky region including Brohm Lake, Lighthouse Park, The Opal Wall and North Gullies on the Chief, Seymour Canyon and Sky Pilot Mountain.
Walking progressively longer lines, Spencer continues working towards a 100-metre goal as his passion for slacklining grows with each step.
"When I was mountaineering and rock climbing, I always felt at a loss for what to do when I got up to these amazing places," he says. "Now, that's where the project begins."