Words by Ned Morgan.
Halfway through the crossing, I begin to feel uneasy.  The wet and blustery August afternoon feels more like November. The 12 kilometres of Lake Superior between the town of Terrace Bay and our destination – the Slate Islands, maintained by the MNR as a wilderness park since 1985 – is a mass of whitecaps.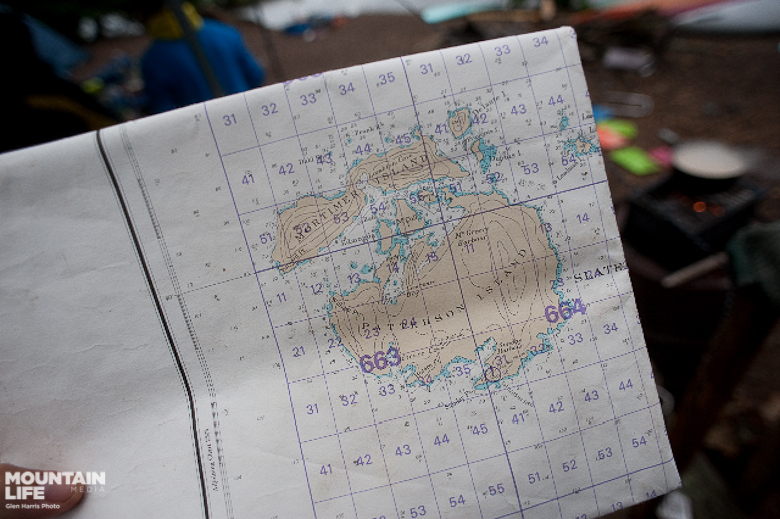 Our group of six feels fortunate that we hired guide Gary Salesse to shuttle us to the islands, and our kayaks and paddleboards are secured on a sturdy rack above our heads. But as the 26-foot Seaswirl Striper pitches and yaws, Gary adjusting his steering and throttle with each wave, I'm sure the motor will flood. Several times it sputters alarmingly. Everyone's chatting as if the wind and waves aren't happening, and my uneasiness fades as I realize that Gary could navigate these waters with his eyes closed.
The efficient Cap'n Gary proves crucial to our trip; in addition to his piloting skills, his local knowledge does much to enhance our paddling trip to the lonely archipelago. He advises the paddleboard surfer in our group where and when he will find the right waves. He tells us where not to land on our circumnavigation of Patterson Island (if Superior blows up, we could be trapped for days on the outer rim).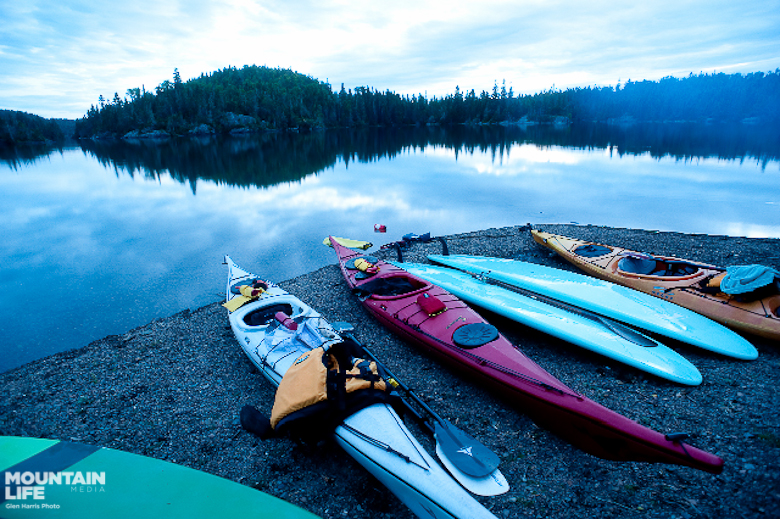 And he bumps up our accommodation. We ask him to take us to whatever campsite is available  – the wilderness park has no facilities, though several campsites exist – but instead Gary delivers us to our own private cabin. In a well-protected cove between the largest island, Patterson, and the second-largest, Mortimer, lies the smaller McColl Island and its "Come 'n' Rest Cabin" – complete with bunks, kitchen gear, table, woodstove, deck, firepit, fish-cleaning station, dock, canoes, a newly-built privy, and a tame snowshoe hare. The MNR maintains the structure (which pre-dates the Park) as an "emergency cabin"; if someone more in need of shelter comes along, we have to give it up. Fine by us.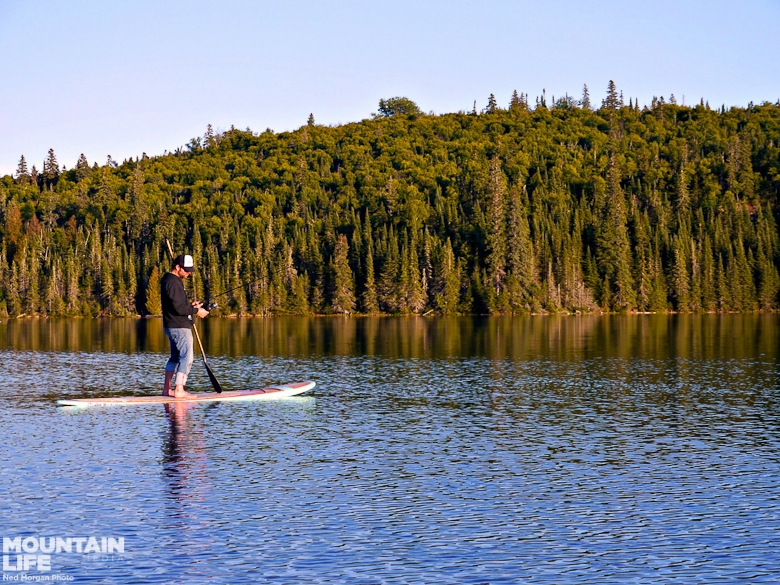 Gary also advises us where to spot woodland caribou – a globally endangered subspecies of Rangifer tarandus – who crossed the ice from the mainland more than a century ago and adapted to the exposed islands' harsher but predator-free environment. The Slates were never extensively logged due to the stunted nature of the forest, reminiscent of Krummholz growth: gnarled spruce, fir, and cedar draped in old man's beard and other lichens (a key food source for caribou) and underlain by mattress-thick sphagnum moss. Before dusk, Gary advises, wait near a narrow channel between two islands where the animals are most likely to swim across before bedding down for the night in the interior.
"The cosmic nature of the Slates' origin reinforces my impression that this place is extraordinary."
On a map the Slates look tiny, especially set against the vastness of Lake Superior. But when you're paddling here you feel happily adrift in a boundless and relatively primeval wilderness. This primeval quality is suggested not just by the old-growth forest but also by the generally accepted theory that the islands were the epicentre of a prehistoric asteroid impact.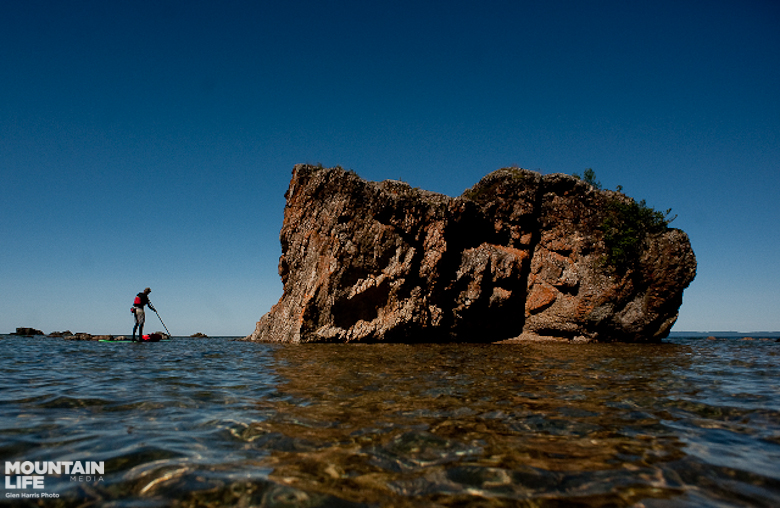 Paddling is the best way to see the evidence of this long-ago event imprinted in shattercone formations – conical and striated sections of the Precambrian bedrock that were subject to extreme shock – visible in shoreline cliffs along McGreevy Harbour and elsewhere. And sonar mapping shows a deep trough and ridge encircling the islands, consistent with a "hypervelocity impact" crater.  The cosmic nature of the Slates' origin reinforces my impression that this place is extraordinary.
If you want to explore any of the forested interiors of Patterson or Mortimer Islands, tread warily and carry a GPS device. On our second day we paddled to the end of Lawrence Bay and hiked into the Patterson interior about a kilometre to Hart Lake, following one of the countless well-beaten caribou trails through the gloomy Mirkwood. Only due to the extraordinary directional skills of one of our group did we find our way back to our boats after several wrong turns; the trails look deceptively hikeable but follow a mazy logic only these hoofed mammals understand. If you're foolhardy enough to stray too far inland, you'd probably not reemerge for many hours.
Apart from the networks of caribou trails, the islands are undeveloped save a decommissioned but maintained lighthouse, built in 1903, that stands on a ridge near the southeast corner of Patterson, complete with spacious quarters and a sturdy cement pier. The lighthouse and outbuildings are the only structures on the islands apart from the Come 'n' Rest cabin. There is some local motor boat traffic, but not much. On our circumnavigation of Patterson we see one small outboard and a trio of kayak fishermen. The Slates don't seem much troubled by the press of humanity.
Woodland caribou are certainly untroubled by people and will occasionally approach out of curiosity. Unlike their mainland cousins, they have not yet learned fear of us. Though docile they're a nonetheless resilient species dating back to the time of the wooly mammoth – but unlike the latter they've adapted through ice ages and more recently, severe habitat disruption due to road construction and natural resource exploration throughout their mainland ranges. That an otherwise vulnerable species has found a place to sustain itself – on this utopian ground removed from inimical forces, encircled by the perpetually frigid waters of Lake Superior – should give us a little hope.
On our final day as we're waiting at the cabin for Captain Gary to retrieve us, a small fishing outboard chugs by. A man in the boat waves to us and then points to the opposite shore of Patterson Island, where a pair of antlers is moving across the water. This is the first caribou I've seen. While planning the trip I had envisioned a series of selfies-with-caribou but during our five-day stay our group spotted only one, which dashed out of sight before I could turn my head.
We stop packing up our gear and run to the end of dock, watching in silent awe as the animal rises from the water onto the sand beach, shakes itself mightily, then disappears into the forest.
ML Ontario wishes to thank our main trip sponsor, the Ontario Tourism Marketing Partnership Corporation. We'd like to thank the following companies who also sponsored our trip: Adventure Technology paddles, Blu Wave SUP, Bomber Gear, Columbia Sportswear, Contour Action Cameras, Helly Hansen, Julbo Optics, MEC, Nemo Equipment, Northern Phin Charters, Osprey Packs, Outdoor Research, Patagonia, Pelican, Sealline Drybags, SPOT Global Phone, Vega Sport Nutrition.