By Melanie Chambers. Previously published in Mountain Life Ontario, fall '14.
Luke Nichols is getting married on the weekend; it's the Wednesday before the big day and he's out for a bike ride in Tarr-bay (Torbay), Newfoundland. His wife-to-be understands. After an hour of teetering on a cliffside path, we follow the trail to the edge then brake abruptly: a skyscraper column of rock is broken off from the mainland. Newfoundland is more exotic than I remember.
Born here – but moving away at three – I assumed the rest of the world was more alluring, so I never got to know Newfoundland. To make amends, last summer I drove an RV from St. John's to L'Anse Aux Meadows, riding as much as possible. Considering Newfoundland is twice the size of England, a month wasn't enough.
Eventually we emerge from a thick forest: the trees give way to a giant white rock jutting out into the Atlantic. Aptly named Flatrock, it's like riding on the back of a whale and it would be easy to slip right off its tail into the water.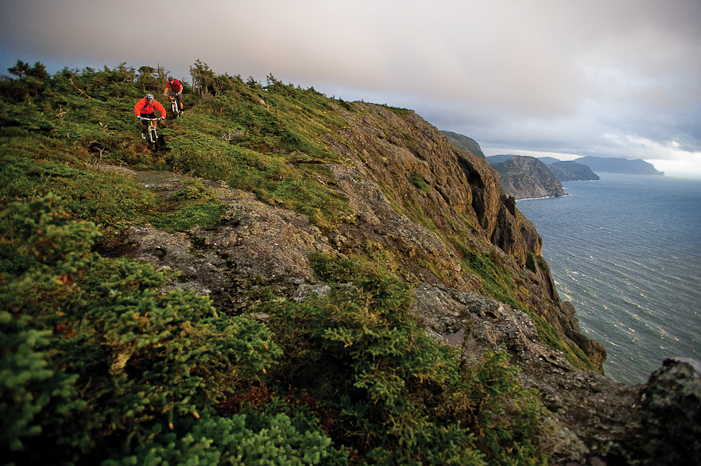 In St. John's, Luke and other members of the Avalon Mountain Bike Association are eager to show me their gargeous (gorgeous) trails. "This part is a bit snotty," says Julie Holliday, a BC native who says Newfoundland trails rival the West's; navigating the rocks in Pippy Park – north of the city – is precarious. Fog and drizzle don't help. As a geologist, Holliday explains that riding Newfoundland's rocky post-glacial landscape is like navigating through chopped nuts. Sure enough I slip and my calf lands on the chain ring and splits open like a melon.
I nurse my wound over a 25,000-year-old glacier-water beer (Quidi Vidi Brewery) in The Duke of Duckworth. This pub is a slice of Celtic ancestry, with brass tap knobs, worn wooden tables and yellow lighting. St. John's is the second oldest British settlement in North America and you can feel the stories and history in a place like this.
The next day we head to the burbs of Shea Heights to ride to Fort Amherst; I take pictures as my guide rolls down rock faces and hops over crevasses. My turn: standing at the edge, I can't clip into the pedal because my leg is shaking. Newfoundland's east coast riding boasts more trials and stunts than most cross-country courses. But walking half of the trail doesn't diminish my experience. Stopping at Fort Amherst, built to protect the city in 1772, we're almost eye level to Signal Hill, site of the first trans-Atlantic wireless signal. Here, Newfoundland feels more old-world-Europe than North America.
Sliding the mucky bike into the RV, it's time to leave the rock for some dirt trails on the west coast: it's seven hours to Corner Brook, the second-largest city in Newfoundland (population 26,000). Before leaving St. John's, I have a feed of fried cod tongues and toutons—fried bread dough smothered in globby molasses. Newfs loves der carbs.
After battery-acid coffee at Brewed Awakening, next to Corner Brook's Cycle Solutions store, Jamie Harnum and I climb Marble Mountain, the island's only ski hill. My front tire can't stay down because it's so steep. "Newfie switchbacks," says Jamie.
I confess, I'm fixated on getting to Gros Morne National Park. As I drive in, the windshield wipers are on full blast. Suddenly, a lightening bolt strikes in front of the RV turning the sky white. Riding is cancelled.
Arriving at Woody Point, I park between Pete's Convenience store and a shed with a sign above the door: Reg's Shed. A beer stein is etched near the name. Inside, Reg, a big bellied local, and his cronies sit in lawn chairs: "Come sit down, my luv… drink?" The boys are slinging back Wild Turkey in styrofoam cups.
The next day, feeling kilt, destroyed, flattened – local talk for hungover – I ride with Jamie at Stuckless Pond, the official mountain bike trail of the Park. Only 10 km, Stuckless is not overly technical but full of lakes and moose: we frequently stop to take glossies (my Nan's word for photographs). Nearby, Trout Lake Pond is a bit more technical and tight. My bike slides across a bridge and dumps me into a swamp. Minutes later, Jamie is down, then his girlfriend. The trail ends at a rock bank that overlooks the Atlantic and tectonic upheaval: the earth's innards have belched out so the land is barren and yellow.
Looking for a change, the next day I hike the 807-metre Gros Morne Mountain with a local fisherman. The scramble up the rock face is precarious, but the plateau is overwhelming. Sipping a Quidi Vidi, I survey the gaping fjord; it's just as spectacular as any fjord in Norway. And since I can't understand half of what the fisherman says, it feels like another country. "Jesus Murphy dis is some gargeous," says the fisherman who has lived here all his life but is only seeing Gros Morne now. You said it, my luv; it's right some gargeous.